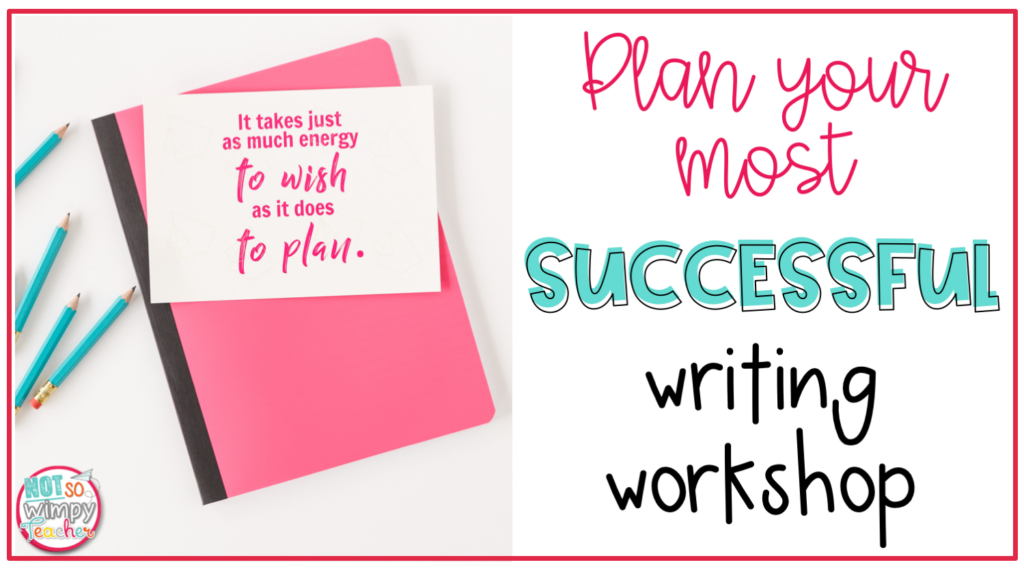 I get a lot of questions about teaching writing. How do you find time in your schedule to teach writing? How can you set up a successful writing workshop? What can you do to encourage kids to write more? How can you help students grow as writers? Can teaching writing be fun?
A new school year is the perfect time to set up a strong writing routine that you and your students will enjoy all year long. So today, I'm sharing my favorite tips to help you plan your most successful writing workshop ever.
1. Put writing workshop on your schedule
The first thing you need to do to plan a successful writing workshop is to find time to teach writing. Many teachers tell me that they don't have dedicated time to teach writing and that their schedules are just too full to add writing workshop.
I encourage you to go over your schedule with a fine-tooth comb. Look for extras or wasted time that you can reallocate to writing workshop. Minimize transition time. Set a goal to keep all transitions under 1 minute and then start teaching your students to move quickly from day one. See if there are any activities you can eliminate or move to once a week. Consider shortening up the length of your vocab, grammar, or spelling lessons.
A successful writing workshop requires about 30-45 minutes per day. It's okay if you can only manage this four days a week. Thirty minutes four times a week equals two hours of writing per week. I bet that's a lot more time than you spend teaching writing now.
Include this time on your daily class schedule. Post it in the classroom. And then stick to the schedule. Don't let math run over or give up writing workshop for extra recess or STEM projects.
Read more tips on how to find time to teach writing.
2. Teach writing in units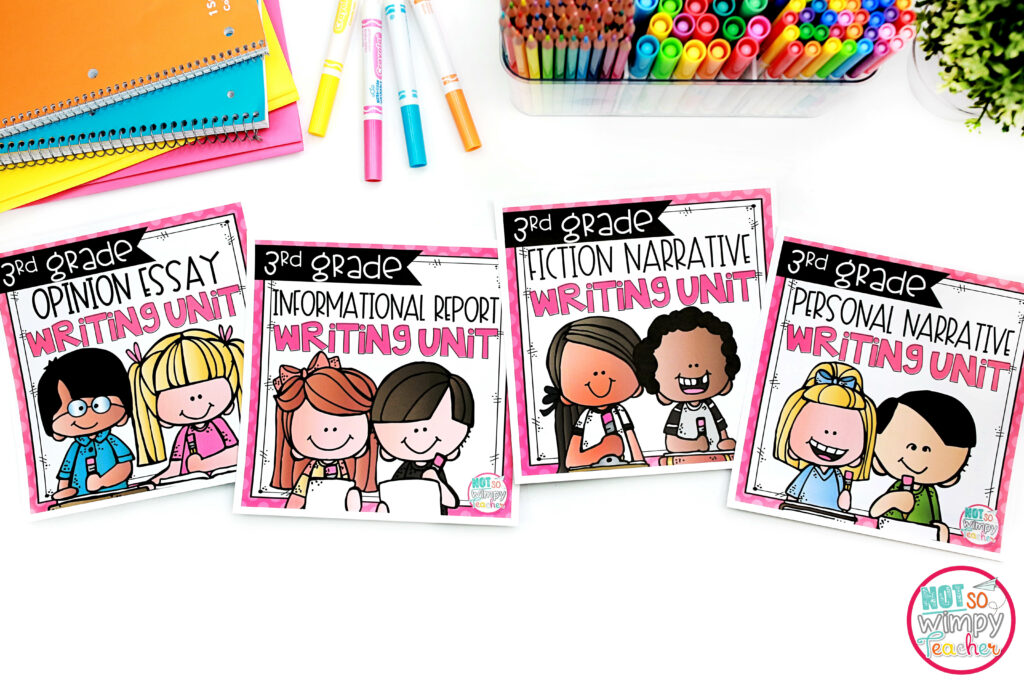 When I first started teaching writing, I'd teach opinion essays one week, personal narrative the next, and then I'd throw in some holiday writing prompts, and reading response essays and call it a day.
This approach was chaotic. My students never had enough time to learn about any one genre, and they got all the different types of writing confused. They didn't show any growth and had no idea what features characterized each genre. My failure to plan did not lead to a successful writing workshop.
Now, I teach writing in units, and we only focus on one genre at a time. This allows students to really dig deep into each genre and master skills associated with each type of writing.
I teach students how to draft personal narratives, informational reports, and opinion essays (in addition to text-dependent analysis, but I typically teach that as a reading skill). I also teach fiction writing. Instead of jumping around from one type of writing to the next, we spend eight weeks learning how to craft one type of masterpiece. This makes writing workshop much more successful.
FREE What to Teach in Writing Guide
I've put together a detailed What to Teach in Writing Guide. It includes a number of lesson ideas for each genre and is a great tool to help you plan for a successful writing workshop.
3. Plan Bite-sized Lessons
The great thing about teaching writing in units is that you have eight weeks to cover all the important skills students need to know. This means you can break down your lessons into bite-sized pieces.
Mini-lessons are the key to running a successful writing workshop. You want to keep your instruction time to a minimum so that students have lots of time to actually write. The more opportunities they have to write, the better writers they will become.
Focus each lesson on one small skill. Or, if the skill is complicated, break it down and teach just one or two types of leads over a number of days.
After you have provided examples through mentor texts, modeled how to complete the writing task, and filled in the anchor charts together, assign students one specific task. The task should have them practice the skill you just taught on their masterpiece.
For instance, if your mini-lesson was on writing question leads, the writing assignment might be to write three question leads for their masterpiece and circle their favorite one.
Bite-size lessons and bite-size assignments keep writing fun and manageable. When kids feel confident, they like writing more. And when students enjoy writing, writing workshop is more successful.
Ready to Use Writing Lessons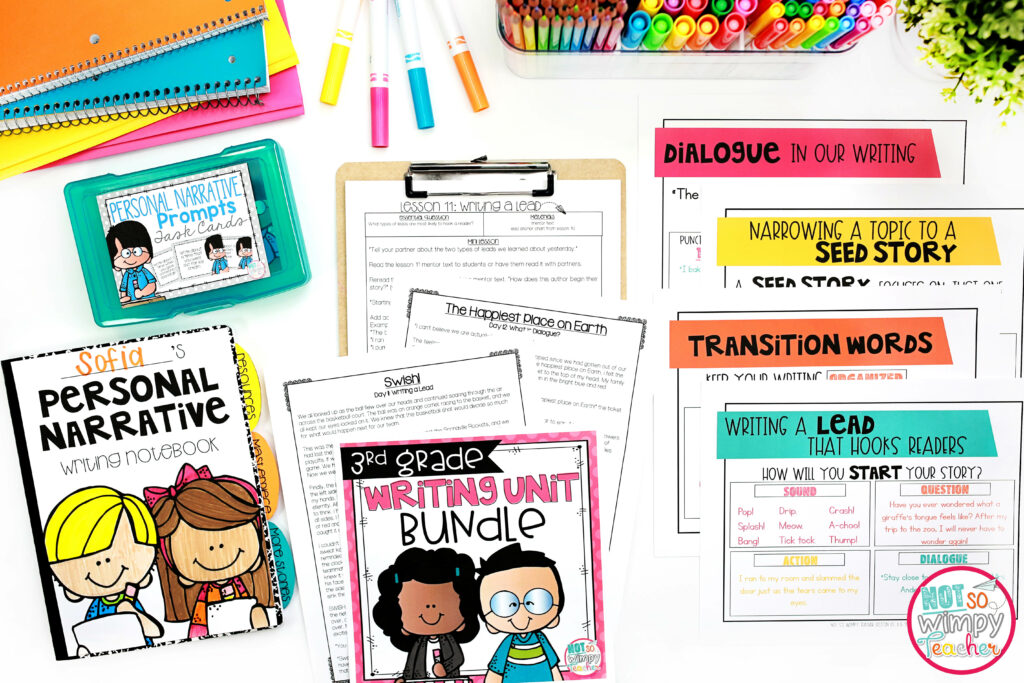 If the idea of creating all these mini lessons leaves your head spinning, you need to check out my writing bundles for grades 2-5. I've created a full year of done-for-you writing lessons for four writing genres: personal narrative, informational, opinion essay, and fictional narrative.
Each bundle comes with EVERYTHING you need to teach 32 weeks of writing— including mentor texts. You do not need to purchase any additional books! (Unless you want to.)
160 days of lesson plans that include guiding questions, materials, mini lessons, student work tasks, student share tasks, intervention, and several extension activities
55 original mentor text passages
10 sets of task cards
50 teacher anchor charts (blank and filled in versions)
57 student anchor charts and printables for writing notebooks
Conference and goal-tracking forms
Rubrics for all four genres and writing grades tracking forms
Student writing notebook covers and dividers
Teacher notebook covers and binder spines
And more!
These comprehensive writing bundles will make planning and prepping a successful writing workshop a piece of cake.
4. Get kids writing right away
You might be tempted to put off an actual writing assignment until you've taught students everything they need to know about a new genre. But that's not practical. Or possible. And it's not going to help them learn how to write. By the time you finish all those lessons, students won't remember what you taught them first.
Plus, they'll be bored to tears.
Instead, a successful writing workshop gets kids writing right away. I like to use mentor texts to introduce a new genre. This gives kids an example of what good writing looks like and gives them something to model their writing after.
Then, we work on brainstorming topics. I'm a big fan of giving kids choice in what to write about. You don't want to assign the same writing prompt to every student. Kids are much more invested in a piece of writing and, therefore, motivated to work harder when they get to pick the topic. (My writing bundles include lessons on how to generate story ideas).
Then, they start writing. I encourage them to get their first draft down quickly. We don't worry about things like spelling or grammar, or even leads or transitions, because I haven't taught any of that yet. They just write their basic story idea. Some kids will do this in five minutes. That's okay. They can start working on another story idea while everyone else finishes.
Opportunities to revise and edit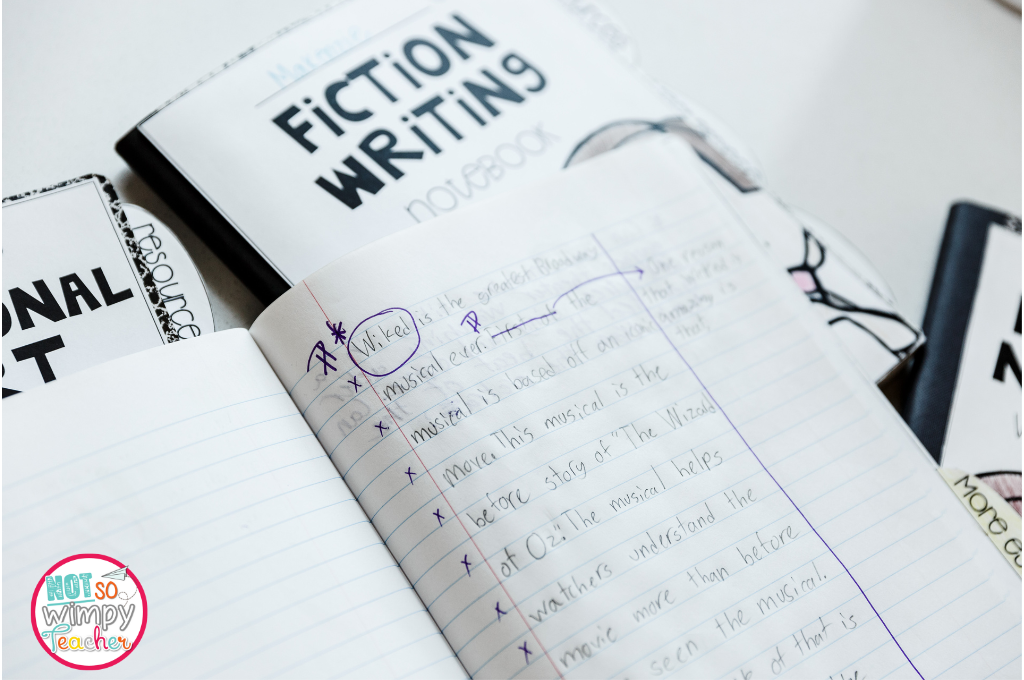 As we work through the unit, students will get lots of opportunities to learn about new skills and apply them to their own writing. Most of our writing time is actually spent revising the original draft (but kids don't even realize this is what we are doing). Remember, each day has a specific writing task that has them applying the skill they just learned to their own masterpiece.
5. Organize your materials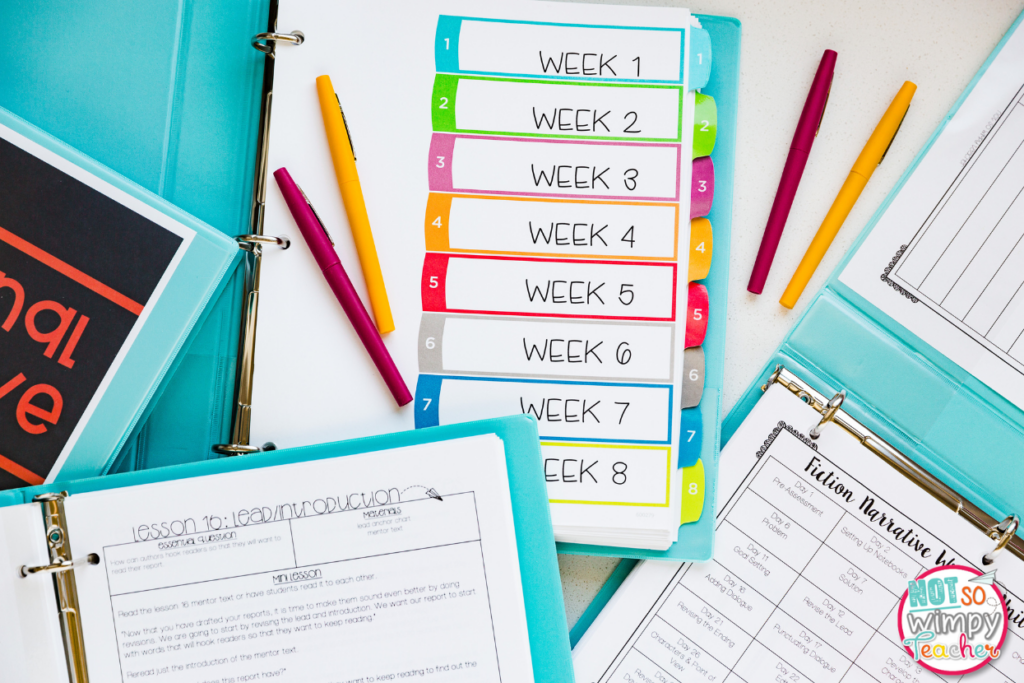 Teacher materials
I like to keep each genre in its own binder. Use tabs to separate each week, and then place the anchor charts, mentor texts, and lessons for each week behind the appropriate tab.
I keep a copy of my At-a-Glance calendar that shows the entire unit mapped out on one page at the front of the binder. This makes it easy to know what I am teaching each day. I can also slide my conference and goal tracking sheets in the front of the binder and add my rubrics and grade tracking forms to the back.
Everything is neatly organized in one easy-to-access place.
Student materials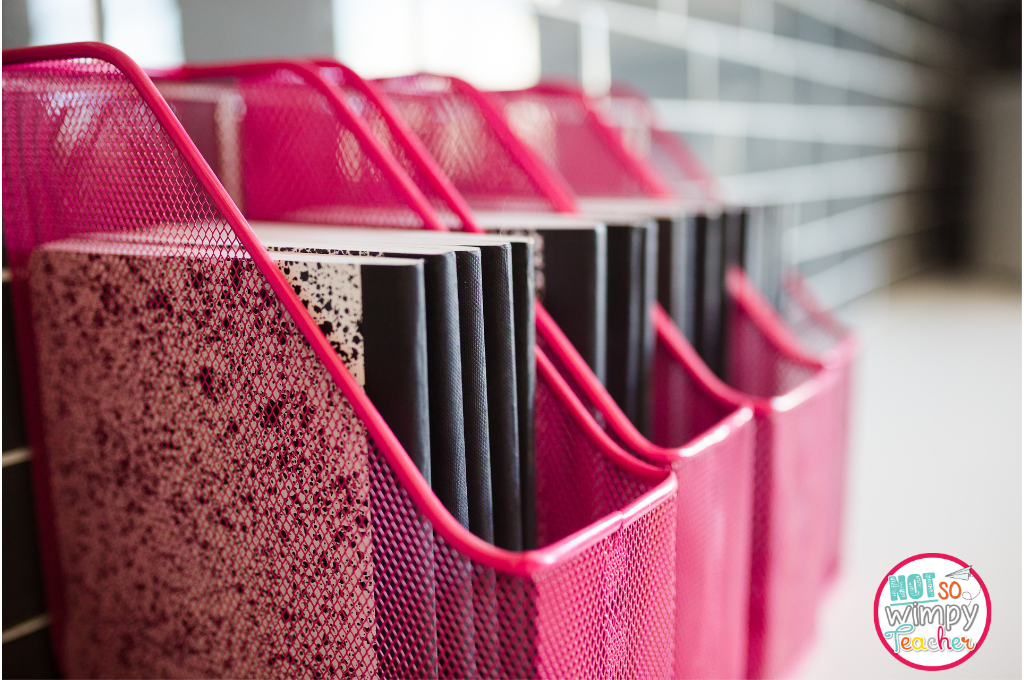 There are a variety of ways you can organize student materials, but my preferred method is in a black-and-white composition notebook. This keeps everything together, and you don't have to worry about missing pages. You can often pick these up at a significant discount at the beginning of the year.
If you don't have the budget for composition books, you can use spiral-bound notebooks. Binders and folders would be my last choice.
To prep student materials, you will want to create notebooks dividers. I have students divide their notebooks into three sections: writing resources, masterpieces, and more stories.
The Writing Resources include all the anchor charts and other materials that students complete during mini lessons. These resources will be a valuable tool as they draft on their own.
The Masterpiece section will include their main projects for the unit.
The More Stories section is where they can keep additional stories that they work on if they finish their writing tasks early or have additional writing time during the day.
If possible, try to use a new notebook for each writing genre. I also recommend that you print the dividers on cardstock to ensure they last for the entire unit.
My units devote one day to setting up student notebooks, but I do recommend prepping all the materials in advance. If you prep everything for one unit, you only have to prep materials four times a year! Score!
Hopefully, these tips will help you have the most successful writing workshop ever!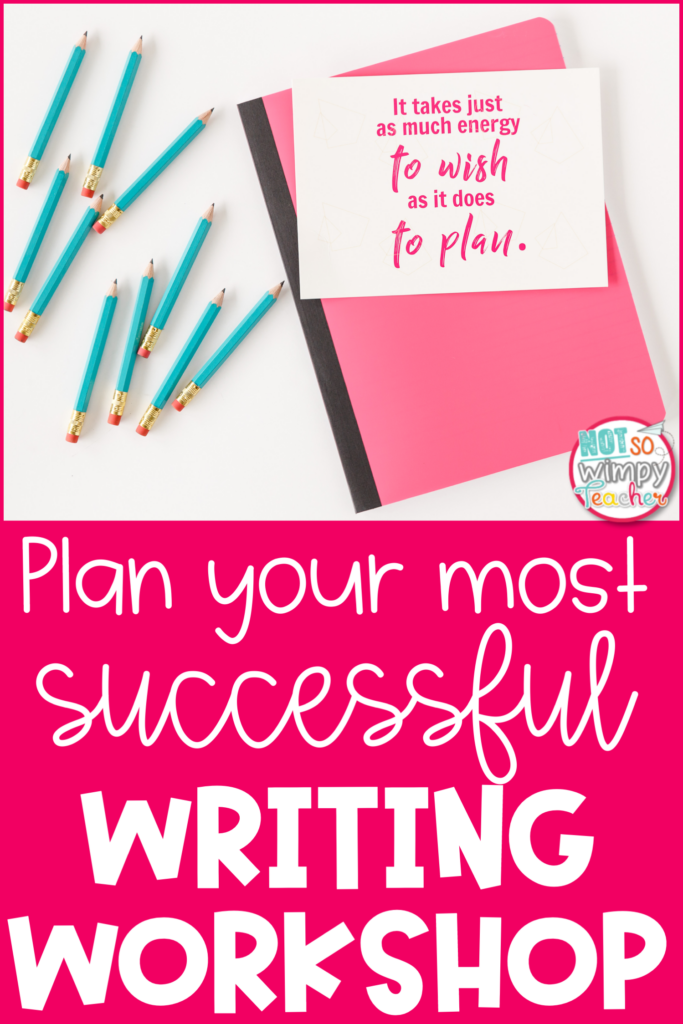 Want more tips for teaching writing?
You can find more tips for starting writing workshop at the beginning of the year here. Learn how to use a rubric to teach writing. Pick up some tips for teaching paragraph writing. And get some ideas for how to make teaching writing fun.
You can also pick up some great tips for getting students to revise and edit their writing.
Have a Not So Wimpy Day,