Writing time can sometimes be a challenge in the classroom. As much as I love writing, I know that not all students (or teachers) agree.
For a lot of writers, writing workshop is hard. Some writers have a hard time deciding what to write about. Others are easily distracted. They struggle to sit still and write the whole time. And then you have the clock-watchers. The kids whose eyes are glued to the clock waiting for writing time to be over.
But sometimes all these students need is a little change in routine. A little dose of the unexpected. A simple way to make writing time feel special and more fun.
Here are 5 super easy ways to make writing more fun that you can try tomorrow. Yup, tomorrow. They are that easy.
Choose a Writing Implement
Most of the time we ask kids to write with pencils. For good reason. It's easy to erase to correct mistakes. And, often, we don't want kids to be distracted with fancy colors or smelly markers. But who wants to write with the same boring all the time?
I certainly don't.
Writing is a great time to shake things up. When you teach kids the proper way to set up the paper and edit their work, correcting mistakes isn't a big deal. There's plenty of extra room on the paper for changes.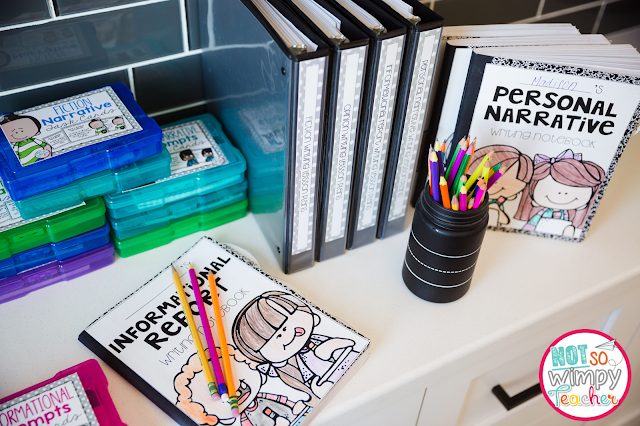 Offer kids a variety of fun writing implements. Colored pencils, gel pens, scented Flair pens (yes! my favorite pens are now available with scents), bendy pencils, and pencils in unusual shapes like twigs, wands, or feathers will all make them smile. I like to offer colored paper or paper with fun borders too.
Did you know my 60 Free Writing Prompts come with blank bordered paper for every month? 
Ways to make Writing Fun
Select a Classroom D.J.
I love using music in the classroom. It's a nice way to welcome kids into the room in the morning and to signal transition time. It's also fun to have some background music during writing workshop. Usually, I play classical music while students are writing. And when they music stops they know to transition to sharing time.
But why not select a classroom D.J. and designate one day a week to let the D.J. select the music? Have a conversation about how different kinds of music make you feel and encourage the D.J. to select music appropriate for the writing task.
Some kids will be distracted by lyrics, so it's a good idea to stick to instrumental choices. But you can pick jazz, guitar, movie themes, and even within the classical genre there's a ton of different options.
Students will enjoy having the freedom to select the music for the day. You can create a pre-screened list of playlists if you need to.
Go Outside
Take writing workshop outside. Obviously this one is weather dependent, but students will appreciate the change in environment. And who doesn't love to feel the sun on their face? Try to pick a quiet spot, away from the road and recess. Clipboards make a great solid writing surface and help keep papers contained.
If you can't get outside, consider taking a trip to the library, auditorium, or even a sunny hallway. A change in scenery is great for mental health and writing inspiration.
Write by Flashlight
Writing by flashlight always gets students more excited about writing. All you need are a set of flashlights and your regular writing materials. You can even invite students to bring in their own flashlights. It's always fun to see what students bring. But, be sure to have extras on hand for the students who aren't able to bring one from home.
Dim the lights and let the students write. If you want to make it extra fun, let kids bring in a blanket and get cozy around the room. You could also put a YouTube video of a burning candle on your white board to create even more ambience. Or string a set of Christmas lights that you only turn on during writing time.
Bring a Writing Buddy
Invite your students to bring a writing buddy to writing workshop. Students love the opportunity to bring a toy to school. And a stuffed writing buddy can help students master writing skills.
Struggling to come up with a writing idea? Take inspiration from your writing buddy. If students bring in a turtle, they could write a story about finding a turtle at the pond, a fantasy about a turtle who opened a bakery, or a report about different kinds of sea turtles. Students can also practice dialogue by writing about a conversation they had with their buddy. And they can practice editing skills by reading their work aloud to their writing buddies.
Don't dismiss this idea just because you think your students are too grown up for writing buddies. We often rush kids to grow up when they'd really enjoy a few more opportunities to be kids.
More ways to make writing fun
Done for You Writing Units
Try one of my writing units. My fictional narrative units include EVERYTHING you need to teach fictional narrative writing. From ready to use lesson plans to anchor charts to mentor texts – YES! mentor texts are included in this unit – you'll get everything you need to teach students all the skills necessary to write a fiction story with strong characters, a problems, solution, dialogue, paragraphs and transitions. These units are available for second, third, fourth, and fifth grade.
I also have units for personal narrative, informational, and opinion writing. And you can get all four together in a bundle with everything you need to teach writing for the entire you.
Read about more ways to make writing workshop more engaging for kids.
.
Have a Not So Wimpy Day,