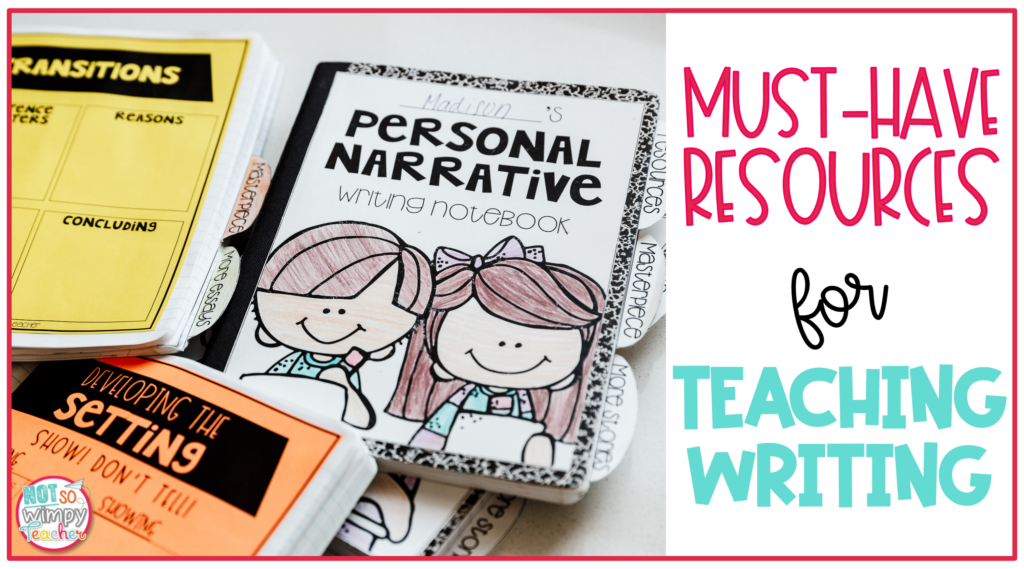 As we head into a brand new school year, I know many of you are thinking about what you can do to set yourself and your students up for success. And when it comes to teaching writing, that can feel a little daunting. Yep, I've been there!
But what if I told you that there are three must-have resources that could turn teaching writing from a dreaded task into a fun and exciting experience for you and your students? I'm talking about easy-to-use, engaging, and effective resources!
And the best part? These resources will not only simplify your teaching but also spark creativity and enjoyment in your students' writing.
Mentor texts for teaching writing
Students don't instinctively know how to write well. No one is born with flawless writing skills. Young children don't even know the difference between a personal narrative, fiction, and opinion essays, let alone how to make each genre pop.
Before we can expect kids to be great writers, we need to show them what great writing looks like. This brings us to our first must-have resource for teaching writing: mentor texts. Mentor texts are books or reading passages that demonstrate examples of good writing in each genre.
Be sure to select mentor texts that clearly demonstrate the skill you are working on. For example, if you are teaching opinion writing, a story like I Wanna Iguana, by Karen Kaufman Orloff and David Catrow is a great mentor text. Or if you are teaching a lesson about adding details, try When Lola Visits by Michelle Sterling.
You don't even have to use books as mentor texts. I love using reading passages to teach writing skills. Passages are short and easy to read. They are designed specifically for particular skills. Students can all have their own copy to follow along and mark up. I love using passages so much for teaching writing that all of my writing units include them to use as mentor texts.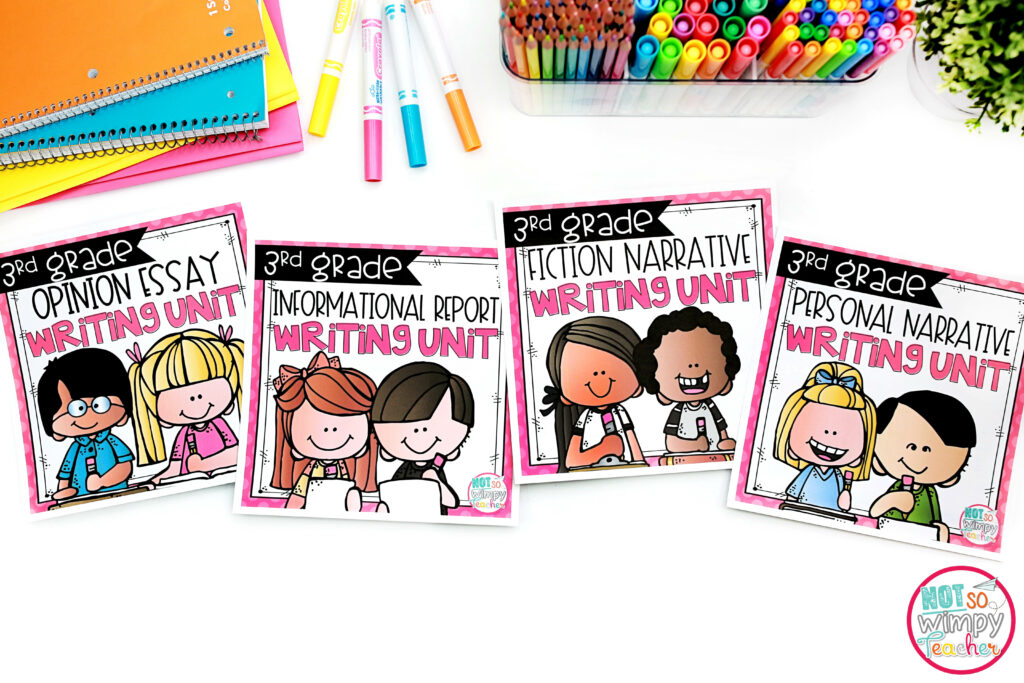 Tips for Mentor Texts:
To save time and make sure that you are teaching writing skills, here are some tips for using mentor texts:
Keep the focus of the mentor texts on the writing. Point out places where the author has used writing skills, like a small moment, strong leads, or dialogue exceptionally well. But resist the urge to get into deep discussions about the plot. Don't ask students comprehension questions.
You don't have to read the entire story. Just select a portion that exemplifies the skill you are working on. You can even use pieces of novels as mentor texts.
A great way to save time during writing is to read the story during reading or as a fun read aloud and then return to the sample language during writing.
You don't have to use a mentor text every day.
You can use the same mentor text more than once.
Whether you use books or passages or a combination of both, mentor texts provide a roadmap for our students, showing them what good writing looks like and how they can emulate it.
Armed with examples of good storytelling, writing becomes less about perfecting grammar and more about crafting engaging stories and conveying meaningful messages. And that's exactly what you want when you are teaching writing!
Anchor charts for teaching writing
Anchor charts are another must-have resource for teaching writing. Using anchor charts helps support students' learning by "anchoring" them in place. During a writing lesson, you create the anchor chart together with the students to model new skills and record the most important content and strategies. Anchor charts make thinking visible.
Anchor charts help you model the writing process, which is an important part of teaching writing. Starting with a pre-printed chart that lays out the bones of the piece prevents you from having to come up with an idea on the spot. You also don't have to waste time drafting parts of the piece you aren't focused on in the lesson. You can jump into modeling how to use the new writing skills you are learning.
Anchor charts can be posted in the room. They serve as a visible reminder of what students have learned and the strategies they're working on. They make a great reference tool for future assignments. Anchor charts are typically created on chart paper, but I love using digital anchor charts!
Digital anchor charts save so much time. They start with a pre-printed template and you don't have to worry about your artistic skills.
Students can also create mini anchor charts of their own. As you create a large chart for the class, students can follow along on their own papers. The practice of writing down this information helps solidify new skills and gives students a handy resource.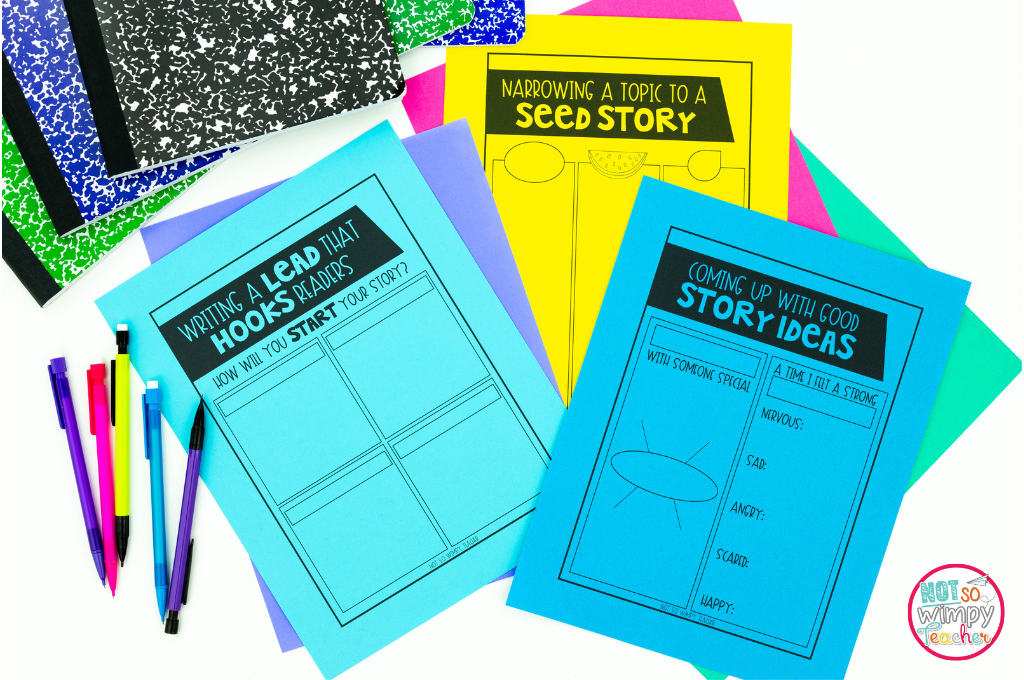 Tips for Anchor Charts:
Here are some tips for how to make the most of anchor charts when teaching writing:
If you are using handwritten anchor charts, you should create the framework ahead of time so you are only filling in the essential information with your class. But be sure to leave blank spaces. The act of creating the chart together is what is important.
Don't worry about how "beautiful" your chart is. The aesthetics of the chart are not important. It just needs to be legible. The emphasis should be on the skill, not pretty drawings.
Keep your anchor chart simple and easy to read. Don't cram too much information on one chart.
Try using digital anchor charts. These save so much time because the framework of the chart is already completed, and you can use the same template year after year. Plus, you don't have to worry about your artistic skills.
Give kids copies of the anchor charts to keep in a notebook. Creating their own charts is a good way to learn new information. And having a small, readily available chart to reference makes it easier for kids to use.
Anchor charts are a great resource to use when teaching writing because they simplify teaching and maximize learning. They also provide a helpful, easy-to-use resource for kids to reference when writing independently.
I've also included teacher (blank and filled-in) and student anchor charts in my writing bundles.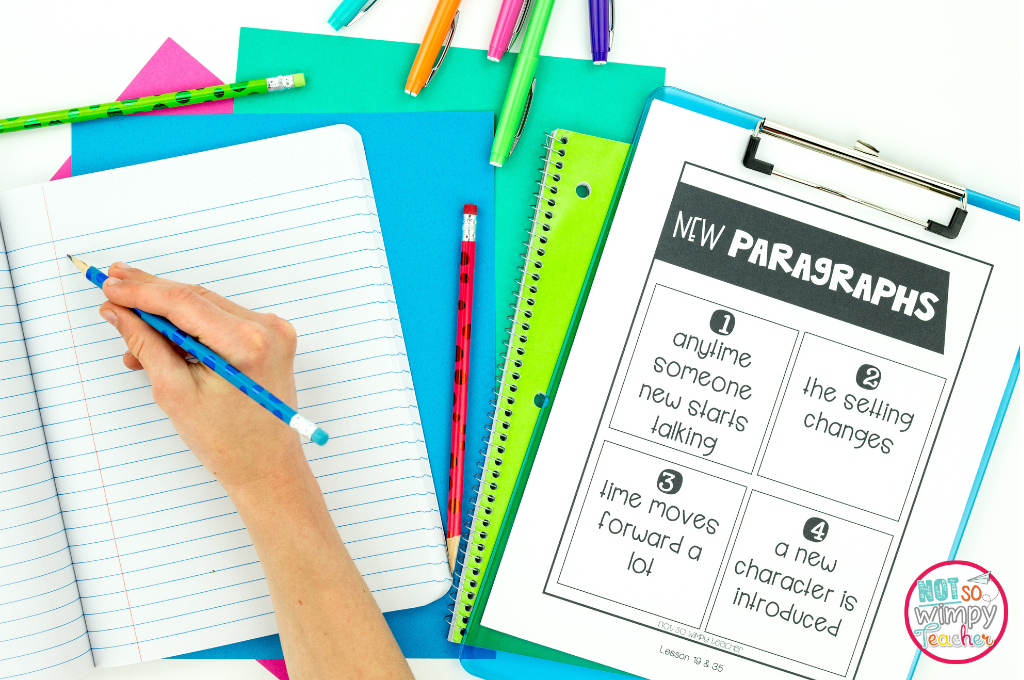 Rubrics for teaching writing
The third must-have resource for teaching writing is rubrics. Rubrics will not only make your grading process so much easier, but they will also make writing easier for students and lead to better-finished masterpieces.
Many teachers get nervous about grading writing. They don't like the subjective nature of the process. And they don't feel confident about what to grade. It's not uncommon to start grading punctuation and grammar errors instead of focusing on the content of the piece.
Rubrics make it easy to focus on what's truly important. They provide a detailed breakdown of what skills to look for in a writing piece. This simplifies the grading process. All you have to do is match up the students' writing with the correct column of the rubric to get a score.
Talk about a game-changer.
Rubrics also make writing easier for students. They set expectations from the beginning. And students can use a rubric as a reference tool during the revision process to ensure their masterpiece meets expectations. When students are taught how to use a rubric to produce their best work, it's a win-win!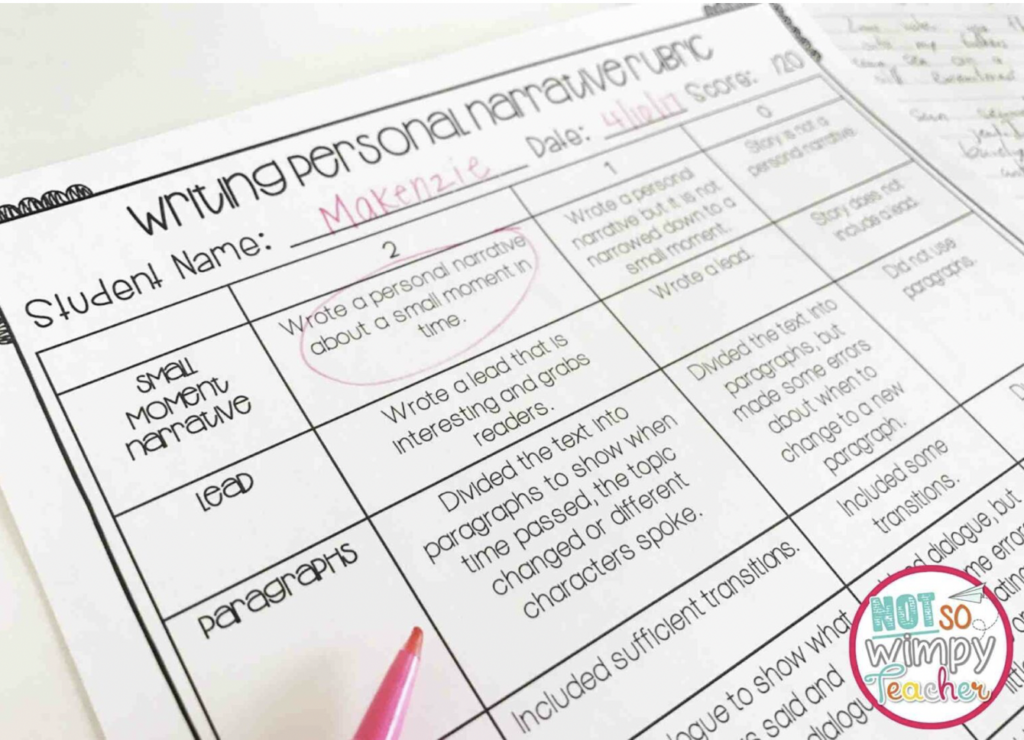 Tips for using rubrics:
Here's how to make rubrics work for you when teaching writing:
Use objective criteria whenever possible to describe desired performance.
Make sure there is a distinct difference in the criteria at each performance level.
Make sure the writing rubric is age-appropriate. Perfection is not the goal for elementary school writing.
Use simple language that students can understand.
Don't have too many performance levels. Three or four are plenty.
Share the writing rubric with students in advance so they know what is expected of them.
Don't write notes all over writing assignments. This is unnecessary and often overwhelming for students. Simply use the writing rubric, and if you must write something, limit yourself to one simple sentence on the rubric.
With rubrics, you'll spend less time writing notes on each assignment and more time enjoying your evenings with a hot cup of tea (or a glass of wine, we don't judge).
You can find ready-to-use rubrics in my writing bundles.
Want to learn more about using rubrics for teaching writing? Check out this post.
Done-for-you writing units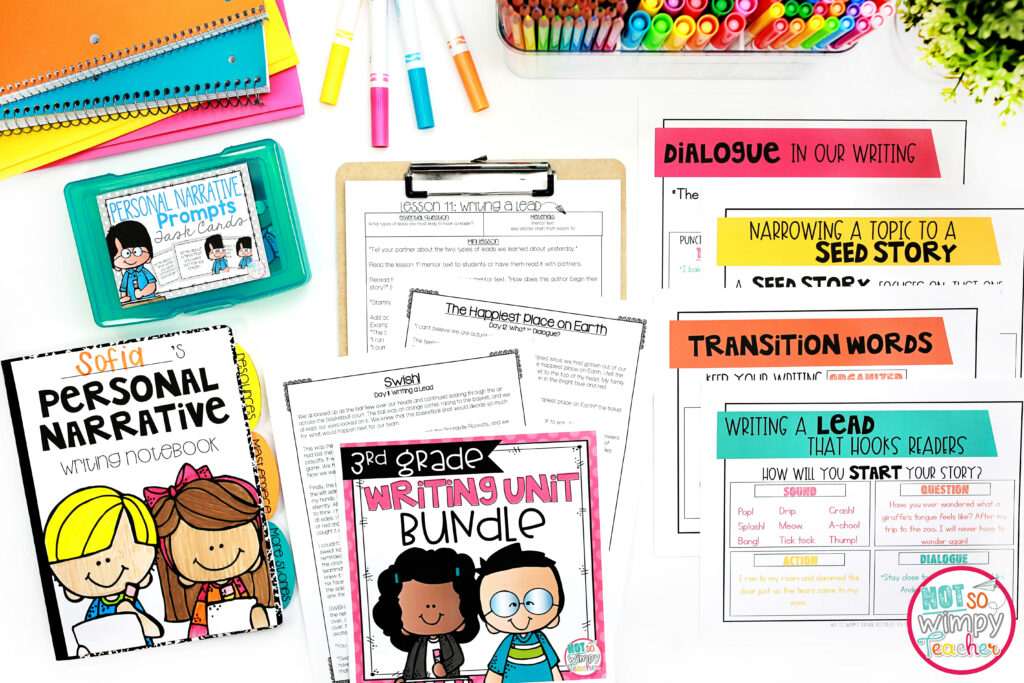 If you're thinking to yourself, gosh I really would like to start using these resources for teaching writing next year, but you have no idea where to start, you're in luck!
My done-for-you writing units for grades 2-5 contain all three of these must-have resources (and a whole lot more) for teaching writing! Each writing bundle includes a full year of writing lessons in 4 genres: personal narrative, informational report, opinion essay, and fiction. And each of those genres has eight weeks of easy, engaging, effective, ready-to-use lessons that kids love!
You'll get:
160 days of lesson plans that include guiding questions, materials, mini lessons, student work tasks, student share tasks, intervention, and several extension activities
Original mentor text passages
Task cards
Teacher and student anchor charts
Conference and goal-tracking forms
Rubrics for all four genres
Multiple ideas for author share celebrations
DIGITAL writing notebooks on Google Slides
And so much more!
Grab a writing bundle today and make teaching writing so much easier!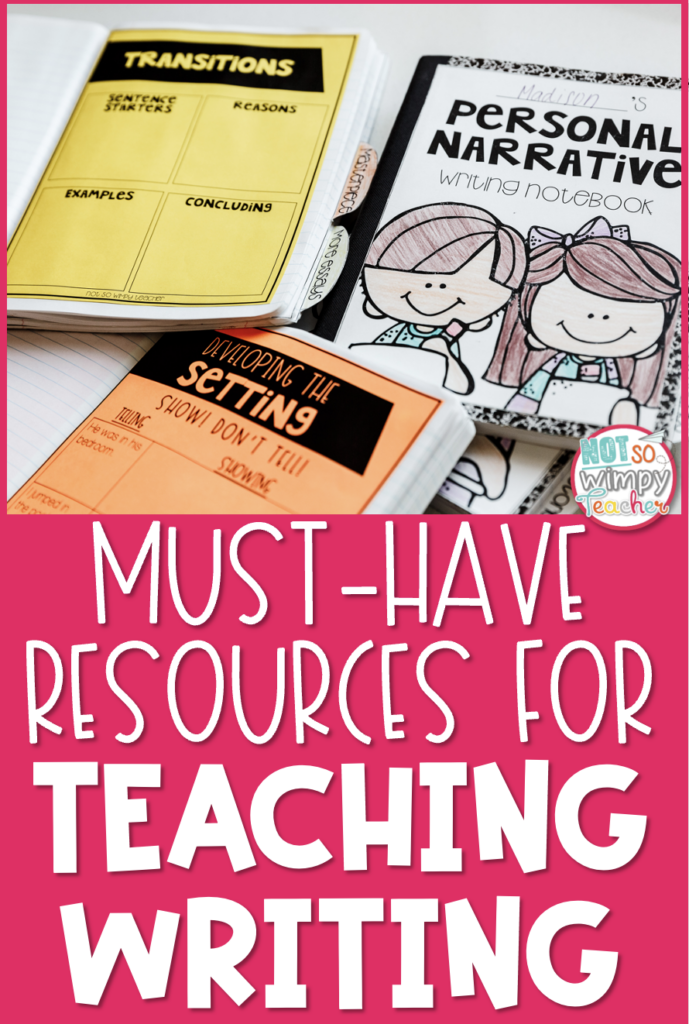 There you have it! Three resources for teaching writing that can transform your instruction and your students' writing experiences. Remember, teaching writing doesn't have to feel like a chore. With these resources, teaching writing can be easy, engaging, and effective. And your students might even learn to love writing.
Have a Not So Wimpy Day!