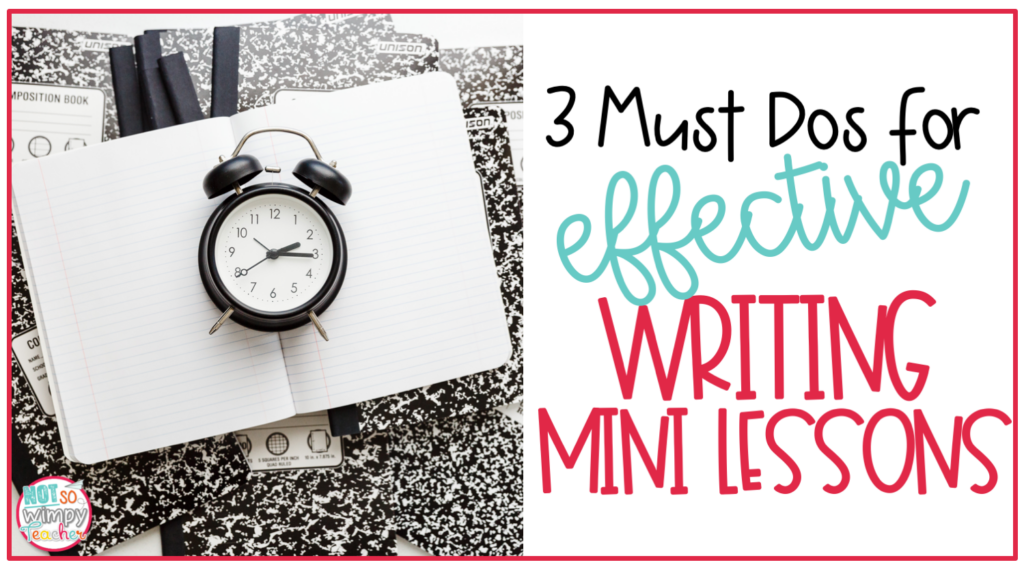 One of the most effective ways to improve students' writing (and writing test scores) is to provide direct writing instruction. That's why writing workshop starts with a mini lesson every day. Check out these three must-do tips to deliver effective writing mini lessons that help kids become more skilled and confident writers.
1. Keep the mini lesson short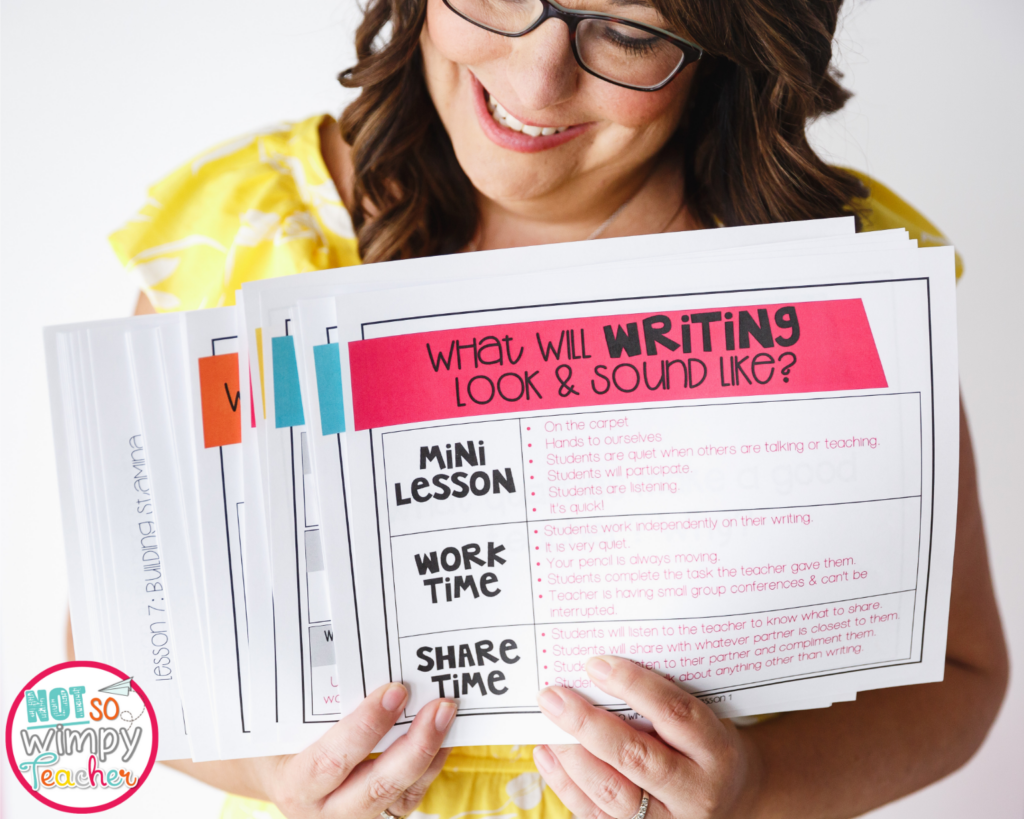 It's called a mini lesson for a reason. Your mini lesson is supposed to be short. Like ten minutes short.
You want to keep your whole group lesson to about ten minutes most days. This is super important for a couple of reasons.
First, kids have short attention spans, so the longer you talk, the more bored they get. And when they get bored, they stop paying attention, lose focus, start to fidget, and behaviors creep in. At this point, students are no longer getting anything valuable out of the lesson.
In addition, the longer teachers talk, the less time students have to work on independent writing tasks. And this really hinders their ability to become skilled writers. Students need lots of independent practice time to become writers. If all they're doing is listening to us talk, they aren't getting the practice time they need.
Here are some tips to help you keep the mini lesson short:
Practice your mini lesson at home and time yourself – this gives you a good idea of how long you are spending on the mini lesson.
Record yourself and listen to see if you repeat yourself too often – the point of the mini lesson is to introduce information. You don't need to repeat it over and over. You will have the opportunity to cover the skill in conference groups or in future lessons.
Break your lesson down into multiple days – if your lesson takes 30 minutes to teach, break it down into 2-3 days. For instance, when teaching leads, don't try to teach every kind of lead in one day. On the first day, introduce how to start a narrative with a question. On the second day, show students how to use an interesting fact to hook their readers. And so on. Don't overwhelm them by showing them very possible lead at once. Splitting a lesson over several days is a great way to keep it short.
Keep the lesson super focused on only one skill at a time. You don't have to teach leads, opinions, or dialogue in one day. In fact, it's impossible to teach all these things in one day. Pick just one skill to teach each day. And be sure to break down each concept into tiny little pieces so kids can understand them and be successful.
Use a timer to signal that mini lesson time is up. When the timer goes off, it's time to wrap up your mini lesson and move on to the independent writing portion.
2. Engage students during whole group instruction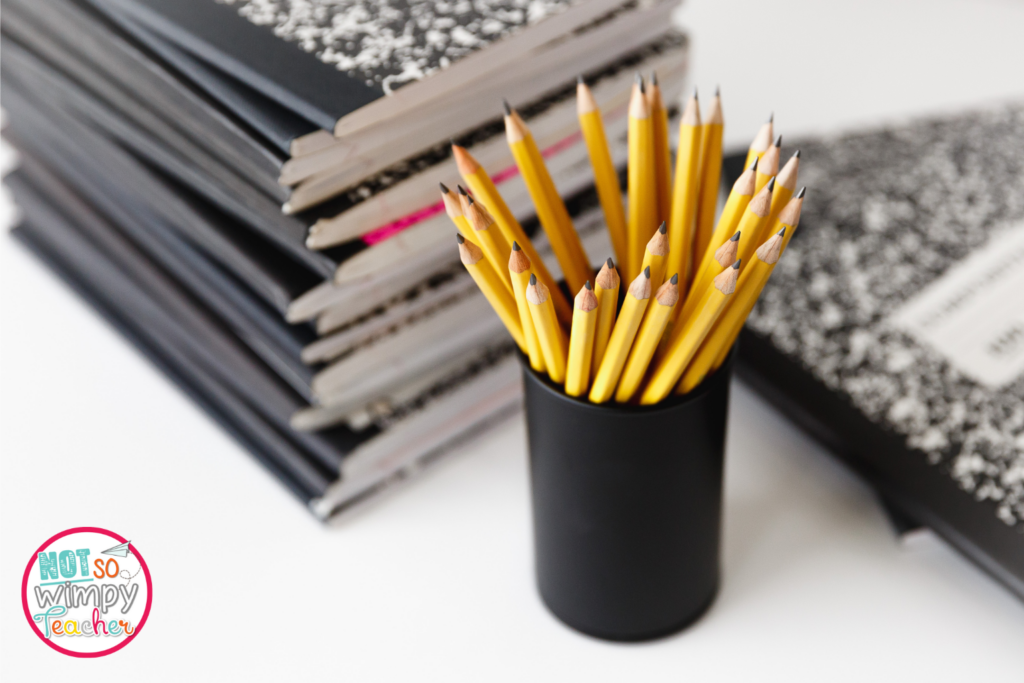 An effective writing mini lesson is more than just the teacher talking. You want to use teaching strategies that keep students engaged in learning during the mini lesson.
"Turn and Talk"
One of my favorite strategies to keep students engaged is turn and talk. You can use this teaching method throughout the lesson. After introducing a new concept, have your students repeat the definition to one another.
For example, you might say, "A personal narrative is a story about something that happened to you. Turn and tell your neighbor what a personal narrative is." This is valuable because saying it out loud helps them to remember what a personal narrative is. It's also great because it gets them talking so it breaks up the mini lesson. Plus, kids love to talk to their neighbors.
Or, you might say, turn and tell your neighbor the lead you decided to use for your story. This is a great way for them to share.
Or tell your partner one new way we talked about for coming up with story ideas yesterday. This is a great way to review something that you have already taught.
Pick the right topics
Another easy way to engage students is to pick topics and examples they are interested in. When students move on to their independent writing tasks, they will get to choose their own topic. But during the whole group instruction, you want to be sure to pick topics that kids care about.
If you are teaching opinion essays, you can keep kids engaged simply by picking something they know and care about, like "Things I don't like about summer . . . " or "Things I love about video game . . . " or "The best lunch in the school cafeteria is . . . "
These kinds of kid-friendly topics will keep kids engaged in the lesson and generate a lively class discussion.
Whiteboards
You can also use whiteboards or student printables to help keep students engaged. Not all students are auditory learners and they will process information better by taking notes and writing things down. Incorporating a writing activity into your whole group lesson will help engage different types of learners.
Want even more ideas for how to engage students in writing workshop? Check out this blog post!
3. Use anchor charts
A great way to keep kids engaged in the lesson is to model your writing with anchor charts.
It is important to not just introduce a skill during your mini lesson, but also to show kids how to apply what they've learned to their writing. The best way to do this is modeling.
Effective writing mini lessons will include a modeling component where you think aloud and write in front of the kids. And anchor charts make this task easy.
Anchor charts are pre-printed with some prompts and information. This saves valuable class time and prevents the paralysis of staring at a blank page. I will read the prompt and then think aloud as I fill in the anchor chart. By thinking aloud, you give the students ideas of what they should think about when they fill in their own anchor charts.
Anchor charts help you teach the lesson without just standing there and telling them what they need to know. They allow you to show them how to use a new skill to improve their writing.
Students can also have their own printable anchor charts to follow along with the lesson. They fill in the information on their copy as you write on the board. This keeps them engaged in the lesson and provides a helpful resource for them to reference when practicing writing independently.
Students can copy your examples, or they can try to come up with their own examples. You don't have to finish filling out the anchor charts during the whole group lesson. You can return to these anchor charts during writing conferences if students are struggling with a topic.
Ready to Use Writing Lessons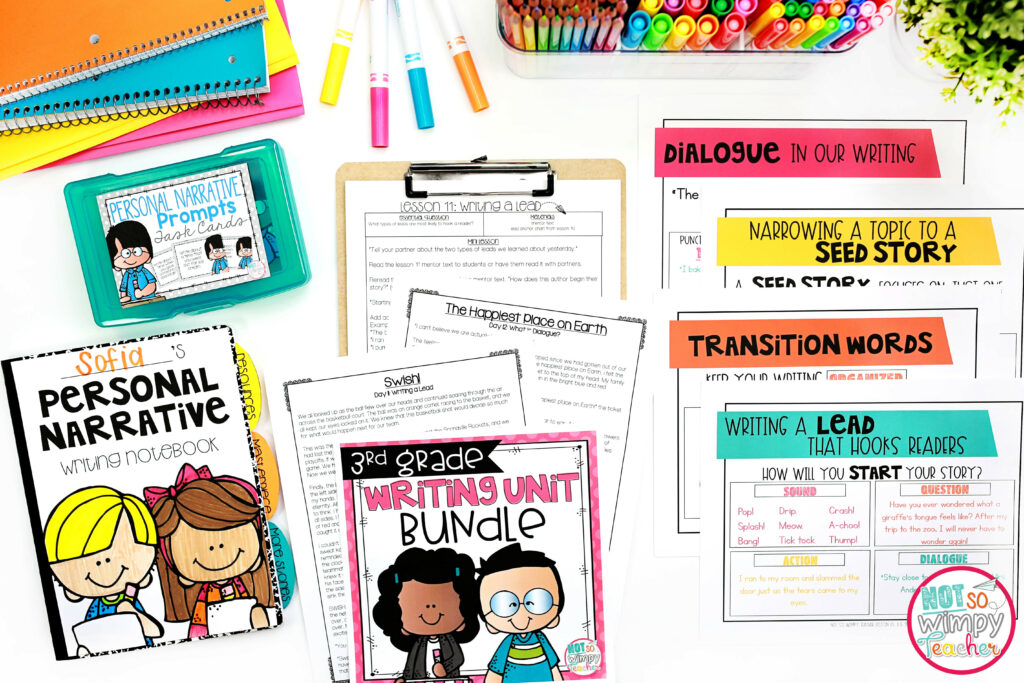 My writing bundles make it super easy to implement these three tips in the classroom. Want to make teaching writing easy? I've created a full year of writing curriculum for grades 2-5.
Each year-long bundle includes lessons for four writing genres: personal narrative, informational report, opinion essay, and fiction. You get:
32 weeks of lesson plans, including mini lessons
Mentor texts
Student and teacher anchor charts
Student printables
Task cards
Daily writing tasks
Rubrics
and more!!
Everything you need to conduct effective writing mini lessons is at your fingertips. All you have to do is print and teach.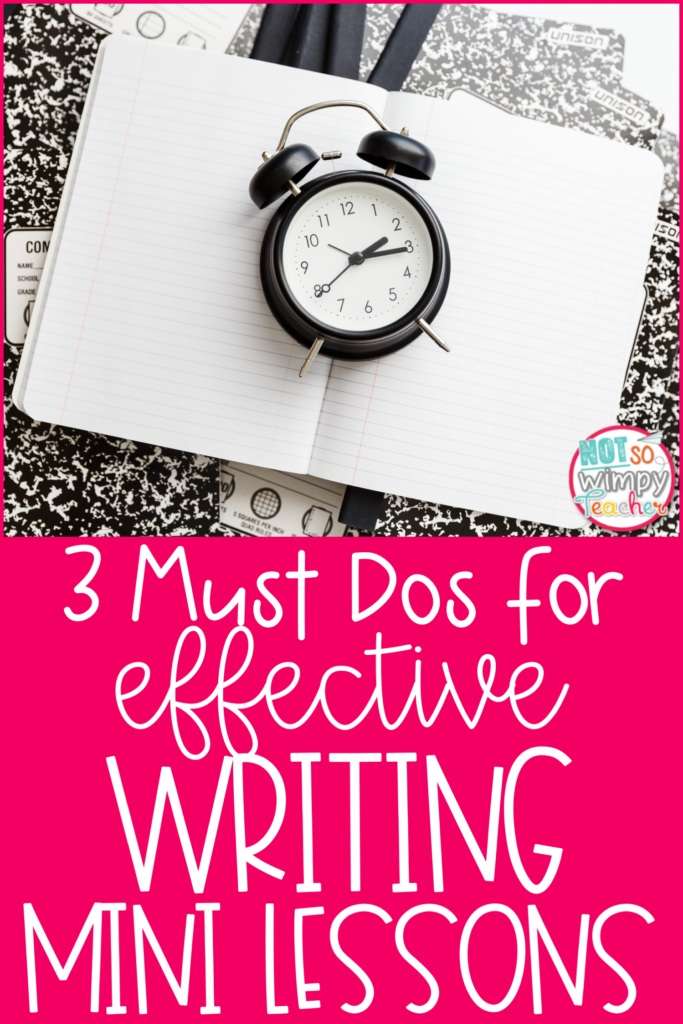 Have a Not So Wimpy Day,