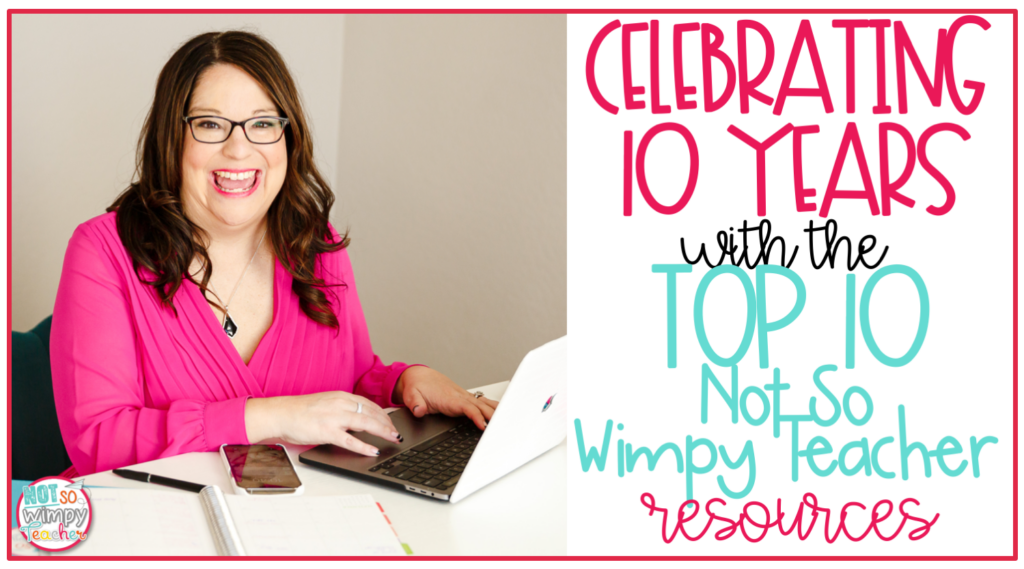 It's our birthday! Not So Wimpy Teacher is 10 years old! It's hard to believe. I started this business to make a little extra money for my classroom, and I do mean a little. My goal was to make an extra $20 a month so I could buy books and other TPT resources for my students.
Want to see what my very first teacher resource looked like?
And this was my first freebie:
Things were a little bit different back then.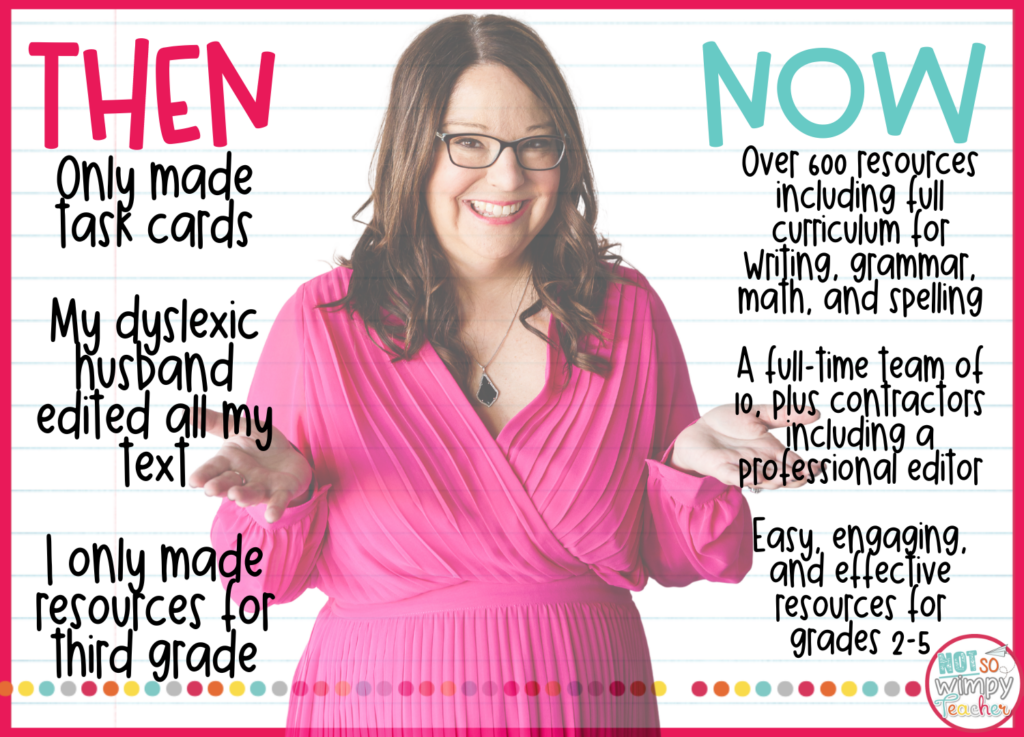 Now I've got over 600 teacher resources in my store and a full team to help teachers in grades two through five deliver engaging and effective lessons in the classroom without compromising sleep, self-care, or their sanity.
We've come a long way in 10 years!
Today I thought it would be fun to take a peek at our top 10 resources.
Top 10 Not So Wimpy Teacher Resources
1. Grammar
Coming in at number one is grammar! And I'm not surprised. My grammar bundles break down tough grammar standards into bite-size, manageable pieces.
"This resource is incredible! An entire grammar curriculum that is aligned with standards, has a scope and sequence, and creates a routine for the students to grasp grammar concepts. This is my go-to for my grammar and I don't know where I would be without this resource!" – Alysse S.
Let's kick off this party with our beloved grammar lessons!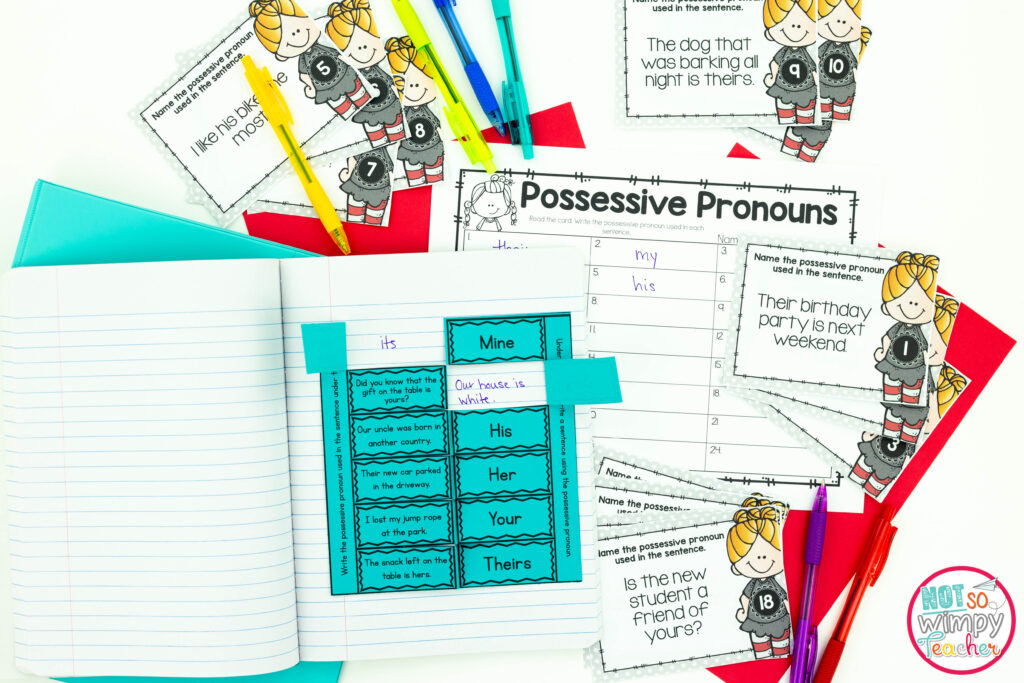 These UPDATED & IMPROVED lessons help students become excellent grammarians in just 10 minutes a day! Each no-prep lesson comes complete with a full week of activities, including:
PowerPoint mini-lessons
Interactive notebook activities (with an answer key)
Grammar writing prompt
Task cards
Printable and digital assessments
This mini-curriculum has a full year's worth of grammar activities. It includes everything you need to teach, practice, and assess 32 weeks of skills, including review weeks to ensure your students master these skills.
You'll love how easy it is to implement this no-prep grammar resource in just 10 minutes a day. And the best part, interactive activities make grammar fun. So students love grammar too!
Learn more about how to teach grammar in 10 minutes a day.
2. Writing
Awww. . . writing. I have a special place in my heart for writing because this is one of the very first bundles I created.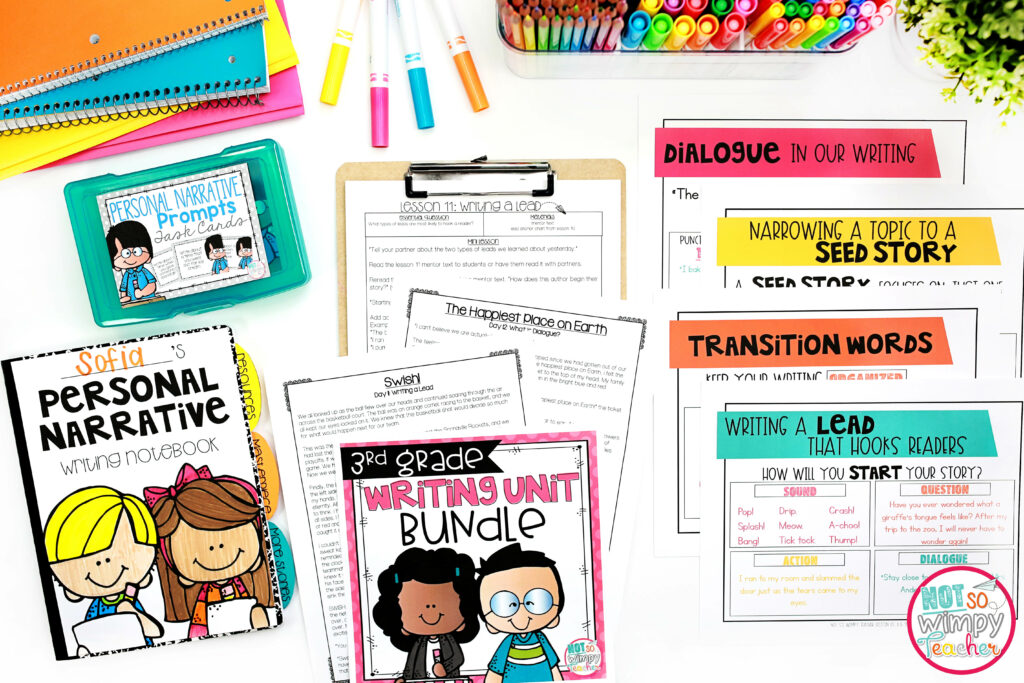 I absolutely love how easy this resource is to use! The layout is amazing, lesson plans are so easy to follow with all the info you could need, and the layout of the program breaks writing down into easy-to-digest parts for students to really understand. This makes teaching so easy!- Kristina S.
AMAZING resource! I can't say enough positive things about this bundle. Teacher-friendly layout for instructional resources and helpful graphic organizers. The anchor charts for student writing notebooks are one of my favorite features. – Courtney S.
These huge writing bundles available for grades 2-5 include everything you need to teach, practice, and assess writing for the entire year! Students will complete four major units of study:
personal narrative
informational reports
opinion essays
fiction narratives
In addition to 160 daily lesson plans that include guiding questions, materials, mini lessons, student work tasks, student share tasks, intervention, and several extension activities, these bundles include:
7 exclusive videos to help implement and organize the unit
55 original mentor text passages
10 sets of task cards
50 teacher anchor charts (blank and filled-in versions)
57 student anchor charts and printables for writing notebooks
tracking forms to keep you organized
rubrics for all four genres
and so much more!
You'll love how this low-prep resource makes you a more confident writing teacher and helps your students learn not just writing skills but also how to fall in love with writing.
Learn more about using writing workshop.
3. Math Centers
My math centers make teaching math so much easier and more fun for everyone. It's no wonder that this top teacher resource has captured the number three spot!
This is an amazing product and worth the purchase.. . Exactly what I needed. . . . I love how this is consistent and the students can understand the routine easily. This also cuts back so much time for me as they are engaged and I don't have to worry about them interrupting small groups or not being on task. Thank you so much for this! – Stephanie W.
Many teachers have called these math centers for grades 2-5 "a lifesaver." They include everything you need to cover all of the standards-based math skills your students need to practice for an entire year.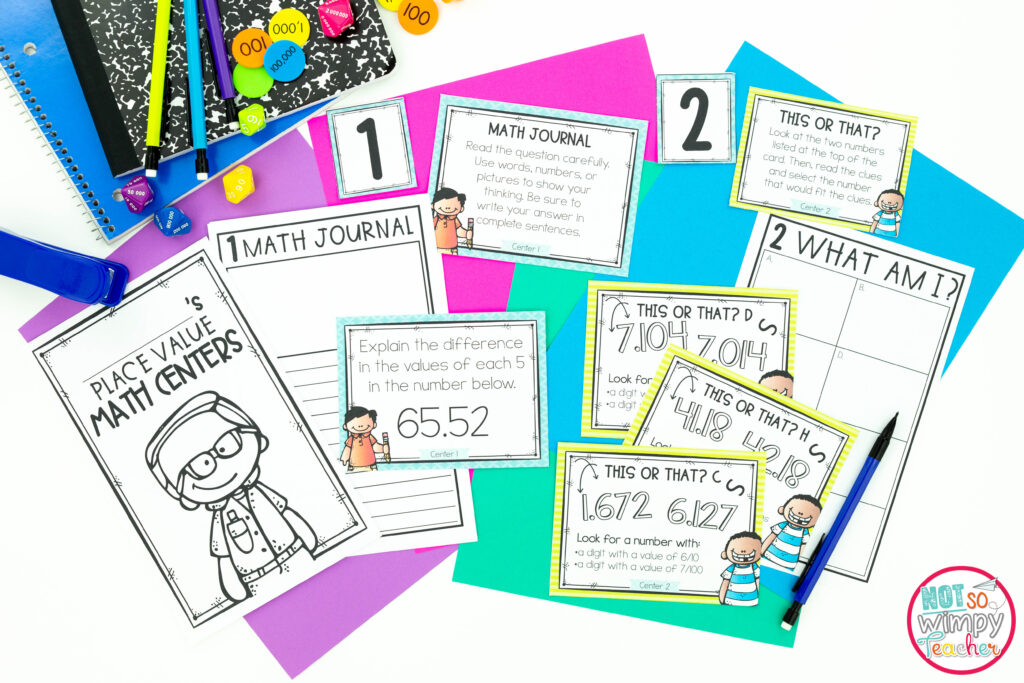 Each grade level bundle has 90 centers organized into 9 sets by topic. Each set includes sorts, task cards, math writing, matching, and a recording book that students use for all 10 centers in each set. Yes, they're that complete!
Implementing these centers is easy because they all follow the same format. That means you'll only have to teach the expectations and procedures one time, which will save you so much class time. Students truly can complete these independently so you can focus on small groups.
And let's not forget . . . these math centers are fun. Kids love these hands-on activities and stay engaged in math, so they learn so much more!
Learn how to use math centers in the classroom.
4. Math Curriculum
And the number 4 top teacher resource is the third and fourth grade math curriculum. These resources are some of the latest additions to the Not So Wimpy store. And, IMHO, they are some of the best. If you teach third or fourth grade, you will love this math curriculum.
This resource is amazing. I paired it with the interactive notebooks and centers to have a fantastic math curriculum for my classroom. If you want something that is rigorous, engaging, and will grow your students I highly recommend this resource. – Angela M.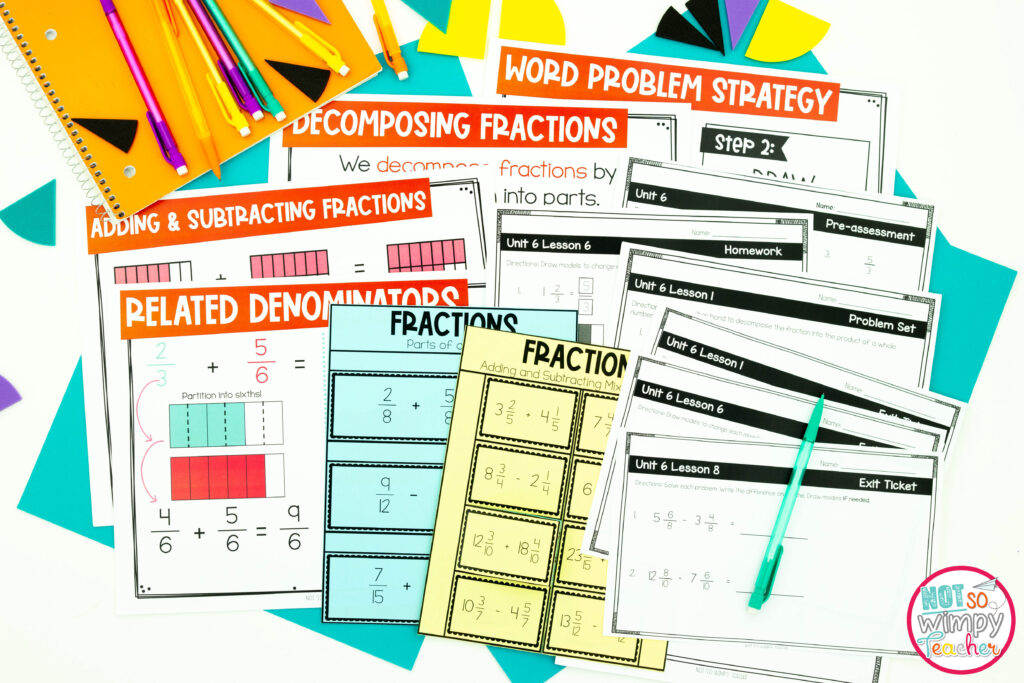 The Not So Wimpy math curriculum includes comprehensive lesson plans, practice opportunities, tools, and assessments for all the math standards your students need to learn. Each grade level includes 10 units that are fun, engaging, and easy to prep.
The curriculum is teacher and student-friendly, so teaching with these units is a breeze. Each lesson follows the same format, so you'll only have to teach the expectations and procedures one time. After that, your students will know exactly what's coming next in each unit. From mini-lessons to small groups to review activities and assessments, they'll know what to expect. You'll save so much class time!
The instructional PowerPoint is a complete interactive mini lesson–just project on the board and teach. It's so easy a sub can use it. Daily student activities are effective and engaging–just print and copy for each student. Task cards and project based learning activities make math fun!
Here's just a glimpse of what's included:
Vocabulary cards
Assessments, including pre-assessment
Anchor charts
Daily lesson plans and activities with ideas for differentiation
Done-for-you PowerPoints
Problem sets and homework.
Interactive notebook activities
Exit tickets
Tools and resources
Games and task cards
5 Project based learning activities
And so much more!
It's no wonder that teachers love this resource!
Learn more about the math curriculum.
The math curriculum pairs perfectly with our math centers and interactive notebooks.
5. Math Interactive Notebooks
Another math teacher resource rounds out the top five. Teaching tool meets scrapbook in these educational and engaging math interactive notebooks.
My students and I love these interactive notebooks! They are so engaging and are a great way to build a resource for students to look back on as we work on math concepts throughout the year. They are also great to help them review a concept they may have forgotten after we move on. – Cecely F.
Interactive Notebooks are a FUN way to teach and practice math in grades 2-5! Instead of just copying notes from the teacher, interactive notebooks require students to interact with and think about the material. This leads to a deeper conceptual understanding.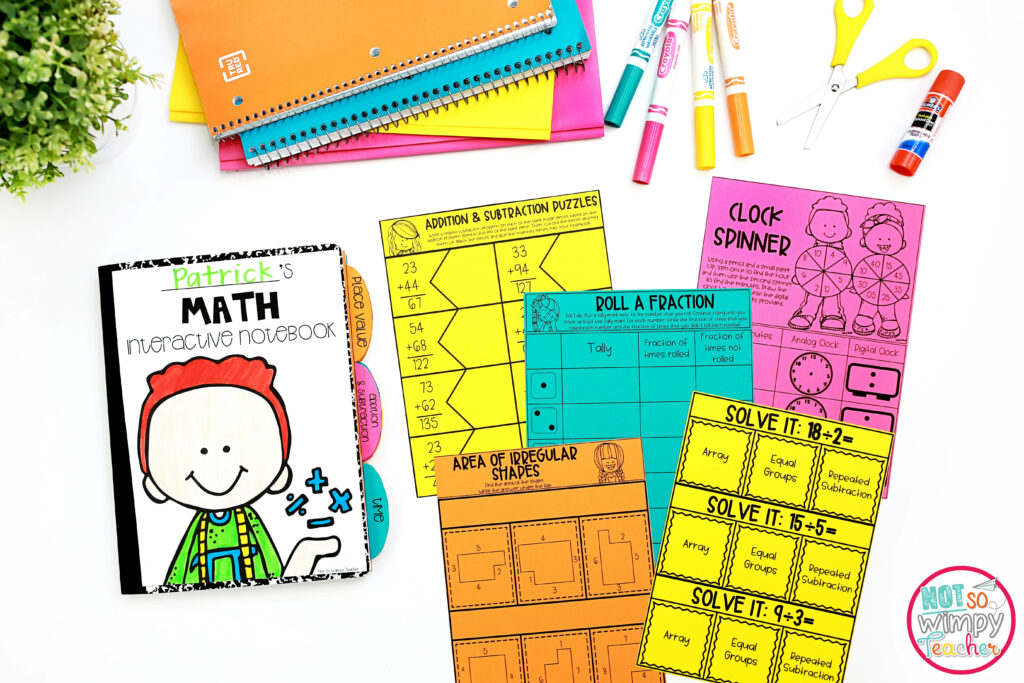 Because Interactive Notebooks involve inserting and moving around flaps, foldables, wheels, charts, etc., my students call them "scrapbooks"! They are perfect for kinesthetic and visual learners!
These interactive notebooks are designed with busy teachers in mind. The cuts are super-simple, and there's no unnecessary coloring. Your kids can quickly cut, glue, and go!
Each interactive notebook bundle includes 10 topics that match grade-level standards. They are also great for differentiation and assessment. Easily assess students' mastery of a topic by simply flipping through the notebook.
Get tips for using interactive notebooks.
6. Vocabulary Bundles
My vocabulary bundles remain popular with teachers who want to supplement their often lackluster vocabulary instruction.
I love this vocabulary program. My students love the WOW! Word and doing the picture dictionary. I also have my students reference their vocabulary journals, which has helped them grow their vocabulary. – Rachel G.
So often, the vocabulary lessons that come with your reading program focus on story-specific words that students may never see again. My vocabulary bundles, on the other hand, focus on learning Tier 2 words–words that students will repeatedly see in grade level texts. Teaching Tier 2 words helps students become better readers and writers.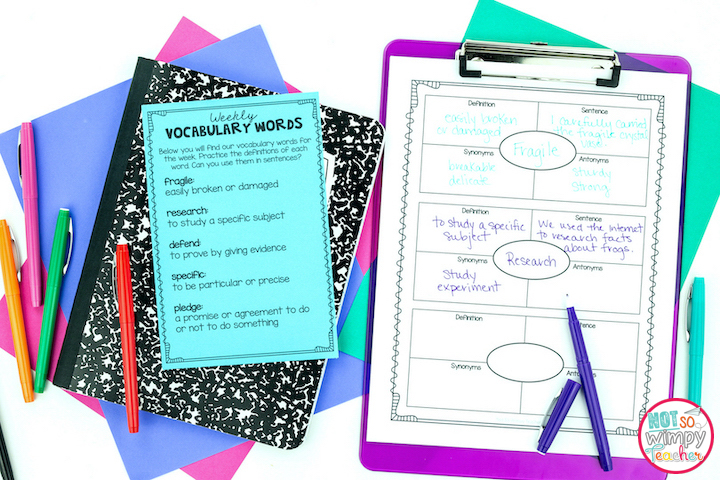 Each vocabulary bundle for grades 1-5 includes EVERYTHING you need to teach, practice, and assess vocabulary for a full year! There are 36 weeks of vocabulary instruction!
And these done-for-you lessons follow the same format each week. Students know what to expect and look forward to their favorite activities. And 10 minutes a day are all you need to help your students' vocabulary skyrocket!
Learn more about how I teach vocabulary.
7. Spelling Bundles
Do you teach second of third grade? If you do, you're going to love this next top teacher resource. Even though the spelling curriculum hasn't even been in the store for a year (!?!), teachers just like you have launched it into the top ten!
This is the BEST spelling bundle by far! There are three weekly lists which makes it easy to differentiate. Homework and practice pages are included. My kids love the task cards! The phonetic progression is perfect! You will never need to look for spelling products again. – Pam M.
This unique concept-based spelling curriculum is flexible, easy to differentiate, and simple to use. It is designed to increase students' understanding of common spelling rules and patterns.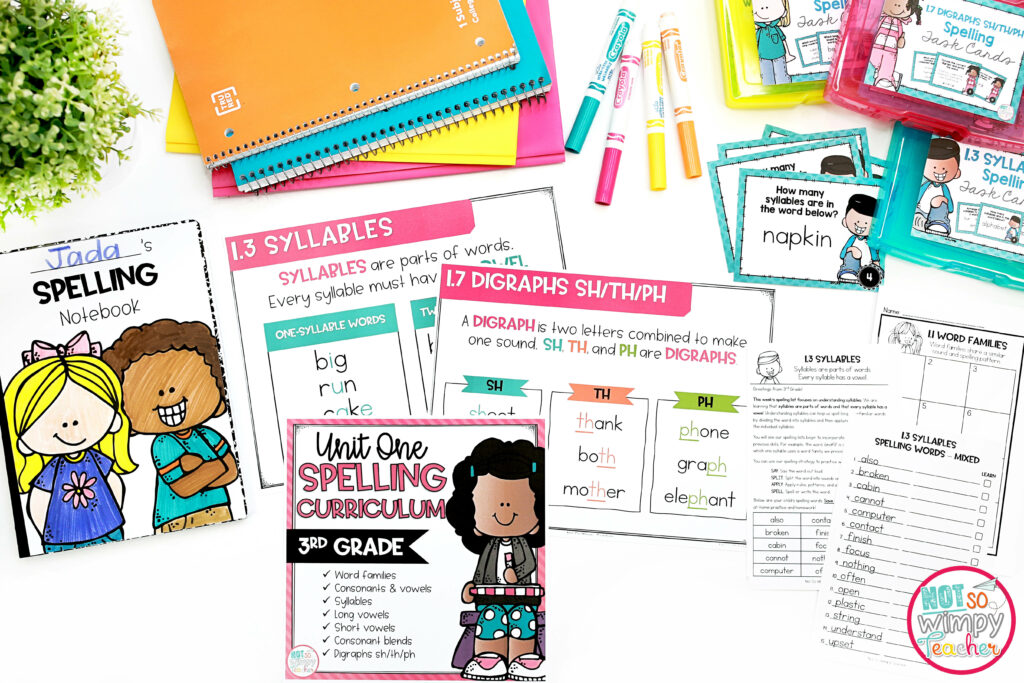 These bundles include everything you need for a comprehensive spelling program with lessons that are fun and engaging all year long. Each week includes:
4 different spelling lists
interactive notebook activities
task cards
practice sheets
homework
and assessments.
All the lessons are focused on spelling rules and patterns to help students develop a conceptual understanding of why words are spelled the way they are. Instead of just memorizing the weekly word list, students will be gaining skills they can apply to new, unknown words. And no matter which list you choose, all your students will be working on the exact same skill (just at different levels). Talk about easy prep!
Each bundle includes 32 weeks of spelling lessons. And it will forever change the way you teach spelling.
Learn more about the spelling curriculum.
8. Fact Fluency Bundle
Looking for a better way to teach math facts? Look no further. Our number 8 top teacher resource–The Math Fact Fluency Bundle–has got you covered.
This was a complete game changer in my classroom. The students were excited to play these math games and have all made huge growth with their fluency skills. I love that they are all doing the same games but at different skills making it really easy to differentiate. – Kellie G.
Math fact fluency is crucial to confidence and long-term success in math. But let's face it, most math fact fluency programs aren't working.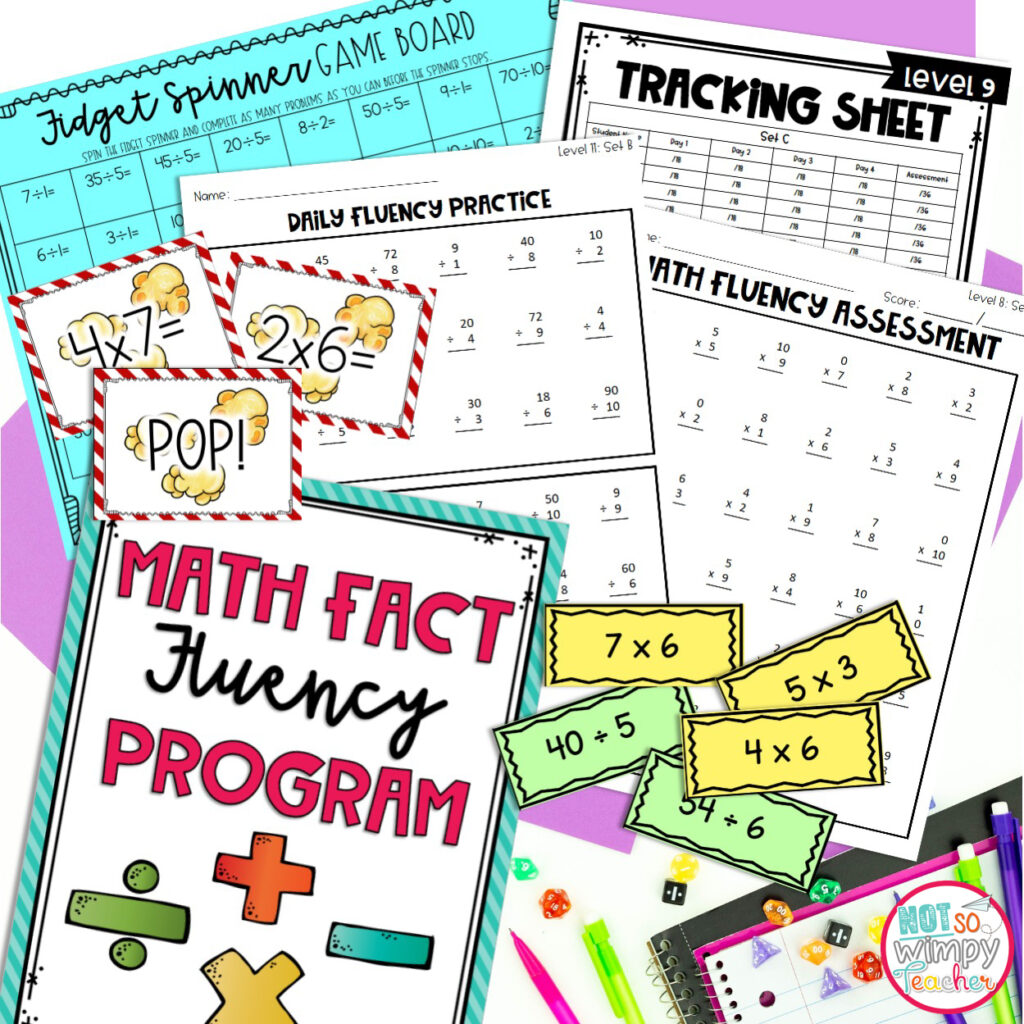 The Not So Wimpy Teacher Math Fact Fluency Program is your mixed-fact solution for addition, subtraction, multiplication, and division. Teaching mixed facts from the beginning leads to true mastery of all the facts instead of just memorization.
This program has everything you need to implement an effective program to increase your students' math fact fluency. There are tons of practice sets, assessments, flashcards, games, and tracking sheets.
Learn more about how to use the Fact Fluency Bundle.
9. Seasonal Reading Comprehension Bundle
Switching gears, er subjects, the number nine top teacher resource, our seasonal reading comprehension bundle, is your must-have tool for teaching reading comprehension in grades 3 and 4.
I love this resource. There's a lesson plan on how to use each passage for the week. I LOVE LOVE LOVE that each month has passages related to activities each month and then others that are high interest for the kids. – Kelly C.
The Seasonal Reading Comprehension Bundle makes it easy to teach and review challenging reading standards in a student-friendly format. This year-long bundle includes 60 seasonally-based reading passages. It also includes
comprehension questions
standards-based extension activities
and reading response activities for each passage.
Each passage is designed to be used over 4 days so students get practice reading and rereading difficult texts and using close reading skills. But students truly enjoy these reading pages. With high-interest topics like hurricanes, gingerbread houses, and penguins, students are engaged in the reading. They are curious to learn more about the topic and stay focused on the text through multiple days of learning.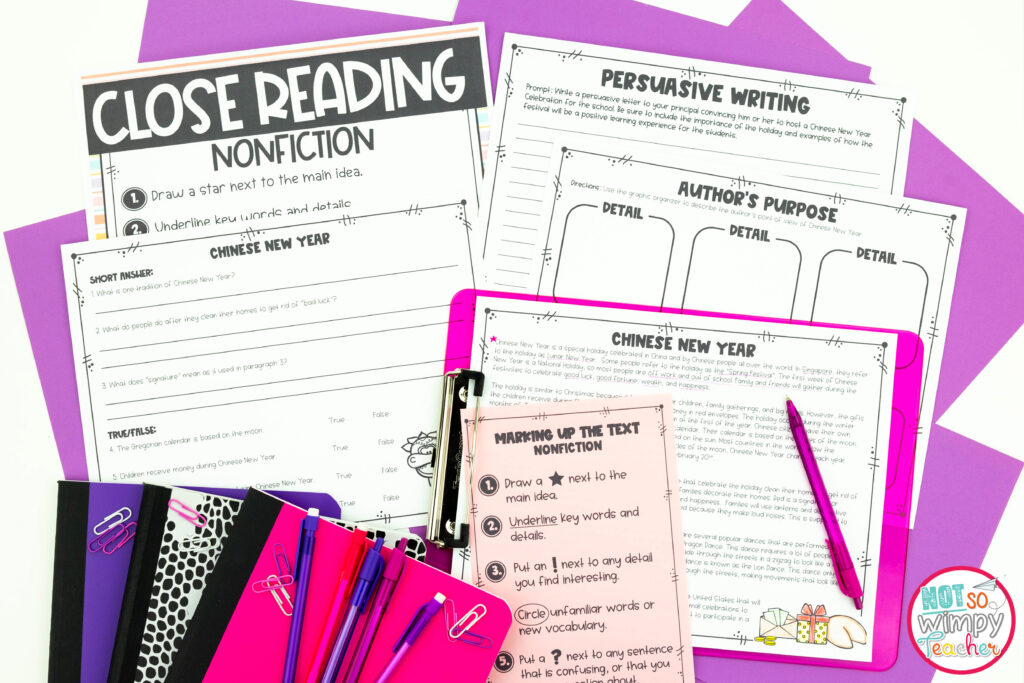 This no-prep resource is easy to use in the classroom. Detailed teacher directions and a monthly calendar tell you just what to do each day. All you have to do is print and teach.
This resource includes:
60 reading passages, including both fiction and nonfiction reading comprehension questions for each passage
Standards-based reading activities
Reading response writing activities
Teacher and student anchor charts
An "At a Glance" calendar for each month
Answer keys and detailed teacher directions
Learn more about how to use the reading comprehension passages in the classroom.
10. Reading Bundles
And coming in at the number 10 spot, we have reading bundles for second and third grade.
I love that this resource includes everything needed to teach, practice, and assess each reading skill. The centers are PERFECT! Once students are taught the procedures and expectations, they know exactly how to be successful the rest of the year. The centers are engaging for students, and super easy to prep for the teacher! – Ashley M.
Our reading bundles are designed to help your students master all of the second and third grade standards-based reading skills in a fun and engaging way.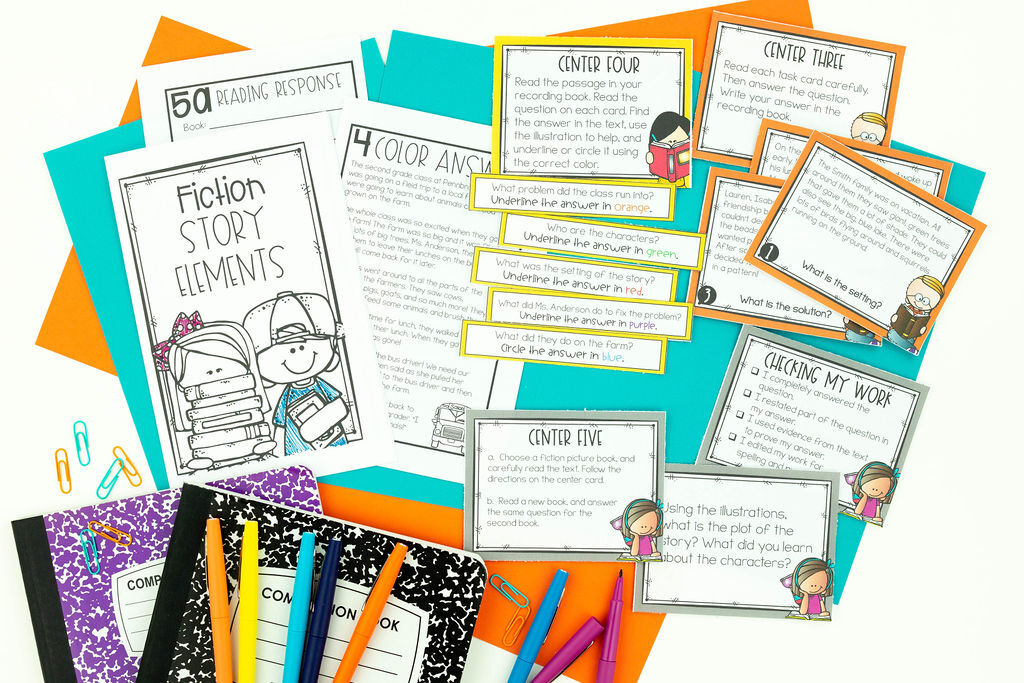 These bundles each include a full year of reading activities. There are 16 lessons in each unit, designed to be used over two weeks. Each lesson includes
A PowerPoint mini lesson
2 interactive notebook activities
5 centers (including one reading response activity) and
3 reading passages.
This is a fun, hands-on way to give your students essential practice of important reading comprehension skills like main idea, central message, point of view, and cause and effect through focused practice on one skill at a time.
These reading units include fiction and nonfiction passages and can be used as a supplement to any reading curriculum.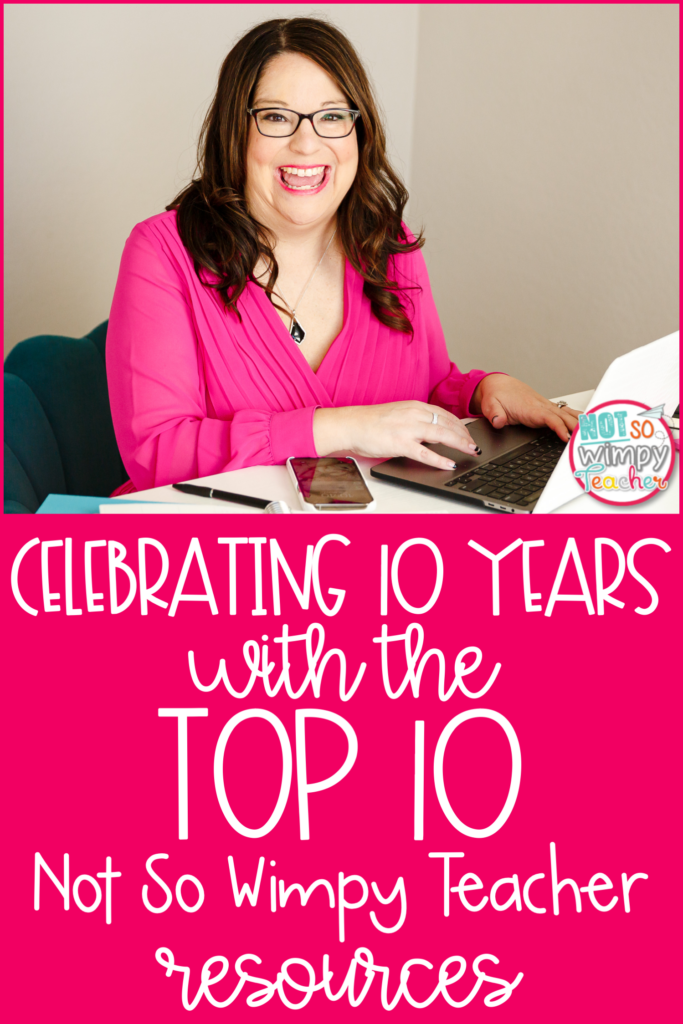 Thank you so much for being part of the Not So Wimpy family. For using and loving our resources. And for working tirelessly to make learning fun for kids!
It sure has been a blast working with you for the last 10 years! I can't wait to see where the next 10 take us!
Have a Not So Wimpy Day,