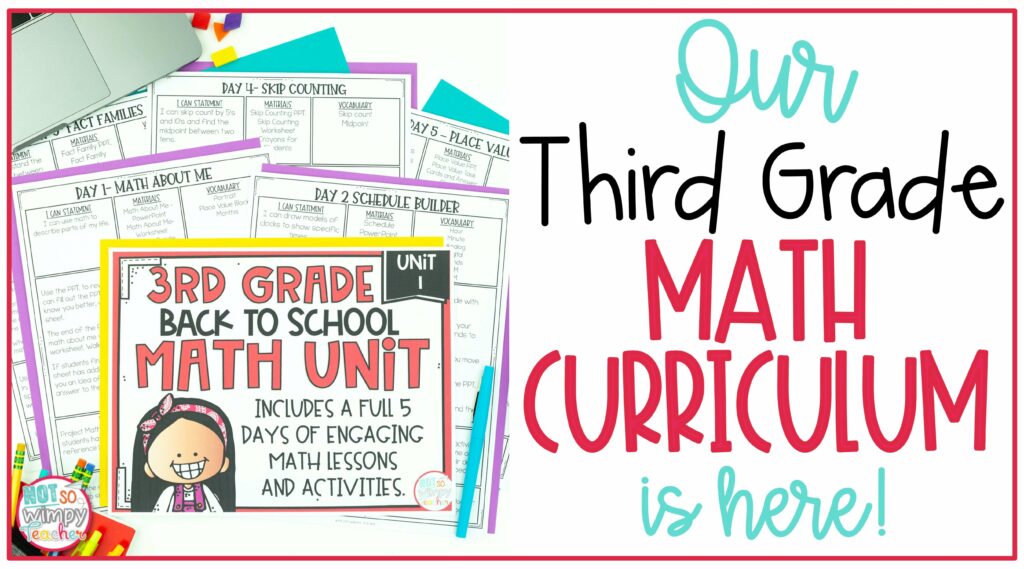 This is a super-exciting post for me to write! For years, you have been asking me for a math curriculum. And for years I've been smiling, nodding my head, and saying, "Mmmhmm. That's an interesting idea. My team and I will take it under advisement."
Internally, I wasn't really considering it though. I was stuck in a silent debate with myself. The rational part was saying, "No way. I am not going to take on math too."
But the other part, the emotional part that absolutely loves you all was saying, "Come on, Jamie. Your teachers want this. Your teachers need this. Think how amazing a Not So Wimpy Teacher math curriculum would be for them and their students."
And that's when I knew we were going to do it.
I pulled together my amazing team and we brainstormed ideas for the biggest, best, most effective, engaging, and fun math curriculum possible. And then my curriculum team came up with a product that surpassed even our wildest dreams.
I am beyond thrilled to introduce you to the new Math Curriculum. This curriculum is based on common core math standards. I'd love to show you around the units. We currently have math curriculum for second, third, and fourth grades!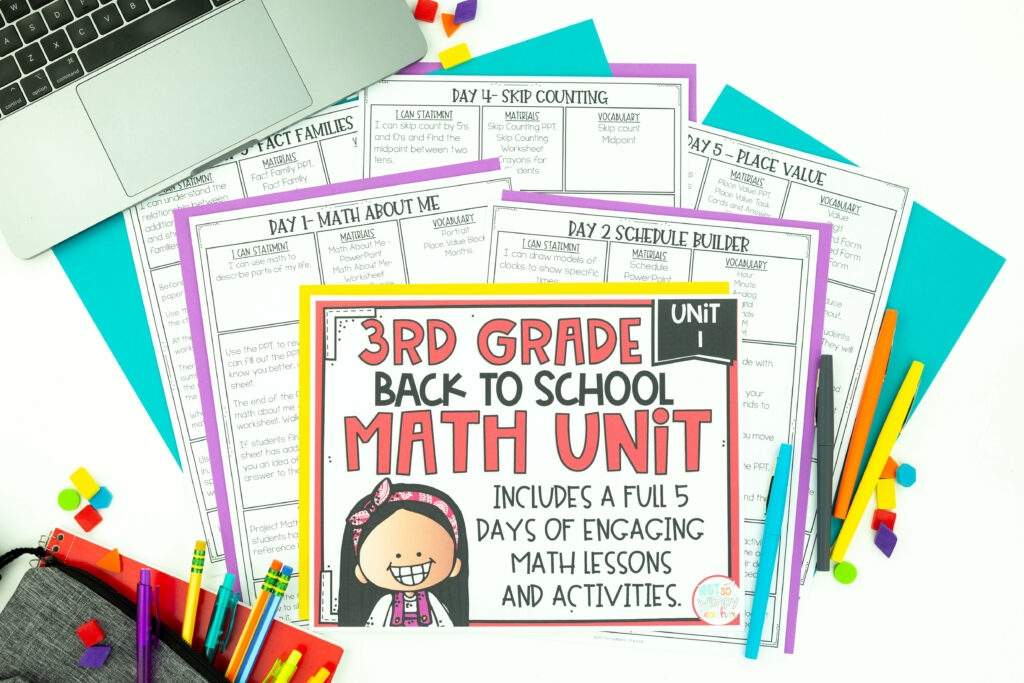 Introducing the Third Grade Math Curriculum
Our third grade math curriculum has 10 different units:
Back to School
Place Value
Addition & Subtraction
Multiplication
Division
Geometry
Fractions
Measurements
Data
Review & Test Prep
We know that not all math skills are created equal. Some math concepts take longer to master than others. That's why each unit has a unique timetable, based on the number and complexity of the standards included. We designed this curriculum to meet the needs of the students, rather than fit perfectly into a specific calendar time frame. Some units take two weeks to teach, others take four or more.
We've adopted a unique pricing strategy to ensure that every unit is a good deal for you. Each day of lessons costs $1.25. We simply multiply the total number of days in the unit by $1.25 to get the unit price. This means that our math units are not all the same price. It doesn't seem right to charge the same for a ten-day unit as a twenty-day unit.
If you think about it, a daily price of $1.25 is pretty incredible. All of your lesson planning-done. Your activities–organized. Your assessments and homework and guided math lessons–ready to go. For just $1.25 per day.
But we're offering you an even better deal. If you buy the Third Grade Math Curriculum bundle, you can get an entire year of math curriculum for $180. So make sure you scoop up the money saving bundle.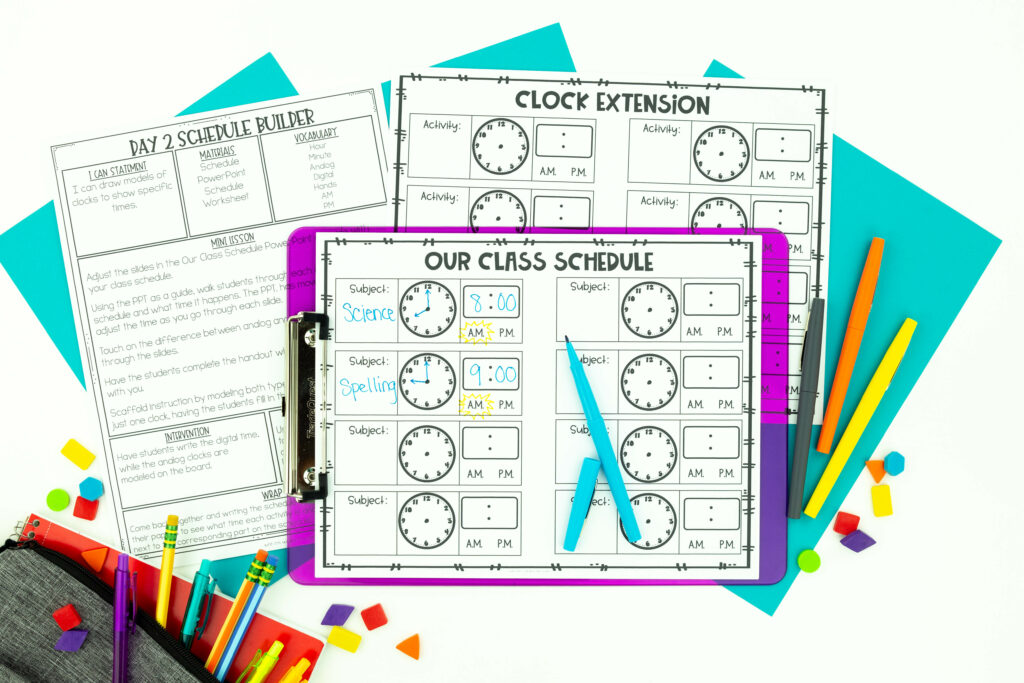 What's Included in the Math Curriculum
Each math unit includes a number of components to make teaching math engaging and fun. Together, those pieces form a comprehensive, ready-to-go, math curriculum.
An "At a Glance" calendar lays out every lesson.
Vocabulary cards help students learn new vocabulary.
A pre-assessment lets you assess prior knowledge .
Anchor charts help students learn new skills and strategies.
Daily lesson plans and activities for small-group instruction save you valuable time.
Instructional PowerPoints take the prep out of mini lessons and keep students engaged.
Student problem sets and homework provide practice opportunities.
Exit tickets allow you to do a quick formative assessment while students share what they learned.
Helpful tools and resources, like hundreds charts, skip counting charts, horizontal and vertical number lines, and more, ensure you have everything you need to meet the needs of all your learners.
Math games are perfect to make review fun.
Task cards can be used in centers or as a whole group activity.
Comprehensive assessments, with questions modeled after standardized tests, and a scoring rubric, make it easy to see what skills your students have mastered.
An FAQs section provides answers to commonly asked questions about the resource and helps you get started right away.
And there's so much more, including project-based learning activities in some units.
This curriculum works perfectly with math workshop. The PowerPoints are great for whole group lessons. Problem sets, task cards, math games, and helpful tools all make centers easy. And lesson plans include detailed instructions for small group activities. For more information on setting up math workshop in this classroom check out this post.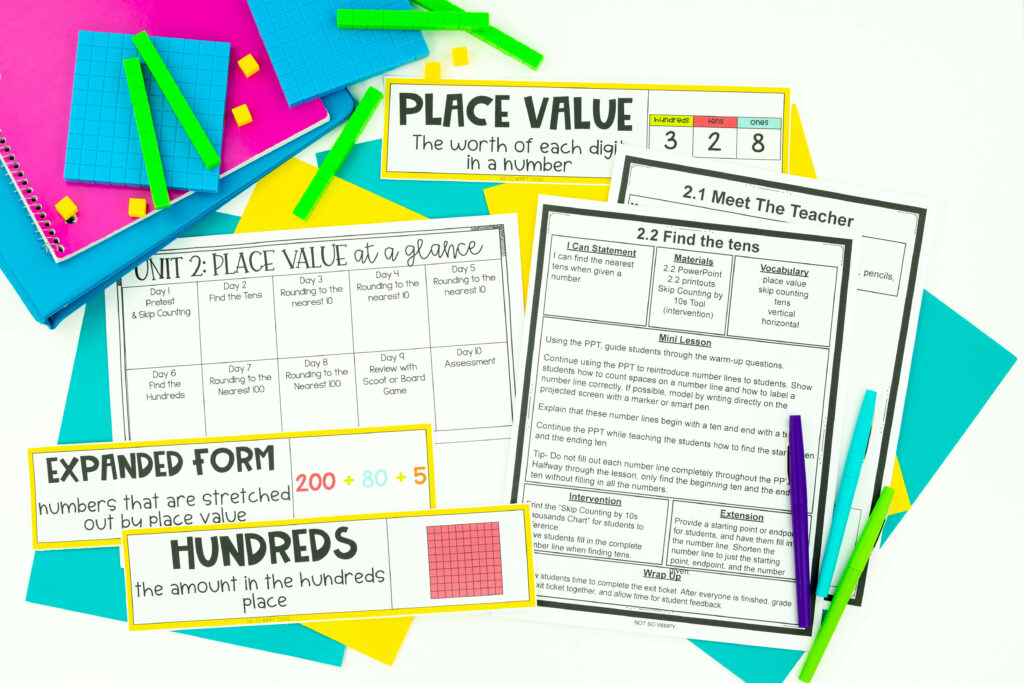 Third Grade Math Curriculum Features
Let's take a closer look at some of those features.
Schedule
The "At a Glance" schedule sets forth your lessons for every day of the unit. You never again have to worry about what to teach in math tomorrow. With a quick look, you can see your lesson plan for the entire week. There's even a notes section at the bottom for you to jot down ideas or observations.
Of course, the included schedule is just a guideline. Feel free to adapt the lessons to meet the needs of your classroom. However, in order to cover all of the third grade standards in time for state testing in the spring, you will need to keep pace with the suggested lesson schedule.
Lesson Plans
Each unit also includes daily lesson plans. The number of lesson plans will vary by unit, but there is one for each day of the unit. All lesson plans include "I Can" statements, materials, vocabulary, a mini lesson, intervention and extension activities, and even a wrap-up.
Each day also includes a different PowerPoint for teaching the mini-lesson and fun and engaging activities that your students will love. You can rest easy knowing that each day is fully planned. You have your lesson plans, PowerPoint, problem sets, student homework, and activities all ready to go.
Review Materials and Assessments
We include a pre-assessment in each unit to help you gauge your students' prior knowledge. This helps you tailor lessons to your particular students and allows you to measure student growth from the beginning of the unit to the end.
We also include a comprehensive unit assessment with questions modeled after various state tests. This gives students practice solving the types of questions they will see on standardized tests in an authentic experience. A scoring rubric makes it easy to keep track of the standards your students have mastered and those they still need to work on.
We've also included exit tickets. They are perfect for share time and are an easy daily formative assessment tool.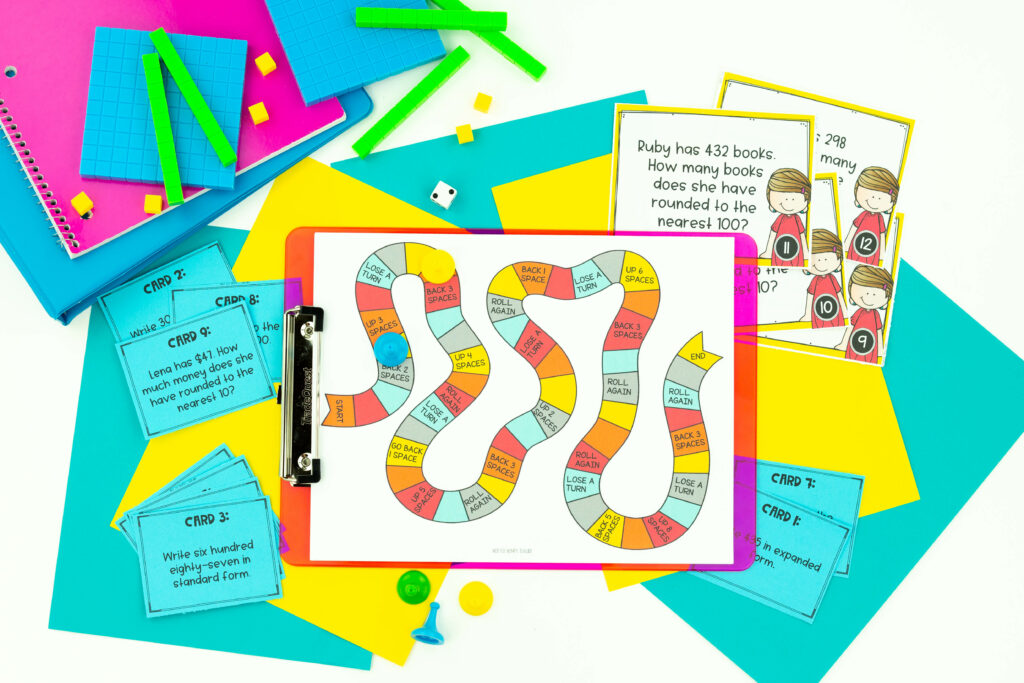 Student Activities
At NSWT we believe that learning can and should be fun. And we set out to make sure that every resource we create is fun and engaging for kids. The activities in our math units are no exception.
Each unit includes task cards that can be used as center activities or in a whole group setting. Students love to "scoot" around the room solving math problems, and movement is correlated with better learning.
There is also a review game in every unit. Kids will be having so much fun practicing their math skills they won't even realize they are reviewing. The more engaged they are, the more likely they are to keep playing and learning.
Resources, References, and Tools
We wanted this math curriculum to help make your life as easy as possible. That's why each unit includes every possible resource, reference, and tool that you could possibly need to teach the standards.
Every unit includes anchor charts and vocabulary cards to help familiarize kids with new concepts. Display these resources in your classroom for students to reference as they master new skills.
We've also included other tools to help make teaching and learning easier. Hundreds charts? Check. Number lines? Yup, we've got those. Multiplication tables? They're included. Each unit includes the reference materials most likely to help your students understand new concepts.
The only things we don't include are manipulatives and game pieces for the games. But you can use counting bears, snap cubes, counters, mini-erasers, or other items you have in your classroom.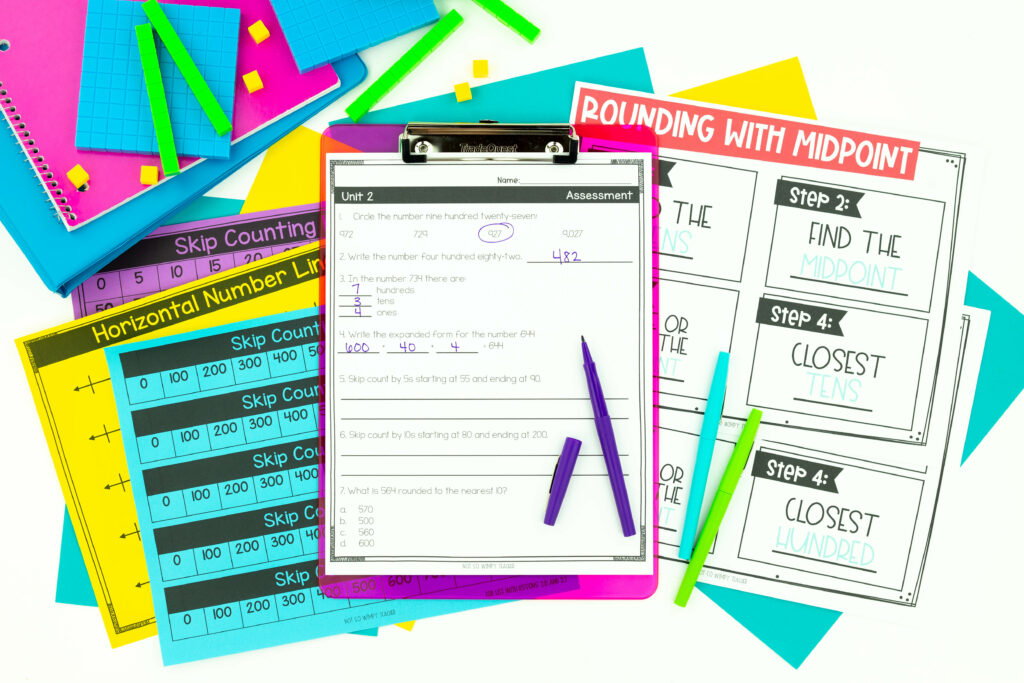 Differentiating the Third Grade Math Curriculum
Differentiation is easy with these math units. Every lesson plan includes extension and intervention activities. We also provide lessons for guided math groups. When you divide your class into homogeneous groups it is easy to tailor lessons to the specific needs of each group.
I can't wait to hear what you think of our new second grade math curriculum, third grade math curriculum., and fourth grade math curriculum. And please let me know if you have any questions.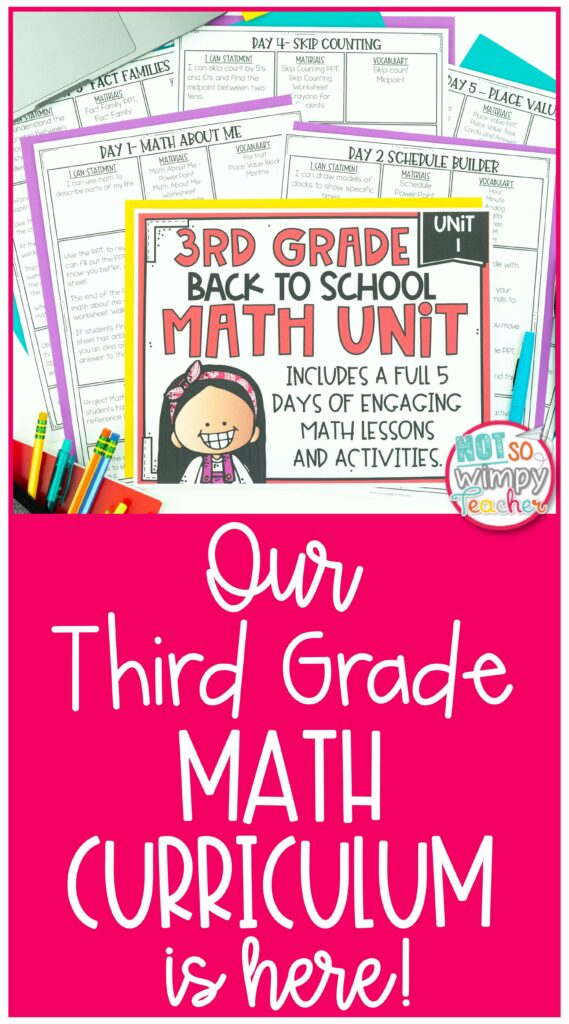 Have a Not So Wimpy day,

P.S. We also have math curriculum for second and fourth grade now! Hooray! Second grade is currently a growing bundle. That means the curriculum is not quite complete and is being offered at a discount. You can buy the entire year now at a discounted price. As additional units are added to the store, you will get access to those at no additional cost.