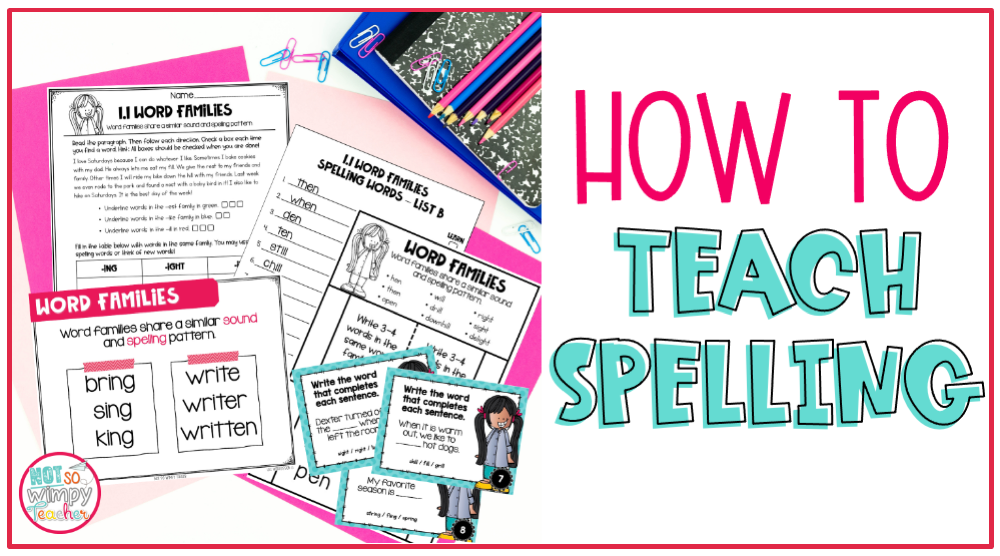 For years, you have been asking for spelling tips, tricks, and strategies. I'd get questions all the time like "Jamie, how did you teach spelling?" "How did you make spelling fun?" "How did you differentiate?" "When did you teach spelling?" "Why don't you share your spelling strategies with us in your ELA posts?"
And the answer was . . . well, I didn't have a good answer.
I didn't enjoy teaching spelling when I was in the classroom. We had to use a required spelling list. For all our students. It wasn't differentiated. Or organized in a strategic way. It was just a laundry list of random words that some students memorized with ease and others never mastered. There wasn't much to teach really.
So, I didn't teach spelling. At least not every day. I never felt like I had a routine worth sharing.
UNTIL NOW!
Introducing the Spelling Curriculum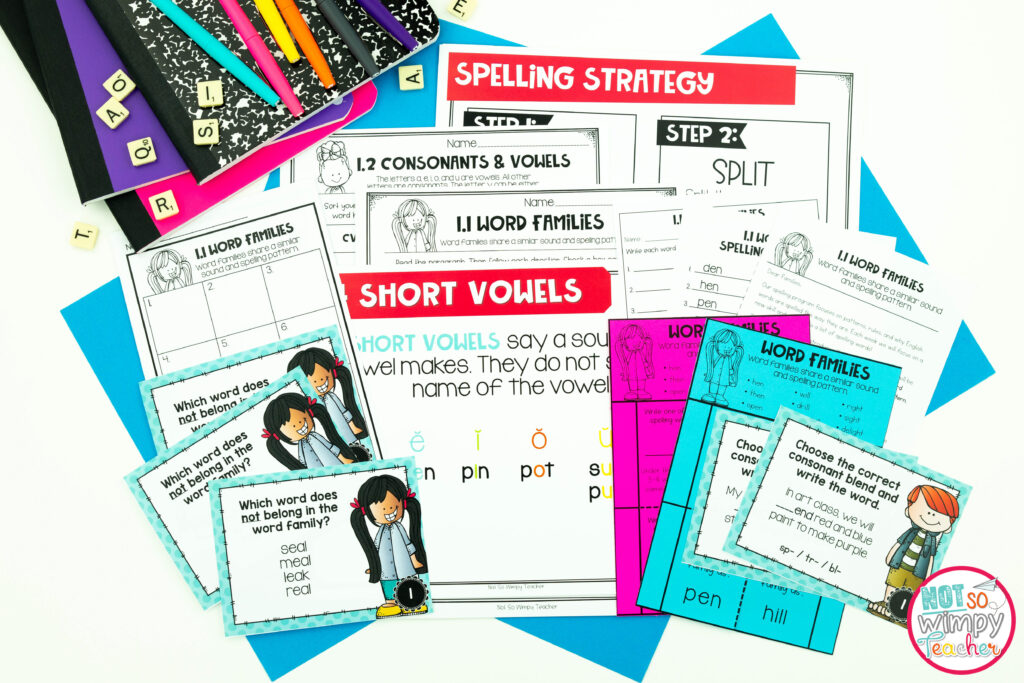 My number one goal at Not So Wimpy Teacher is to serve teachers, to serve YOU. And when you kept requesting tools to help teach spelling, I knew we had to deliver. So my team put our heads together and we created the BEST spelling program ever for second and third grade!
This program is all the things I ever dreamed about in a spelling program.
Easy to differentiate.
Easy to use.
Based on spelling rules and patterns.
Super flexible.
You don't even have to teach spelling every day to use this curriculum.
In short – it's A-MA-ZING! And I know you are going to love it!
What's Included:
This spelling programs each include four units with 8 weeks of spelling lessons for a total of 32 weeks of spelling.*** Each unit includes 7 new lists and 1 review week.
Differentiated spelling lists and family letter for each week
28 Anchor charts assist visual learners and provide a student reference throughout each unit
PowerPoint mini lessons teach the rule, pattern, or skill to be covered each week in a ready-to-use interactive lesson; all you have to do is display the slides
Interactive notebook activities (2 per week) reinforce spelling rules – one focuses on the general use of the rule and the other focuses on applying the rule specifically to the spelling list
Task Cards (12 per week) are included for centers, review, or whole group activities
Practice sheets give students the opportunity to recognize the skill in written texts and bridge the gap between spelling and reading
Homework sheets (optional) provide additional practice before assessment
Assessments cover both the weekly spelling list and general skill
Cover and Table of Contents makes student organization easy
Spelling Inventory allows you to easily assess students and decide which spelling list is right for them
Sample Schedules show how to implement the spelling program in 2-5 days per week
Detailed teacher directions provide flexibility and make implementation in the classroom easy
A FAQs section provides answers to commonly asked questions about how to teach spelling with this resource and helps you get started right away.
Our second and third grade spelling curriculum includes EVERYTHING you need to teach spelling for the entire year.
***Second grade is currently a growing bundle. That means that the curriculum is not quite complete. But new units are being added to the store quickly.
Easily teach spelling rules and patterns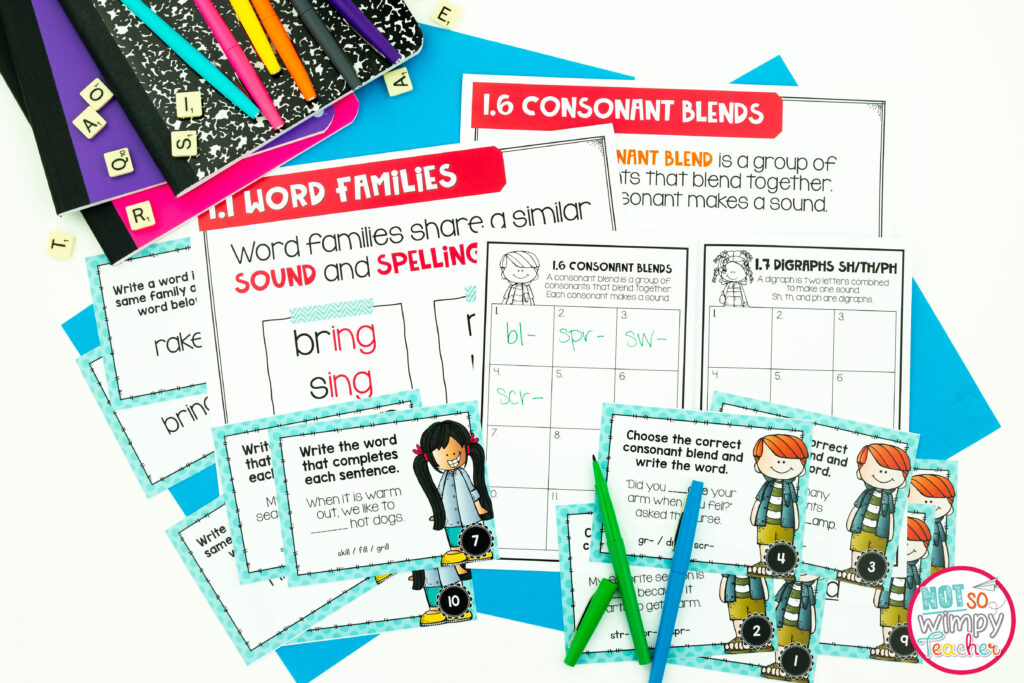 Weekly assignments focus on spelling rules
The thing that makes our spelling curriculum truly unique is that instead of providing a random list of words, or words that go along with your reading story, our spelling lists are concept-based. Instead of just repeatedly practicing the words all week long (although this is important and is included in our program), you will explicitly teach spelling patterns and rules.
Students aren't just memorizing lists of words that they forget as soon as the test is over. How many times have you tested a spelling word one week and then seen it spelled wrong in math, writing, and grammar assignments the following week?
With our concept-based spelling, students learn WHY words are spelled the way they are. For instance, they might learn that in English, words don't end with the letter v. Therefore, whenever they hear the / v/ sound at the end of a word, they know there will be a silent e.
This is a completely different way to teach spelling. It delivers a level of understanding that not only helps students truly learn the words on the list, but it also empowers them to spell new words they haven't been tested on by applying the rules and patterns they know.
Our spelling curriculum is not about knowing how to spell hundreds of words. It's about learning how to spell thousands of words.
Easy-to-use PowerPoint
But don't worry, you don't have to be a phonics whiz to teach these lessons. An interactive PowerPoint mini lesson introduces students to the spelling skill each week. The great thing about this lesson is we've done all the hard work. All you have to do is open the ready-to-use PowerPoint and click through the slides.
Each slide will walk you and your students through everything you need to know to learn the new spelling pattern. There's also time for students to practice writing their new spelling words. I love to give them individual whiteboards to practice on.
Teach spelling with differentiated lists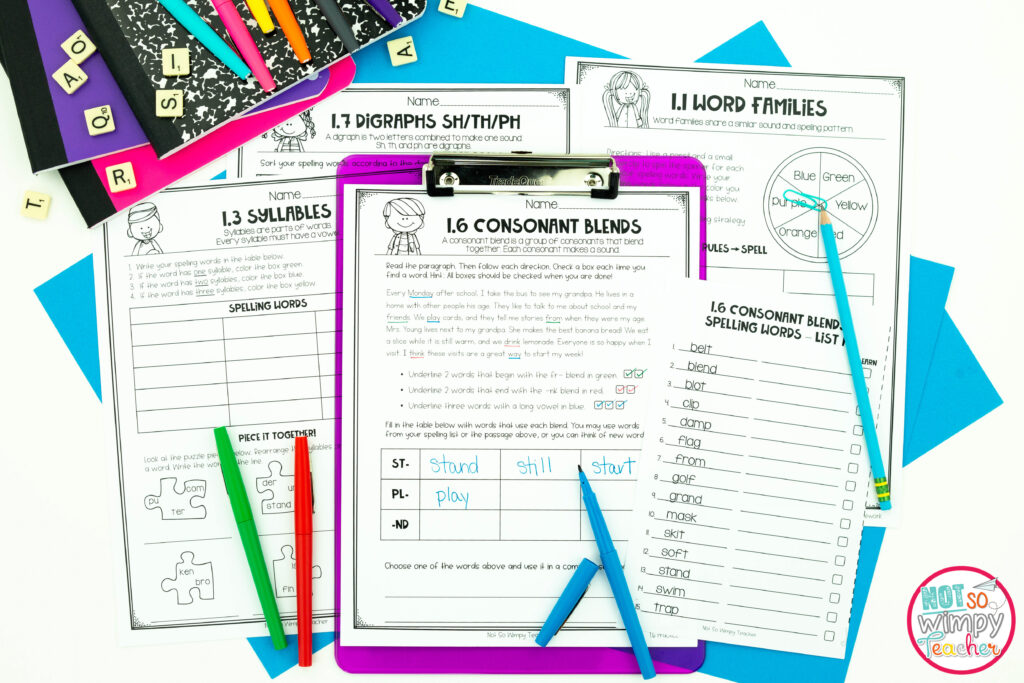 We've made our spelling curriculum super easy to differentiate. Each week includes FOUR different spelling lists. There is one list for your beginning spellers, another for on-track spellers, and a third for advanced spellers. There is also one list of combined words in case you want to have all your students use the same spelling list. You can choose the list(s) that works best for your students.
Each week includes two interactive notebook activities. One focuses on the spelling list words. The other focuses on the general application of the skill. You can select which activity to use based on your students' needs. You can even have them complete both for extra practice.
We've also included an optional homework sheet.
The weekly assessment includes sections on both the spelling list and on the weekly skill. You can choose to grade either or both parts of the assessment.
What's really amazing about this spelling program is that even though we've designed it for maximum differentiation, ALL of your students will be focused on the same skill each week. That means it's super easy to teach spelling. You can use the same mini lesson for everyone!
Make spelling practice fun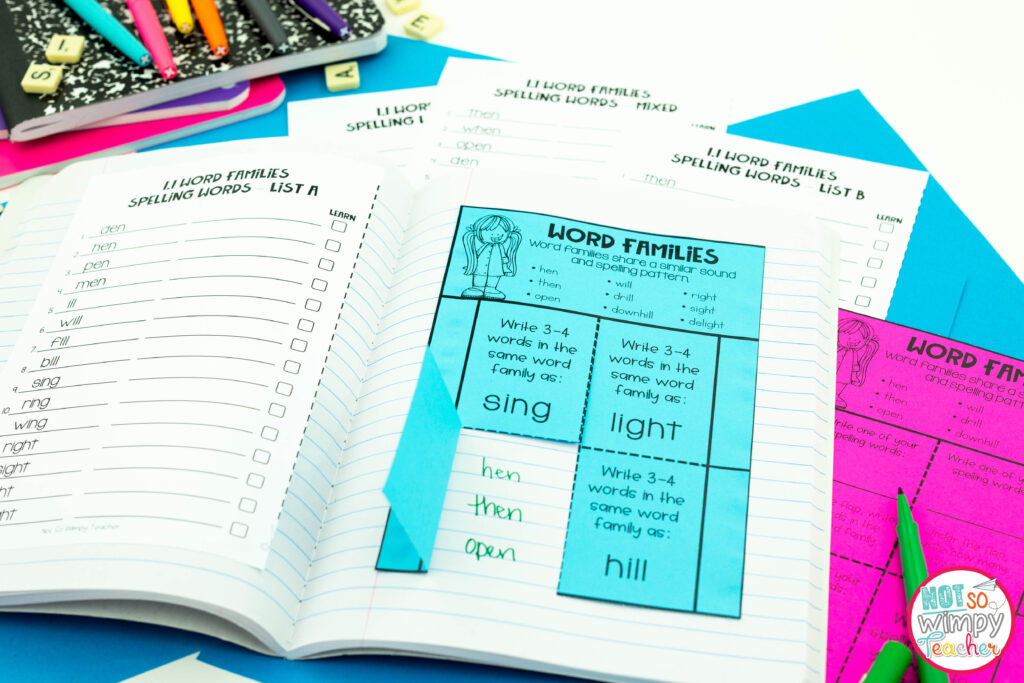 An integral part of our spelling curriculum is partner practice. There is no substitute for repetition when it comes to learning new spelling words. The first week teaches students a strategy for practicing and spelling words. They will return to this strategy every week of the year.
There are 4 steps to the spelling practice:
Say the word out loud
Split the word into sounds or syllables
Apply patterns, rules, or previous knowledge
Spell the word
We suggest giving students multiple opportunities to practice with a partner each week.
Our spelling curriculum also includes engaging hands-on activities like interactive notebooks and task cards.
The interactive notebook activities are printed on half-sheets. This saves you time, paper, and copy costs. Simply print one sheet for every two students and cut it in half. We've kept the cuts super simple so the focus stays on spelling.
A task card scoot is a great way to keep kids engaged in learning. Each week includes eight task cards. Spread them throughout the room and let kids scoot from one to the next to practice spelling words. Or, if time is short, you can place them in a center during reading.
Practical spelling applications
Another unique component of our spelling curriculum is the practice pages. Each week includes a practice sheet that asks students to identify spelling skills in a written text. They will also apply the weekly skill to new or existing words.
This practice sheet bridges the gap between spelling and reading. It emphasizes the importance of recognizing and reading spelling words in context. It also provides a great way to review previously taught skills.
The practice sheets offer another opportunity for differentiation. Each week includes a table to be completed. Students can complete the chart using their existing spelling words (perfect for beginners) or new words that fit the rule (a great option for more advanced spellers). There is also an activity that requires students to write a sentence. Beginning spellers can use their word lists to help them. More advanced spellers can write without using a resource. You can even challenge them to write a specific kind of sentence.
Teach spelling with flexibility
Another thing you will LOVE about this spelling program is how flexible it is. We know not everyone has time to teach spelling every day. And that's okay!
We've included sample schedules in the curriculum that show how to use our curriculum whether you have 2, 3, 4, or 5 days a week to teach spelling. Yes! You can successfully use this program even if you only have time to teach spelling twice a week. And we show you exactly how to do that!
Try a FREE Week!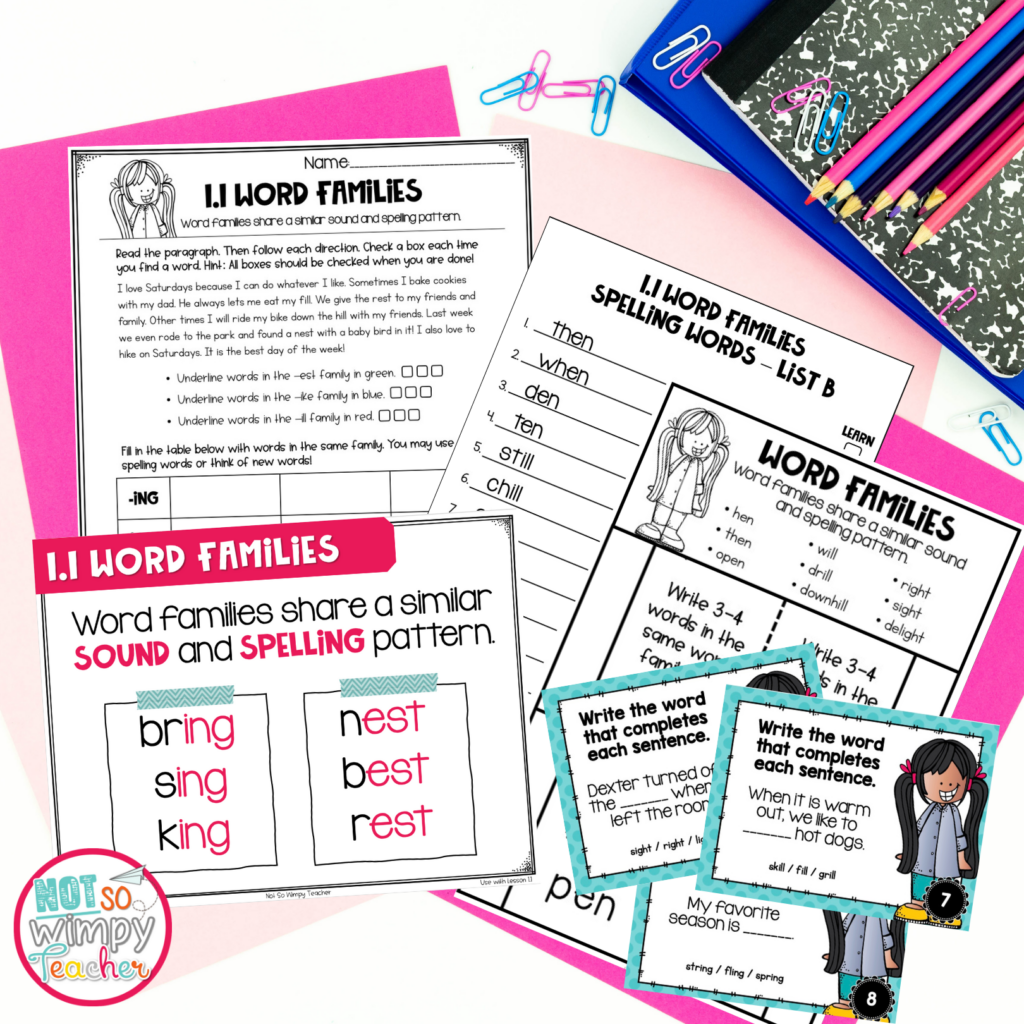 I could go on and on about how great this spelling curriculum is. But why not see for yourself? I'm offering a FREE Week of spelling, so you can sink your teeth into all the amazing elements this program contains. This week comes straight from the curriculum, so you can take it for a test-drive.
Click HERE for a FREE week of 2nd grade spelling.
Click HERE for a FREE week of 3rd grade spelling.
I know when you see how it is to teach spelling with our curriculum you will want the whole year.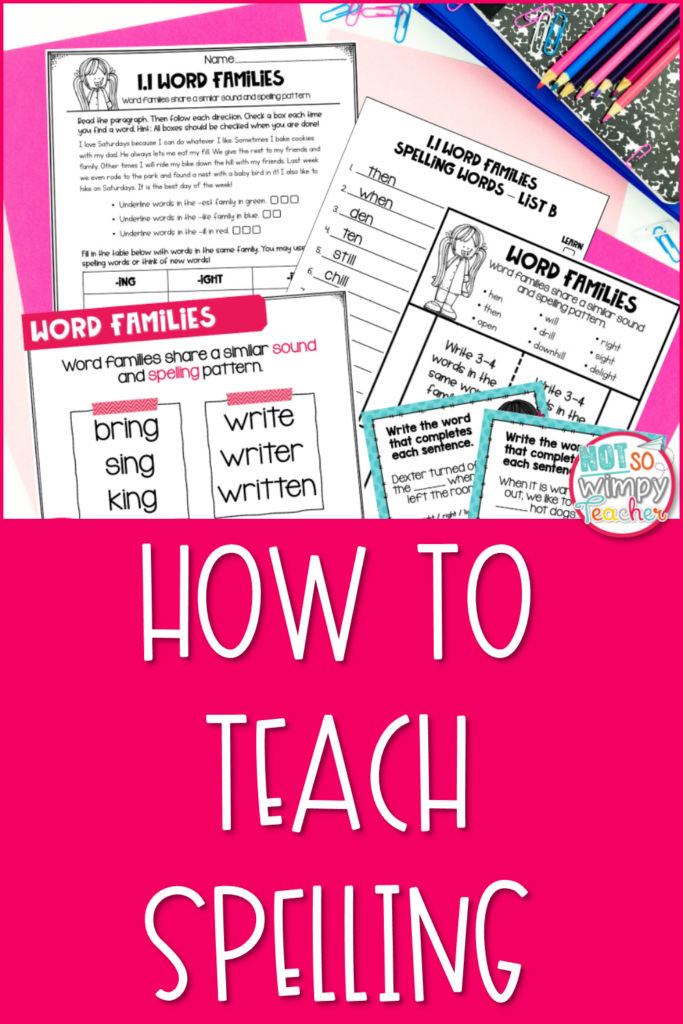 Have a Not So Wimpy Day,