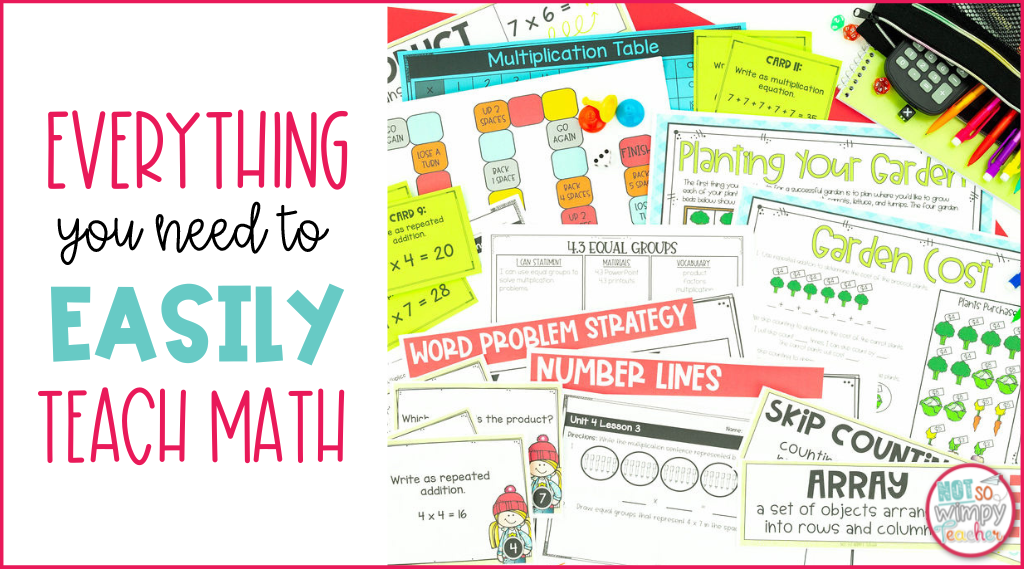 We've all been there—staring at a mountain of complex math curriculum, feeling completely overwhelmed. Your head starts to throb as you thumb through pages and pages of boring lesson plans, multiple problem sets, and homework sheets that go on forever, while you keep a running list of all the extras you need to create or find to keep your students engaged. If only there were a simple way to teach math!
Great news! There is!
Our math bundles, available for grades two, three, and four, have everything– and I do mean EVERYTHING–you need to make teaching math easy.
Everything you need in one place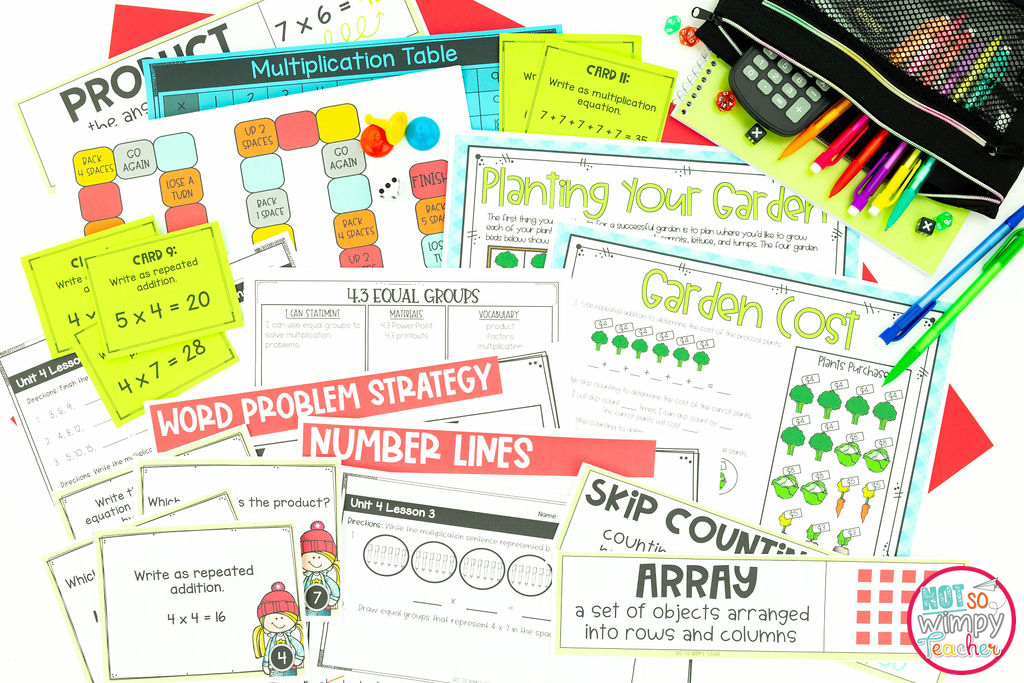 Our Math Bundles are designed to be an easy, engaging, and effective supplement to your existing curriculum. They're packed full of resources that support you in every aspect of teaching math, seamlessly filling the gaps that traditional math curriculums often leave behind.
These math units correlate perfectly with your required school curriculum. And, they form a comprehensive stand-alone curriculum. From pre-assessments and anchor charts to differentiation strategies and math fact practice, we've got you covered.
Each mini lesson begins with a quick warm-up to get students primed for mathematical thinking. A daily review reinforces essential math skills. Then, it's time to introduce the new skill. The ready-to-use, interactive PowerPoint has everything you need, from key vocabulary to examples to practice problems. All you have to do is open and click through the slides.
No matter how you use them, these done-for-you resources will save you so much time. You won't have to spend valuable time endlessly scrolling through Google results or searching on Pinterest. Everything you need for math class is included.
Standards-aligned lessons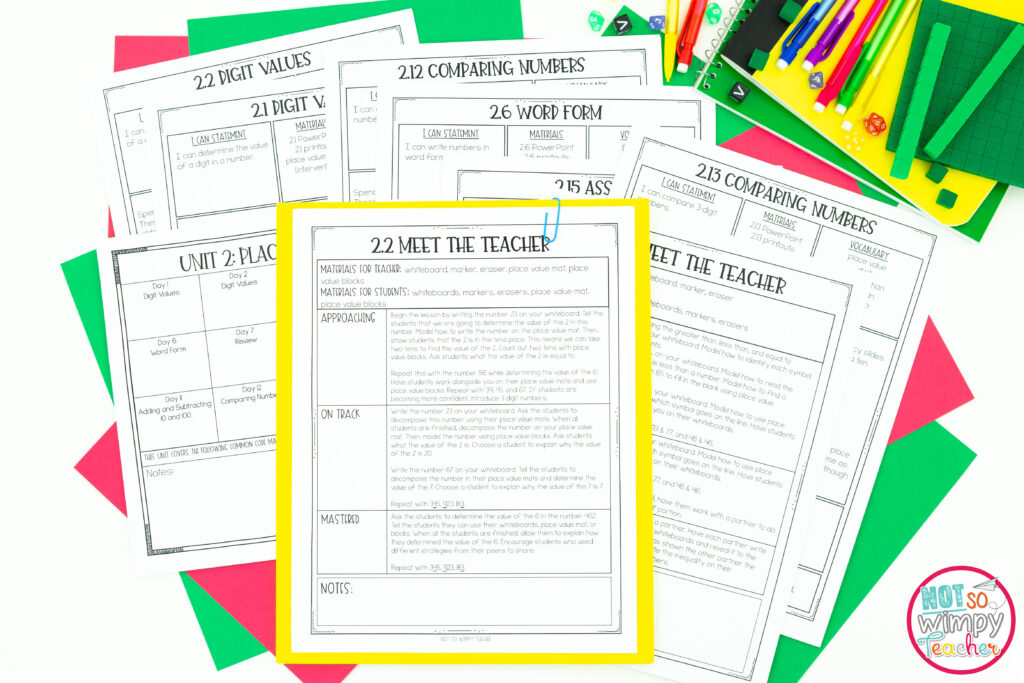 Each grade level includes ten standards-aligned math units. Our team worked hard studying the Common Core Standards, researching best practices for teaching math, and constructing developmentally appropriate lessons and activities that are engaging and will help your students successfully meet the standards.
We know that not all math skills are created equal, and neither are our math units. Some complex concepts take longer to teach and learn than others. Each of our math units has its own timetable based on the complexity of the required standards.
Some units take two weeks, while others take four weeks (or longer). Our math bundles are designed to meet the needs of students, no matter how long it takes, and not fit into some predetermined calendar.
How to use the math bundles to make teaching math easy
These math bundles work perfectly with your existing curriculum. And they coordinate perfectly with math workshop.
Whether you are looking for some quick mini lessons to introduce new topics, intervention and enrichment ideas, small group lesson plans, or interactive, engaging ways to give students the repeated practice they need to master new skills, we've got you covered.
Here are some ways you can use our math units to make teaching math easy:
Whole group lessons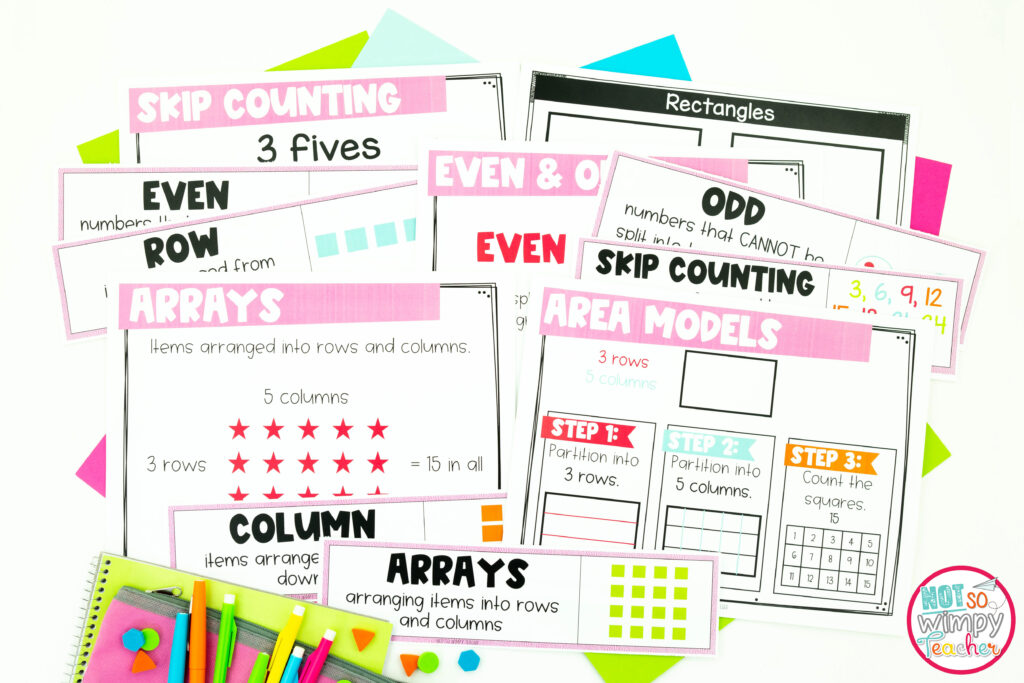 Use the done-for-your interactive PowerPoints for whole group mini lessons to make teaching math easy and engaging. No more wasted time creating your own PowerPoints or trying to pull out the most important pieces of the lesson. These slideshows are completely ready to use–just open the file and click. And the PowerPoint keeps you on pace for a quick lesson, so your students have plenty of time to practice new skills.
Student Practice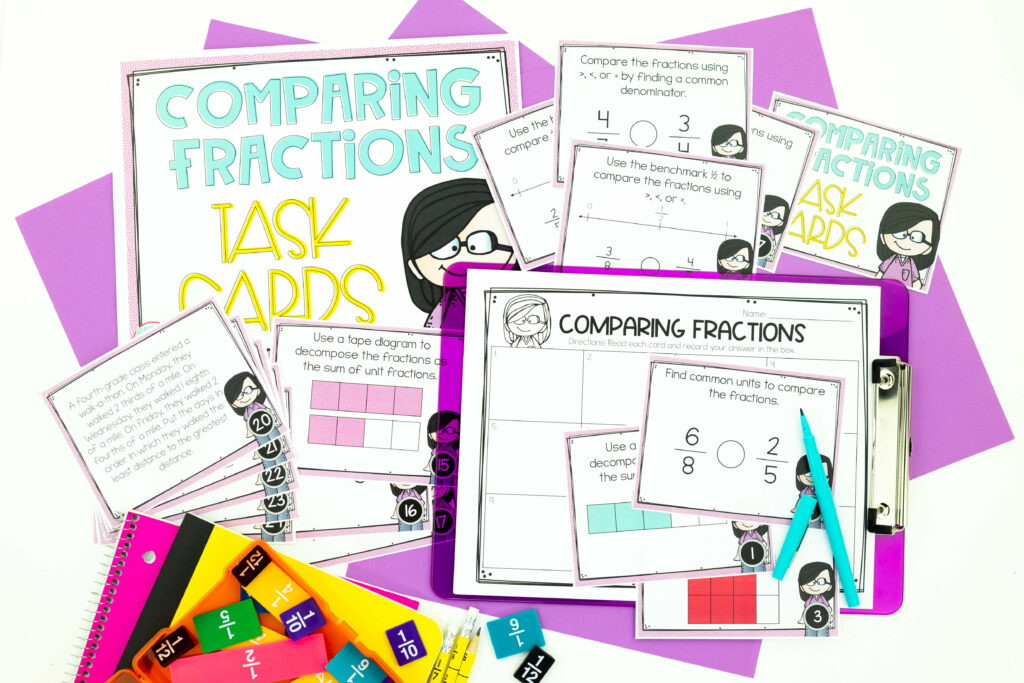 You can incorporate the problem sets, task cards, and math games into centers. Plus, the included resources ensure students always have access to the tools they need to work independently. You'll find hundreds charts, number lines, multiplication tables, fraction strips, and more–all in one convenient place.
Small groups and differentiation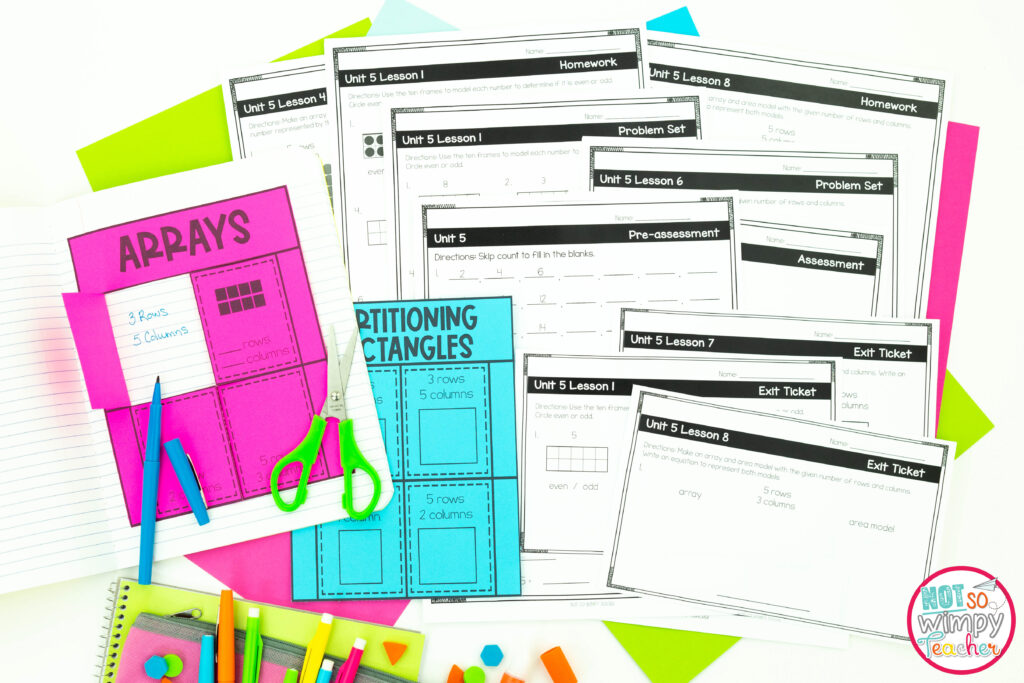 Each one-page, easy-to-read lesson plan includes key vocabulary and detailed instructions for small group activities. We've even provided suggestions for intervention and enrichment activities to make differentiation simple.
Interactive notebook activities are perfect for kinesthetic learners. Kids learn more when they interact with the materials. Plus, kids love the cutting, folding, and gluing involved in completing these activities. But don't worry, the cuts are simple and don't take much time. Interactive notebooks are also great reference tools for students. And they make great informal assessments. Try using them in small groups to quickly see what your students know.
Review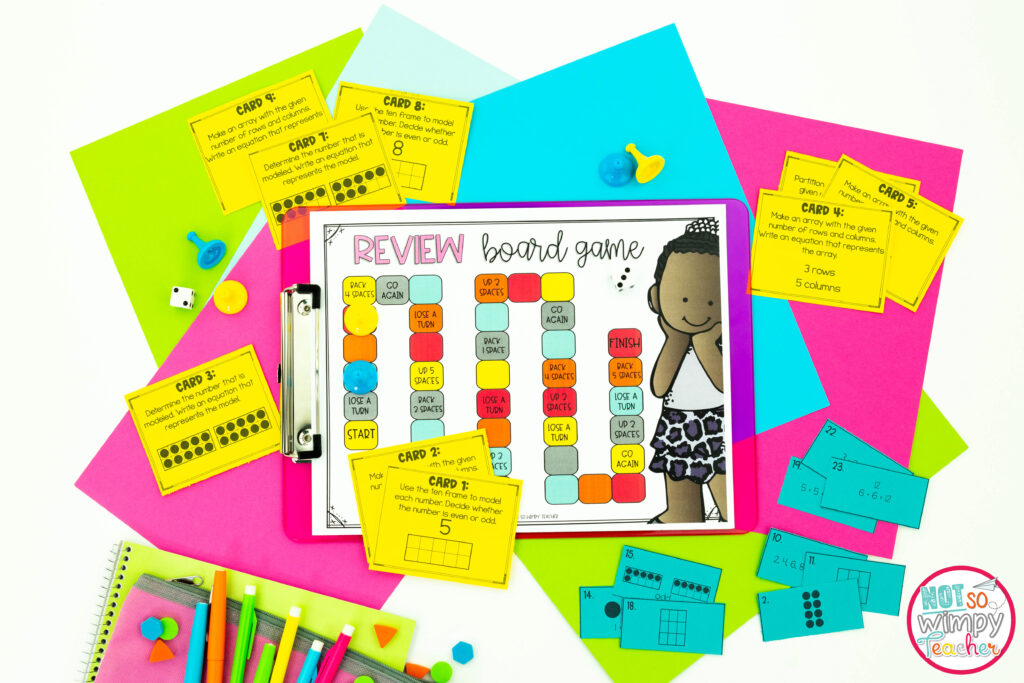 Fun games and project-based learning activities keep kids engaged and are perfect for review. They can also be used for test prep.
These math bundles were specifically designed with kids in mind to give them the practice they need through fun, hands-on activities to successfully master math concepts. We all know that kids learn more when they are having fun.
And having everything you need to teach math or supplement your existing curriculum will save you so much time.
FREE Math Activities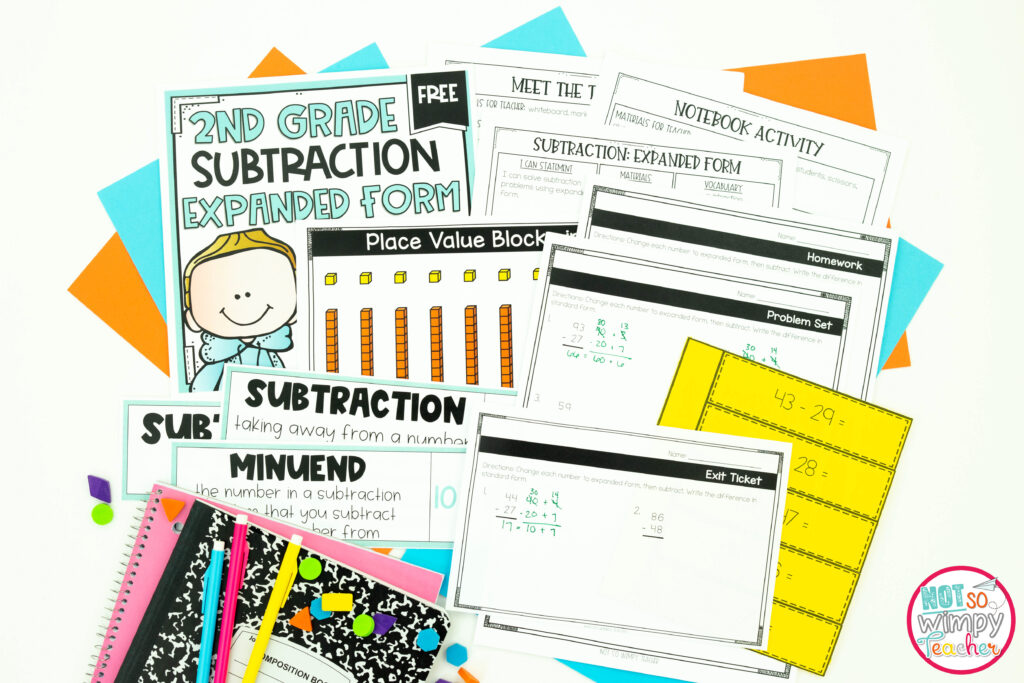 Want to see everything that's included and try out our math lessons with your students? These complete done-for-you activities come straight from our math curriculum for grades 2-4.
We've made it super simple for you. Just click your grade level below and you can download your FREE math activities today.
Make Teaching Math Easy with Done-for-You Math Bundles
You know the pain of an overly complicated curriculum. It's like trying to assemble a jigsaw puzzle without all the pieces. But our Math Bundles are a complete picture.
Think of them like your one-stop solution to make teaching math easy.
One-Page Lesson Plans: Don't waste time sifting through a sea of pages. Our plans are concise and to the point, but they still cover all you need to know.
Done-for-You PowerPoints: Just open, present, and enjoy as it guides your whole-group lesson. No more scrambling for materials or activities!
Detailed Small Group Lesson Plans: We don't stop at whole-group sessions. We've carefully crafted lessons for small group instruction too, complete with intervention and enrichment suggestions—something you won't often find in regular math curricula.
Pre-Assessments and Exit Tickets: These tools allow you to effortlessly monitor student progress, helping you to tailor future instruction to your students' needs.
Hands-On Learning Activities: Learning by doing is what kids love most, and we've got plenty of it. From engaging games to task cards, and even project-based learning activities, your students will adore math time!
Easy to Implement: These bundles save you tons of time and make teaching math enjoyable and effective.
Teaching math doesn't have to be hard. It can be simple, engaging, and full of joy for both you and your students. Our Math Bundles are here to make teaching math easy!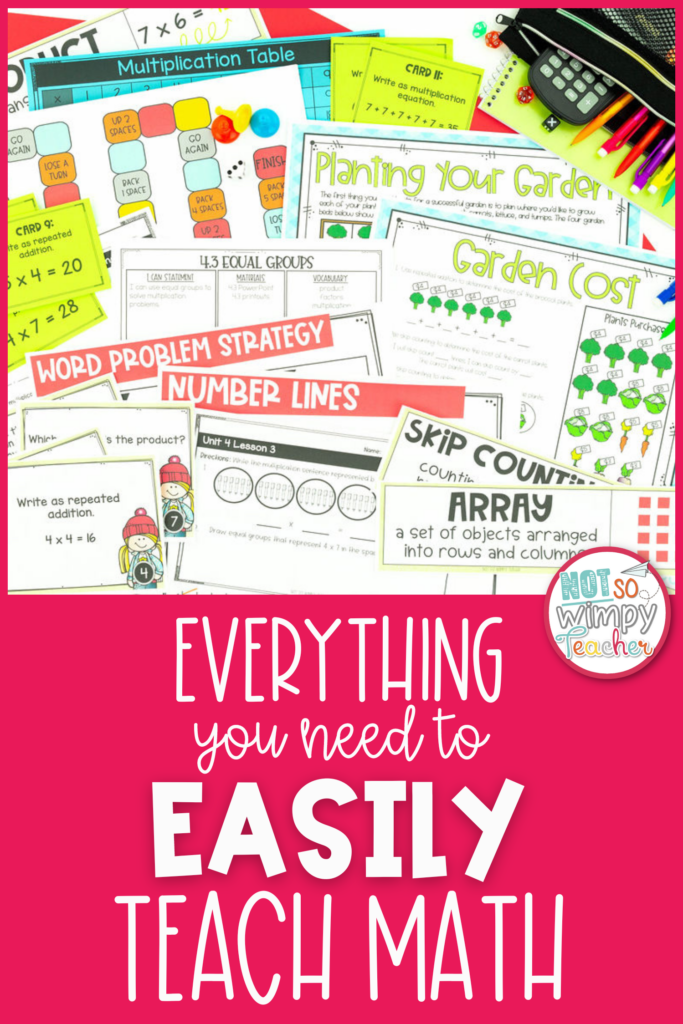 Have a Not So Wimpy Day,