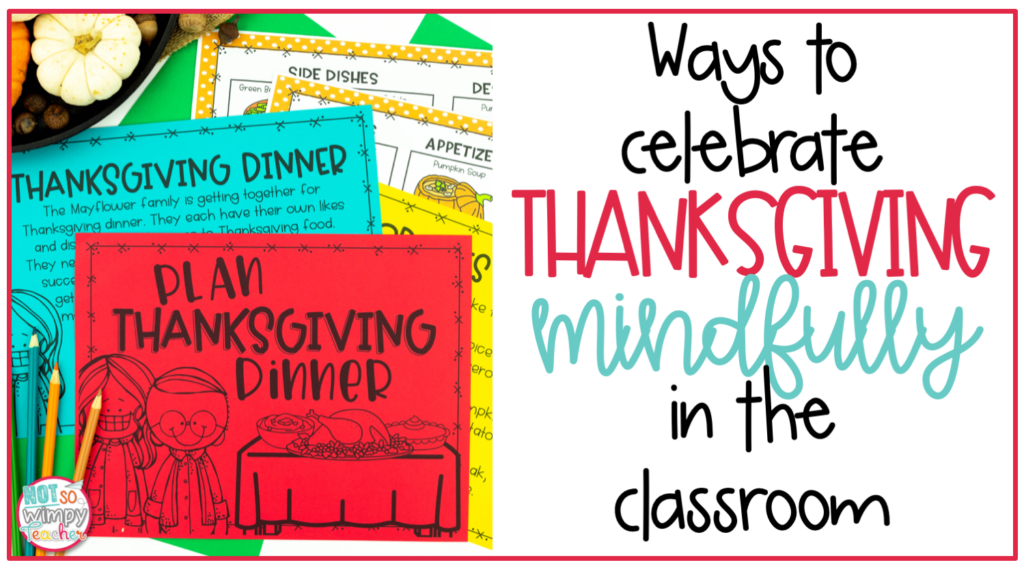 Ahhh… Thanksgiving. Turkey, stuffing, and pumpkin pie. And one of the most contentious holidays in the classroom. I know a lot of teachers worry about whether they should celebrate Thanksgiving at all. And if so, how. Today I'm sharing some tips for how to celebrate Thanksgiving mindfully in the classroom.
Before I launch into the ideas, I just want to make a few caveats. I know this post is not going to resonate with everyone. That's okay. Some schools prohibit all holiday celebrations, in which case you are free to just sit Thanksgiving out. Many of you believe strongly that Thanksgiving is not something to celebrate in the classroom. I get it. That's okay too.
But many schools do still celebrate the holidays on a school-wide level. And for some teachers, there is an expectation (or even a requirement) that you will celebrate Thanksgiving in your classroom. Educators have an obligation to teach about Thanksgiving in an accurate and inclusive way.
There are lots of positive learning opportunities associated with Thanksgiving. So try some of these fun and easy ideas to celebrate Thanksgiving mindfully.
Keep it simple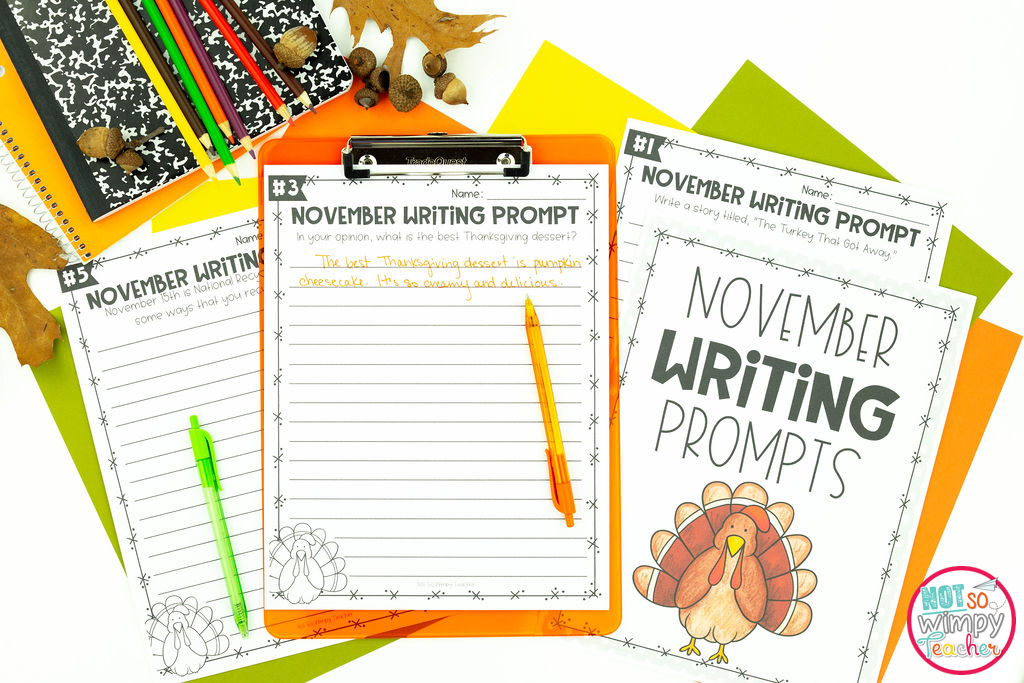 No surprise here! My first piece of advice is to keep the celebration simple. You don't need to devote an entire week or even the whole day to celebrating Thanksgiving. Pick one or two simple activities and keep the rest of your schedule as normal as possible.
You don't have to plan an elaborate Thanksgiving feast, direct a play about the first Thanksgiving (in fact, you should not do that), or make handprint turkeys.
Read a simple story (book suggestions are included below). Try a simple writing prompt. Download my seasonal writing prompts for 60 free prompts.
Ready-to-Use Thanksgiving Activity
Want a ready-to-use activity to celebrate Thanksgiving in your classroom? You'll love my Thanksgiving Dinner Project-Based Learning activity. In this activity, students plan Thanksgiving dinner for the whole family. They are given a menu with drinks, appetizers, entrees, and desserts to choose from. They will select different menu items for family members based on food likes and dislikes.
Students are also given a budget, and they must plan their dinner for the entire family without overspending. This activity provides extra practice adding and subtracting money and problem-solving to stay under budget.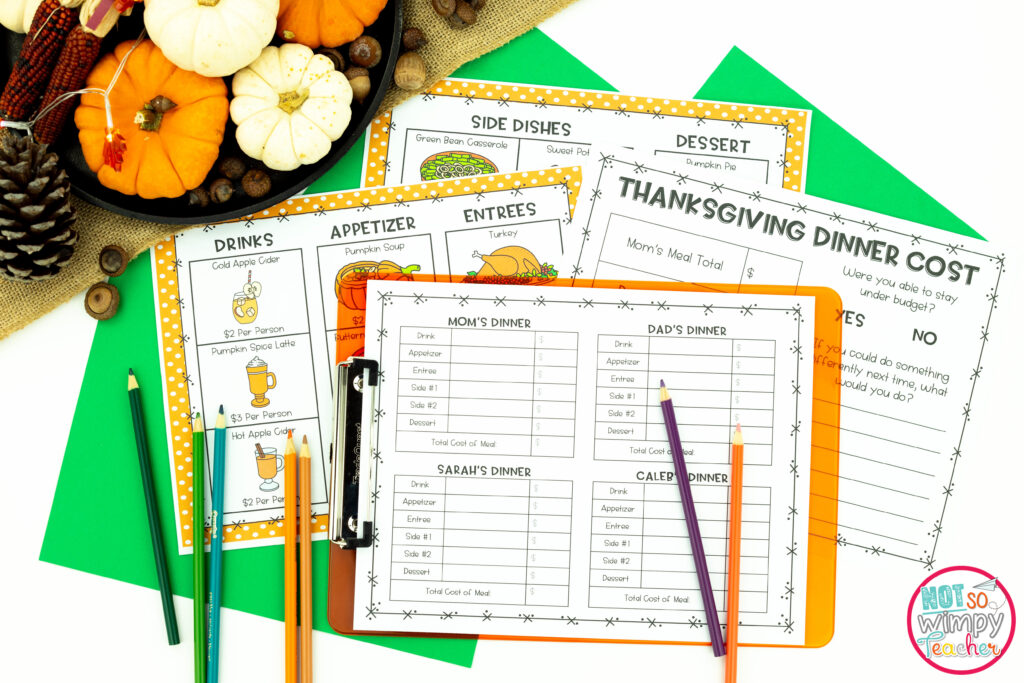 Differentiation is simple. Four different sets of instructions make this activity great for grades 2-5. Just choose the option that is best for your class. Or pick and choose options to meet the needs of individual learners.
You can also grab this Thanksgiving Dinner PBL as part of a money-saving Holiday PBL Bundle. This Bundle also includes PBLs for Halloween, Christmas, Valentine's Day, St. Patrick's Day, and Easter.
Read more about the Thanksgiving Dinner activity.
Teach gratitude
Practicing gratitude is good for the mind and body. It can lead to improved sleep, better attention, optimism, and happiness. But gratitude, just like any other skill, takes practice. One way to celebrate Thanksgiving is to help your students develop a gratitude habit.
There are many ways to practice gratitude in the classroom. You could have kids complete a Gratitude Alphabet and write one thing they are grateful for each letter of the alphabet. Another idea is to make a Gratitude Chain. Students each get a slip of paper to write something they are grateful for. Then you loop all the papers together forming one large gratitude chain.
Thinking of those less fortunate is also a good way to practice gratitude. Consider hosting a food drive. Alternatives would be collecting used clothing to donate to a charity or old towels and blankets for a pet shelter. Everyone could contribute with items they no longer want or need.
A simple way to practice gratitude is to say thanks to someone who helped you. Students can write thank you notes to teachers, staff, or classmates. Or you could write thank you cards to your local police, fire department, or other emergency responders.
Focus on the food
In my opinion, the best part of any classroom celebration is always the food. And you can celebrate Thanksgiving mindfully while still enjoying delicious food!
Hosting a classroom feast is a great way to learn more about your students. Encourage each family to share a dish that represents their culture. You don't even have to mention Thanksgiving directly.
Talk about how different families have different traditions and one tradition is incorporating special foods into their celebrations. Have kids share what foods their family enjoys on special occasions. And then invite them to bring in a sample to share with the class and to explain why the food is meaningful to them.
Kids (and you) will get to try a variety of new foods and learn about different holiday traditions.
Read culturally appropriate books
I love a good read aloud. And culturally appropriate books are a great way to teach kids the honest and inclusive story of Thanksgiving. These selections include stories about and by Native Americans, as well as an inside look about how different cultures celebrate Thanksgiving and the real meaning of Thanksgiving today.
The Very First Americans by Cara Ashrose
This book uses beautiful watercolor illustrations to highlight the differences among Native American tribes. Children are introduced to the different clothing, homes, tools, and art of a variety of tribes from the Makah to the Comanche. Additionally, I love how it shows kids that there's no one "Native outfit" or universal tribal symbols. Native Americans are a culturally diverse group of people who have different skills, lifestyles, and traditions based on where they live.
The Circle of Thanks: Native American Songs and Poems of Thanksgiving by Joseph Bruchac
This book introduces kids to traditional songs and prayers of Native American people. It includes poems from a cross-section of Native American tribes including Cherokee, Kwakiutl, Pawnee, Navajo, and Papago. It highlights the differences among Native American tribes, but also demonstrates that they share a respect and appreciation for the Earth.
Giving Thanks: A Native American Good Morning Message by Chief Jake Swamp
This beautiful illustrated book is written by a contemporary Mohawk chief. Giving Thanks conveys Native beliefs through the words of the Iroquois people. Those beliefs grounded in themes of love, spirituality, and gratitude, share powerful messages for everyone. This story is a great reminder to be thankful for the many blessings we have all year long.
We Are Grateful: Otsaliheliga by Traci Sorell
Members of the Cherokee Nation use the word otsaliheliga (oh-jah-LEE-hay-lee-gah) to express gratitude. This book, written by a citizen of the Cherokee Nation, introduces students to a full Cherokee year of celebrations and experiences.
Duck for Turkey Day by Jacqueline Jules
This is a wonderful story for opening a discussion about different traditions. Tuyet is upset that her Vietnamese family is having duck for Thanksgiving dinner! In school, she learned that turkey is the traditional main course, but her mom and grandma insist that duck tastes better. She worries about what her friends and teacher will think! But when she returns to school she discovers that her classmates all had different foods for dinner, and it's not the feast but the company that makes the holiday special.
How Many Days to America by Eve Bunting
This book tells the story of modern day pilgrims willing to risk their lives in search of freedom. Papa and his family make the long, treacherous journey across the Caribbean to America. In the story, the narrator and his little sister keep asking, "just how many days is it to America?" This is a good book to start a discussion about family, courage, and freedom.
Pumpkin Soup: Sopa de Calabazza by Helen Cooper
Best friends Squirrel, Cat, and Duck put aside their squabbles over who is going to be Head Cook to make the best pumpkin soup ever. Their friendship as well as the soup is something for which to be grateful!
Teach about the three sisters
Don't be afraid to teach about Native Americans. In fact, eliminating Native American history from the story of Thanksgiving is just as bad as misrepresenting it. Without the Wampanoag, the English settlers would not have survived. It is crucial that students learn about Native Americans in a culturally-sensitive and inclusive way.
One way to do that is to teach kids about the three sisters. The Three Sisters' are crops planted together in a shared space: maize or corn, beans, and squash. This is also known as companion planting.
This agricultural practice was developed by Native Americans. Corn, beans, and squash are planted in a symbiotic triad where beans are planted at the base of the corn stalks. The stalks offer the climbing bean vines support as they reach for sunlight from the earth. The beans, in turn, pump beneficial nitrogen back into the soil, fertilizing the corn and squash, while the squash's broad, spiny leaves protect the bean plants from predatory animals. These three crops also provide a solid diet for the people.
Introduce your students to the story with this video. You could extend the activities by planting seeds. Or, you could even celebrate Thanksgiving by tasting the three foods.
Learn about the Wampanoag
Introduce kids to the true story of the Wampanoag. The tribe has lived for thousands of years on land that is today coastal Massachusetts and Rhode Island. Beginning in the early 1600s, the Wampanoag were attacked by a warring tribe from the north, the Narragansett. They also faced a series of epidemics that wiped out many of their people.
In 1620 a ship carrying English settlers, who would later become known as the Pilgrims, arrived and settled at an abandoned Patuxet Wampanoag village. But they didn't know how to farm the land and almost half of them died that first year. Some native people taught them how to grow food in exchange for European weapons, and they signed a "treaty of friendship" which likely meant very different things to both peoples. The Wampanoags, like most Native Americans, had no concept of owning land, so they probably viewed the treaty as a sign of goodwill. To the English, however, the treaty meant the land now belonged to them.
When the Pilgrims harvested their first crop, about a year after their arrival, they shared some food with Wampanoags. This became the first Thanksgiving. But within a generation, the two were at war.
It would be very appropriate to introduce students to the life and culture of the Wampanoag while celebrating Thanksgiving. You can find more information here.
Focus on modern day traditions
Today, there are a lot of traditions besides the meal associated with Thanksgiving. Football, parades, and shopping are now a big part of the long Thanksgiving weekend.
Your students will enjoy learning about these traditions. For an easy, no-prep way to teach about some of these modern day traditions, check out my November reading passages. I've included passages about the Macy's Thanksgiving Day Parade and American Football. There are also readings about cranberries, a traditional Thanksgiving food, and a fiction story about Turkey for Thanksgiving.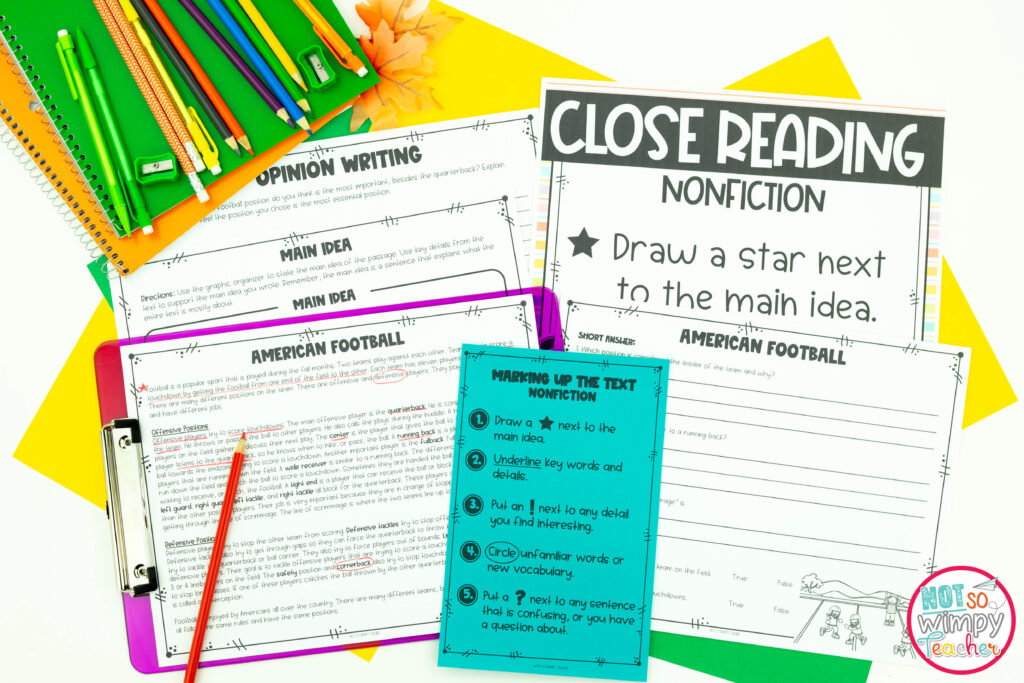 These close reading passages, which are a mix of fiction and nonfiction texts, are the perfect way to practice reading comprehension skills and text-dependent writing. Each passage is designed to be used over four days so students really have the opportunity to dig deep into the text.
You can grab the November reading passages, or do yourself a favor and get the money-saving Bundle which includes 60 reading comprehension passages featuring a combination of seasonal and evergreen topics for every month of the year.
I hope that gives you some ideas for how to celebrate Thanksgiving mindfully in the classroom.
For additional ideas check out these Easy Thanksgiving Activities.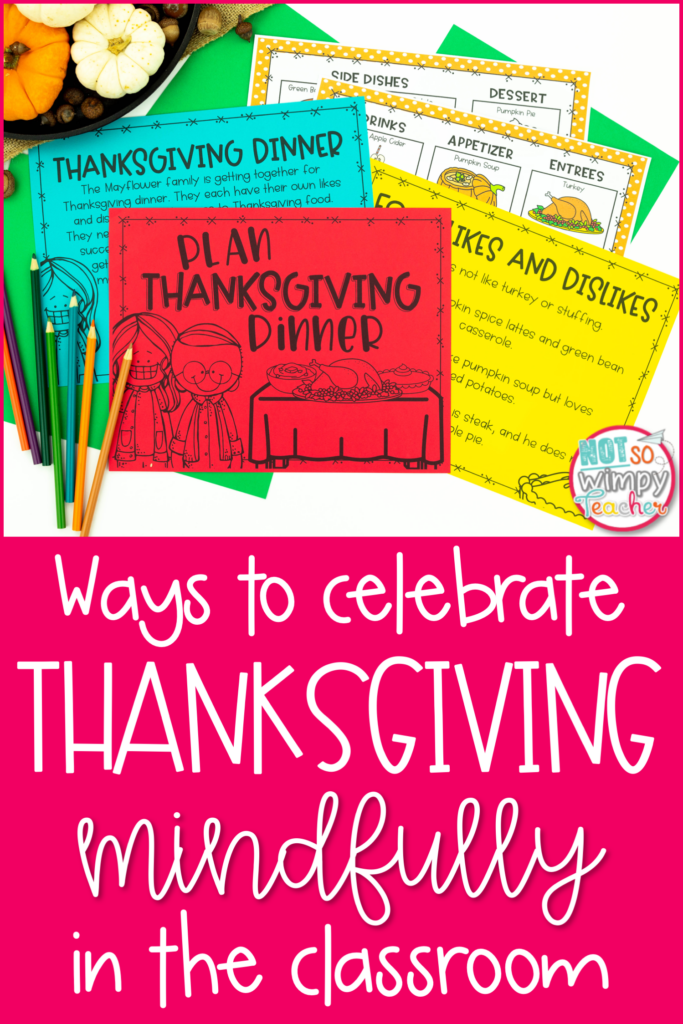 And don't forget, if you aren't comfortable celebrating Thanksgiving in the classroom, you can skip it. Really.
Have a Not So Wimpy Day,