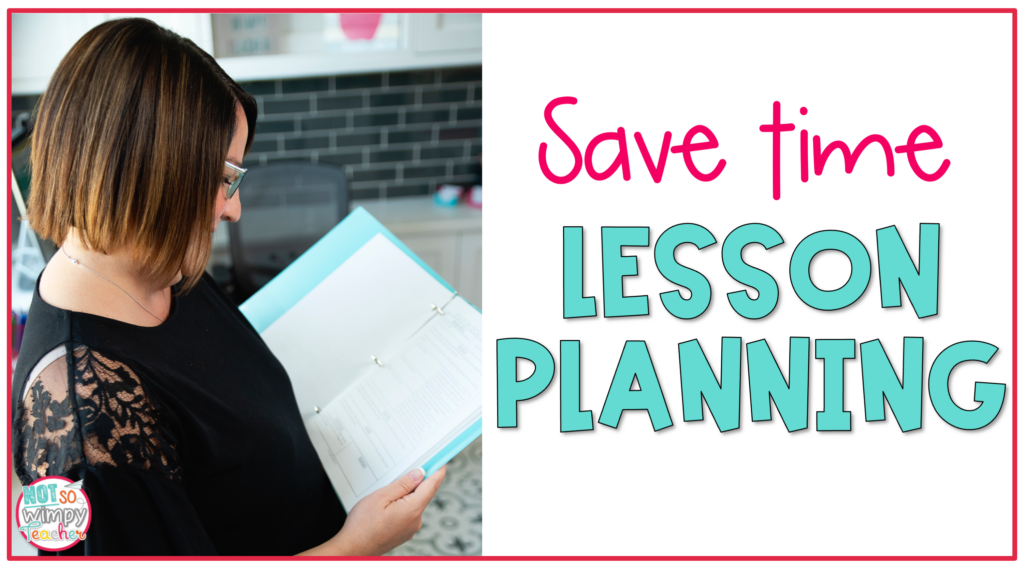 Today we're talking about lesson planning. Specifically, how to save time lesson planning. I bet that gets your attention.
Look, I know lesson planning is an essential part of teaching, but sometimes it feels like it takes forever. Just the thought of lesson planning can inspire dread and stress.  But what if I told you there are strategies to help you significantly reduce your lesson planning time? 
Yep, that's right! There's no need to reinvent the wheel every week. With a few simple strategies, you can have your lessons ready in much less time, meaning you can finish work faster and have more time to focus on what truly matters: your family, your friends, your fur babies, yourself!
Here are four top-tier teacher tips that can help you lesson plan faster:
1. Pacing guides save time lesson planning
A pacing guide is essentially a roadmap for your curriculum. It outlines what you'll teach and when you'll teach it.
Instead of getting caught in the weeds and feeling overwhelmed about what's coming up, a pacing guide provides a clear path. It allows you to see the big picture and helps ensure you cover all essential content throughout the year.
Before you sit down to lesson plan, be sure to grab your pacing guide. Find the current week and see what skills are on tap. It will tell you exactly what lessons to teach.
Read more about using pacing guides.
FREE Pacing Guides for Grammar, Writing, Reading, and Math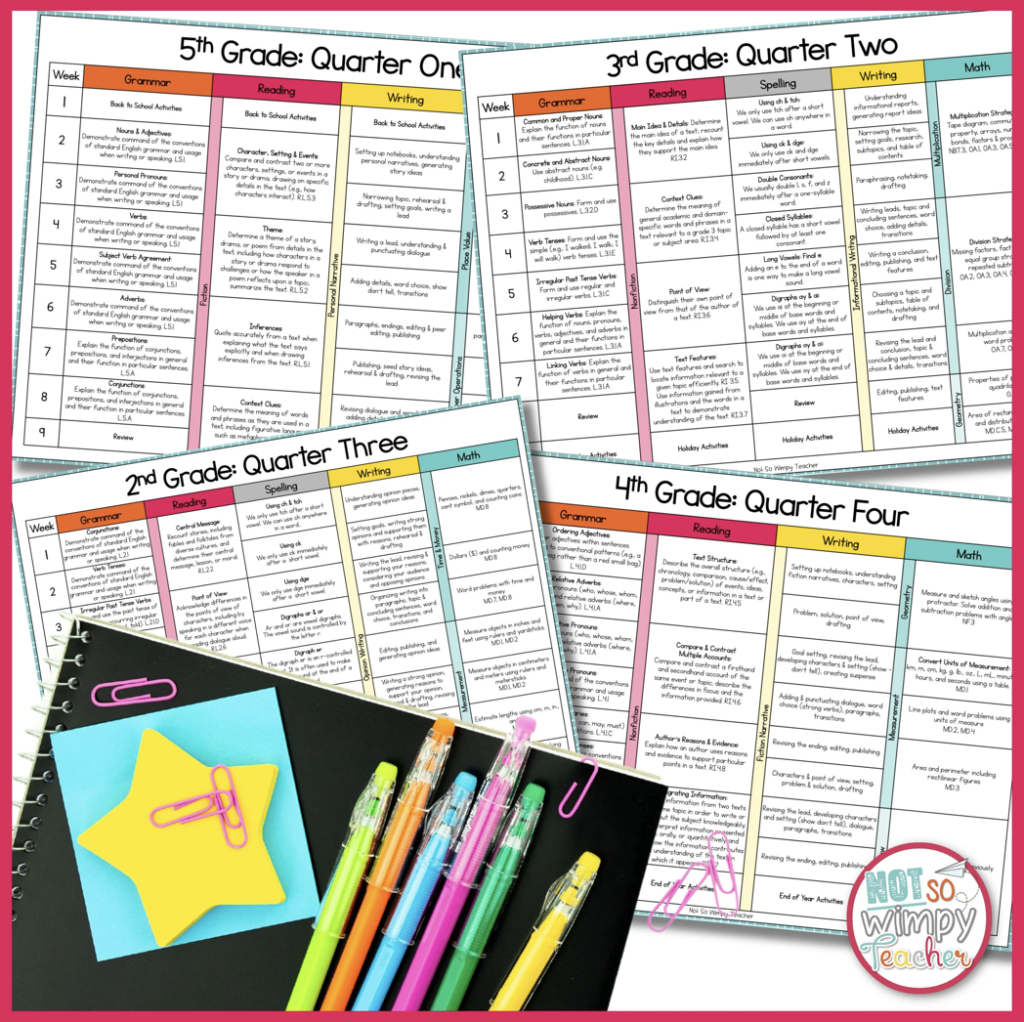 Ready to save time lesson planning with pacing guides? I've created FREE pacing guides for grades 2-5 for grammar, writing, reading, and math. Each of these pacing guides:
Include writing, grammar, reading, and math (spelling is also included for grades 2 and 3)
List Common Core Standards, when applicable
Are divided into four quarters
Make time for back-to-school, holidays, state testing, and end-of-the-year activities
Come in color and black and white
There's also a blank pacing guide template.
2. Establish routines and stick to them
Establishing classroom routines isn't just beneficial for classroom management—it can also help you save tons of time lesson planning!
Take a few minutes to decide how you are going to structure your daily and weekly lessons. Maybe you will choose different learning activities for each day of the week. Or maybe you will set up each day's lesson in the same format.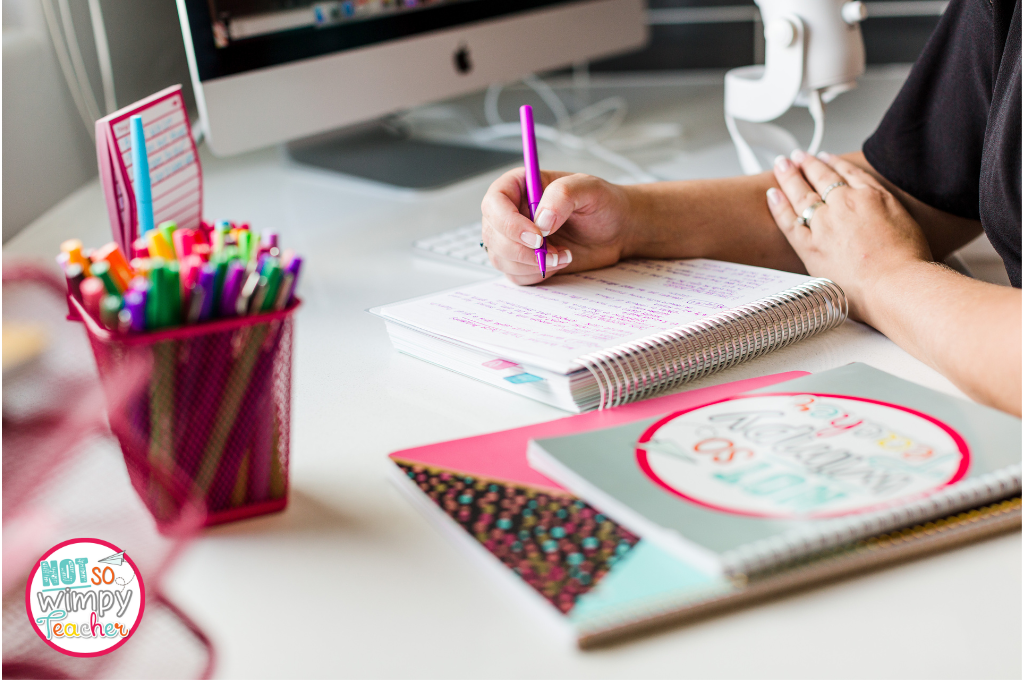 When you set consistent routines, you know the structure of each lesson before you ever sit down to plan. This cuts down on the amount of time you have to spend planning. If you know that every Monday is a whole group lesson where you introduce a new skill and every Tuesday is an interactive notebook activity where students practice the skill they learned the day before, then you can easily pencil that into your lesson plan without having to think about how to teach the content. 
Using consistent routines simplifies the planning process and saves valuable time. It's also great for students. Students like knowing what to expect, and when they are comfortable with both the schedule and the activities, they spend less time worrying about how to complete an activity and can focus more on learning the new skill. 
3. Yearlong bundles make lesson planning easy
One of the easiest ways to establish classroom routines is to use yearlong bundles. A full-year bundle ensures that you are teaching all the standards and provides all the lessons you need for the entire year.
When you use one specific resource to plan all your lessons, you can be confident that you are covering all the content in a coherent fashion that builds upon previously taught skills.
Sticking to one bundle also means that the directions, methods of instruction, learning activities, and assessments become familiar to you and your students. This will also save class time and result in better quality work.
Plus, when you have a yearlong bundle, you don't have to waste time trying to find a new resource every week. Rather than searching TPT or Pinterest for lesson ideas, just flip to the current week in your bundle, select the appropriate materials, and you're good to go. 
And yearlong bundles don't just save time, but they also save you money. Talk about a win, win!
Ready-to-Use Yearlong Bundles
Are you ready to save time lesson planning with yearlong bundles? And establish some simple classroom routines? Well, I've got great news. I've already done all the hard work for you and created lesson plans that do just that!
I've got full-year bundles for grades 2-5 of grammar and writing and math bundles for grades 2, 3, and 4. And don't forget about my spelling bundles for grades 2 and 3. And these bundles coordinate perfectly with the FREE pacing guides!
Grammar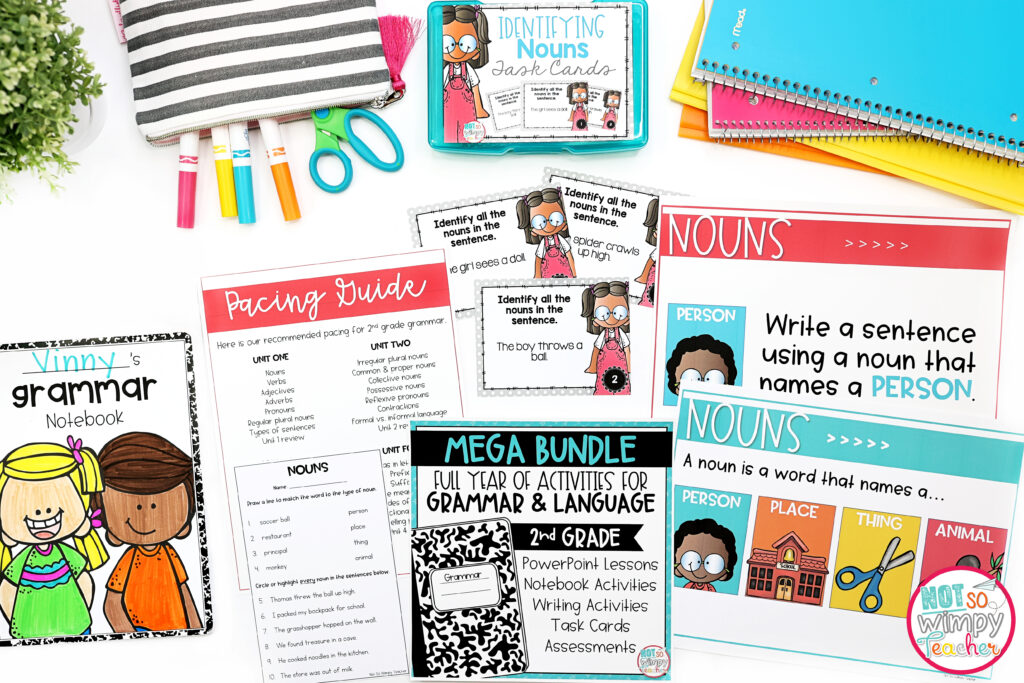 My grammar bundles include 32 weeks of lesson plans that can be taught in just 10  minutes per day. Each week follows the same routine, saving you valuable time and helping kids master tricky grammar skills.
Writing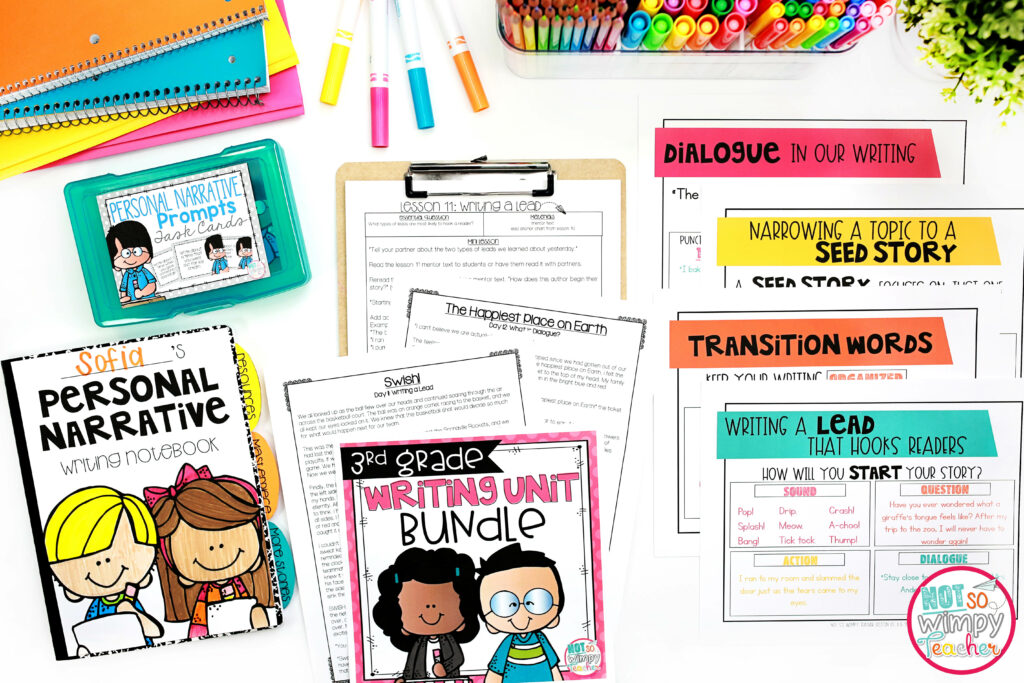 My writing bundles include four 8-week units covering personal narratives, informational reports, opinion essays, and fiction writing. Each unit comes with lesson plans, mentor texts, anchor charts, student printables, task cards, rubrics, and more to make teaching writing easier than you ever dreamed possible.
Math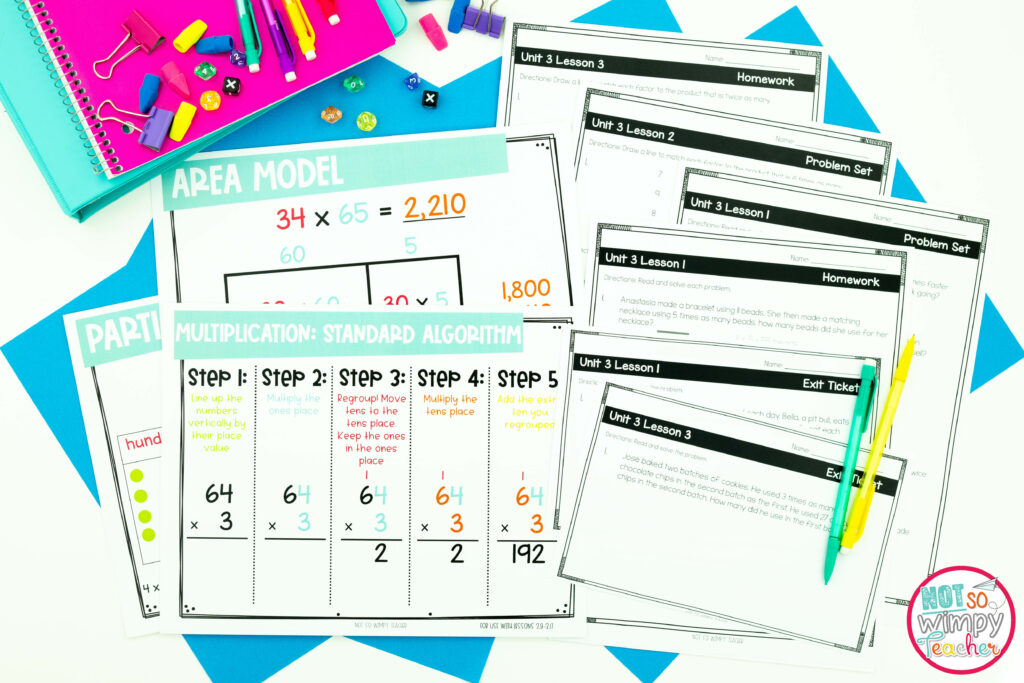 These math bundles for grades 2-4 include EVERYTHING you need to teach math in a fun, engaging, and effective way. And they correlate with Common Core Standards, making them the perfect complement to your required math curriculum. You'll find one-page lesson plans, done-for-you PowerPoint mini lessons, small group activities, task cards, project-based learning activities, and more. Talk about a giant time saver. 
Spelling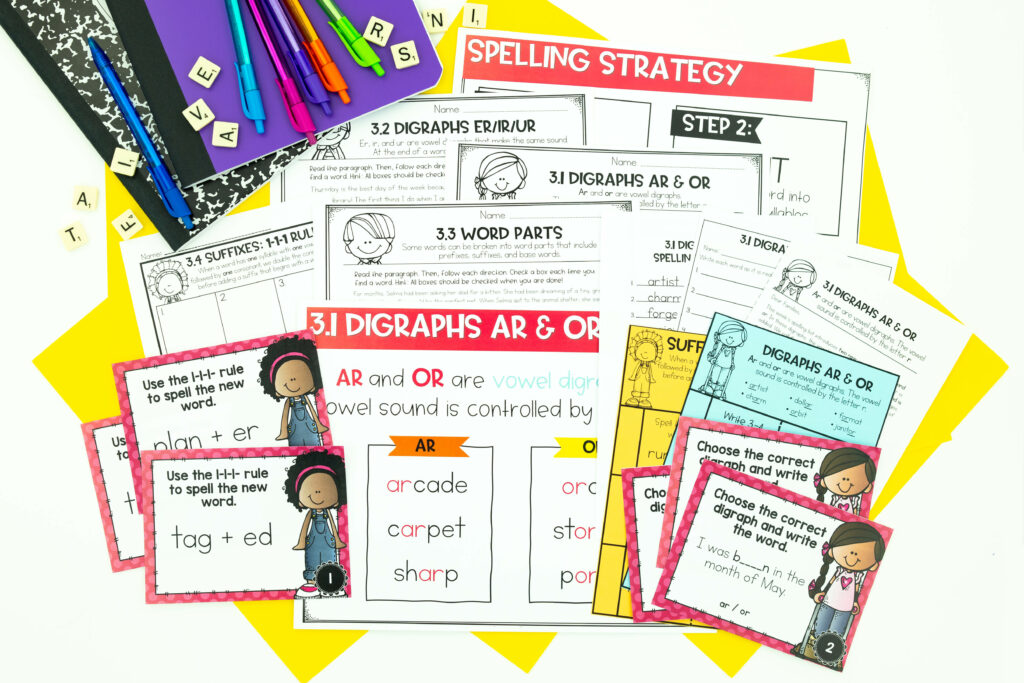 Teaching spelling can be a drag. But our unique concept-based approach to spelling changes that. Kids aren't just memorizing words, and this program actually teaches students how to spell. You'll get 32 weeks of differentiated spelling words to help your students become confident spellers.
4. Reuse lesson plans from last year
One of the biggest mistakes teachers make is always trying to find something new or do something different. This tendency comes from a good place. You want to make learning fun and relevant for your students, use the latest teaching methods, and have a student-centered classroom.
In the age of social media, it is easy to see what everyone else is doing and to be tempted to try out their successes in your own classroom. But you don't have to do this.
Once you find a lesson that works, stick with it! Not only is this going to save you valuable time lesson planning, but it's also going to be better for your students. The more familiar you are with a lesson, the more comfortable and confident you will be teaching it. Don't think of reusing lessons as being repetitive; think of it as building upon a foundation of success.
And don't worry about this being "boring". Remember, your students have never seen this lesson before. And although you are teaching the same lesson, it will never be exactly the same. Your new group of students will have different strengths, weaknesses, questions, and insights.
I encourage you to lesson plan digitally and keep those lesson plans well organized so that next year all you have to do is copy and paste to your current lesson plans. Talk about a huge time saver.
If you are using your pacing guide to lesson plan (see #1 above), you can use the same guide over and over each year. Don't be afraid to take notes about skills and concepts that take more or less time than expected so you can adjust your plans as needed.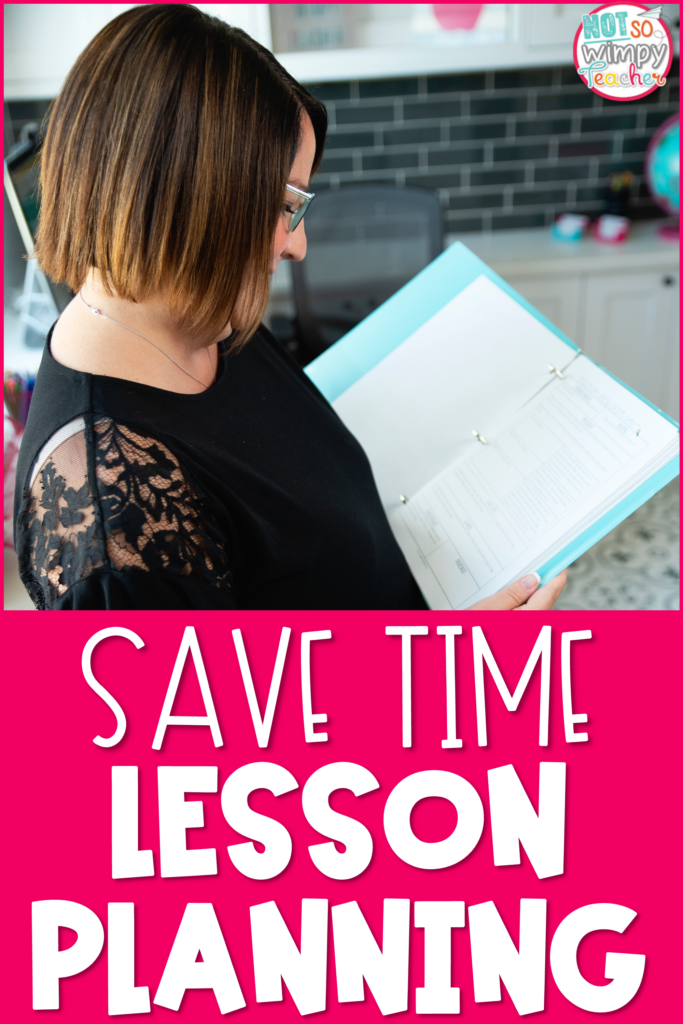 Effective teaching is as much about being efficient with your time and resources as it is about delivering excellent content. 
Let me know which of these tips you are going to try to save time lesson planning this year so you can better enjoy all those little moments in and out of the classroom.
Have a Not So Wimpy Day!