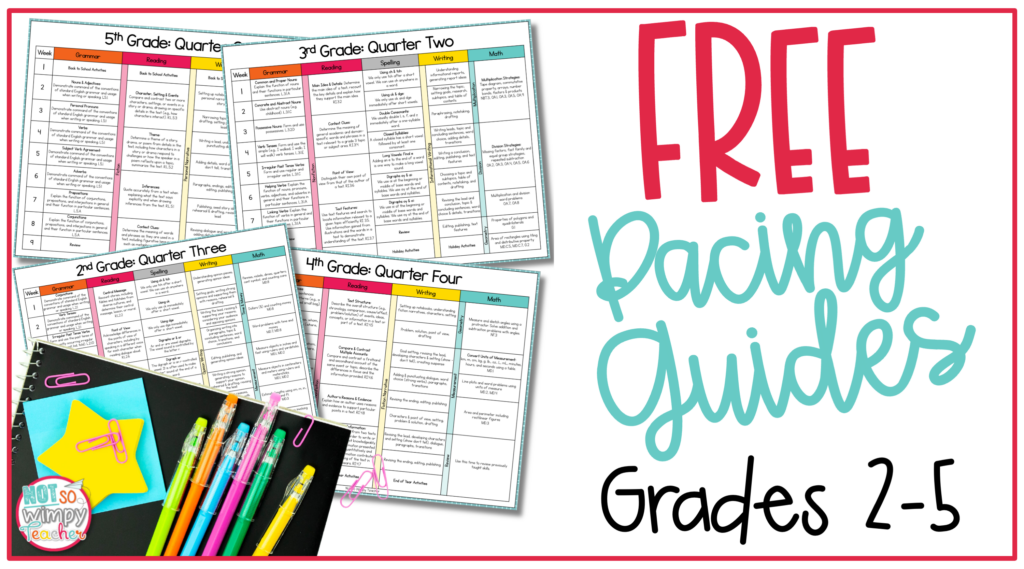 There are so many things you need to teach your students every year. So many subjects, so many skills, so many standards. And you need to teach it all before state testing, which often occurs a month or two before the end of the school year. It's no wonder that teachers often worry about how to fit it all in. But you don't have to worry any longer because today I am sharing my FREE pacing guides with you.
What is a pacing guide?
A pacing guide is a simple document that tells you what you'll teach each week of the year. It's also sometimes called a curriculum map. This is actually a great name because a pacing guide truly does map out all your content for the year.
The first time I saw a pacing guide was when my district gathered a few teachers from each grade level and had us create yearlong pacing guides for reading, writing, and math. The process itself was challenging, but when we were done my mind was blown! I had my own map to help me pace out my lessons for the entire year.
When the pacing guide said I had three weeks to work on fractions, then I knew I had three weeks to spend on that unit – no more, no less. There was no guessing and scrambling. All I had to do was follow the map.
A pacing guide is not a detailed lesson plan or schedule, but it does provide a much-needed general overview of what you should be teaching and when so you can gauge whether or not your lessons are on track.
If you follow the pacing guide, you'll be sure to cover all the required content over the course of the school year. No stress required.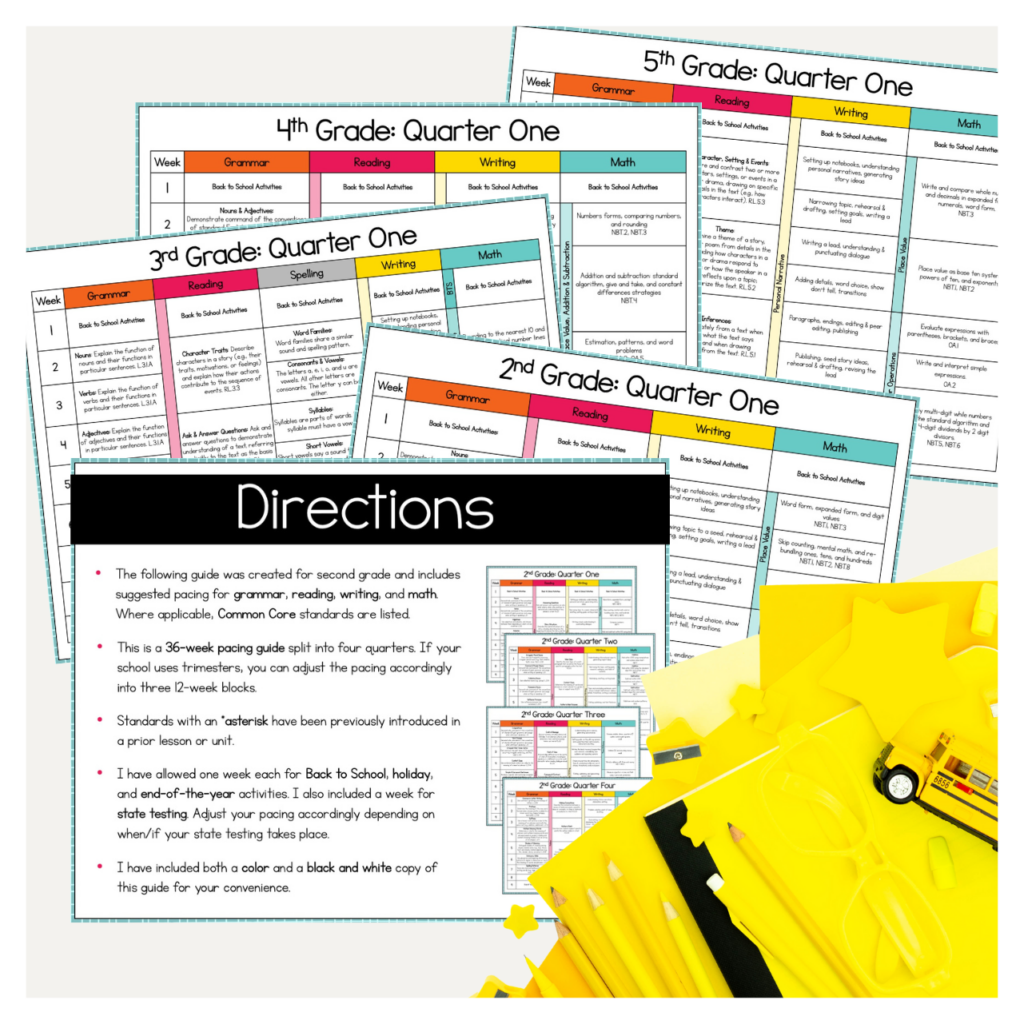 How to use a pacing guide
A pacing guide is a great way to make sure your lessons are on track for the year. But remember, it just provides the big picture view of what you should be teaching each week. It doesn't get into nitty-gritty details.
A pacing guide does, however, make planning those individual lessons so much easier.
First, it provides a guide for what types of lessons you need to plan each week. Instead of wondering whether to teach pronouns or adjectives, all you have to do is look at your pacing guide and see what's scheduled for the week.
It also saves time determining how long to teach a unit. You don't have to guess whether you'll need two weeks or three to teach division. You can look at your pacing guide and get a definitive answer.
This is particularly important if you love teaching one topic and don't really care for another. Say you really like teaching opinion essays but don't really enjoy informational reports. Rather than extending the amount of time you spend on persuasive writing and running out of time to teach informational reports, a pacing guide helps keep you on track.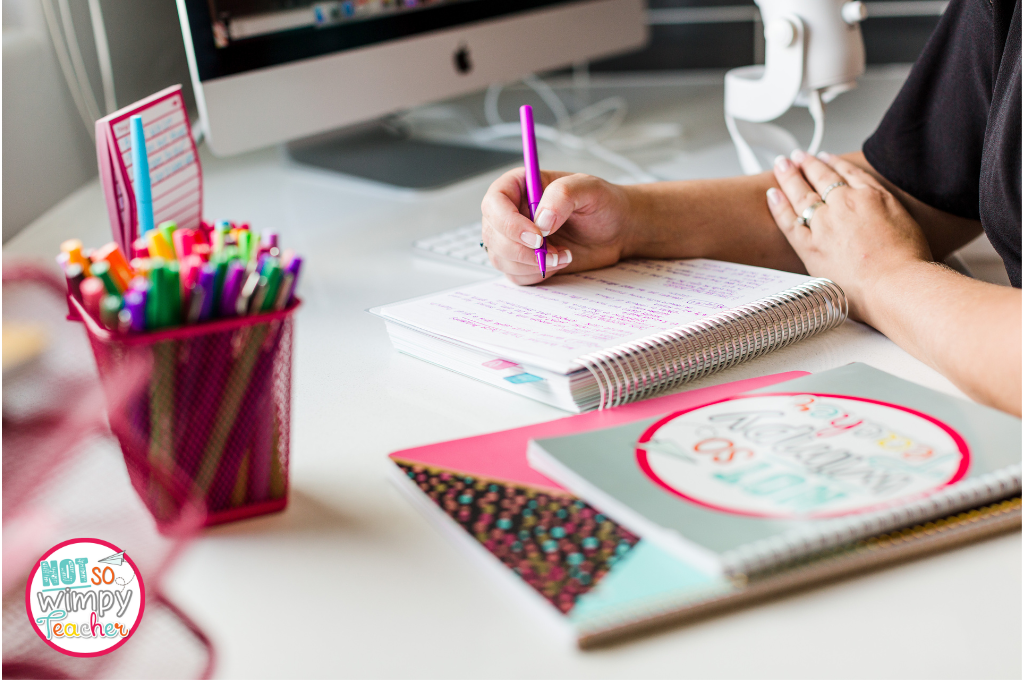 Pacing guides make lesson planning easier
When it comes to planning individual lessons, all you have to do is grab your pacing guide and your teacher's manual. Check the date, figure out what weeks you are planning for, and then find those weeks on your pacing guide.
If the guide says you are teaching perimeter and area, you can just flip to that section of your math textbook and begin planning accordingly. No more wasted time deciding what to teach.
Pacing guides are also a terrific tool if you batch your lesson plans. You can look at your pacing guide and see that the next three weeks are all focused on teaching the main idea. When it's time to lesson plan, you can sit down and plan all your lessons (all three weeks worth) on main idea in one planning session. I talk more about batching your lesson plans here and in my book How to Love Teaching Again.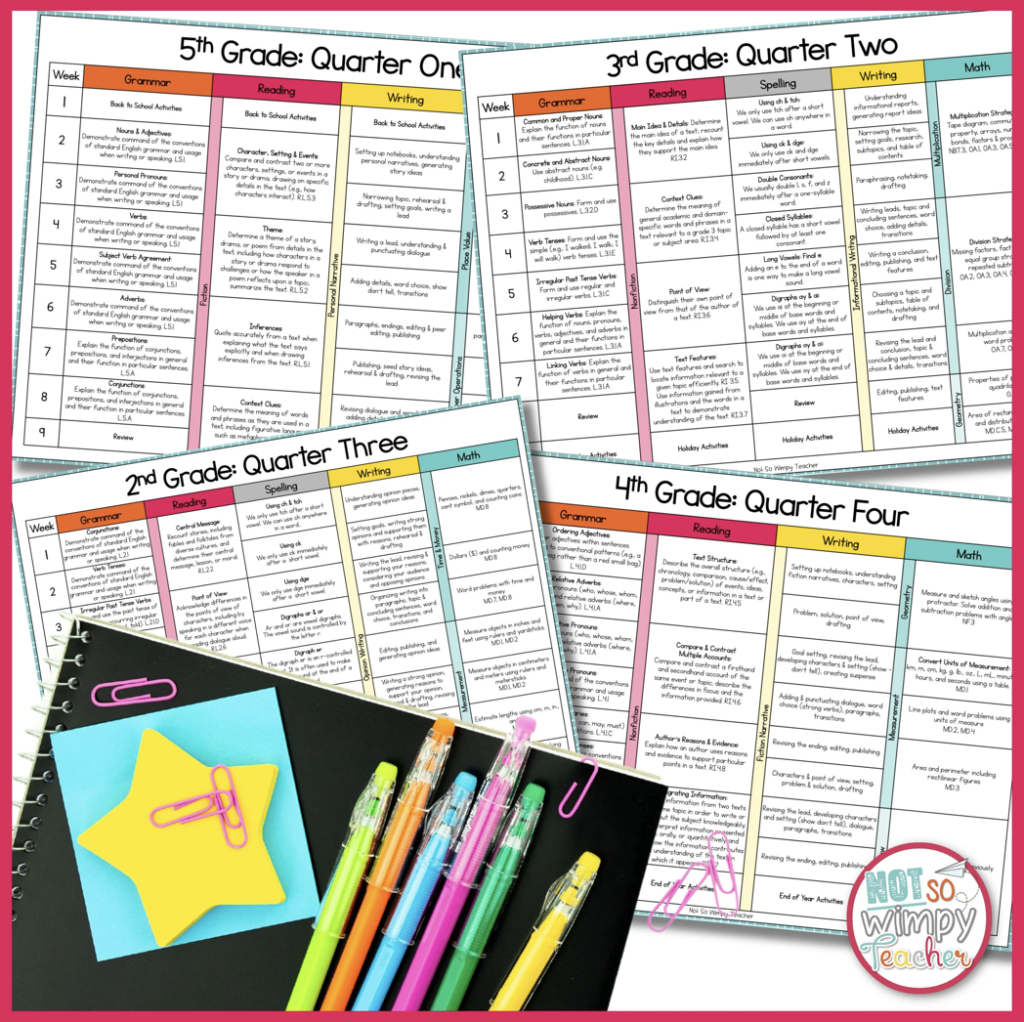 FREE Year-Long Pacing Guides for Writing, Reading, Grammar, and Math
I know not every school district provides teachers with pacing guides. So I went ahead and made them for you! Yep, I created FREE Year-Long Pacing Guides for grades 2-5
My FREE Year-Long Pacing Guides for grades 2-5 make it easy to plan your entire year of reading, writing, grammar, and math lessons. Each of these pacing guides:
Include writing, grammar, reading, and math
List Common Core Standards, when applicable
Are divided into four quarters
Make time for back-to-school, holidays, state testing, and end-of-the-year activities
Come in color and black and white
You can use your pacing guide over and over each year. To make it even more helpful next year, take notes about skills and concepts that take more or less time than expected.
I've also included a blank pacing guide template.
Tips & tricks for using pacing guides
Your pacing guide includes general topics or big ideas, not individual lessons.
Your pacing guide is meant to be just that, a guide. It's not set in stone. Feel free to modify it as necessary to fit your own unique classroom needs and schedule.
A pacing guide is a great way to ensure that grade level teams are covering the same skills. While you don't all need to teach the exact same lessons, sticking to a common pacing guide ensures that every student is learning the same skills.
Use your pacing guide each week to make lesson planning a breeze.
If and when you fall behind, don't worry! The pacing guide makes it easy to see how much you still have to cover and makes it easy to make adjustments to get back on track.
Use your pacing guide in conjunction with checklists or other assessment tools to make sure your students are actually learning the skills identified in the pacing guide.
Pacing guides are flexible and you can easily adjust your pacing to meet the unique needs of your students.
Don't forget to grab your FREE Pacing Guide here!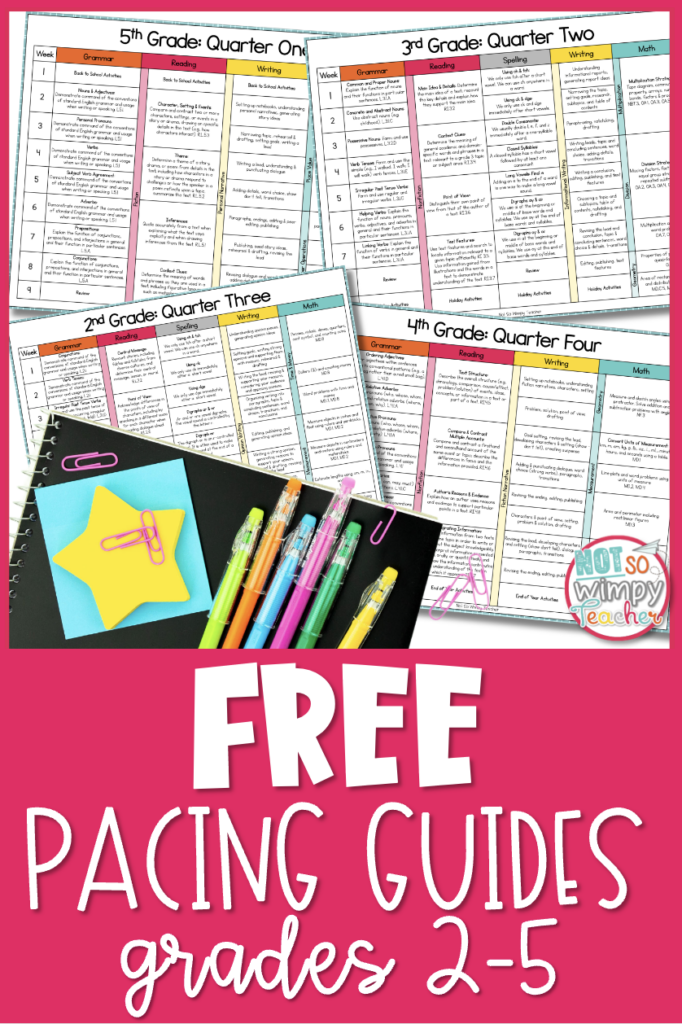 Have a Not So Wimpy Day,