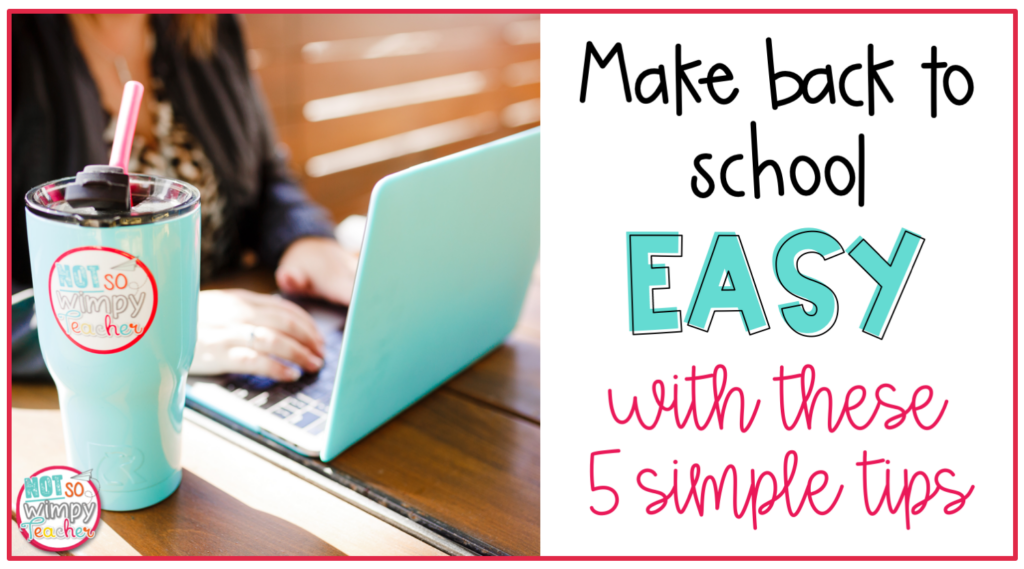 It's back to school season! The first day of school is right around the corner, and that can be a stressful time for teachers. You might be feeling a little sad that summer vacation is over. And even though you are excited to meet your new students, it can be overwhelming to get back into the swing of things. Here are five tips to help make back to school easy.
1. Organize your back to school supplies.
A new school year means new school supplies – for the students and for you! For many teachers this is one of the most exciting things about going back to school. I mean, who doesn't love a new teacher planner and some crisp Flair pens?
Take some time to make sure you have the supplies you need to help class run smoothly from the very first day of school. Post-it notes, index cards, chart paper, Expo markers, and Sharpies are just some of the things you might want to stock up on.
You should also take some time to print off lots of student labels. Using numbers instead of names makes it so much easier. Stick those numbers on folders, notebooks, journals, pencil boxes, coat hooks, crayons boxes, and more. Assigning every student their own supplies can really cut down on headaches later on and help you identify lost items.
Don't forget to buy pencils, pencils, and even more pencils. You might even want to start sharpening them now.
This is also a good time to think about how you are going to organize your technology station, lunch choices, and student papers.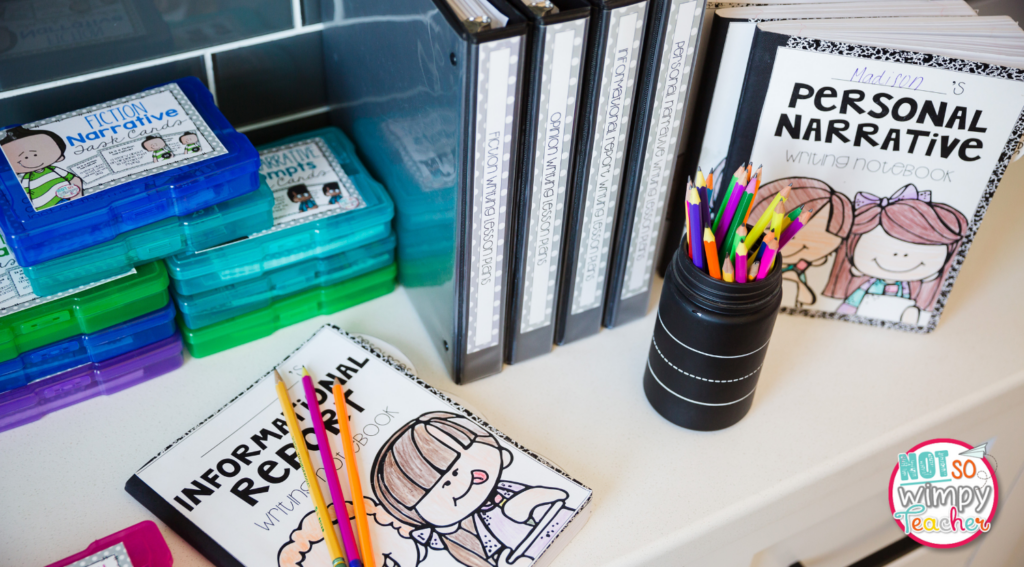 2. Put together a Teacher Emergency Kit
Here's a back to school tip that could save the day! While you're organizing things, I suggest you put together a teacher emergency kit. Things like safety pins, band aids, ibuprofen, and a nail file are always helpful. If you wear contacts, consider adding some contact solution and a spare pair of glasses.
You could also add some of your personal favorites. Avid tea drinker? Stash some tea bags. Gum, hard candies, or even some of your favorite chocolate can go a long way on a hard day. Granola bars or protein bars are perfect for days when you don't have time for lunch.
Air freshener is another must. #youknowwhatimean
If you live in a hot climate, don't forget sunscreen or a hat for recess duty. Cold climate friends might want extra hats and gloves, or even a blanket (or so I'm told). And you can never go wrong with an extra pair of flats or tennis shoes for when you make a bad footwear choice.
3. Pick a family communication tool
Decide how you are going to communicate with families this year. You might pick an old school printable classroom newsletter. Or maybe you prefer to email a pdf home each week. If you are going to use this method, this is a great time to create your template so all you have to do is update the information each week.
There are lots of great apps that make it super easy to exchange messages and share documents with families. SeeSaw, Class DoJo, and Remind are just a few of the more popular options. These apps will save tons of time printing and make it easy for parents to get a hold of you with just a few clicks.
4. Prep your centers.
Do yourself a favor and prep your centers for the year now. Start by deciding which subjects you are going to use centers in. Centers are great for both reading and math.
Then select your center activities. You want to pick eight to ten activities that you can use all year long. This will save valuable time – both planning, prep time, and instructional time. If you select one set of activities now, you won't have to search Pinterest every Sunday night and make emergency runs to the store to pull together new centers. Your students will also know what to expect and become familiar with the center activities, so you won't have to waste time giving new directions each week.
If you are looking for easy, effective, and engaging centers you will love my done-for-you centers for math and reading. I have math centers for grades 2-5. Each year long bundle comes with 90 hands-on centers with activities kids love, like matching, sorting, writing about math, task cards, and more.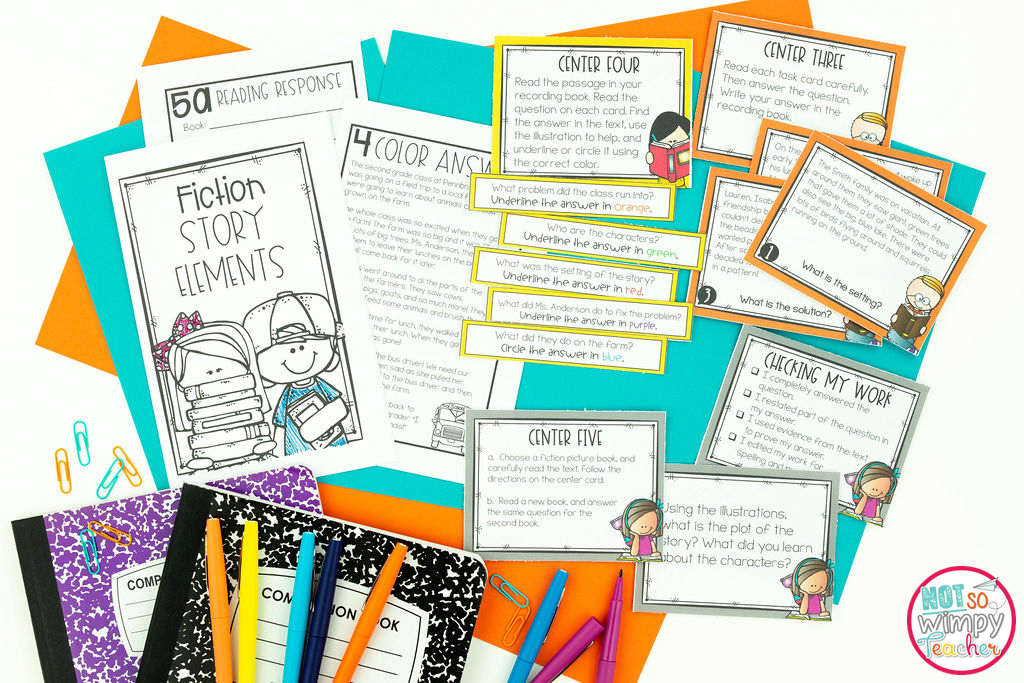 I also have reading units with centers for grades 2 and 3. These year long mega bundles come with 32 weeks of lessons including 16 mini lessons, 32 interactive notebook activities, reading centers, and 80 different reading centers. It's truly everything you need to teach challenging reading skills in a fun and effective manner.
If you take some time to print, cut, and laminate now, you'll be set for the entire year! Here are a few tips to help with center prep for back to school:
Print your materials on cardstock for durability
Laminate pieces, so you can reuse them each year
Choose a different color paper for each unit and/or each activity
Identify pieces by writing the unit and center number on the back of item (this will save you so much time when you find a missing piece on the floor)
Store centers in plastic bins or envelopes for safe keeping
Keep a second set of storage containers that are easy for kids to access for the centers currently in use.
5. Batch your lesson plans for the first month of school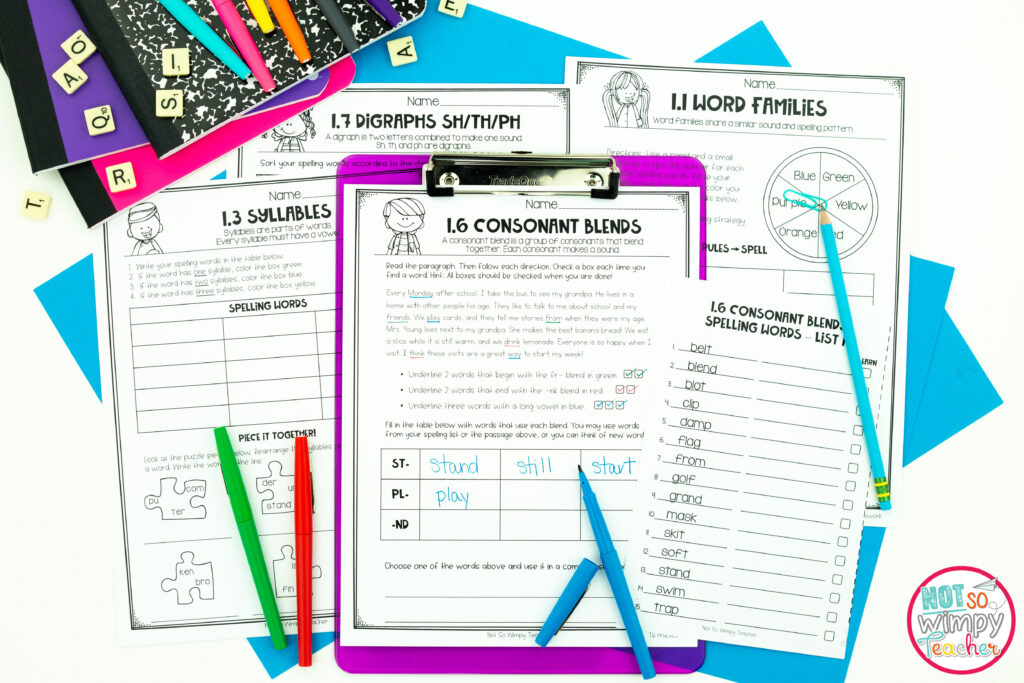 Finally, this is a great time to batch your lesson plans for the first weeks of school. If you've never tried batching lesson plans before, you are going to love this back to school tip.
A lot of teachers sit down and lesson plan for the week. You start with Monday and plan your reading, grammar, vocabulary, spelling, math, and science lessons. Then you move on to Tuesday and do it again. Even if you plan by subject, you are still only working with one week at a time and you are pulling out all those manuals every time you lesson plan.
Instead, I suggest you batch a month's worth of reading lessons at a time. The next time you lesson plan you can tackle math. And then during a third planning session, you can work on writing. When you batch lesson plans, you only have to think about one subject area at a time. This saves energy and brain capacity. And it also saves time. There's no jumping back and forth from one subject to another.
The beginning of the year is the perfect time to try out batching. If you set aside one week to lesson plan before school starts you can do a month's worth of lessons each day:
Monday: Math
Tuesday: Reading
Wednesday: Writing
Thursday: Grammar & Vocabulary
Friday: Science & Social Studies
Once school starts, you can plan once a week. The first week, go back and plan another month's worth of Math. The next week you can work on reading. The third week you can do writing, and so on.
You might even be able to plan more than a month at a time. You'll be amazed how much faster this process goes than the traditional method. Or, you might have to lesson plan twice in one week, but I bet you're already doing that anyway.
Done-for-you Lesson Plans
Want to make batching really easy? Make back to school simple with done-for-you resources and lesson plans. I've created a number of engaging and effective resources, complete with lesson plans, for grades 2-5 that make planning, prepping, and implementing easy.
Writing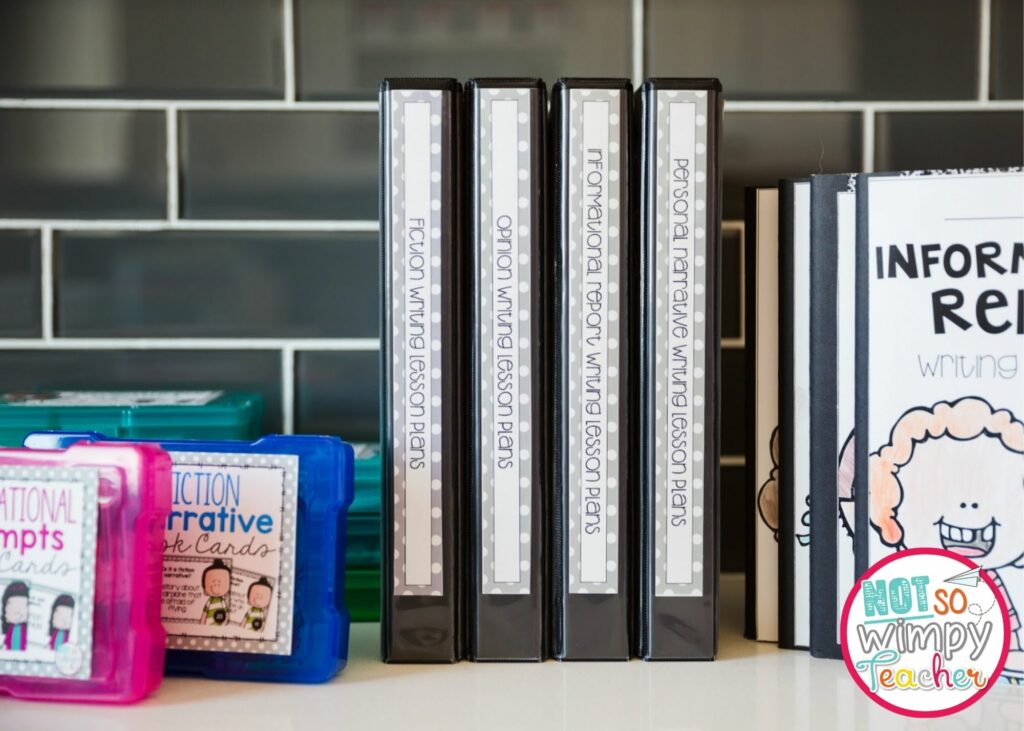 Teaching writing can be complicated. But my writing units make it easy. So easy that you could leave these lesson plans for a sub if you needed to.
My writing units for grades 2-5 include lesson plans, mentor text passages, anchor charts, student printables, and task cards for the entire year. When you use these lessons to teach writing, it's easy to batch your lesson plans a quarter at a time.
Grammar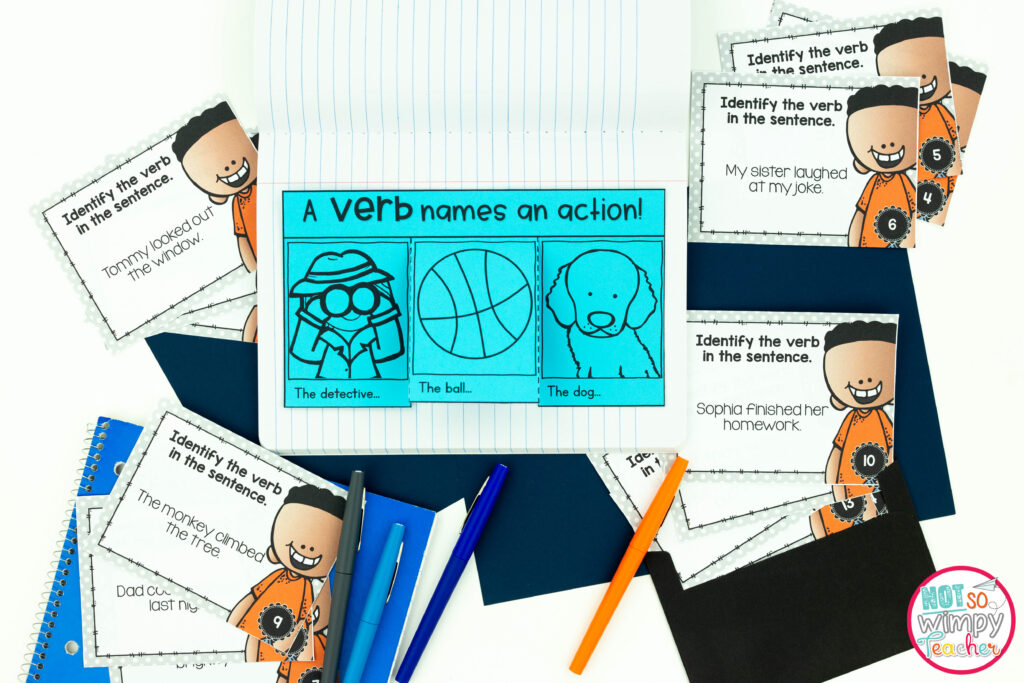 My grammar bundles make it easy to teach grammar in just 10 minutes a day. Each week follows the same routine, which saves valuable time (both planning and presenting) and makes it easy for kids to work independently. Plus, kids actually enjoy these activities.
Monday: PowerPoint to introduce the skill
Tuesday: Interactive notebook activity
Wednesday: Writing activity
Thursday: Task card scoot
Friday: Assessment
I've already done all the hard work of lesson planning.
Vocabulary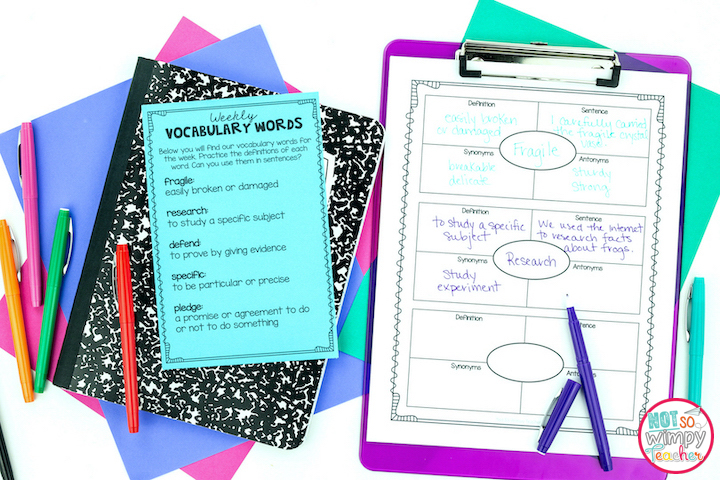 Add a 10-minute vocabulary routine to your daily schedule and watch your students grow as readers, writers, and test-takers. A strong vocabulary is so important for academic success.
I've created a full year of vocabulary curriculum based on Tier-2 words – those grade-level words that students see over and over. And each unit follows the same format:
Monday: introduce word definitions and sentences
Tuesday: antonyms and synonyms
Wednesday: roots, prefixes, and suffixes
Thursday: draw pictures to represent the words
Friday: play a review game and take an assessment.
Make vocabulary lesson planning simple with my done-for-you vocabulary system.
Math Curriculum
My math curriculum is your one-stop-shop for math lessons that are fun, engaging, and easy to prep. These comprehensive units have everything you need to teach all of the standards. Each grade level includes ten units.
I currently have math curriculum for third grade and fourth grade. Fourth grade is a growing bundle, it's not quite complete yet, but you can buy the full year today and get all the currently available units. You'll get new units as they are released at no additional cost.
Each ready-to-teach unit comes with instructional PowerPoints for each mini-lesson, daily student activities that are effective and engaging, key vocabulary, task cards, a math game, anchor charts, problems sets and homework, complete lesson plans, helpful resources like hundreds charts and number lines, and more! These lessons, which have everything you need in one place, make batching your math lessons a piece of cake.
Spelling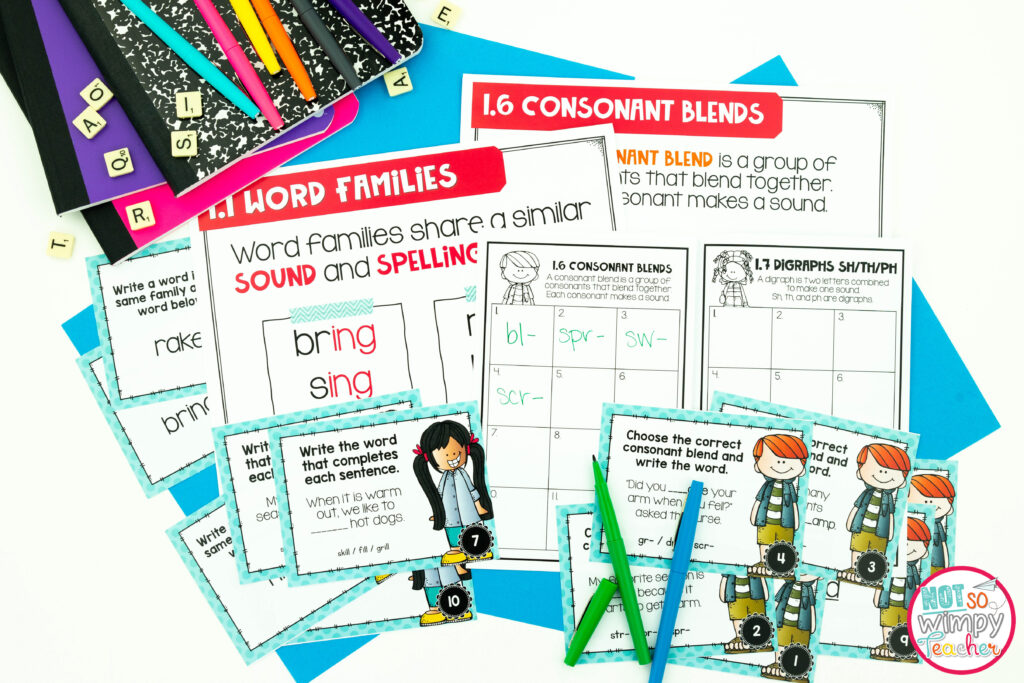 If you teach third grade, you've got to see our spelling curriculum! This unique concept-based curriculum is flexible – teach it in as few as 2 days per week (or as many as 5), easy to differentiate (4 different spelling lists each week), and simple to use (just print and teach).
Each week focuses on teaching students spelling rules and patterns. They aren't just memorizing random lists of words, they are actually learning how to spell!
We've thought of everything to make spelling lesson planning easy and effective.
You'll be thanking yourself every time you plan with one of these resources!
Check out even more tips for your best back to school ever here!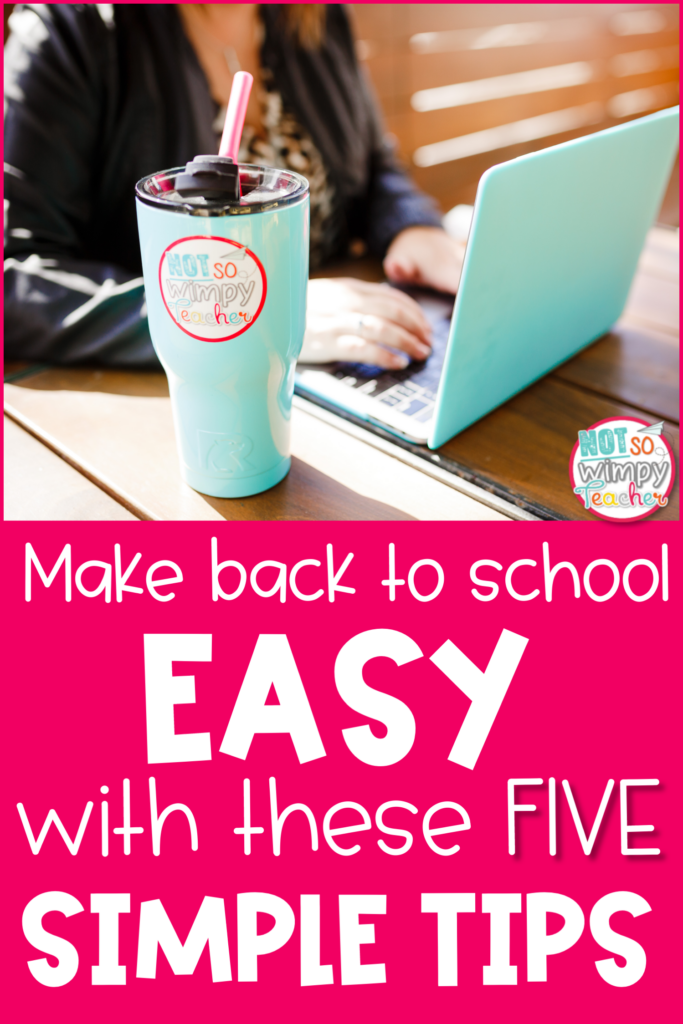 Have a Not So Wimpy Day,