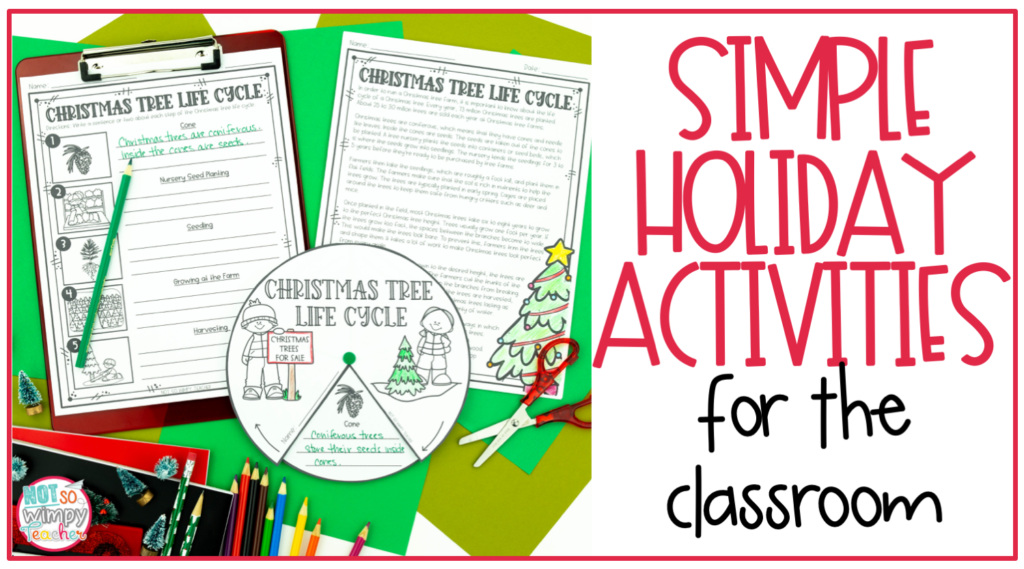 I'm back with another AMAZING holiday party theme this week. This Christmas Tree Farm classroom party theme is full of simple holiday activities to use with your students. It has everything you need for an educational and exciting week before Christmas.
It all starts with my Christmas Tree Farm Activities for Math, Reading, and Writing. Honestly, if you do nothing but pick your favorite activities from this resource–there are 40 incredible activities inside–your students will have so much fun.
But if you want to make things even more festive, I've included a few ideas at the end of this post to help you plan a simple and sweet classroom party.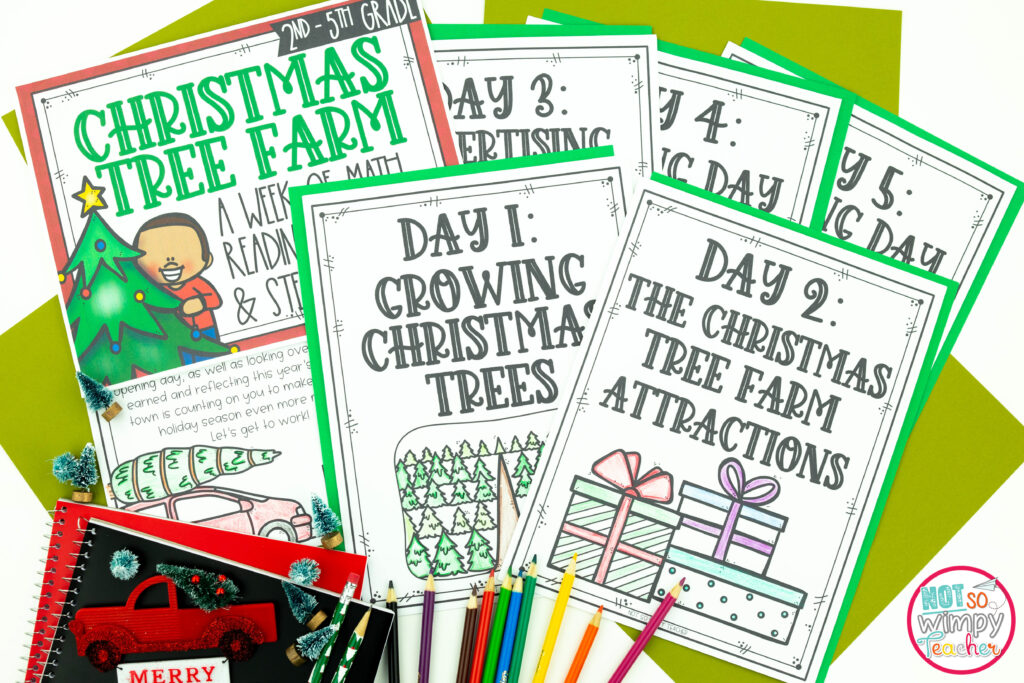 The Resource:
Let's take a look at this week-long resource. Christmas Activities for Math, Reading, and Writing is a full week of festive, interdisciplinary, hands-on activities, including STEM, project based learning, critical thinking, creativity, and so much more. Your students are sure to think that Christmas has come early.
This one-of-a-kind holiday activity includes five days of low-prep activities designed for students in grades 2-5.
This fun holiday activity will transport your class to a Christmas Tree Farm reminiscent of a Hallmark movie. But this activity isn't all tinsel and lights. These activities are packed with real-world learning opportunities in math, reading, writing, science, social studies, creativity, communication skills, and more. Your students will stay busy learning right up until Christmas break.
Of course, I know that this time of year is crazy. So I've designed these activities to be EASY to use. All you have to do is print, copy and use. You can celebrate Christmas without messy glitter or crumbly gingerbread houses. And you won't have to rush home each night to find supplies for the next day's activities. Instead, you can bake, shop, wrap, and tackle all those last-minute holiday tasks on your to-do list. (Sorry, I can't help with that!)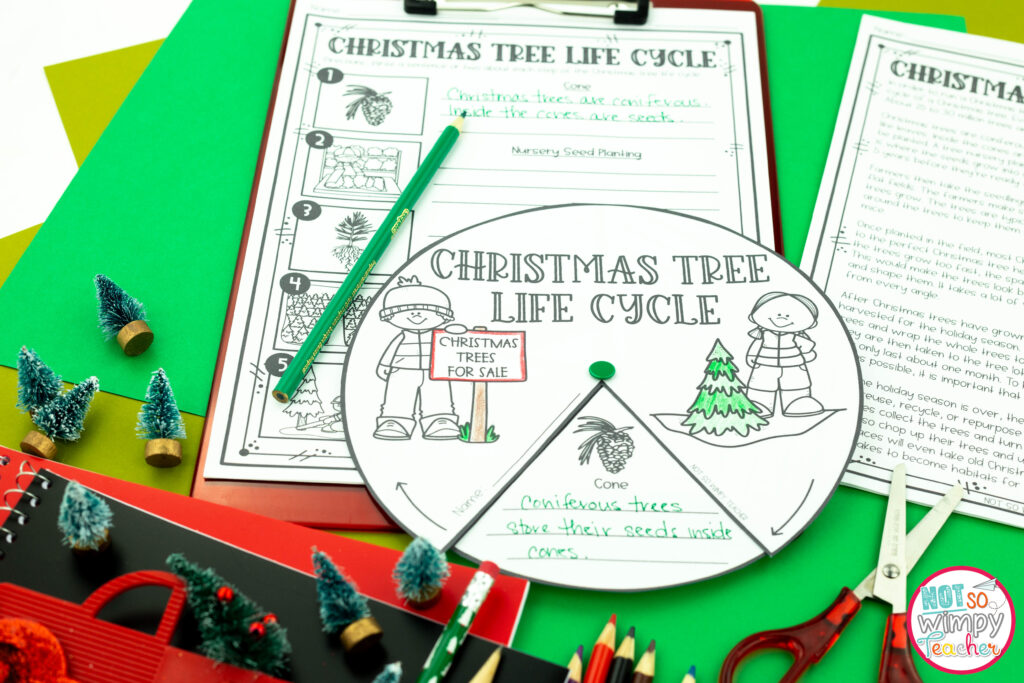 What's Inside:
This holiday resource includes more than 75 pages of Christmas Tree-Farm-themed activities. All in all, there are forty different interdisciplinary activities that cover all the subject areas: math, reading, writing, science, communication, critical thinking, and creativity.
There's also a complete STEM project and a parent letter requesting donations to help complete the project. The supply list is simple, and it contains items you probably already have in your classroom.
Most importantly, the clear teacher directions, answer key, and detailed examples make implementing these holiday activities easy.
We've broken all of the holiday activities down by day:
Growing Christmas Trees – Day 1
Christmas Tree Life Cycle (2 versions) – reading comprehension
Christmas Tree Life Cycle (2 versions) – informational writing
Types of Christmas Trees – reading comprehension
Choosing the Perfect Tree – opinion writing
Comparing Christmas Trees – compare and contrast
Mapping the Tree Farm (2 versions) – map making and area (difficult version only)
Pricing the Christmas Trees – problem solving, addition, and subtraction
Last Year's Tree Sales (2 versions) – addition, subtraction, problem solving, and fractions (difficult version only)
Christmas Tree Farm Attractions – Day 2
Ice Skating Rink Rules – informational writing
Ugly Christmas Tree Sweater – creative design
Wreath decorating – geometry
Photo Booth Backdrop – creativity
Snack Stand Orders (2 versions) – addition & subtraction and problem solving
Making Hot Cocoa (2 versions) – writing (procedural and sequencing)
Frost Farm Tree (2 versions) – math (procedural and sequencing)
Meet the Reindeer – reading comprehension
Build a Reindeer Barn: STEM Project
Advertising and Farm Operations – Day 3
The Tree Farm Hours – clocks and elapsed time
Farm Logo and Slogan – creative design and writing
Tree Farm Jobs – reading (use with job application)
Job Application – informational/persuasive writing
Tree Farm Brochure (2 versions) – informational writing and creative design
Social Media Post – creativity and informational/persuasive writing
Filming a Commercial – persuasive writing, public speaking, creativity, and editing
Advertising Budget (2 versions) – reading comprehension and math skills (addition and subtraction in the easy version and multiplication in the difficult version)
Opening Day at the Tree Farm – Day 4
Tree Farm Ticket Prices (2 versions) – addition and subtraction
Tree Farm Schedule – elapsed time, clocks, and problem solving
Holiday Music Playlist – creativity, opinion writing, and making a list
Selling a Christmas Tree – persuasive writing
Tree Delivery Route and map (2 versions) – critical thinking and math skills
Snack Stand Brownie Recipe (2 versions) – reading a recipe, following directions, addition (easy version), and multiplying & fractions (difficult version)
Photo Booth Picture – creativity and writing
Reindeer Treats (2 versions) – repeated addition and decimals & multiplication (difficult version)
Opening Day Profits and Reflections – Day 5
Thank You Letter – writing a letter and creativity
Thank You Postcard – writing a letter and creativity
Read the Reviews – reading comprehension
Reflection on Reviews – text-dependent analysis
Tree Sales Graph – interpreting data, addition, and subtraction
Gift Shop Graph (2 versions) – graphing
Revenue & Expenses (2 versions) – vocabulary, addition, and subtraction
Employee Celebration Party – brainstorming and creativity
Project Reflection – self-reflection and drawing conclusions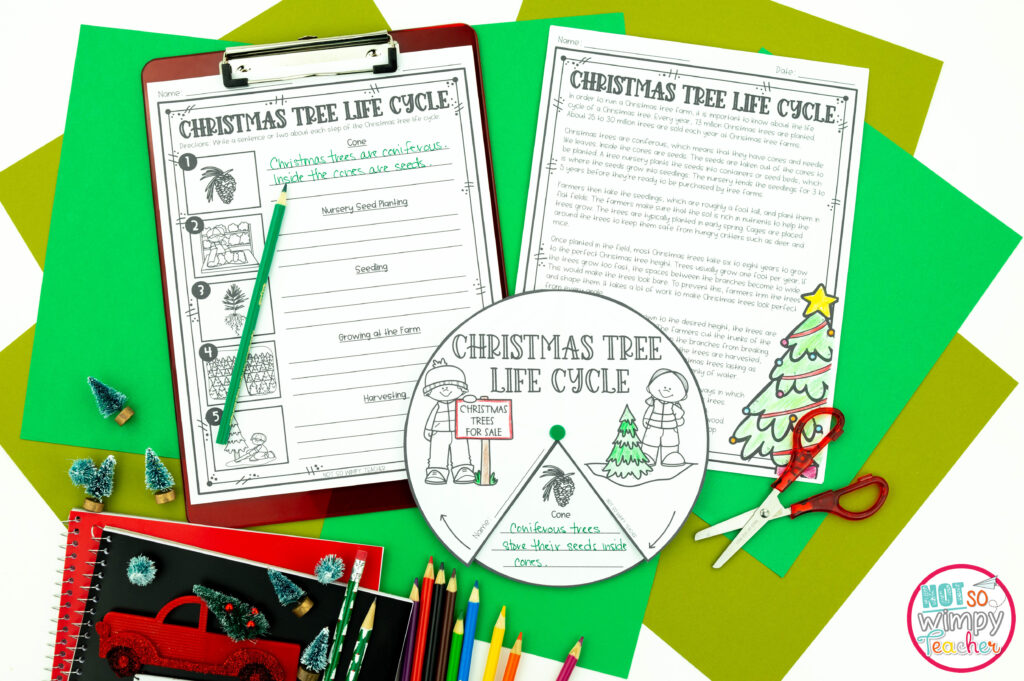 How to Use It in the Classroom:
This Christmas Tree Farm resource is a week-long activity designed to be used over 5 days. The activities are divided into five different themes, and there is one theme for each day of the week. Additionally, the daily lessons have a variety of reading, writing, math, and STEM holiday-themed activities.
How long this activity takes is up to you. You can pick and choose from the different activities. You could do just one per day, and spend an hour or so on this activity. Or, you might choose to devote the entire week to running a Christmas Tree Farm.
The number of activities you choose to do and your students' abilities will determine how much time they take.
Most of the activities are designed to be stand-alone activities. So if you don't have time to complete them all, pick and choose your favorites or those you feel are most appropriate for your students. Or you can allow students to choose which activities they'd like to complete.
Students can work independently, with a partner, or in small groups. You can even change the format throughout the day. This will help keep kids engaged.
If you are still teaching a full week of lessons, try incorporating some of the writing activities or creative activities, like designing the sweater or photo booth as morning work.
I love to create centers for each of the different holiday activities. This keeps all of the activities manageable. If you have parent volunteers, you can set one up at each center.
Some of these activities, like the writing commercials project, can easily be extended. Let students film their commercials and show them on the whiteboard, send them home via email to share with families, or share with another class.
Of course, you'll want to make time to share each day. Kids will be working hard on these activities, and they will love the opportunity to share their ideas and see what their classmates are doing.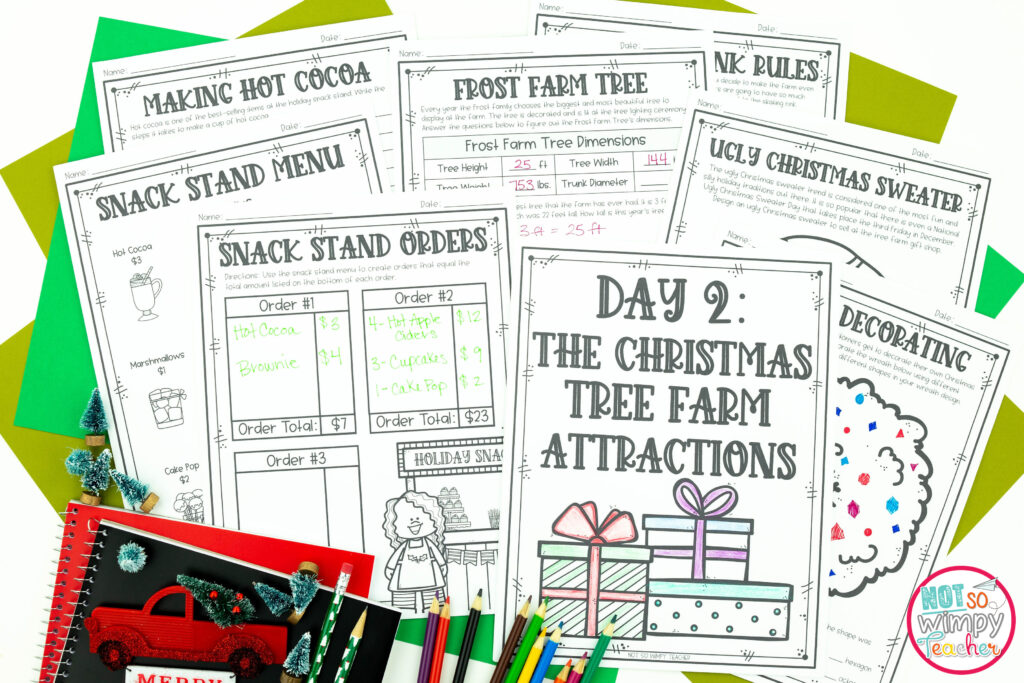 Differentiation:
Differentiation is simple with this Christmas Tree Farm resource. Many activities have been differentiated for different grade levels, and even include two different versions so you can pick the one most appropriate for your students.
Because there are so many activities, we've made it easy to keep track of which version is which. Easier versions are marked with a present symbol located next to the day at the top of the page. More difficult versions are marked with a holly leaf symbol. Select the appropriate version based on the age and ability of your students.
You can select one version for the entire class or choose different versions for individual students.
Remember, you don't have to do all of the holiday activities. If one looks a little too easy or a little too hard for your students, skip it. Just choose the ones you like best!
This resource has more than enough holiday activities to keep your kids occupied all week long. Although all the activities are part of the overall Christmas Tree Farm theme, each activity is a stand-alone activity. You do not have to complete every activity in this packet.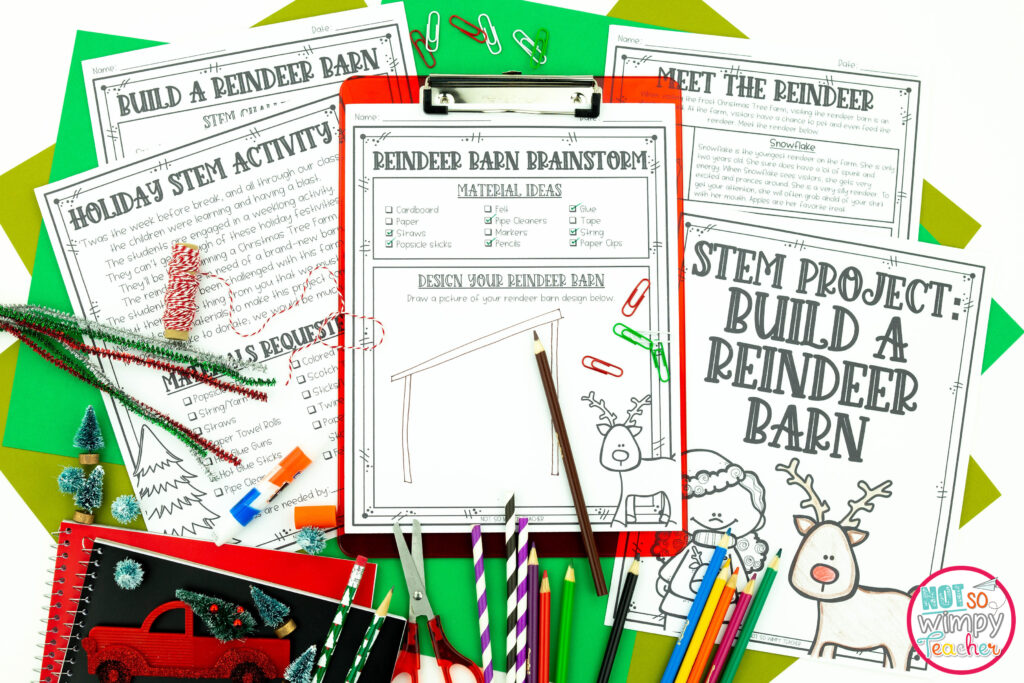 Your students will love these holiday activities!
You and your students will love this fun, unique theme. The opportunity to run their own Christmas Tree farm will engage kids from day one, and they will be eager to tackle new activities each day. Plus, these rigorous standards-based activities ensure that kids keep learning during the busy holiday season. And there are no references to Santa or elves in this resource.
It really is the ONLY resource you need for an easy, festive, fun-filled week.
Throw a Christmas Tree Farm Classroom Party
If you want to up the fun factor, try some of these holiday activities for a Christmas Tree Farm Classroom party. We've picked things that are simple to plan and prep. Below you'll find ideas for treats, crafts, activities, and books.
Christmas Tree Farm Treats
Special treats can be a fun way to connect to the learning students are doing in the classroom. If you want to add something tasty to your classroom party, here are some ideas that go along with the Christmas Tree Farm theme.
Rice Krispie Treats
How cute are these? First, mix up a batch of Rice Krispie treats and add some green food coloring. Then, cut them into triangles shapes and stick a pretzel piece in for the trunk. Finally, add some candies or sprinkles for decorations. Grab the recipe here.
Open-faced Christmas Tree Sandwiches
Here's an option for a savory treat. Use a cookie cutter to cut a Christmas tree shape of bread. Spread with cream cheese. You can color it green for fun. Decorate with diced veggies such as carrots, red and yellow peppers, cucumbers, and olives.
Christmas Tree Cake Pops
If you have some extra time or a room parent who loves to bake, these Christmas Tree Cake Pops would be a sweet addition to your Christmas Tree Farm party.
This mold sure would make it easy. Just use your favorite cake mix, add some green frosting, and decorate.
Or follow this recipe:
Ingredients:
1 (16.25-ounce) box of your favorite cake mix + ingredients
1-2 (16-ounce) containers of ready-made vanilla frosting
1 (34-ounce) bag of white chocolate chips
green food coloring
50 lollipop sticks
mini chocolate coated candies or sprinkles
mini edible star candies
Directions:
Grease and flour a 9×13 pan and preheat the oven.
Use a hand mixer to mix the cake mix with the ingredients on the box. Beat for two minutes.
Spread into a prepared 9×13 pan and bake according to the directions on the box. The cake is finished when the edges start to pull away from the sides and a toothpick inserted in the center comes out clean.
Let cool completely.
Once the cake is cooled, crumble it into small pieces in a large mixing bowl.
Add half of the frosting and stir until thoroughly combined. The mixture should be moist enough to roll into 1-inch balls. You may need more frosting for this, but don't add too much or the balls will not stay together.
Shape balls into cones and place them on a wax paper-covered baking sheet. Cover with plastic wrap and chill for several hours in the refrigerator, or freeze for 15 minutes. You want them to be firm but not frozen.
Place white chocolate chips in a microwave-safe bowl and heat for thirty seconds. Remove from the microwave and stir. Continue heating and stirring in 30-second increments until melted. Let cool slightly.
Add a few drops of green food coloring and mix well.
Dip the tip of a lollipop stick into the melted chocolate and insert it about halfway into a cake ball. Holding the stick, dip the entire tree in green chocolate, twisting the stick as you come up. While still wet, you can use a toothpick to create the branches.
Gently press mini candies around the sides or sprinkle with sprinkles and a star on top. Be sure to do this while the chocolate is still wet
Carefully insert a lollipop stick in a Styrofoam block and let it harden.
Store in the refrigerator.
Strawberry Christmas Trees
These look so cute! I love these chocolate-covered strawberry Christmas trees. To make these festive chocolate-covered strawberries, add some green food coloring to white melting chocolate. Dip the strawberries into the chocolate. Then, top with chocolate sandwich cookies and decorate with some sprinkles. Find all the details at Lovely Little Kitchen.
Fruit and Cheese Christmas Platter

Another yummy holiday treat! This fruit and cheese platter would make a super easy snack with no extra sugar. Arrange a variety of grapes and cheese cubes in a Christmas tree shape. Serve with crackers on the side.
Christmas Tree Cupcakes
These easy Christmas Tree toppers make such cute cupcakes. Just make a batch of cupcakes, frost them with store-bought frosting, and add the candy toppers from Just a Taste.
Hot Cocoa
Christmas Tree Farms often offer hot cocoa to warm up their customers. So a Hot Cocoa bar would be a fun treat.
I love to do hot cocoa in the crockpot. Add 8 Swiss Miss Hot Chocolate packets and 64 oz. of milk to your crockpot. (You may need to double or triple the recipe to serve your entire class, but most students won't drink a full cup.) Whisk together until smooth and cook on high for two hours.
Set up a fun toppings bar with Reddi Whip, mini chocolate chips, sprinkles, candy canes, and marshmallows.
Christmas Tree Farm Crafts
There are many opportunities for creativity included in this resource, so you do not need to add any additional crafts. But if you want to do something extra, here are some simple holiday crafts that embrace the Christmas Tree Farm theme.
Paper Plate Christmas Tree
These three-dimensional paper plate Christmas trees are so cute and easy. All you need are paper plates, glue, green paint, and pom poms. Feel free to mix up the decorations if you want to. Get all the details at Creative Family Fun.
Hot Cocoa Directed Drawing
Kids love these directed drawings! All you need is paper and a pencil. Follow along with the step-by-step instructions in this video. Let students color with colored pencils or markers when they finish.
PRO TIP: For a long-lasting keepsake and gift idea, have students draw on a canvas board.
Paper Plate Snow Globe
I love these adorable paper plate snow globes from Frugal Mom Eh. You can make it even easier by buying large white plates and smaller blue plates to put on the inside.
Let kids choose any holiday item from the Christmas Tree Farm to put "inside."
Make Paper Chains
Christmas trees are often decorated with garlands. So have kids make their own paper chain garlands. Making paper chains is a great way to practice fine motor skills. You can also challenge students to make a pattern or to make sure they have a certain number of links. The only materials you need are construction paper (in a variety of colors), tape or glue, and scissors.
Christmas Tree Farm Activities
Again, you don't need ANY more activities. The Christmas Tree Farm Activities for Math, Reading, and Writing resource includes 40 different interdisciplinary activities that are fun, festive, and engaging. However, if you're looking for more ways to have some holiday fun with your class, check out these ideas.
Christmas Tree Farm Video
You can watch this National Geographic Kids video to give kids a little background on Christmas tree farms.
And if you want to get kids up and moving, try one of these activities:
Ornament Scavenger Hunt
Hide different Christmas tree ornaments around the classroom. Make a list of what ornaments you have hidden, i.e., one red ball, two candy canes, one bell, one blue ball, two white snowflakes, etc.
Divide the class into teams and have them hunt for the items on their list. The first team to find them all wins.
Living Christmas Tree
This is a fun game that kids love. Expect lots of laughter!
Materials:
Green crepe paper
Tinsel
Ornaments (cut out of colored paper)
Tape
A headband with a star attached to it
Divide your class into two teams and give each group a set of materials. The teams will then choose one member to be their Christmas tree. Play a Christmas song, such as "Rockin' Around the Christmas Tree" or "Oh Christmas Tree".
The students have until the end of the song to wrap their teammates in the crepe paper and use the remaining items to decorate their living tree.
Christmas Tree Relay Race
This is another fun racing game. Divide your class into two teams and have them line up behind the starting line.
Give each team a large green t-shirt (that they can put on over their clothes), a long strand of garland, and a Christmas headband.
The first players on each team must dress up as a Christmas tree and race from the starting line to the turn-around line and then back again to the start. When they return, they remove the Christmas tree costume and pass it to the next player, who puts it on and runs the same course.
The race continues until one team's players have all completed the course while dressed as a Christmas tree. The first team to finish wins.
Dance video
This video features Christmas songs with easy choreography so kids can dance along.
Christmas Tree Farm Books
Maple and Willow's Christmas Tree by Lori Nichols. Maple and Willow love trees—and now they are getting their first real Christmas tree. It is going to be the best Christmas ever!
The Christmas Tree Wish by Karen Inglis. As the snow starts to fall on Christmas Eve morning, little Bruce Spruce dreams about finding a home for Christmas Day. But when things don't quite go according to plan, he discovers all is not lost as his fir tree friends — Penelope Pine, Cedrick Cypress, and Douglas Fir — are there to help.
Christmas Farm by Mary Lyn Ray. When Wilma decides her garden needs a new beginning, she gathers string, scissors, shovels, sixty-two dozen balsam seedlings, and Parker, her five-year-old neighbor. Year after year, Wilma and Parker nurture their trees, keeping careful count of how many they plant, how many perish, and how many grow to become fine, full Christmas trees.
The Ultimate Holiday Guide for Grades 2-5
Did you just love the ideas in this post? Well, I've got great news. I've put together a FREE Ultimate Holiday Guide for Grades 2-5 that is just chock full of amazing ideas just like this.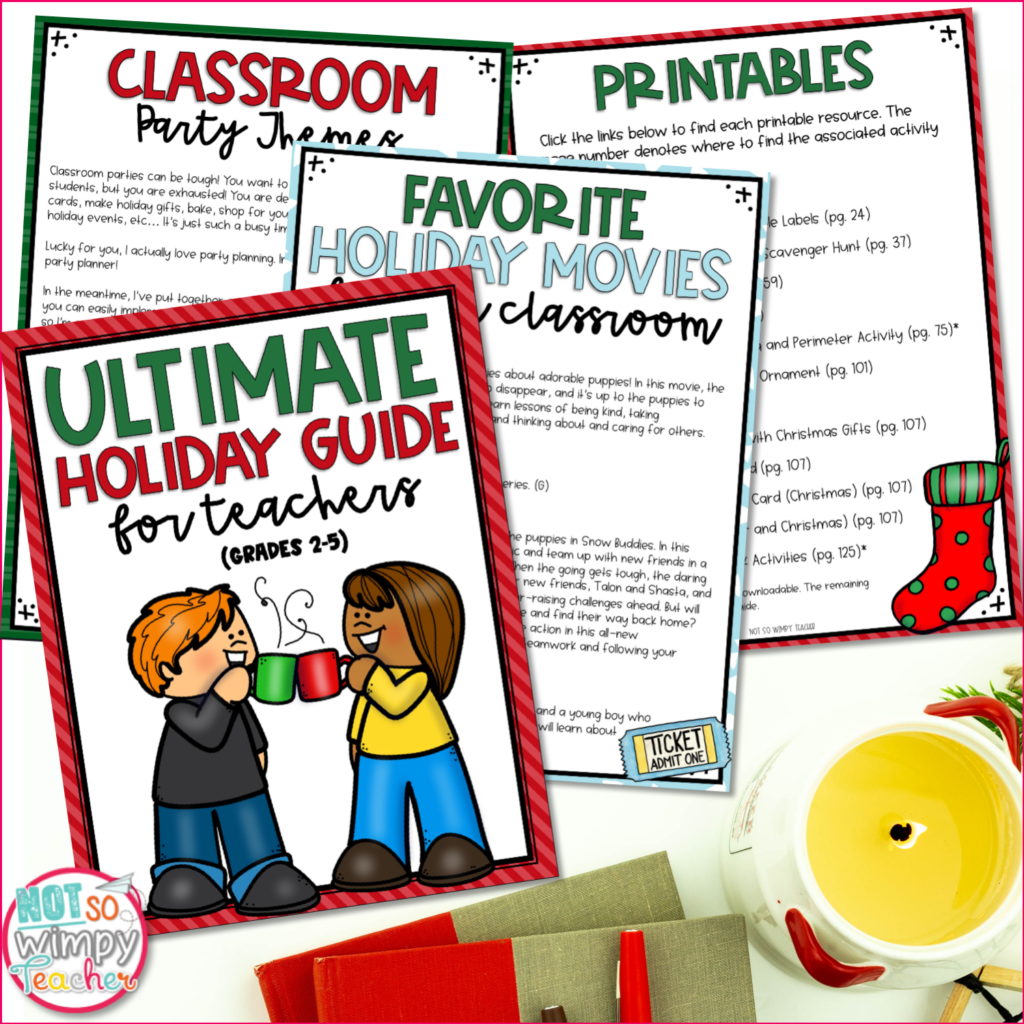 This 142-page guide is your comprehensive guide to the holidays in the classroom. My team and I have scoured the Internet to find the best holiday treats, crafts, activities, games, books, and more so you don't have to.
Inside, you'll find:
Helpful holiday tips to make planning and celebrating easy
Easy holiday resources that will keep kids learning
6 classroom party themes with ideas for treats, crafts, and activities
Family & student gift ideas
Simple classroom decor ideas
Our favorite holiday books and movies
Reading, writing, and math activities
Student printables, a family holiday survey, holiday & thank you cards, and gift tags
And so much more!
And the best part is it's FREE!
This Guide is our small way of saying thank you for everything you do for your students all year long. It's filled with images, links, recipes, and more for the easiest, most fun holiday season ever! Download yours today!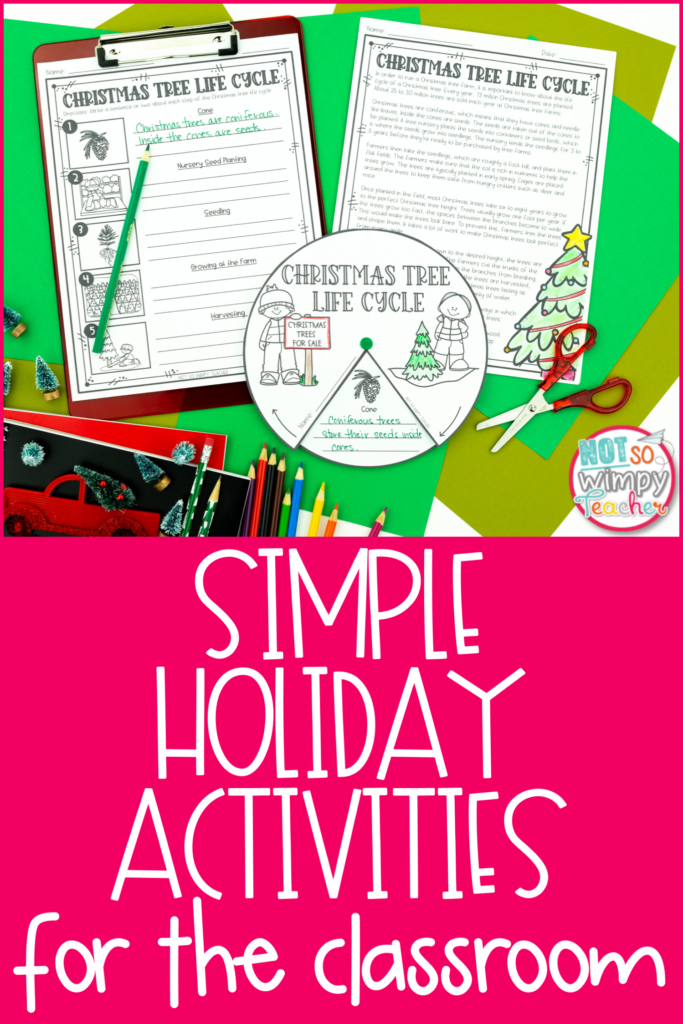 I hope that gives you some simple ways to bring a little extra holiday magic to the classroom.
Looking for other holiday themes? Check out the Snowman Classroom Party Theme or the Reindeer Classroom Party Theme. Or just DOWNLOAD THE GUIDE – it's got everything you need!
Have a Not So Wimpy Day,