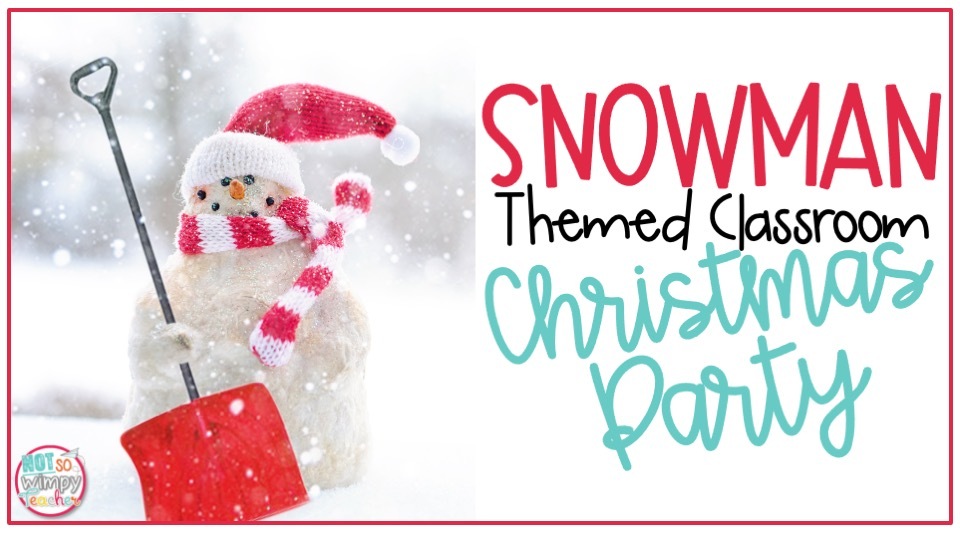 Classroom Christmas parties can be tough! We want to have some holiday fun with our students, but we are exhausted! We are desperately trying to finish report cards, make parent holiday gifts, bake, shop, etc, etc. I actually love party planning and if this teaching thing doesn't end up working out- I may become a party planner! So I thought I would take away some of your stress by helping you to plan a fun and simple celebration for your students. I love a party that has a theme! I am going to be giving you lots of different party theme ideas over the next several days. Today we are going to plan a snowman-themed holiday party! I love throwing a snow-themed party because I live in Arizona and my kids rarely see snow!
Snowman Party Treats
I like to start by talking about the party food, because I think that is my favorite part of any party!
If you make these snowman Oreo balls from The Girl Who Ate Everything, please invite me to your party! They look AMAZING!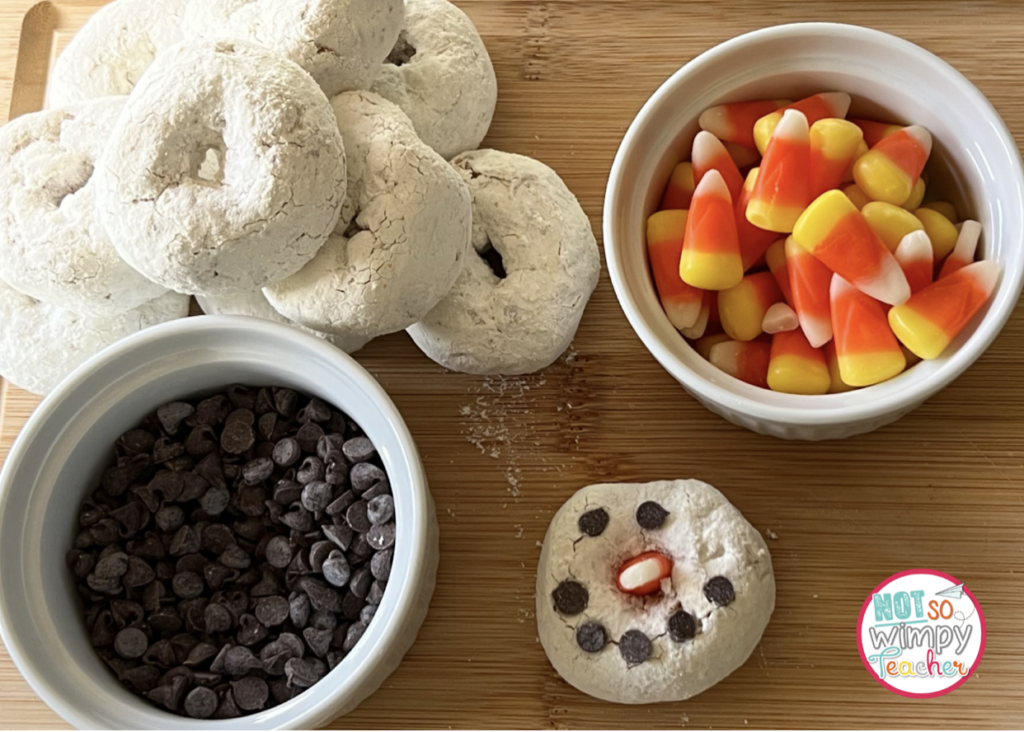 I just know that my students would love making these powdered snowman donuts. I love when the food can double as a party activity!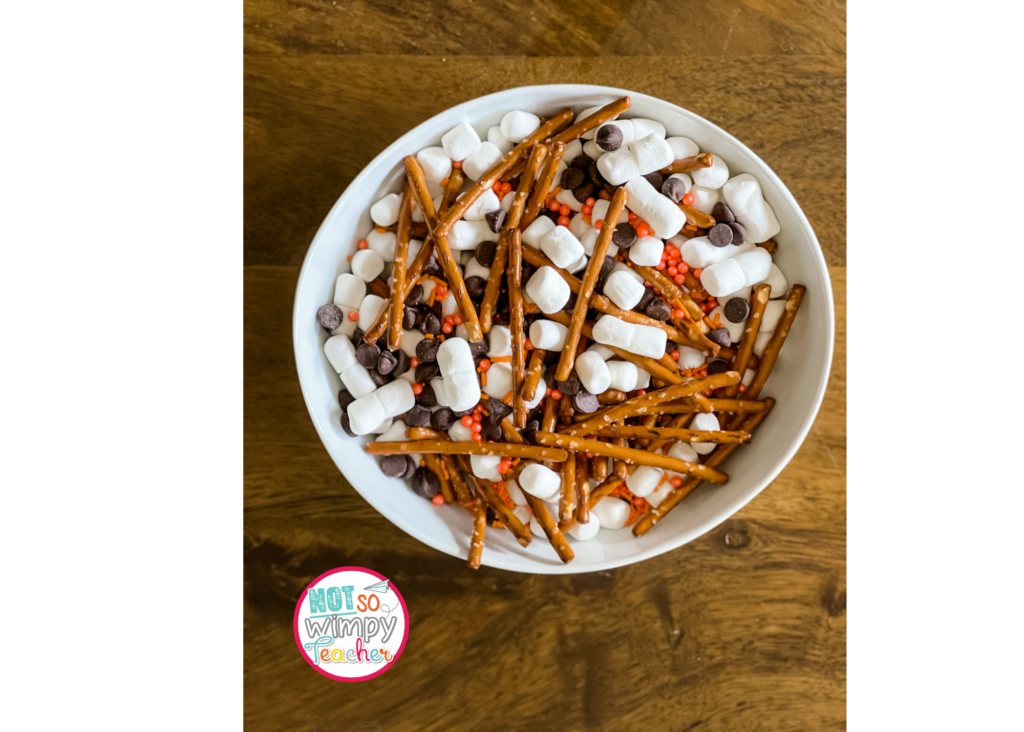 This snowman snack mix from We Heart Parties is cute and would be super easy to throw together.
These string cheese snowmen from No Biggie would be an adorable and healthy treat for your classroom party! When I made them, I didn't even bother cutting out the hat. I drew that with the marker as well!
Don't forget the drink station. I love this melted snowman water from Kari's Party Ideas. So cute and no sugar! That is a big bonus at a classroom party!
Snowman Crafts
I love to do crafts during my classroom parties because kids have a party favor to take home!
I am in love with this adorable snowman ornament from Simple Simon and Company. It's so simple too! Make sure students write their name and the year on the back for fun memories on the family tree.
These snowman clothespins from Easy Peasy and Fun are super cute and very unique. I would add a magnet to the back. Parents can use it to display a photo or great work on the refrigerator!
I think the kids would have a blast painting this snowman pot! And it looks so easy to do. I might spray paint the pots white to save time. And I think I would have them plant a few seeds in the pot.
Snowman Games
It is important to get the kids up and moving. It makes every party more fun and memorable. These games look fun and simple!
This snowman bowling game from Craftaholics Anonymous looks like a ton of fun. And it's cute too! It doubles as decor before the game starts!
This snowman relay race from Your Teacher's Aide would be a blast. Teams race to see who can build the snowman the fastest. All you need is toilet paper, scarves, and hats!
If you still need some more simple snow game ideas, check out these 7 snowball activities from A Mom With a Lesson Plan. My favorite is the snowball fight. I pretend like we are taking a quiz. I pass it out. They moan and groan. And just when they start, I tell them to crumple it up. And I call out, "Snowball Fight!" They think I have gone mad, but they couldn't be happier.
Snowman Themed Books
This post contains affiliate links.
Snowmen at Night is actually one of my favorite winter/holiday books! It's a sweet story about what snowmen do at night when we are not watching. Snowmen at Christmas is written by the same author and it also a VERY good book!
The Biggest Snowman Ever is a fun book about a town snowman building contest.
Snow is a wonderful book about how a girl and her friend enjoy a snowy day. My students especially enjoy the snowy descriptions in this book since some of them have never seen snow!
Ready to Use Holiday Resources
Are you looking for some easy holiday resources to get your students into the holiday spirit? You will love these print and go activities that combine learning with festive fun.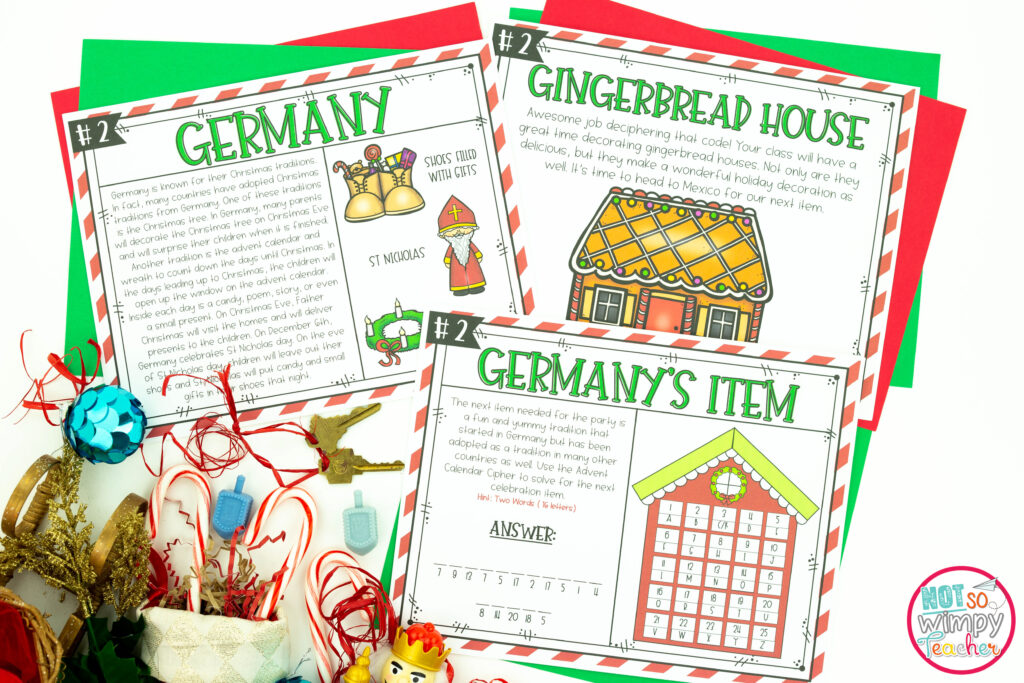 Holidays Around the World Escape Room
This Holidays Around the World Escape Room is no-prep but tons of fun! You don't need any fancy craft supplies or complicated treats to celebrate the holidays.
Your students will learn about the many holiday traditions of different countries and cultures. And to keep things interesting, they will need to solve a series of clues and codes to determine which items need to be brought to the celebration. This activity is filled with a mixture of strategies and problems and is perfect for a variety of grade levels. Students will enjoy using their problem-solving and communication skills as they learn about holidays around the world and work together to unlock the puzzle.
Christmas Activities for Math, Reading, Writing & STEM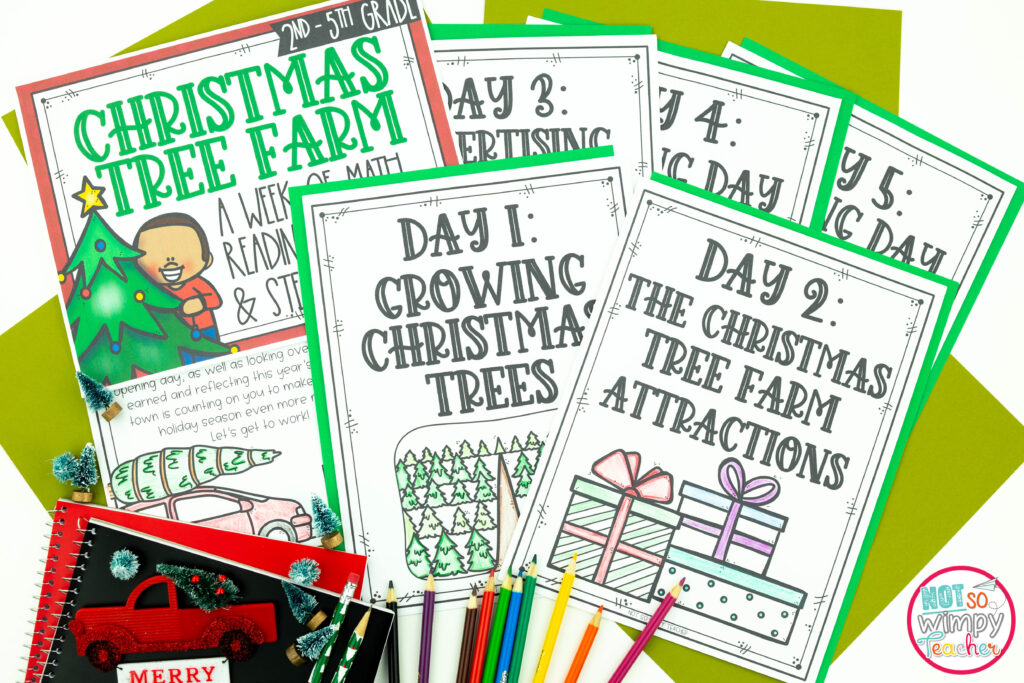 If you are looking for one amazing resource to keep your students busy the last week of school, you are going to LOVE these Christmas Activities for Math, Reading, Writing. I have put together over 75 pages, including more than 35 different holiday activities, for an entire week-long holiday celebration.
Students will practice math, reading, writing, problem-solving, critical thinking, communication, and so much more as they see what it takes to run a Christmas tree farm. They'll learn about growing Christmas trees, planning attractions, advertising the farm, daily operations, calculating profits, and making tweaks to their business plan to make it even better. This is truly a one-of-a-kind activity that immerses students in a fun holiday theme and gives them practice of real world skills.
This resource, designed for grades 2-5 includes five days of festive hands-on interdisciplinary activities, including a STEM project There's tons of room for creativity and fun. Two different versions of some activities make differentiation easy. Simply choose the one that's best for your learners. There are more than enough jolly good activities to pick and choose the ones you like best.
And these holiday activities are easy to use. All you have to do is print, copy, and teach. Seriously, it's that simple. Even the STEM project uses common classroom supplies to keep things easy.
You can also do yourself a favor and scoop up the money-saving Holiday PBL Bundle. It includes the Christmas activities, as well as PBLs for Halloween, Thanksgiving, Valentine's Day., St. Patrick's Day, and Easter.
FREE Writing Prompts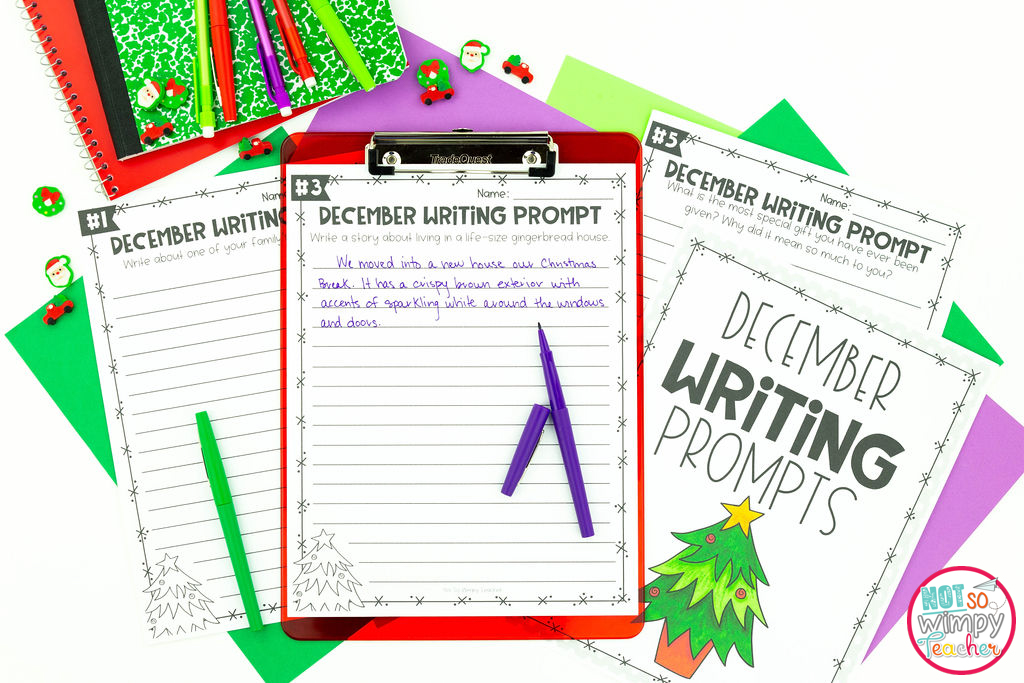 You can use these prompts as morning work, for fast finishers, or place them in student centers. They would also be a great addition to your classroom Christmas party.
My seasonal writing prompts also make great FREE holiday activities. I've created a set of 60 prompts, 5 for each month of the year. The December prompts include giving and receiving gifts, building a snowman, holiday traditions, and living in a gingerbread house. Plus, the prompts are fully editable so can customize them to meet your needs.
FREE Holiday Guide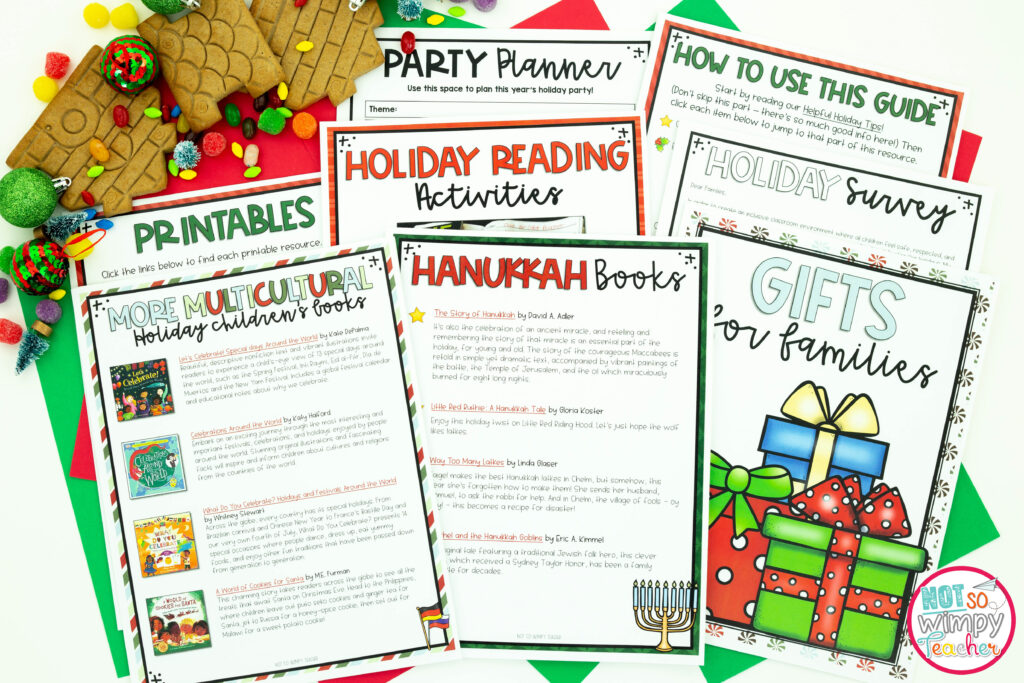 Want even more fun ideas to add to your snowman party? Check out our FREE Ultimate Holiday Guide.
This 142-page guide is your comprehensive guide to the holidays in the classroom. My team and I have scoured the Internet to find the best holiday treats, crafts, activities, games, books, and more so you don't have to.
Inside, you'll find:
Helpful holiday tips to make planning and celebrating easy
Easy holiday resources that will keep kids learning
5 additional classroom party themes with ideas for treats, crafts, and activities
Family & student gift ideas
Simple classroom decor ideas
Our favorite holiday books and movies
Reading, writing, and math activities
Student printables, a family holiday survey, holiday & thank you cards, and gift tags
And so much more!
And the best part is it's FREE!
If you'd like to read about more classroom holiday party ideas, check out these posts on a Reindeer Themed Classroom Christmas party, Gingerbread Man Themed Classroom Christmas party, and Holidays Around the World Classroom party.
Have a Not So WImpy Day,