The holiday season is upon us and teachers in my Facebook groups are starting to plan their classroom holiday parties. I thought I would share some of my favorite Christmas classroom party ideas.
But first, a warning. I love throwing parties. I love themes. Planning these fun activities was therapeutic to me. So don't look at these ideas and get overwhelmed. Choose the bits and pieces that sound the easiest for you to manage.
Give yourself some grace. Your students will have fun even if it is not the party of the century! You will be making memories and that will mean the world to them.
Click on the photos below to get tons of food, crafts, activities and book ideas for each theme.
1. Holidays Around the World
I love the Holidays Around the World party theme because it's super educational. Students are able to learn about geography, history, and culture. But the food and crafts make it super fun!
My Holidays Around the World Escape Room is the perfect activity for this party theme. This no-prep activity takes your students on a virtual field trip around the world.
Students are asked to collect a number of objects, including food, toys, and decorations that represent different cultures. As they work to solve puzzles and uncover the clues to decide what objects to bring, they'll be learning about the holiday traditions of different cultures. It's a fun and engaging way to merge social studies with the holidays.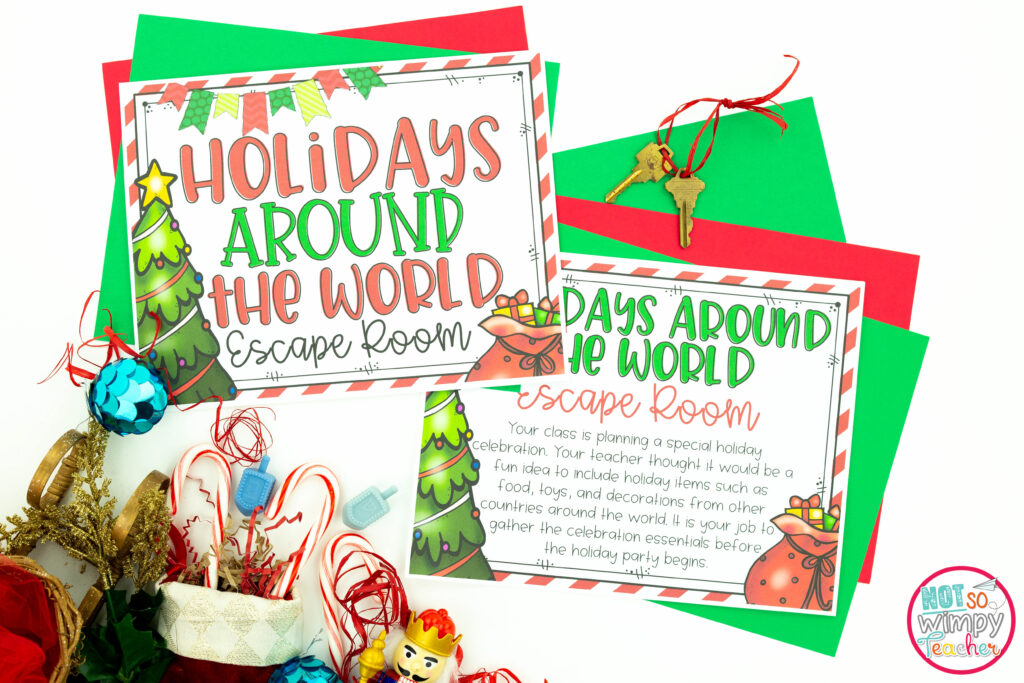 2. Reindeer Holiday Party Ideas
I love a reindeer themed party because there are tons of adorable crafts and snacks for this theme! Plus, I generally found that very few of my third graders had ever had a reindeer themed party before. It was unique.
3. Gingerbread Man Holiday Party Ideas
A Gingerbread man themed party is another unique party theme! This theme is super fun because you can include tons of cute books.
4. Snowman Holiday Party Ideas
I live in Phoenix, so many of my students have never even seen snow. That's what makes these Snowman themed party ideas extra exciting for them. The best part for me is that this theme works well for those classrooms or students who cannot celebrate the holidays. It feels like a Christmas party to most of my students, but Christmas is never mentioned!
FREE Writing Prompts
My seasonal writing prompts also make the perfect addition to any classroom party. The set comes with 60 prompts, 5 for each month of the year. In December, the topics include giving and receiving gifts, building a snowman, living in a gingerbread house, and family traditions. They coordinate perfectly with these themes. There is even an editable option, so you can create your own holiday themed writing prompts.
Have a Not So WImpy Day,