Are you looking for the perfect Halloween costumes for teachers? Students just love it when their teachers come dressed up. It's super fun to collaborate with your team and dress up together. I hope that these teacher costumes give you ideas that are fun and simple.
All of these Halloween costumes for teachers ideas and pictures were shared by teachers in my Not So Wimpy Third Grade Facebook group.
Crayons
Teachers can't go wrong dressed as crayons!
The best part is that this costume choice works well for teacher teams and even teams with male teachers.
This costume is perfect if you are dressing up as a book character. You can use the book The Day the Crayons Quit or Harold and the Purple Crayon.
Crayon shirts can be purchased HERE on Amazon.
Emojis
Our kids just love emojis. It's almost like an alternative alphabet that can be used to describe all kinds of feelings!
These costumes are simple to make, perfect for large teams, and can be used for female and male teachers.
Expo Markers
It's lots of fun to dress up as school supplies! How fun are these Expo markers?
Again, this idea is perfect for a team!
Pinkalicious and Friends
I love the Pinkalicious books! This is a good team costume idea for a female team. It is another great choice if you need to dress as a character from a book.
If You Give a….
…Mouse a Cookie
…Moose a Muffin
…Pig a Party
…Cat a Cupcake
Aren't these fun book characters for a teacher team to dress up as for Halloween?!
Koo Koo Kanga Roo
My third graders loved Koo Koo Kanga Roo songs on Go Noodle! These costumes would be a hit for sure. (But I would probably be singing Pop See Ko all day.?)
Where's Waldo
My teammate and I didn't even plan this, but we both came dressed as Waldo/Wenda. It was perfect for our book character parade around the school. The kids loved it!
You can grab a simple Waldo costume HERE on Amazon.
Miss Nelson
This is a fun costume idea for you and your teacher bestie! It's another great choice if you want to dress up as a book character.
Pac Man
This brings me back to my childhood for sure! This is a fun costume idea for a larger team and can accommodate male and female teachers. It would be a simple DIY costume with some t-shirts and felt.
Glue
Teachers are the glue that hold it all together, right? Plus, we are suckers for school supplies.
I love the tutus!
Running Records
Teachers are always hard at work keeping the running records up to date. The play on words is fun!
Other Ideas
Dalmations (Would your principal go as Cruella?)
Pete and Cat (The whole team can do different colored shoes.)
Care Bears
Minions
M&Ms
Super Heroes
Different Idioms
The Little Old Lady Who Swallowed a… (each person picks a different book)
Rock, Paper and Scissors
A Fun Halloween Activity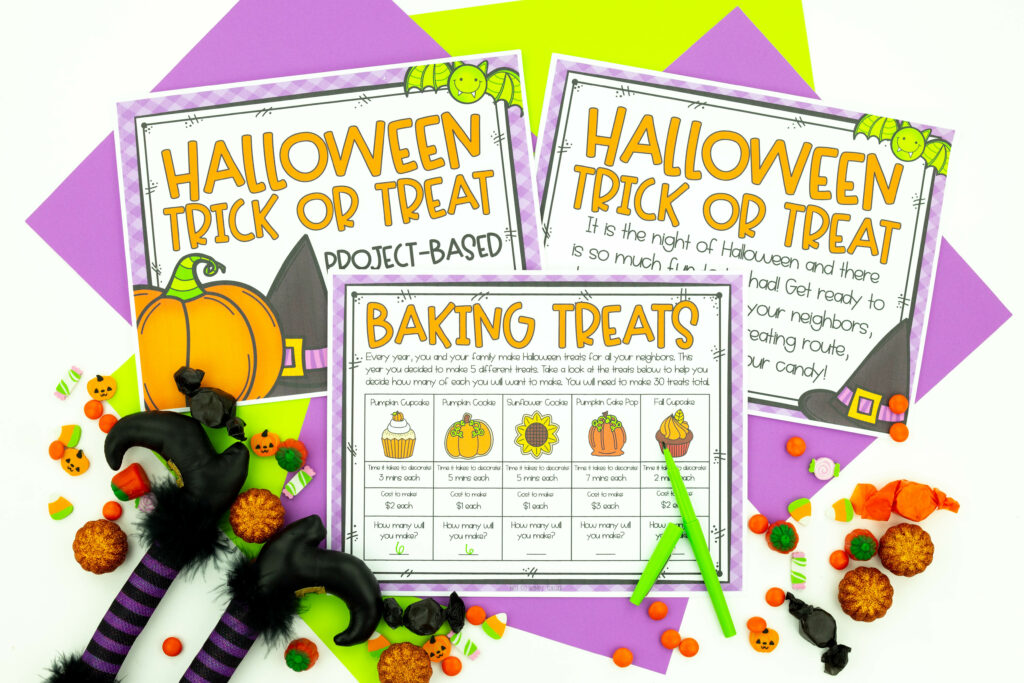 Looking for a fun Halloween activity to keep students engaged and learning during the crazy Halloween festivities?
Check out my Halloween Trick or Treat Project Based Learning. This activity puts students in charge of planning the perfect Halloween night. They will be baking up treats for the neighbors, planning a trick-or-treating route, carving a jack-o-lantern, and even diving into their [imaginary] candy stash. It's the perfect way to celebrate the spirit of Halloween while still tackling essential math skills.
It was designed with grades 2-5 in mind and comes with two complete sets of activities–one for grades 2 & 3, and one for grades 4 & 5.
Here's what's inside:
4 different Halloween-themed math activities (9 total pages)
Color and black & white versions
Easy to differentiate options for lower (2nd-3rd) & upper (4th-5th) grades
Answer keys
Detailed teacher directions
Your students will be having so much fun, they won't even realize they are practicing math.
For more fun and easy Halloween activities check out this post.
I hope that gives you some new ideas for Halloween costumes for teachers.
Have lots of fun with your team and your students. We look forward to seeing your costumes in our teacher Facebook groups!
Have a Not So Wimpy day,