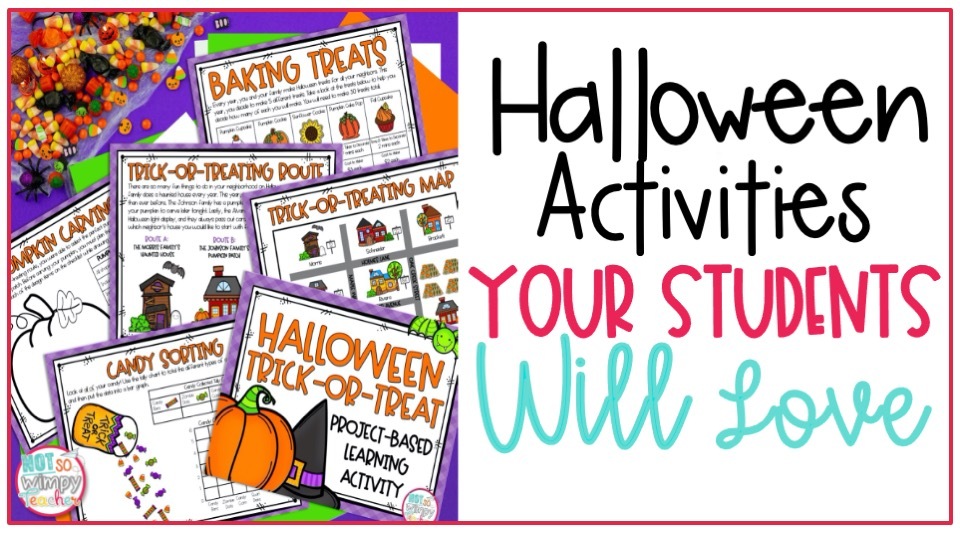 Halloween is almost here! The most frightening time of the year.
And I'm not talking about ghosts, goblins, and ghouls. No, I'm talking about the uncontainable excitement that leads to non-stop chatter, lack of focus, and a buzzing candy-infused craziness that seems to settle in elementary students long before trick-or-treat night.
Luckily, I've got the perfect Halloween activities to keep your students engaged and learning, even in the midst of all the Halloween chaos. And, even better, they are easy to set up and use.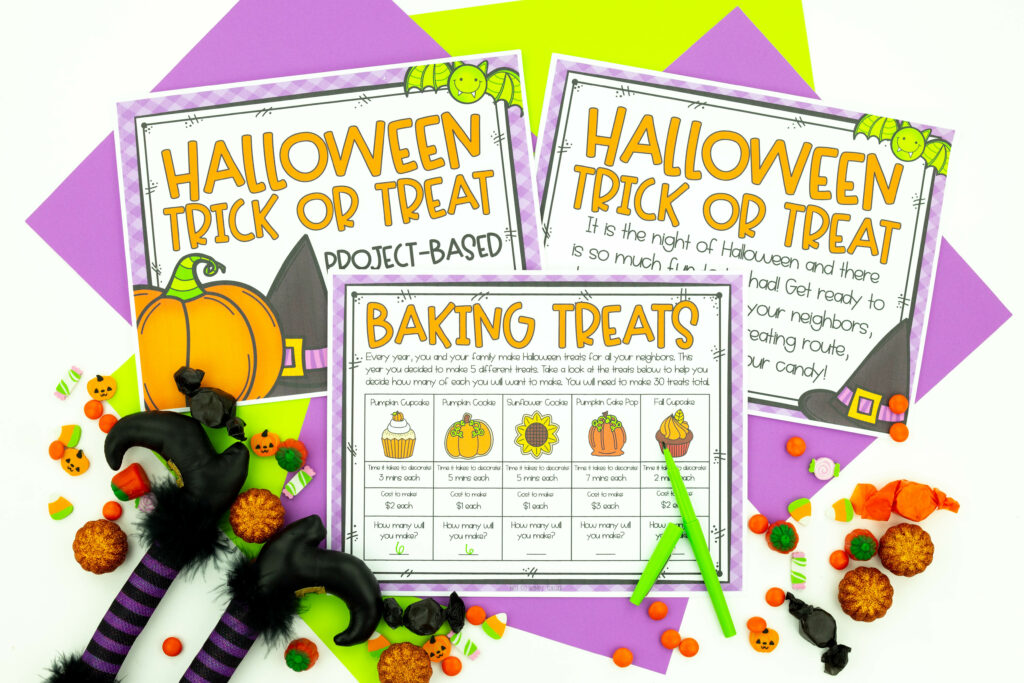 Trick or Treat Halloween PBL
The Project
PBL or project-based learning activities are a great way to foster learning. They require students to use math skills to solve real-world, aka meaningful, problems.
This Halloween Trick or Treat Project Based Learning activity puts students in charge of planning the perfect Halloween night. They will be baking up treats for the neighbors, planning a trick-or-treating route, carving a jack-o-lantern, and even diving into their [imaginary] candy stash.
And they will be having so much fun, they won't even realize they are practicing math.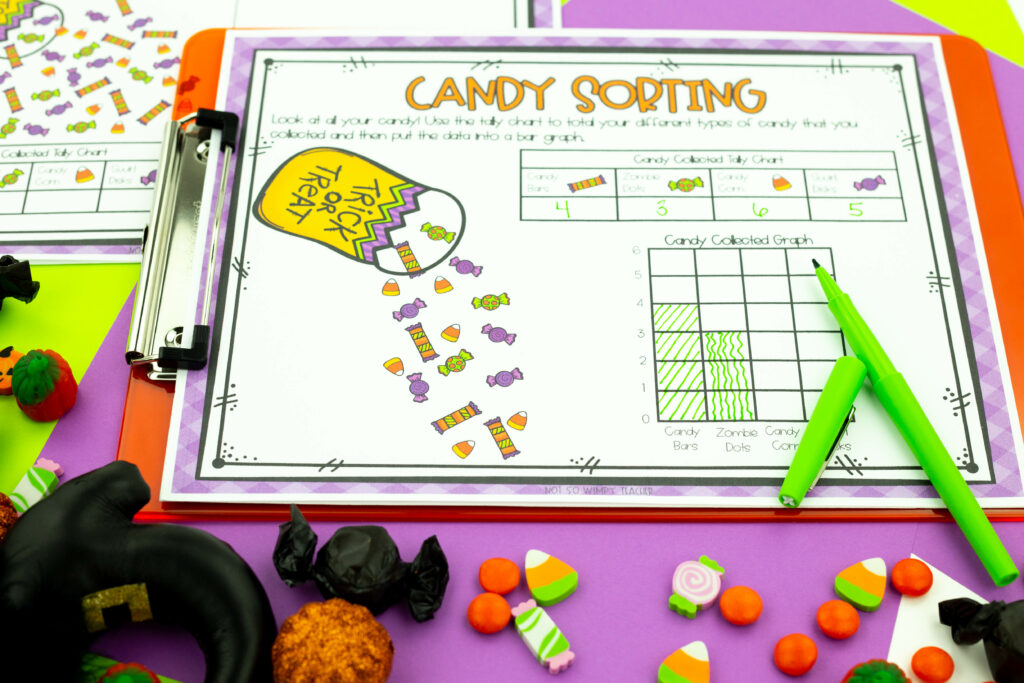 The Math Skills
This PBL contains four Halloween activities that incorporate many different math skills.
During the first activity, a baking activity, students will be using addition, subtraction, time, and money skills. Older students can also practice multiplication and division as they create 30 spooktacular treats for their neighbors.
In the second activity, students have to plan a trick-or-treat route based on their priorities for the evening. This activity requires them to use time, place value, addition, and subtraction.
The jack-o-lantern carving activity is all about geometry and planning the perfect pumpkin.
And in the last activity, students get to sort through all their Halloween candy. They'll be adding, subtracting, graphing, and interpreting data to organize their treats.
Differentiation
This Halloween PBL is designed for grades 2-5. And I've made differentiation super simple for you.
I've included two different versions of the Halloween activities. One is geared for lower grades (grades 2-3), and the other is geared for upper elementary (grades 4-5). The upper version includes multiplication, division, decimals, and fractions, as well as more difficult problems with time, money, and geometry.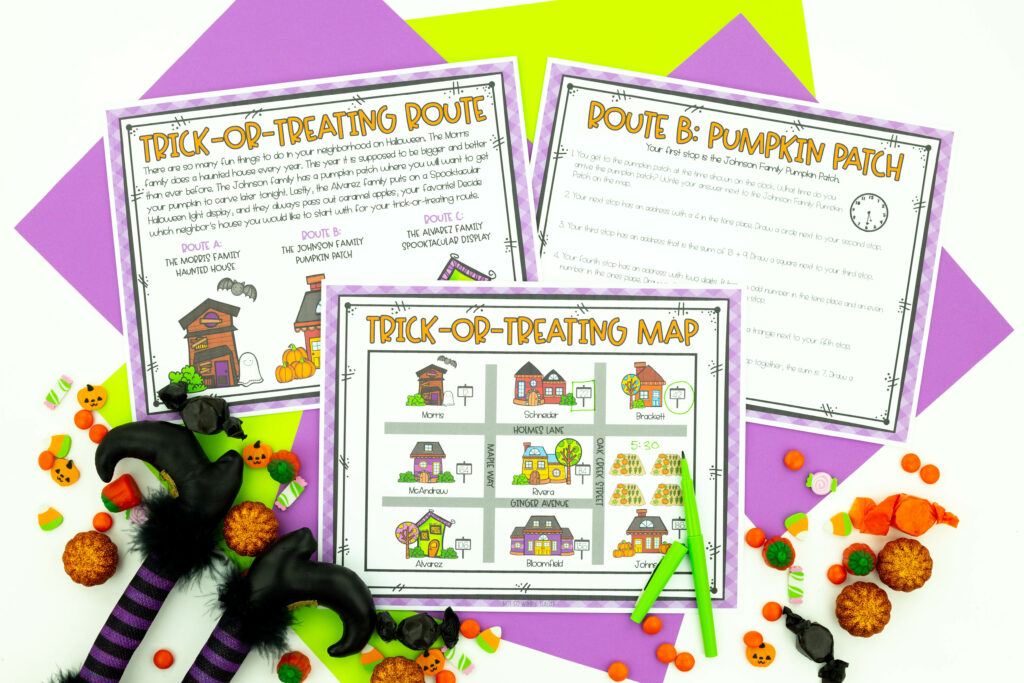 You can select one version to use with your entire class or pick and choose from both versions to get activities that are perfect for your students.
We've also included a second page with the pumpkin carving activity that asks a variety of questions about the students' jack-o-lanterns. These questions can be kind of tricky and make a great extension activity.
You can also choose to work on these Halloween activities in small groups to provide additional support to students who need it.
Using Trick or Treat Halloween PBL
There are a ton of fun ways you can use this Halloween PBL activity in the classroom. Work through the entire activity as a whole group. It makes the perfect event for a fun Friday or any day where your kiddos could use a little extra fun. It also works great in small groups or centers. Or, you could also save this activity for your Halloween celebration to make sure your students get a side of learning with their candy.
October Seasonal Reading Passages
Have you checked out our seasonal reading passages yet? They are a teacher's dream come true! Each month includes five unique student-friendly reading passages that are the perfect way to practice rigorous, standards-based reading skills. From comprehensions questions to standards-based activities and even a text-dependent reading response writing assignment, students will be sharpening their close reading skills with passages they enjoy reading.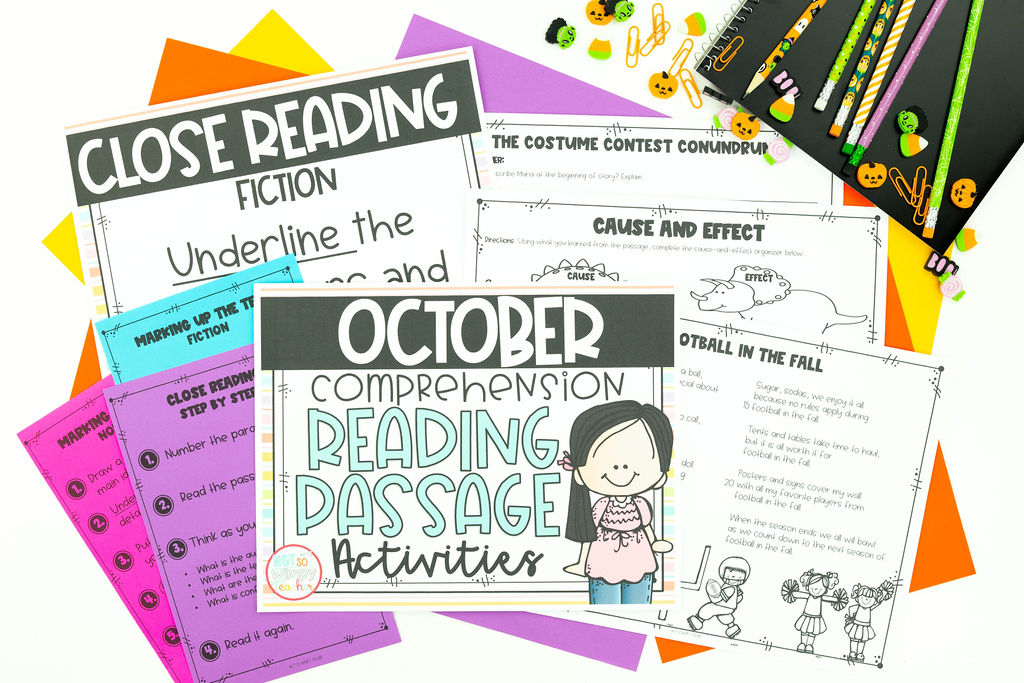 These reading passages are as fun as they are effective. Just look at the interesting topics of these October passages! Students will be reading about fossils, bats, football, costumes, and more! These reading passages make perfect Halloween activities. We all know that when kids are interested in the topic they are more engaged in learning.
I've made these reading passages super easy to use too. The "At a Glance" calendar provides a detailed schedule of how to use the reading passages all month long. Students will get repeated practice marking up the text, completing comprehensions activities, and using essential reading skills like compare and contrast, cause and effect, character traits, points of view, and poetry. They'll also work on constructing reading responses based on text evidence.
Your students will love these fun seasonal reading activities. And you'll love the teacher and student anchor charts, answer keys, and detailed teacher directions.
Free Writing Prompts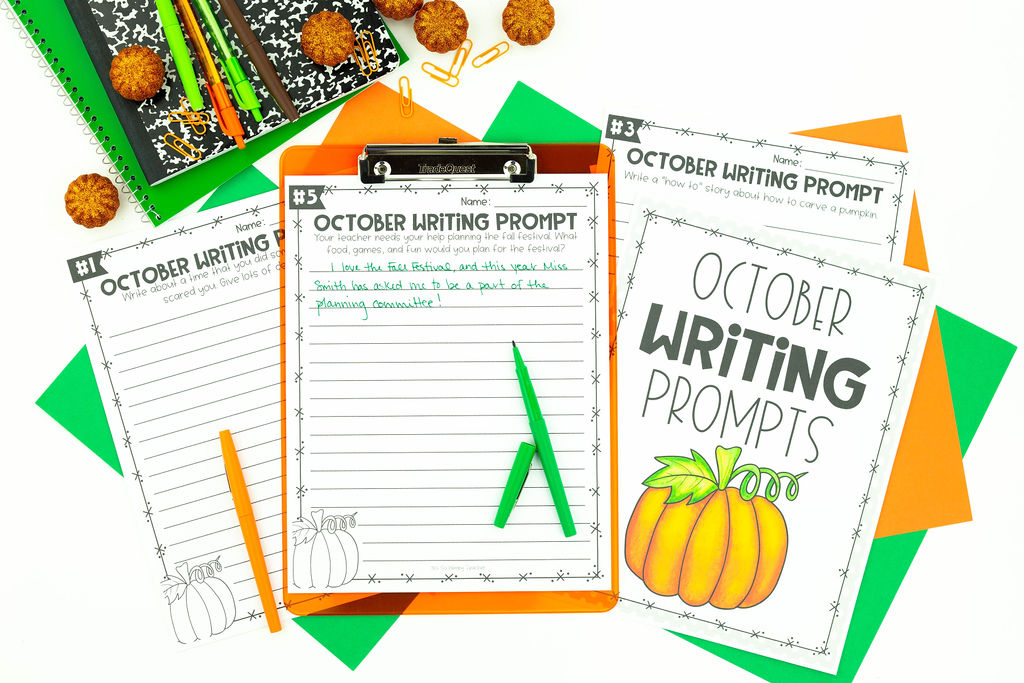 My free writing prompts also make fun and easy Halloween activities. I've include 5 prompts for each month of the year. And the October writing prompts go perfectly with Halloween!
Think pumpkins, candy, and all kinds of festive fall fun. Your students are already preoccupied with Halloween, so why not tap into their creativity and let them write about it.
You can use these prompts as morning work, for fast finishers, or place them in student centers. They would also be a great way addition to your Halloween celebration. You can have students select their favorite prompt to write about, assign all five throughout the month, or let them work on their stories during October and share them at your fall event.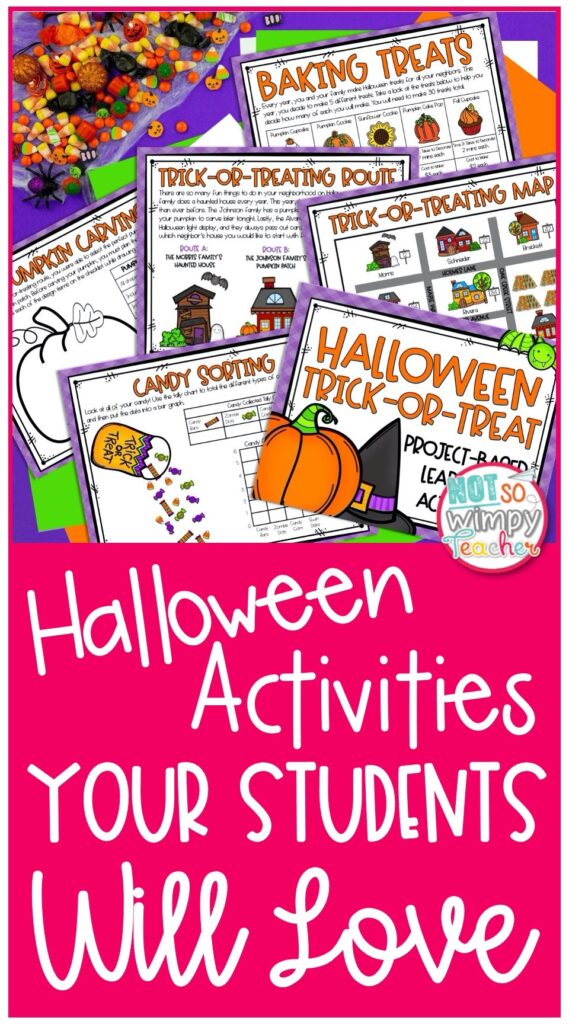 I hope you and your students enjoy these Halloween activities. And if you need some creative teacher costume ideas to get into the spirit, check out this post.
Have a Not So Wimpy Day,

P.S. Thanksgiving will be here before you know it. Check out this post to read about my Thanksgiving PBL activity.