The weeks leading up to Christmas break can be tough in the classroom! It can be challenging trying to find a way to mix the holiday fun with the necessary academic standards. I think that Christmas read alouds are the perfect answer! My students just think we are doing fun holiday stuff. But I know the truth- we are reviewing all kinds of reading skills and standards!
Each day, I read a fun holiday book. I choose ones that are funny, touching, or unique. After we enjoy the book together, students are given an interactive notebook activity to complete based on the story.
My students enjoy the cutting and creating of the activity. I enjoy knowing that they are reviewing reading standards! I am even able to extend the stories into fun writing projects!
Here are five of my favorite holiday books to share with my students during the month of December. If you are interested in the book, you can click on the photo to check out the book on Amazon.
Mooseltoe
I seriously LOVE this book! Moose is planning the perfect Christmas. He thinks that he has everything planned until he realizes that he forgot the tree! He goes out on Christmas Eve to find a tree but has no luck. The trees are gone. He sees that his kids are disappointed. Moose comes up with the perfect solution! He stands in the corner and becomes the tree- decorations and all! This book has beautiful illustrations and reminds us that Christmas doesn't have to be perfect. In fact, students can write a personal narrative about a time when a holiday or special occasion didn't turn out perfectly!
Olive, the Other Reindeer
This book is sure to make your students laugh! Olive is a dog that is preparing for Christmas. He hears the song Rudolf the Red Nose Reindeer. But instead of "all of the other reindeer," he thinks they are saying "Olive, the other Reindeer!" Olive thinks that he must be a reindeer! So he heads to the North Pole to help Santa. He gets there just in time to help save Christmas with his unique dog skills. This book's central message is about how differences can be good!
How Santa Got His Job
This is a fun story about all of the different jobs Santa had before he started delivering gifts on Christmas. He tried everything! They just aren't the right jobs for him. Then, he meets some elves that help him discover his talents and his dream job. This book lends itself nicely to having students write a persuasive piece about why they would be a good Santa!
A Wish to Be a Christmas Tree
This is a precious story that is told from the point of view of a tree. This tree desperately wants to be a Christmas Tree, but it is always passed over. His woodland friends help him to understand the importance of being a tree that is loved and appreciated all year! This is a great book to use when discussing point of view. Maybe students can write a story from the point of view of their own Christmas tree!
The Carpenter's Gift
This is a very touching story! I have been known to cry when reading this one. This is a historical fiction book that takes place in the Great Depression Era. Henry and his father are selling Christmas trees. At the end of the night, they have some extras and they donate them to the construction workers who are building the Rockefeller Center. This tree becomes the first Rockefeller Christmas tree! The next morning, Henry gets the biggest surprise! The construction workers have come together to build him and his family a house! I think this is a wonderful book to help students understand and appreciate their many blessings.
If you are looking for ways to extend these books into your reading lessons, you might be interested in my Christmas Reading Interactive Notebook. Every one of the activities can be used with ANY holiday book. So you can choose your favorite story and the skill you need to practice!
There are actually 24 different foldables that are included in this one notebook!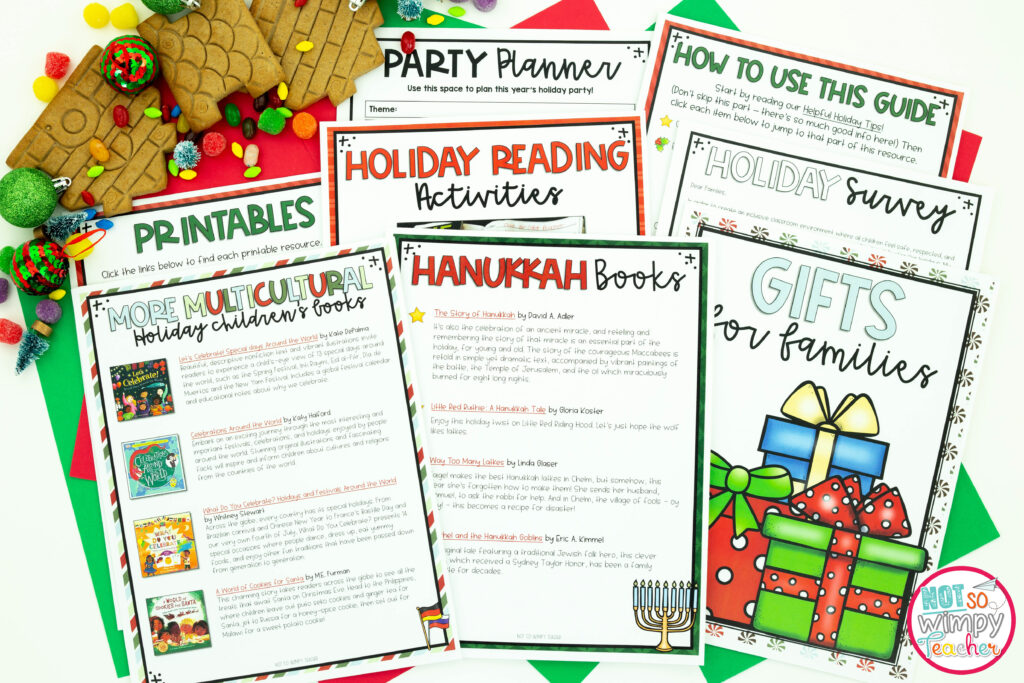 This 142-page guide is your comprehensive guide to the holidays in the classroom. My team and I have scoured the Internet to find the best holiday treats, crafts, activities, games, books, and more so you don't have to.
Inside, you'll find:
Helpful holiday tips to make planning and celebrating easy

Easy holiday resources – save time and keep kids learning

6 Classroom Party Themes with multiple ideas for treats, crafts, activities, and books

Family gift ideas

Student gift ideas

Simple classroom decor ideas

Our favorite holiday books and movies

Reading, writing, and math activities

Printables: family holiday survey, holiday cards, thank you cards, and gift tags

And so much more!
And the best part is it's FREE! 
This Guide is our small way of saying thank you for everything you do for your students all year long. It's filled with images, links, recipes, and more for the easiest, most fun holiday season ever! Download yours today!
May the weeks before winter break be joyful, fun, and QUICK!
This post contains affiliate links.