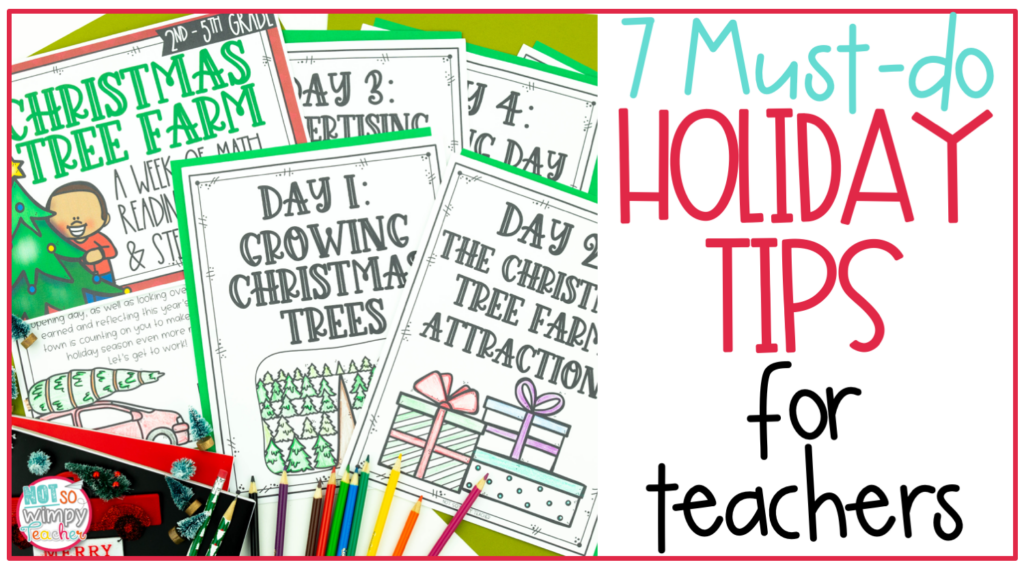 The holidays are almost upon us. And that means that right now you are either really excited or really stressed out. Because let's face it, celebrating the holidays in an elementary school classroom can be more labor-intensive than building a gingerbread house from scratch. But the holiday season doesn't have to leave you burnt out like last year's Christmas lights. Today I am sharing some simple holiday tips for teachers that will make this your best holiday season ever!
And nope. It's not too early to start planning. I know some of you are thinking, Jamie, the holidays already? It's not even Thanksgiving yet. But trust me, you don't want to spend your Thanksgiving break planning holiday activities and lessons.
If you get a head start now you'll be able to enjoy your apple pie in peace. Take a look at these simple holiday tips for teachers that will make it a December to remember in your classroom.
1. You don't have to celebrate the holidays
Let's get this one out of the way first. Repeat after me: you do not have to celebrate the holidays in your classroom. You don't have to plan holiday parties or holiday lessons. You don't have to buy gifts for your students and make crafts for the parents. Furthermore, you don't have to have a classroom Christmas tree or bring in the Elf on the Shelf.
The holidays are supposed to be fun. And many teachers want to bring a little something special during the month of December. If you love the holidays and have the energy and the budget to celebrate in the classroom, go for it. But if not, then don't. There is no requirement to celebrate the holidays.
Even if you have celebrated in the past or if other teachers are celebrating. Even if students and parents are asking about holiday plans. You do not have to celebrate.
And, if you do decide to celebrate, the rest of these holiday tips will make your celebration so much easier and more fun.
2. Keep it simple
This tip applies to every facet of the holidays: the decor, the activities, the gifts, and the treats. Keep your celebration as simple as possible.
You do not have to turn your classroom into Santa's Workshop, a life-size snow globe, or a Christmas Light Extravaganza. When it comes to decor, less really is better. Elaborate decorations are distracting and interfere with focus and learning.
And December goes by in a flash. Before you know it, it will be time for Christmas break. Everything that goes up has to come down (preferably before you leave the building. Don't leave those lights up until January. There is nothing more depressing than returning to leftover Christmas decor in the New Year). Make it easy on yourself and keep the decorations simple.
Or pick decor you can keep up all winter, like paper snowflakes, snowmen, arctic animals, and hot cocoa cups. These items will make your classroom feel warm and cozy all winter long.
3. Keep your eyes on your own classroom
This is good advice for any time of year, but it's especially true during the holidays. There are as many ways to celebrate in the classroom as there are teachers in the building. But just because another teacher has individual trees for all her students or is doing the "12 Days of Craftmas" with his kiddos, it doesn't mean that you need to as well.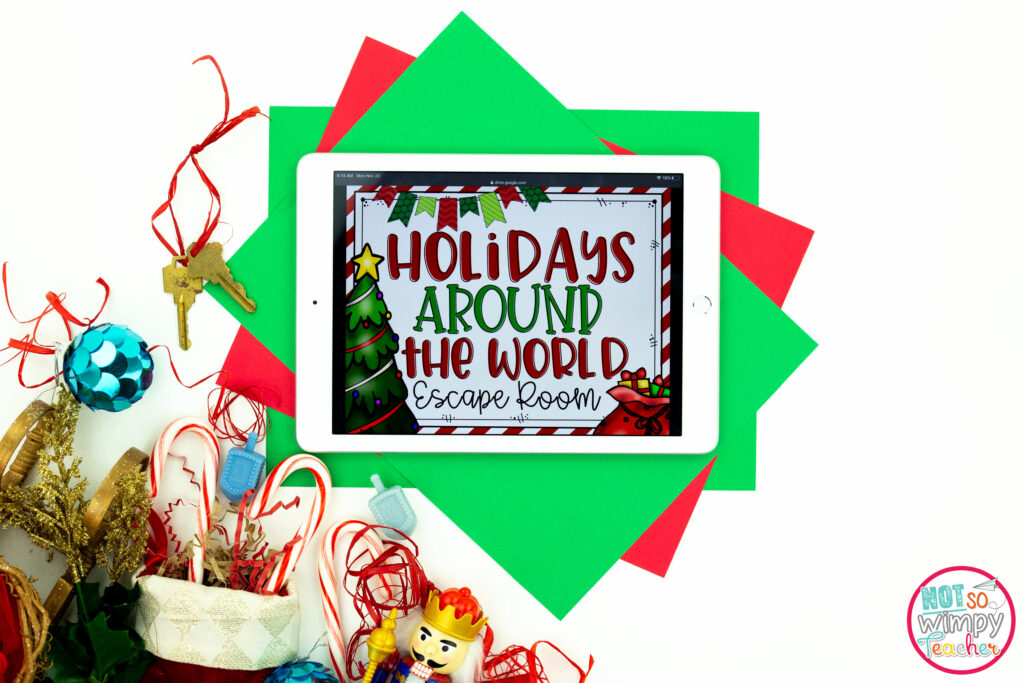 Pick activities that are meaningful to you. If you love Christmas music, bring in some Christmas carols. Is the Polar Express one of your favorite holiday traditions? Set aside some time to read the story (and maybe watch the movie). If you LOVE giving gifts, use your holiday budget to pick out something meaningful for your students.
But you don't have to do it all. In fact, you can't do it all. Choose the activities that you like best and release yourself from any obligation to do something you hate. Glittery crafts, I'm looking at you.
4. Be mindful of kids who do not celebrate the holidays
I know this can be a sensitive subject. Many people, including teachers and parents, hold holiday traditions near and dear and want to continue celebrating the way they always have.
But, it's important to remember that not all students, or all teachers, celebrate the same holidays. And you want ALL of your students to feel comfortable and included in your classroom every day. Even during the holidays.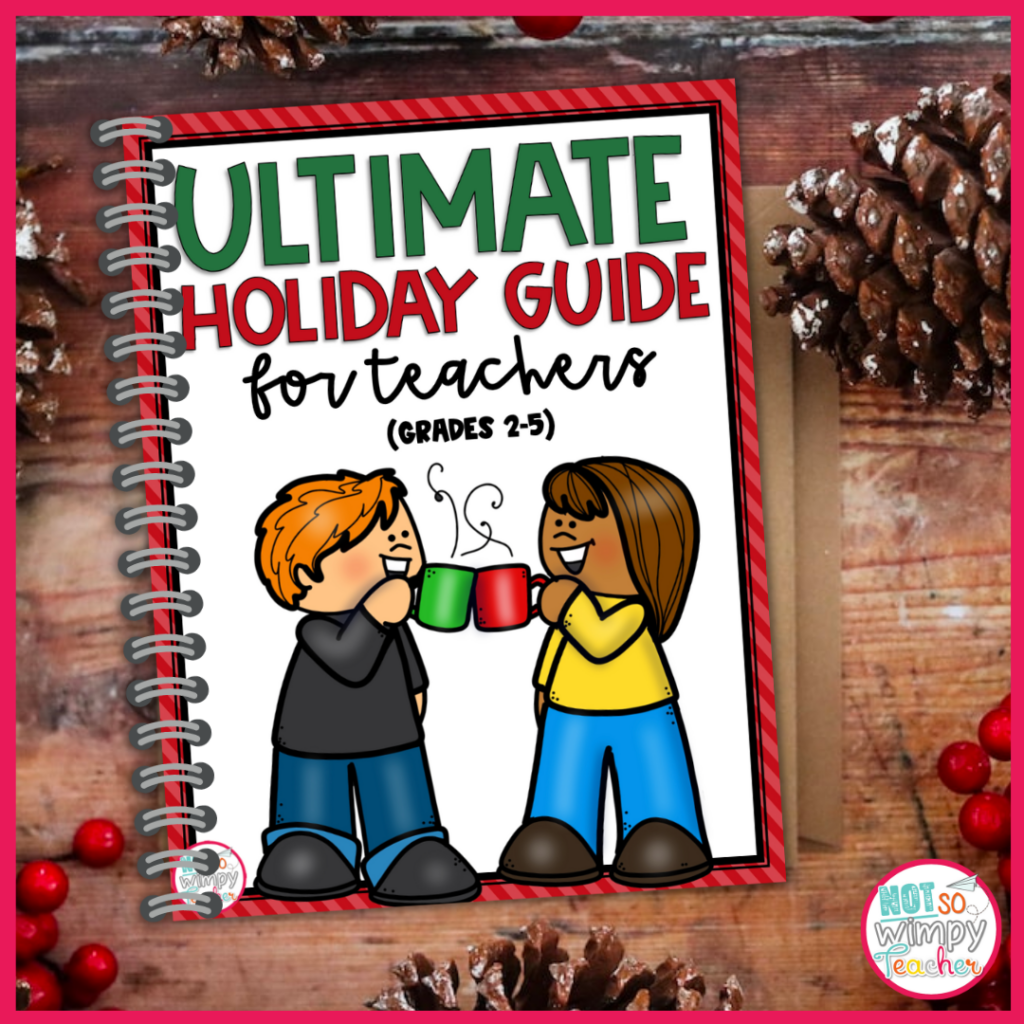 I've put together a Holiday Family Survey to help you learn more about how all of your students celebrate the holidays. Never assume that your students have the same traditions you do. The survey is included in my FREE ULTIMATE HOLIDAY GUIDE FOR GRADES 2 – 5. The earlier you know how comfortable families are with holiday activities, the sooner you can start planning something appropriate.
And don't worry, even if you have students who don't celebrate the holidays, or your school has eliminated Christmas, there are still many ways to make December feel festive and fun.
Read more about what to do when you have students who don't celebrate the holidays. And check out the Ultimate Holiday Guide for a whole bunch of fun winter-themed activities that aren't tied to any specific holidays.
5. Keep an eye on the curriculum
It's easy to get caught up in the hubbub of holiday celebrations. But don't forget, your primary objective as a teacher is to teach the standards.
When you come back to school in January, testing season is going to come up fast! So make sure that the activities you choose to complete in December have educational value. Students can learn and have fun at the same time. There are many ways to integrate math, reading, writing, STEM, and social studies into your holiday celebration.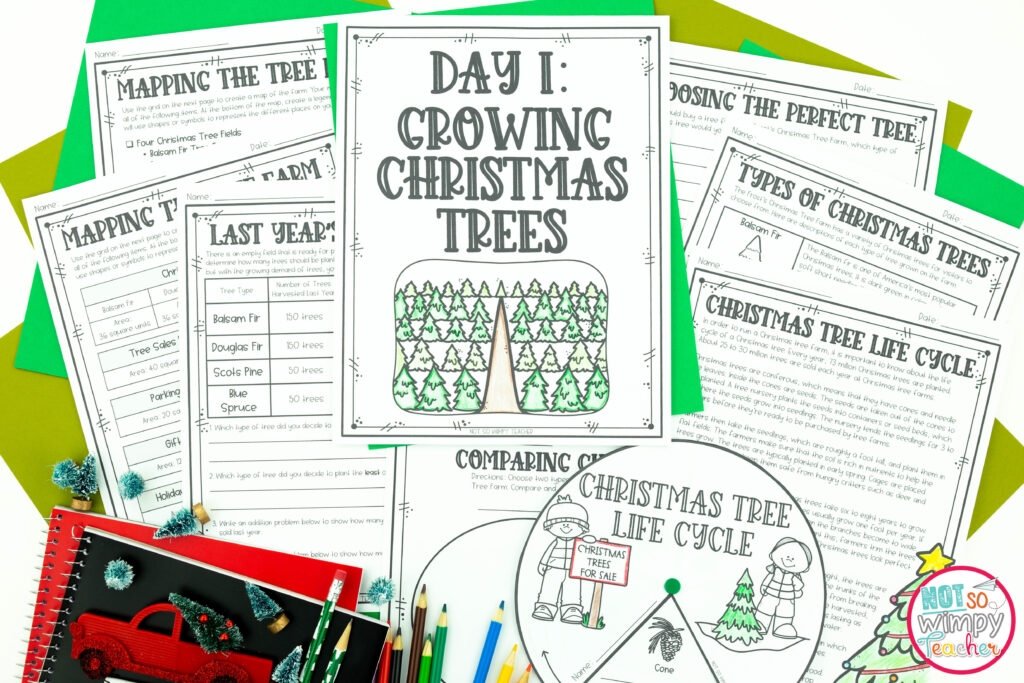 My Christmas Activities for Math, Reading, Writing, and STEM make this super easy. This project based learning resource includes an entire week's worth of interdisciplinary standards-based activities. Students love the experience of running a Christmas Tree Farm. From planting trees to creating a marketing strategy, running daily operations, calculating profits, and making tweaks to their business plan to make it even better, this truly is a one-of-a-kind activity that immerses students in a fun holiday theme and gives them practice with real-world skills.
6. Start planning now
Get out your calendar and start recording important information now. Put your lessons on the calendar first. Then write down your assessments. Record students' birthdays. Mark special events, like Christmas concerts, assemblies, or school-wide crafting days. Are you planning to take a personal day for shopping or baking (good for you!!)? Mark that down too.
The extra time is where you can squeeze in holiday activities. Make a list of ALL of the activities you want to do. Start with your favorites and begin sliding them into your free time.
Once you've decided which activities make the cut, make a list of extra materials you need, or gifts you want to purchase. Start collecting supplies. If you are crafting gifts for your students, start now. If you are making crafts with your students to give to family members, start early. Remember, you will always have kids who are absent or things that will take longer than you think.
The holidays are busy for everyone. If you would like some help in the classroom (you would, you really would), start asking for volunteers early.
The earlier you start preparing, the less stressed out you'll be in the days leading up to Christmas break.
7. Check out my Ultimate Holiday Guide for Grades 2-5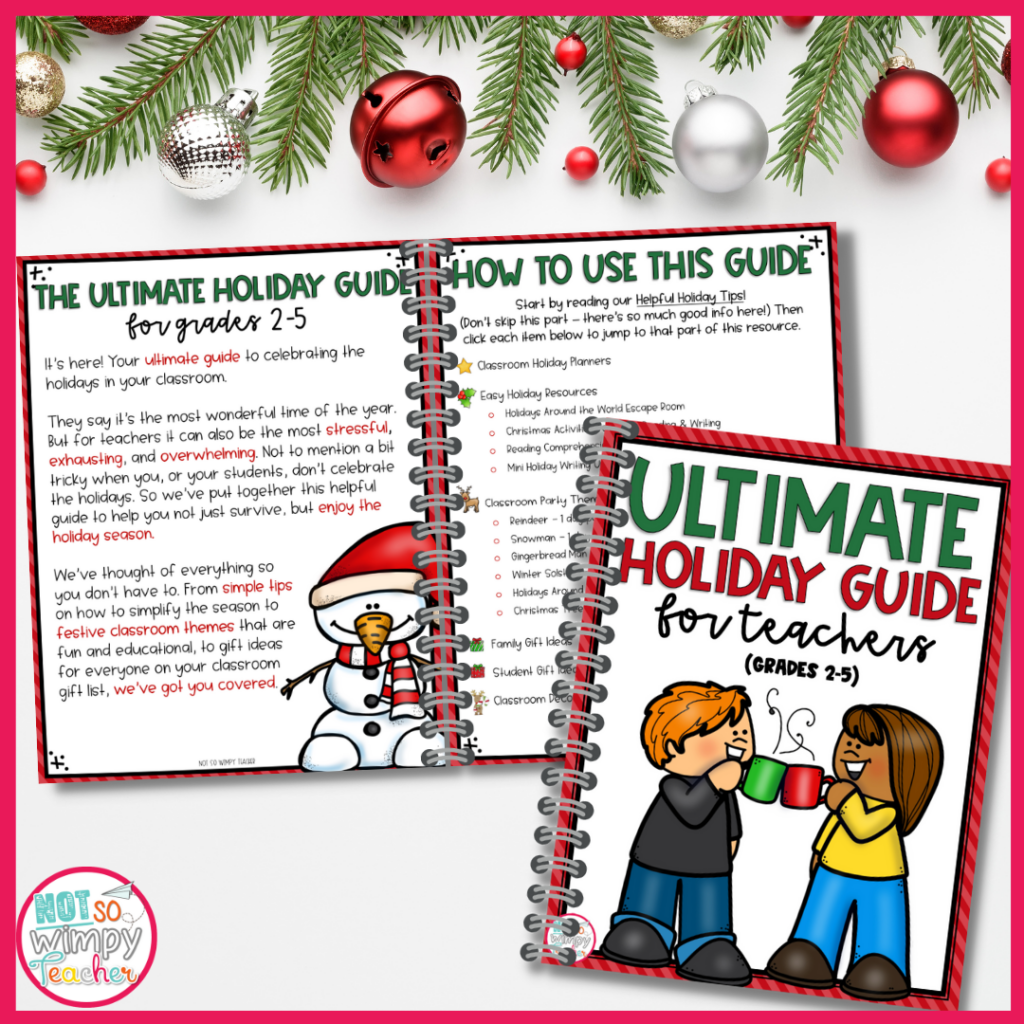 Want to make your classroom holiday planning easier than ever? I've put together The Ultimate Holiday Guide for Grades 2-5. This 142 page guide is full of holiday tips for teachers.
Inside, you'll find:
Helpful holiday tips to make planning and celebrating easy
Easy holiday resources – save time and keep kids learning
6 classroom party themes with multiple ideas for treats, crafts, activities, and books
Family gift ideas
Student gift ideas
Simple classroom decor Ideas
Our favorite holiday books and movies
Reading, writing, and math activities
Student printables, a family holiday survey, holiday & thank you cards, and gift tags
And so much more!
And the best part is, it's FREE!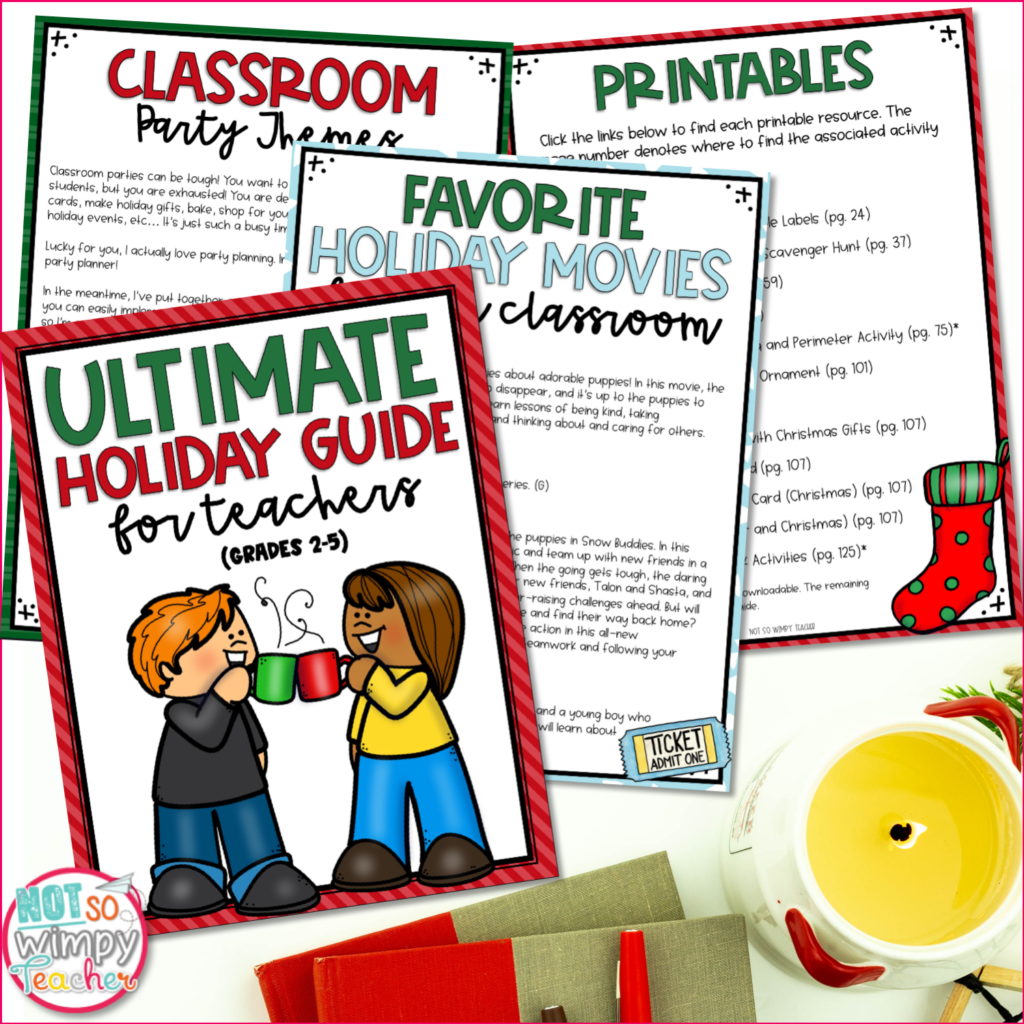 The Ultimate Holiday Guide really is your one-stop solution for all things holiday related. It's filled with images, links, recipes, and more for the easiest, most fun holiday season ever! Download yours today!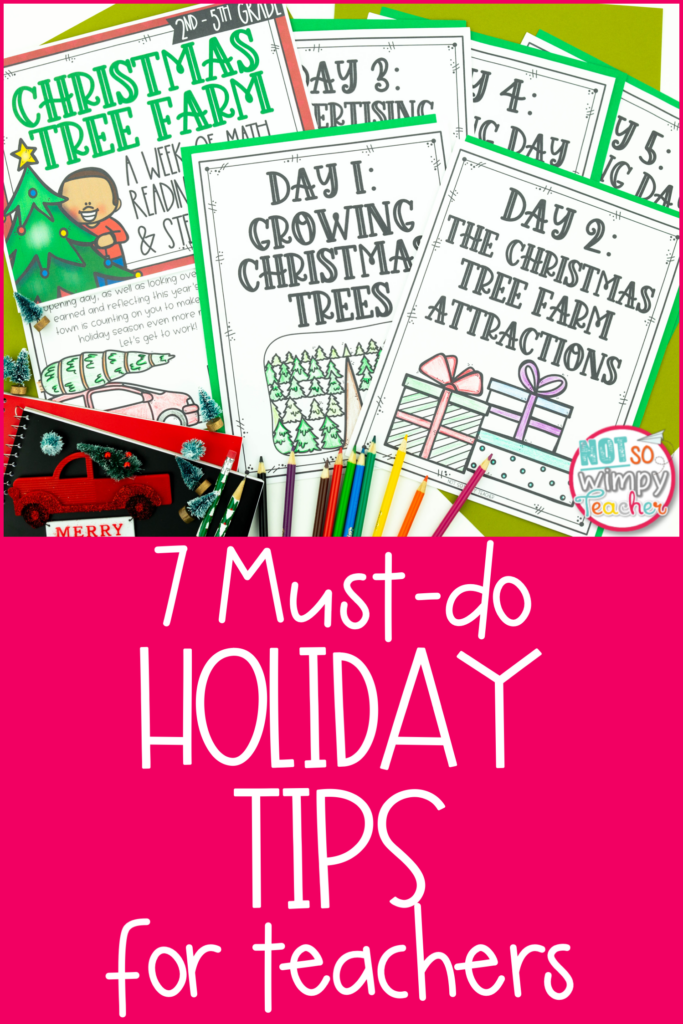 I hope these holiday tips for teachers help you plan an easy and magical holiday season for your classroom.
Have a Not So Wimpy Day,