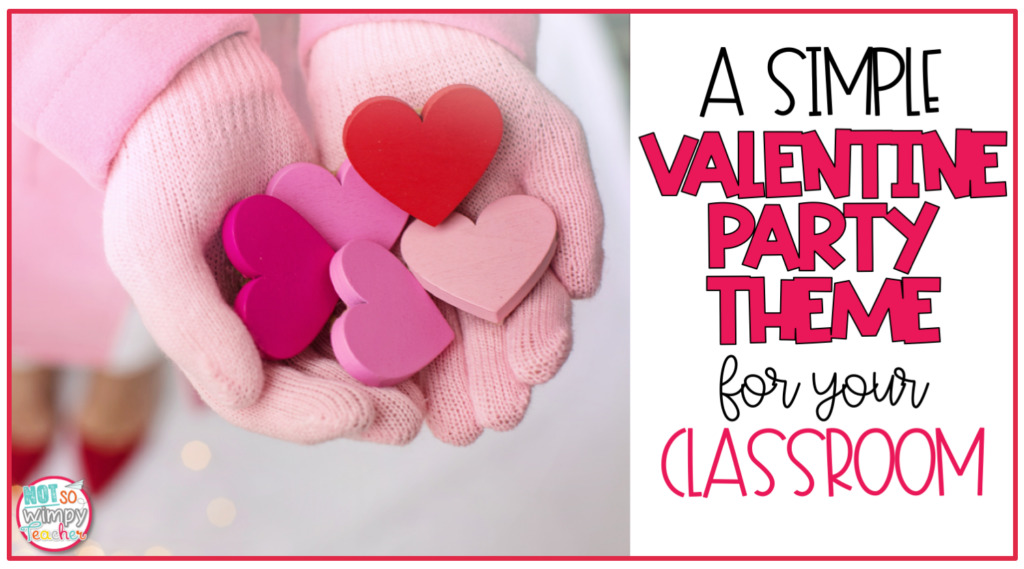 It's time to start planning your Valentine's Day celebration. I know that on the heels of holiday parties it can feel like a lot to gear up for another holiday so soon. So, today I'm sharing a simple Valentine's Day party idea for your classroom. You can thank me later.
Elementary students (and their parents) love Valentine's Day. So it's fun to celebrate with them in the classroom. But you don't have to plan an elaborate party. A few simple Valentine's Day-themed party activities are all you need to make February 14th feel like a special day.
The activities in the post can be used all together for a fun cupcake-themed Valentine's Day party. Or they can be used individually. I've included lots of ideas so you can pick and choose what works best in your classroom.
Want to keep things low-key? Use the Valentine's Day Cupcake math project based learning activity and call it a day. Feeling a little more fancy? Maybe add a read aloud or short movie. Or, if Valentine's Day is your jam, go all out and add in a treat and a craft and make a day of it.
Of course, if you really aren't feeling up to another soiree, or you're knee-deep in test prep already, feel free to skip all the festivities. You are under no obligation to celebrate Valentine's Day in the classroom.
Valentine's Day Cupcake PBL
It all starts with our Valentine's Day project based learning resource–Valentine Cupcakes. In this sweet activity, students are tasked with working together to bake up a batch of cupcakes for the classroom celebration.
They will use real-world math skills as they relate to baking cupcakes. Graphing, adding, multiplying, elapsed time, and fractions are all reviewed in this engaging activity.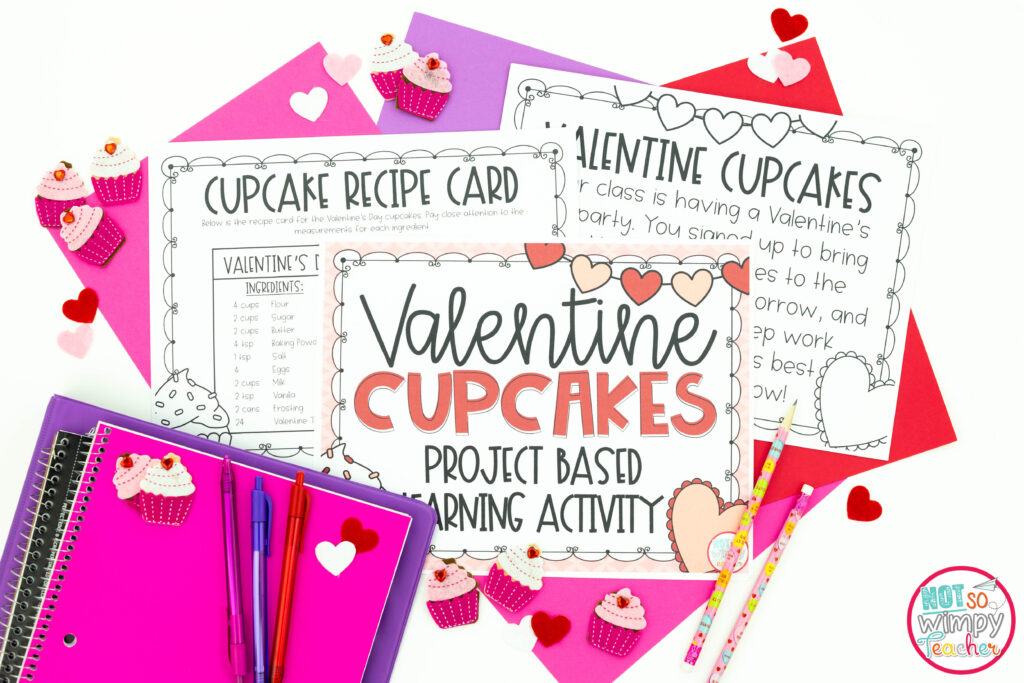 This resource comes with everything you need to make math class a real treat. It is designed for grades 2-5 and comes with multiple ways to differentiate so you can ensure that every student gets a challenge that's just right for them.
There are digital (perfect for 1:1 classrooms) and printable versions. Detailed teacher directions explain how to use and easily differentiate these activities. And this activity can be assigned to students individually, in partners or teams, or even used in small groups. You can read more about Valentine Cupcakes here.
I know your students will LOVE this new Valentine project based learning activity, And, if you're short on time or simply don't do Valentine's Day parties at your school, Valentine Cupcakes makes a fun holiday learning activity.
But, if you want to go all out for a Valentine's Day party . . . keep reading . . .
Valentine's Day Party Treats
Valentine Cupcakes
Valentine Cupcakes makes a great party theme too. After completing the PBL, your students will be hungry for cupcakes. And they will love the opportunity to create a real cupcake they can sink their teeth into.
It would be fun to bring in a bunch of un-iced cupcakes in cute Valentine papers. Pick up some store-bought icing in a variety of colors and flavors and some fun holiday decorations: sprinkles, candy hearts, cinnamon hearts, M&M's and let kids decorate their own cupcakes. My favorite way to do this is to set out individual cups of frosting and a popsicle stick or plastic knife.
If that sounds like too much work, here are some other ways to enjoy Valentine Cupcakes:
Easy: bake up a batch of cupcakes using your favorite boxed mix and frost them at home
Easier: Pick up a batch of cupcakes from your local bakery or grocery store
Easiest: Recruit a parent volunteer to take care of the cupcakes
Valentine Cookies
Some simple heart cookies are also a great, easy addition to the celebration. You could bring in plain cookies and some frosting and sprinkles and let the kids make their own. Or use the Pillsbury Hearts sugar cookies. All you have to do is bake. If you want to be fancy, you can put two together with some frosting in the middle for an easy sandwich cookie.
Of course, you can always pick a box of frosted or sprinkled cookies from the grocery store. Either way, students will love this sweet treat.
Valentine Heart Cakes
The Little Debbie heart cakes were made for elementary school classrooms. These bite-sized cakes are the perfect little snack. They come in packages of two, so they are easy to distribute to your students.
You can find them in most major grocery stores, Target, and Walmart.
Chocolate Covered Strawberries
Chocolate covered strawberries are another easy treat for the classroom. Buy them premade, or melt some chocolate and let kids make their own. Extra points if you also bring in some fancy sprinkles to dip them in.
You can bring in other fruits too. Apples, melon, bananas, and pineapple are also delicious when dipped in chocolate.
Valentine's Day Party Crafts
Love Bugs
Create these cute little Love Bugs out of cardboard tubes and construction paper or foam decorations.
Family Valentines
Kids love making gifts for their families. Encourage them to put a variety of hearts together and write notes to people who are special to them. You can keep this super simple and offer construction paper. Or add some foam or doily hearts to the mix.
Symmetrical Hearts
Have kids practice symmetry by making symmetrical hearts. Show them how to fold a piece of construction paper in half to cut out a large heart. Then provide stickers, markers, ribbon, additional construction paper, etc. . . for them to decorate their large heart. The only rule is that both sides of the heart must match up.
This is harder than it sounds!
Sand Art Cupcakes
Check out these adorable sand art cupcakes.
This simple craft comes with sticky cupcakes, colored sand, and magnets. Simply peel off the paper backing and sprinkle the sand onto the sticky surface. Add a magnet to the back and display these cute cupcakes for all to see.
Valentine Cupcakes
Let students make a cupcake to take home. Cover a piece of cardstock with scrapbook paper to make a fun Valentine's liner. Then use half of a white paper plate for the cupcake top. Markers, crayons, stickers, and small pieces of paper make great decorations. Crumpled-up tissue paper also makes fun frosting.
Or watch this video for a step-by-step tutorial about how to draw a Valentine Cupcake.
Valentine's Day Party Activities & Games
Valentine's Day STEM activity
Challenge kids to build structures with heart-shaped marshmallows or jelly candies and toothpicks.
Heart Puzzle Race
Cut three different-sized hearts into puzzle pieces. Put students into teams and challenge them to assemble all three heart puzzles as quickly as possible.
For older kids, I'd make all the hearts the same color. For younger students, you could make different-sized hearts in different colors.
Graphing candy hearts
All you need for this activity are a few big bags of candy hearts, graph paper, and colored pencils or crayons. Give each student a handful of candy hearts. I like to proportion them in snack-size bags.
The number of hearts you provide for each student should be the same but will vary by grade level. For younger students, 15-20 is enough. For older students, you might want to do up to fifty. I know, it sounds like a lot, but there are a lot of hearts in those bags.
Have students count the number of each color of hearts and create a bar graph. You could also have students complete a line plot. Or calculate fractions for more advanced students.
Tower of Hearts
This is a fun game that students will surely love. Challenge students to build a tower out of conversation hearts. The tallest tower at the end of one minute wins.
You can make this game easier by buying the large, flatter hearts. Or you can make it more challenging by using the small hearts or even requiring students to build a certain pattern or use tweezers to build the tower.
Estimation Jar
Fill 3 of the same size jars or containers with different size hearts. You could use mini cinnamon hearts, candy hearts, chocolate hearts, jelly hearts, etc. . . and have your students estimate how many hearts are in each jar during your Valentine's Day party.
Heart Transplant
Players use a Valentine straw to suck up and hold conversation hearts to the straw to move them from plate to plate. Whoever can move the most hearts from one plate to the other in a minute wins!
Paper Bag Valentine's Day Book
This is a simple, cute craft you and your students will love. Paper bag books are literally one of my very favorite classroom activities.
Each of your students will need three paper lunch bags. You can find them at Walmart or any grocery store. Place the bags on top of each other, fold them to form a book, and staple the spine.
Print out the pages and have your students complete each one. They can glue these pages into their book. It is so much fun for them to write about the books they love, things they love about school, and so much more.
Valentine's Day Books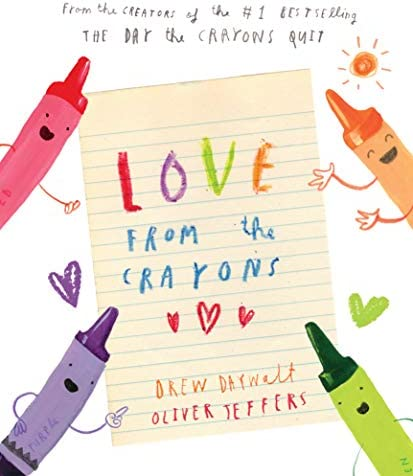 Everybody's favorite crayons return with a message about love. This sweet book explores the many colors of love – from its bright hues to its subtle shades. Students will love learning about love alongside the crayons.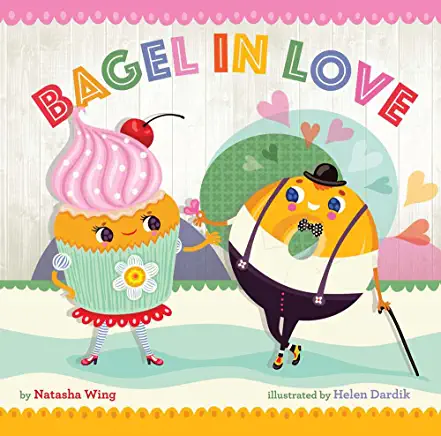 Bagel loves to dance. But can he find a partner for the dance contest? Pretzel thinks he doesn't "cut the mustard" and Croissant thinks his "moves are stale." This witty and pun-filled picture book will have students laughing as they learn about love.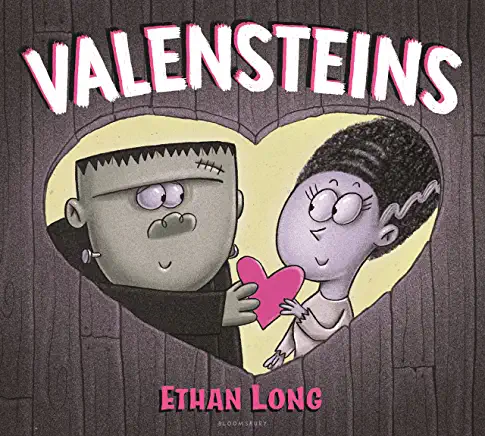 Something strange is in the air on this dark, cold night. The members of Fright Club are always ready to scare, but tonight Fran K. Stein has something else on his mind. He's busy making something, and the other monsters want to know what it is. They are about to get a lesson they will never forget.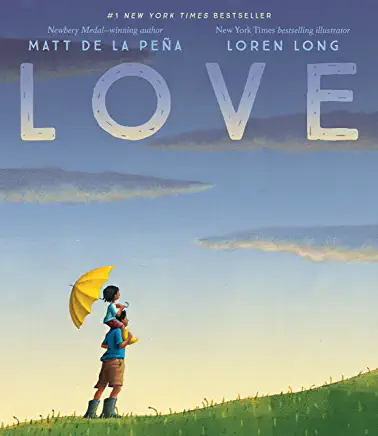 Love by Matt de Pena
This heartfelt celebration of love shows kids the many ways we experience this universal bond, from the day we are born throughout the years of our childhood and beyond. The beautiful text is soothing and inspiring and resonates with readers of every age.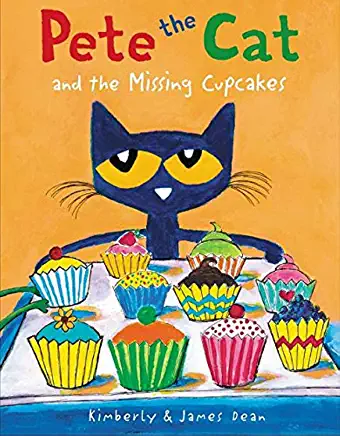 Pete the Cat and his friends are busy as can be baking cupcakes for a party, and Pete can't wait to perform with his groovy band. But some of the cupcakes have gone missing! Who could have taken them?
Valentine's Day Movies
All of the movies are rated G and teach valuable lessons about kindness and friendship.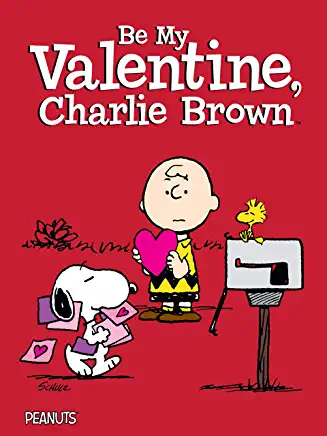 The Peanuts gang brings sweetness to matters of the heart. Will Schroeder ever notice Lucy? Will Linus find a Valentine's gift for his favorite teacher? What about Charlie Brown? Aside from his continual fear of approaching the Little Red-Haired Girl, will he ever be confident enough to connect with that football?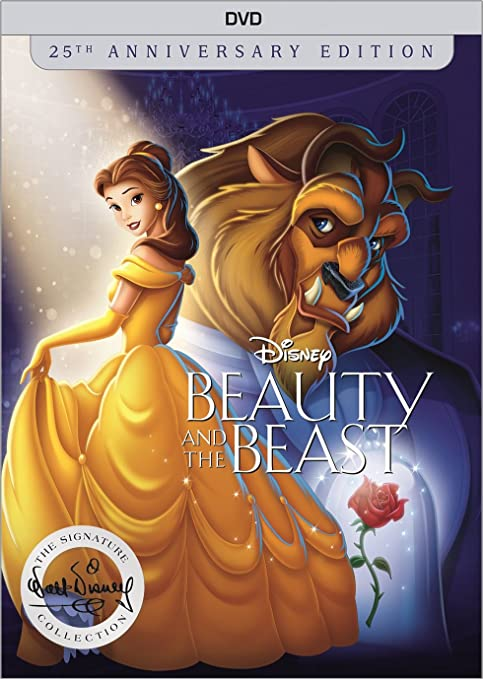 Match a sweet singing, dutiful daughter with an ogre cursed for his bad behavior, and you've got a love story prime for the storybooks, one as old as time. Belle will do anything to help her father, even taking his place when he is held prisoner for trespassing. But things are not as they might seem, and maybe, just maybe, the Beast will discover his heart after all.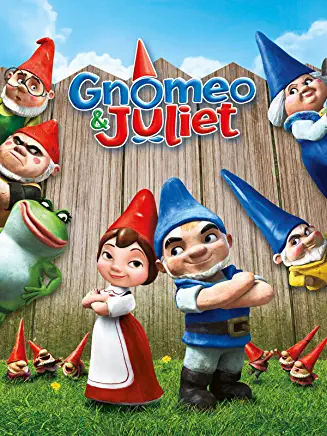 Feuding families and a backyard fence can't keep these two lovebirds apart. After being lured outside their yard space, these two garden gnomes meet and fall in love. But they have to face their families and life-threatening lawnmower races. With the help of a matchmaking flamingo, can the Montegue and Capulet love story have a happy ending?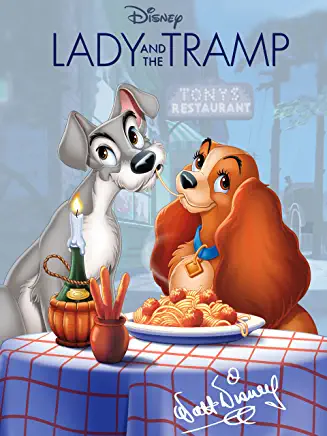 Students will love this classic love story between dogs. Lady, an adorable Cocker Spaniel, feels neglected when her owners become distracted by the pending birth of a baby. But the last straw is clueless Aunt Sarah's appearance with her conniving Siamese cats, who wreak havoc on Lady's blissful home life. Soon Lady is off on an adventure in the streets, where the savvy Tramp takes her under his paw. The lessons of friendship and loyalty, and one of the sweetest kisses on screen, ring true to delighted children and adults alike. Ah, puppy love.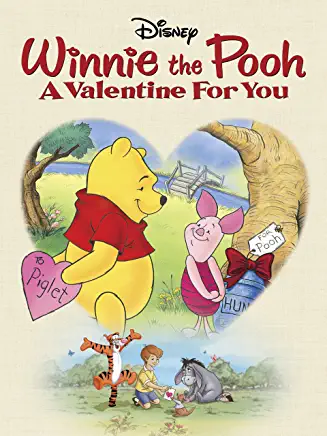 Get ready to fall in love with Winnie as he and his pals set off on an exciting adventure to find the Smitten (love bug) they think has bitten Christopher Robin. Brimming with magic and delightful songs, A Valentine for You reminds us that there's room in our hearts for both old and new friends! Then, enjoy extra fun and laughter with two more charming tales: Un-Valentine's Day and My Hero. It's a sweet treat your students will love.
Grab Your FREE Valentines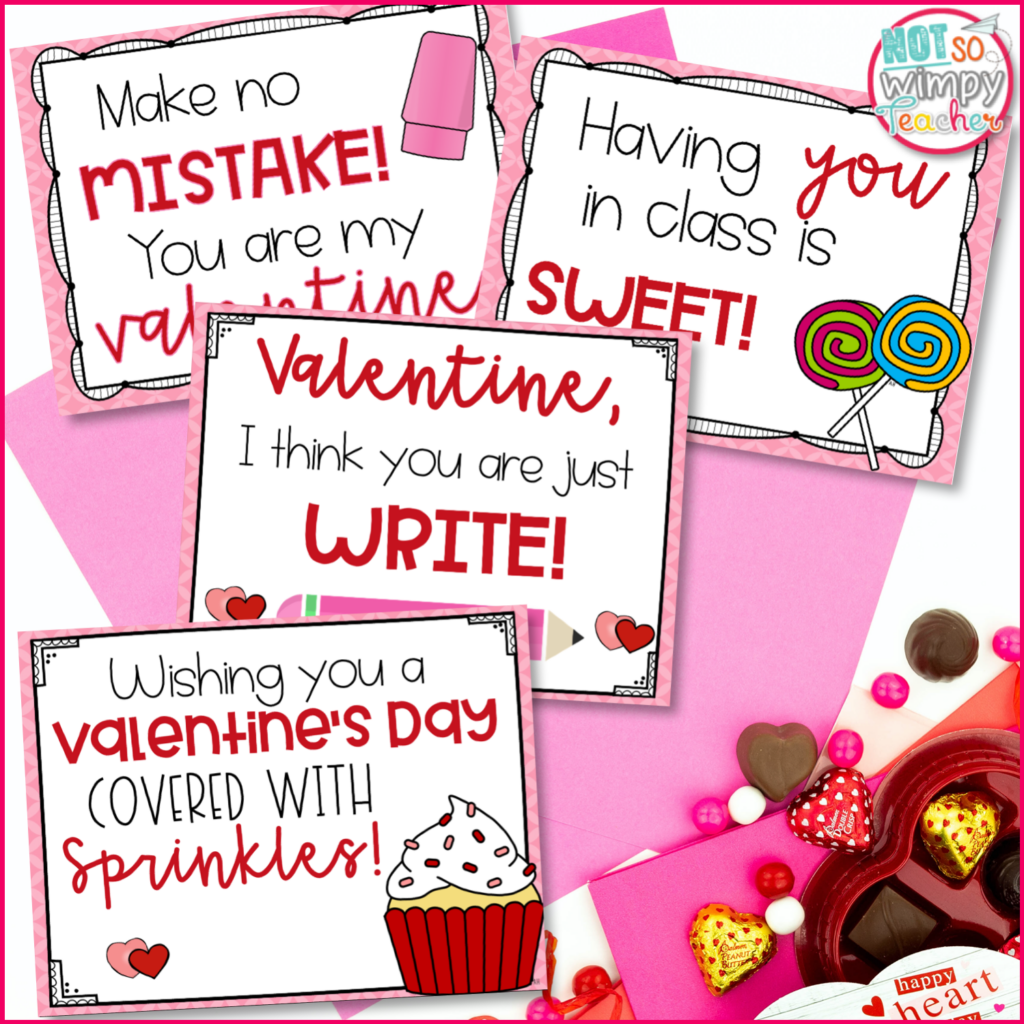 We're making Valentine's Day super simple this year. We've created a special Valentine for you to give to your students. All you have to do is download, print, and sign your name! Sweet!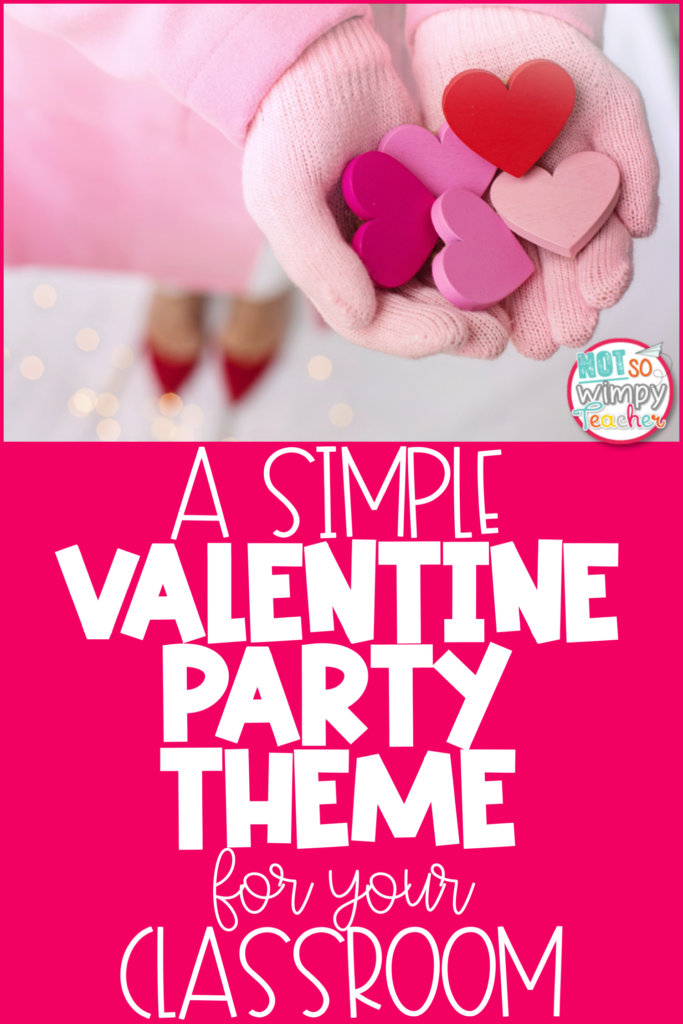 I hope you have a super sweet Valentine's Day!
Have a Not So Wimpy Day,