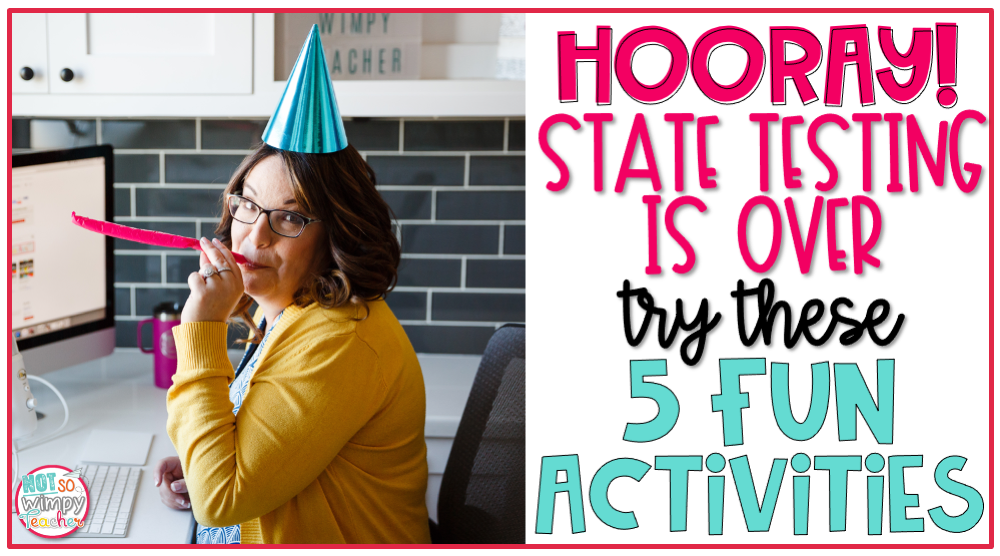 Whew! You made it through testing season! It always feels like a relief when state testing is over. But now that the tests are out of the way, you might be wondering how to keep your students engaged until the end of the school year .
No worries! I've got 5 fun (and mostly FREE) activities for you to try. These ideas will make sure your kids are still learning, but they are a welcome change from rigorous test prep and review.
And if you aren't quite finished testing yet, you can save these ideas for when you are. They will definitely make your students smile.
FREE Earth Day Activities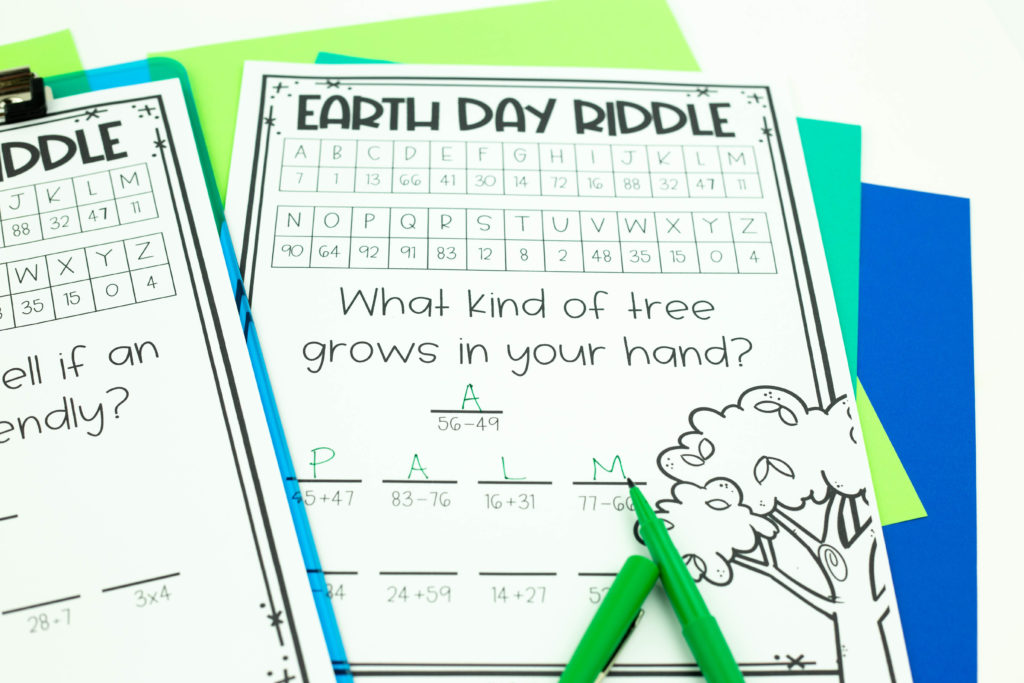 Earth Day is on April 22! Now that testing is over, why not take a moment to celebrate Mother Earth? Kids love learning about nature, conservation, and going "green."
And we've put together a FREE resource full of activities to make it easy to incorporate Earth Day lessons into your plans. There's a nonfiction reading passage about the history of Earth Day, a lesson on Reduce, Reuse, Recycle, and even a creative STEM project that challenges them to repurpose trash as something new.
This resource includes 5 Earth Day Activities:
Reading response passage
Earth Day vocabulary
Opinion Response Essay
Trash to Treasure STEM project
Earth Day Riddles
And the best part, it's completely FREE!

You can find more ideas for celebrating Earth Day here.
Have Fun with Poetry
Earlier this month I shared 10 fun ideas to celebrate National Poetry Month. But if you were busy prepping for end of the year tests, don't worry. You've still got time to squeeze in a poetry lesson or two.
There are still two weeks left in April, and poetry is a great lesson to teach after state testing is over. The passages are often short, sometimes silly, and always fun to read. It's a nice contrast to the long, boring test passages they've been working on.
Kids love the rhythms, rhymes, and figurative language.
FREE POETRY READING UNITS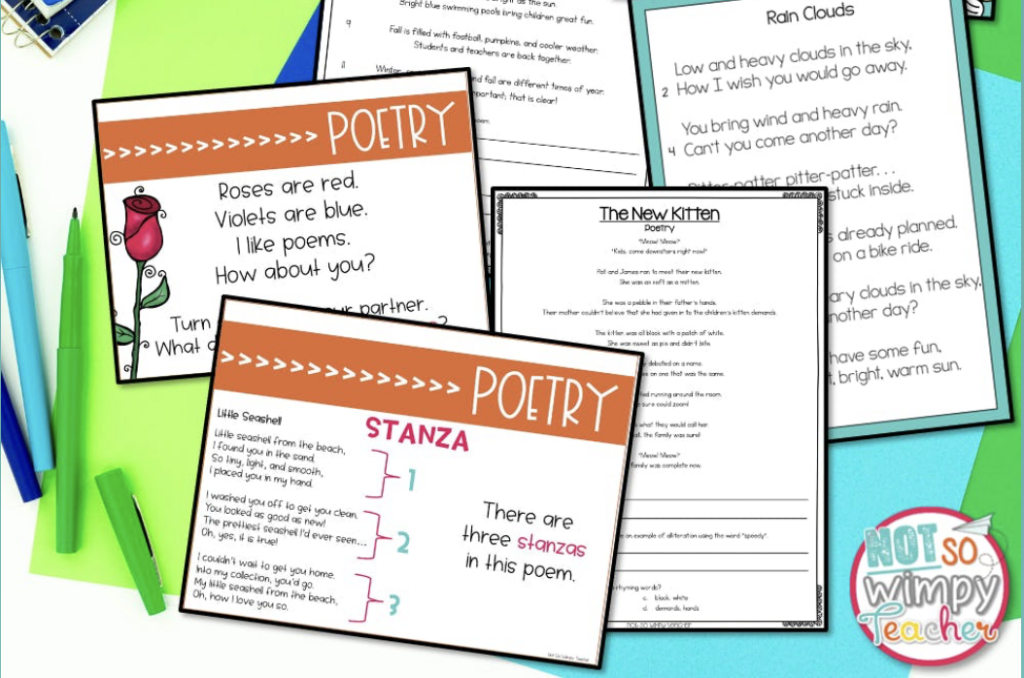 I've put together FREE Poetry Reading Units for Second and Third Grade. Kids will learn about poetry and figurative language.
Each unit includes:
2 PowerPoint mini lessons
2 interactive notebook activities
5 hands-on centers (including reading response)
3 reading passages
Detailed teacher directions.
Send me the SECOND GRADE unit.
I know your students will love these hands-on lessons about poetry.
Write Poems
Speaking of poetry . . . kids will love learning to write poetry as well. My Poetry Writing Unit comes with everything you need to teach kids how to write six different kinds of poems.
10 days of lesson plans that include guiding questions, materials, mini lessons, student work tasks, and student share tasks
14 original poems covering 6 types of poetry
Teacher and student anchor charts
Printables and publishing paper
And, for a limited time only, you can get this Poetry Writing Unit for FREE when you enroll in the Not So Wimpy Writing Masterclass.
Spring Writing Prompts
This is also the perfect time to enjoy some fun writing prompts. I know, I know . . . you usually hear me telling you to step away from the prompts and let kids generate their own topics. But now that testing is over, this is the perfect opportunity to let students relax a bit and write about fun, seasonal topics.
Our FREE monthly writing prompts provide ready-to-use ideas. In May the topics include teacher appreciation (wouldn't you love to know what they enjoyed most about the school year?), a treasure map, National Pet Day, planning a picnic, and water safety. I can just see their creative juices flowing with these fun, student-friendly topics.
There's also an editable slide so you can make up your prompt or let students generate their own topics.
Seasonal Reading Passages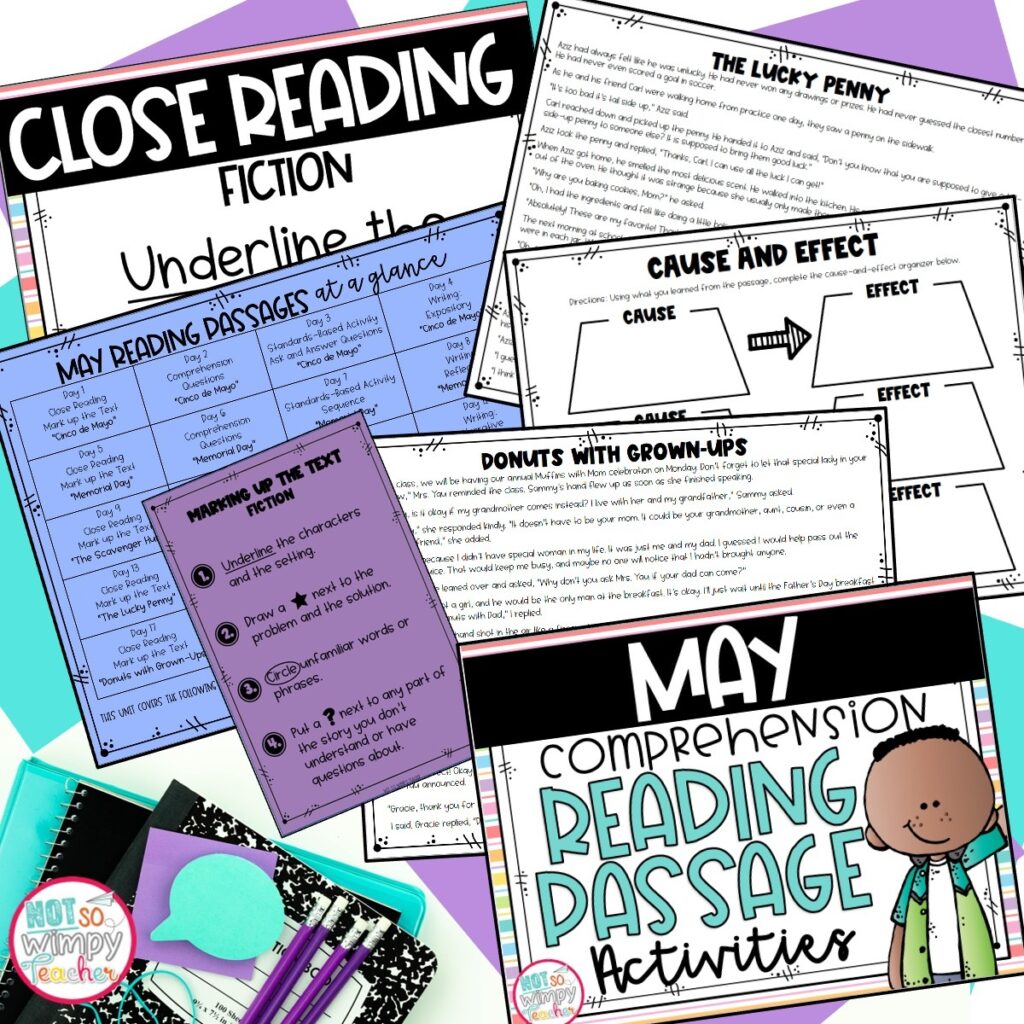 Just because testing is over doesn't mean you can't continue to teach important reading skills. These students are going to be with you for a few more weeks. You might as well practice essential skills.
And our seasonal reading passages make it fun and easy to do so. Kids love these reading passages that feature student-friendly fiction and nonfiction texts. Each month has five interesting topics that students love learning about. In May, students will read about Cinco de Mayo, Memorial Day, the Lucky Penny, the Scavenger Hunt, and Donuts with Grown Ups. Doesn't that sound like fun?
After reading, they'll work on comprehension questions, standards-based activities, and reading response activities. All of which are great practice for next year. But when the passages are about things they care about, they don't feel like it is work.
Each passage is designed to be used over the course of four days, so you can really do a deep dive into meaning. And we've included an "At A Glance" calendar that tells you just what to teach each day. There are also anchor charts, student printables, and answer keys. All you have to do is print and teach.
Passion Projects
The period after testing is over is a great time to let kids pursue a passion project. The sky's the limit (or your tolerance for mess and noise). Science projects, writing a book, filming a movie, completing a research project, building a robot, creating an app, tackling a school or community problem. The great thing about passion projects is that they can look a little different for everyone.
Help your kids brainstorm ideas. You can ask them to make a list of:
Things they wonder about
Things they want to learn more about
What they would do if they could design their own education
Problems they would like to solve
Things they would love to do
Then have them select one of the items from the list and set aside time to work on it every day for the next week or two. Start by making a plan.
What is the purpose of this project?
What will the finished project look like?
Which steps are necessary to complete the project?
What can you accomplish each day?
How can you share your project with others?
Alternatively, you can pick the project. Is there a project you did as a kid that you'd love to introduce to your students? Maybe something your own children did in another district? Or even an idea you saw on Pinterest or Instagram. Chances are, during the first three quarters of the school year, you didn't have time to tackle this project, but now that testing is over you have a little more freedom in how to spend your days. This would be a great time to try out that project you've been dreaming about.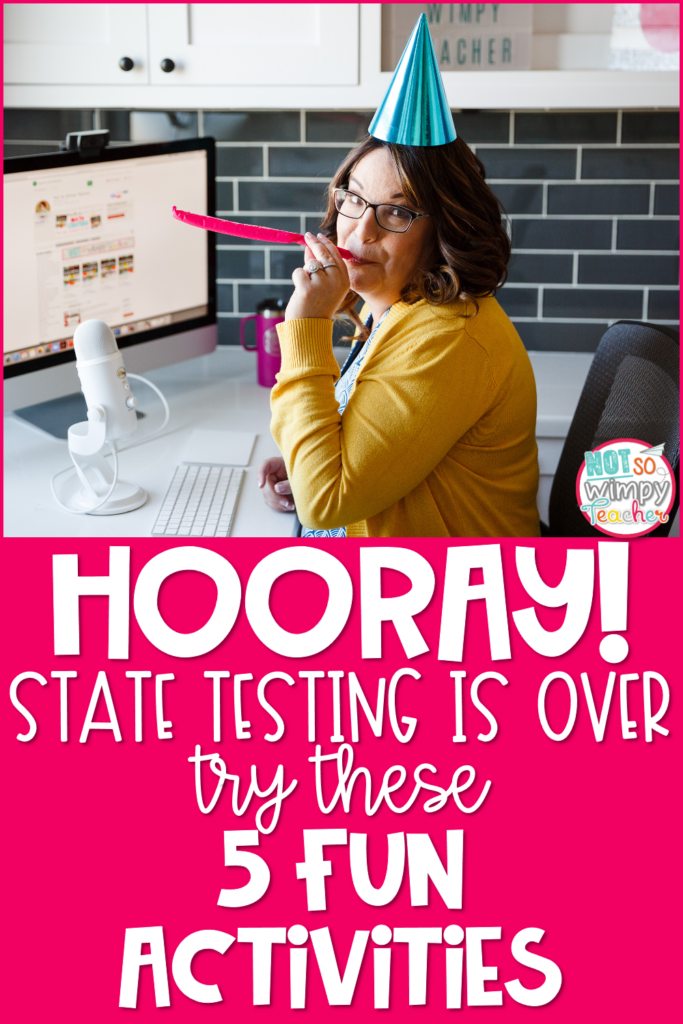 I hope this gives you some fun ways to spend time with your students after testing is over.
Have a Not So Wimpy Day,