I adored teaching third grade! I love that the students are independent, but they still think that I am cool. Teaching multiplication is exciting and it's fun to help students discover their true love for reading. But, when I started teaching third grade, I lacked good resources. I found myself searching Pinterest and TpT every weekend or spending hours creating my own resources. Who has time for that? Not you! Let me share a list of my very favorite resources that every 3rd grade teacher needs.
Writing Resources
Let's start with writing because it is my jam and because more teachers tell me they lack confidence when teaching writing than any other subject.
I want to make writing as easy as possible for teachers and so I created a year-long curriculum. It includes EVERYTHING you will need to teach personal narrative, informational, opinion, and fiction narrative writing.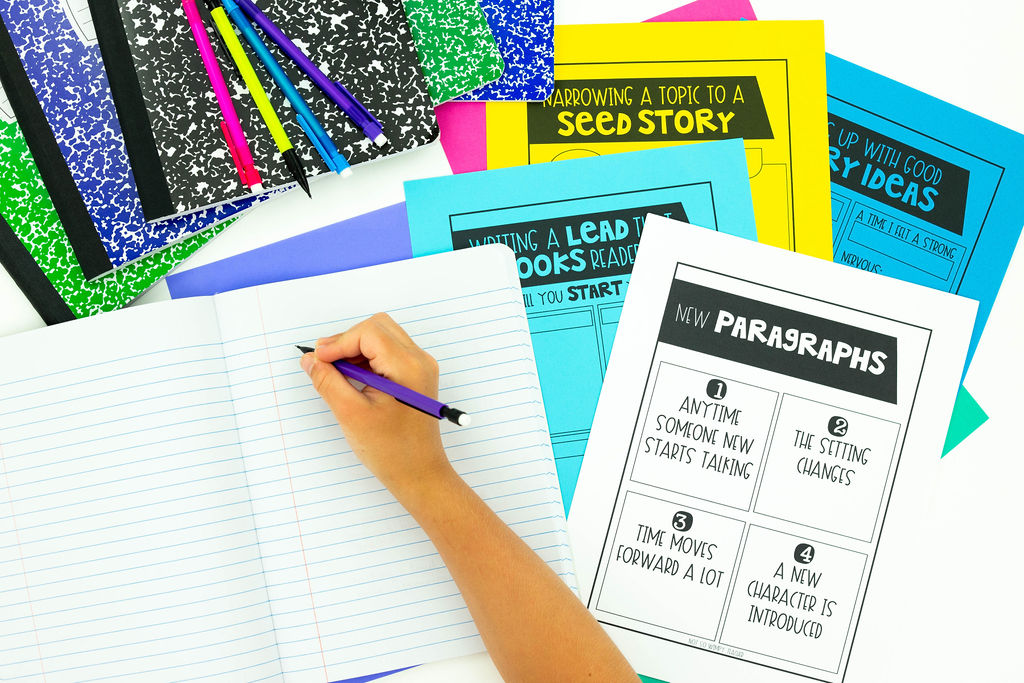 The writing units include:
daily lesson plans that are simple to read and use
mentor text passages so you don't need to track down specific books
anchor charts that are ready to use and don't require an art degree
student printables that keep your students engaged in the lesson
rubrics that make grading faster
a digital student notebook that makes it easier to use the unit in a virtual classroom
Teachers who use these units with their third graders see growth in student writing ability and an actual love for writing.
"BEST RESOURCE I'VE EVER BOUGHT ON TPT!!!!!!!!! PERFECTION!!!!!!!!! You get it. You get what I need! You get what writing workshop is REALLY like! You get that the mini-lessons need to be MINI! You get what a 3rd grader can handle in one lesson. You get that a teacher doesn't have time to read a 6-page lesson plan in a teacher's edition. THANK YOU, THANK YOU, THANK YOU!!!!!!!"

Kristen K.
Grammar
I believe in my heart of hearts that writing workshop is the key to improving the quality of student writing. However, I know that it is still important to teach grammar skills and rules. There are lots of them! We need to keep our grammar lessons short so that there is plenty of time for writing.
I created this year-long grammar bundle so that you would have daily activities that are engaging, effective, and quick. In fact, these activities can be used to teach grammar in just 10 minutes per day.
The grammar units include:
PowerPoint lessons that are engaging for students
interactive notebook activities that are easy to cut and glue
writing prompts that incorporate the grammar skill
task cards that can be used to get kids moving
assessments that are quick to grade
"We barely have ANY time for grammar, this is the perfect resource—gets right to the point and solid lessons!"

Courtney's Collections
Reading
The most important thing that a reading teacher can do is help her students to discover their love for reading. But, we still have a long list of standards and skills to teach. (Which are SO much easier to teach when your students love to read!) I wanted to create resources that included text that would engage readers and isolate the standards that teachers need to teach and practice in the classroom.
I created a full year of supplementary reading materials for all of the skills and standards that you are teaching.
These reading units include:
PowerPoint mini lessons that are engaging and fun for students
interactive notebook activities that are simple to cut and contain text
centers that include engaging text and movable pieces
passages that can be used in reading groups or as assessments
We went on to make a fully digital version of this resource as well! It's perfect for teachers who are virtual or 1:1 with devices.
"I love these units…so much more teacher-friendly and student-engaging than that other curriculum out there that can be so overwhelming."

Candace R.
Math Resources
Math Centers
I love to make math very hands-on for my students. Using centers helped me to make math fun and meaningful while giving me the opportunity to meet with small groups of students to differentiate my instruction. However, it was so important to me that the centers were a great use of my students' time and not just a babysitter.
I created math centers that cover every skill that you need to teach in third grade.
I love these math centers because:
they are not seasonal and so you can use them any time of the year that it fits best with your curriculum
they include a variety of activities such as sorting, matching, color coding and writing about math
they will challenge students to think critically, but are grade appropriate skills
they are available in printable and digital versions
"I love all of the Math Centers from Not So Wimpy Teacher. My students are so engaged with them and they can work on it independently while I pull small groups. They're fun and cover all the different kinds of questions. Thank you so much!"

Laura P.
Math Curriculum
And if you're looking for a full math curriculum that's fun, engaging, and effective, I've got you covered. My third-grade math curriculum covers all the standards you need to teach in third grade, from place value to multiplication and divisions, fractions and geometry.
This curriculum includes everything you need to make teaching math easy, fun, and effective. And it's perfect for math workshop or guided math. Each unit includes:
a PowerPoint mini lesson
student problem sets, homework, and exit tickets
easy to differentiate small group lessons
assessments
task cards and games
tools and resources
and so much more, includiong problem-based learning activities in several units.
You can read more about the math curriculum here.
"This is an AMAZING resource! I have been using the math centers for years and I am so excited to add this curriculum to my teaching. It is a very thorough curriculum. I love the PowerPoints to help guide my teaching. I also LOVE the small group lessons. I don't have to plan anything for math, it is all done for me. Thank you!!"

Sharleen T.
Teaching is hard enough without having to spend hours searching for high-quality resources. I hope that this list of my very favorite resources for 3rd grade is super helpful!
Have a Not So Wimpy Teacher,