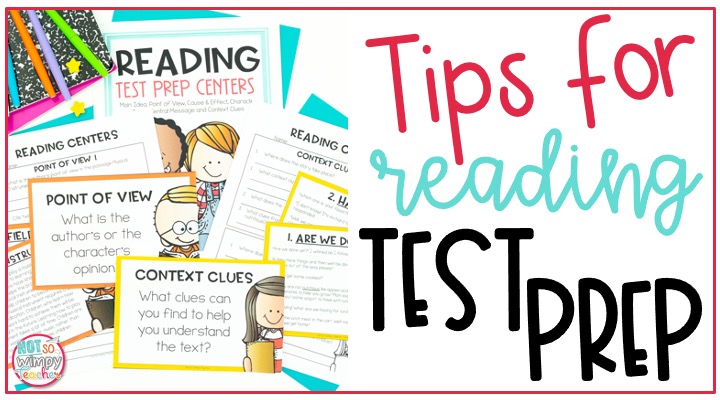 Taking standardized tests can be scary for elementary students. With so much emphasis on testing in schools, it's not surprising that even young students worry about test performance. Fortunately, teachers can help students (and themselves) lessen test taking anxiety with these simple reading test taking tips.
Don't call it a test.
Terms like "learning snapshots" or "show what you know" are far less terrifying than tests or assessments.
In my classroom, I called the test days- Game Days.
I liked to tell my students that all the assignments (formative assessments) we do in class are practice. They're working on their skills to prepare for the final performance or game.
Getting their heads in the game can be easy by putting up positive signs and having countdowns to "game day". Write your students some fan mail and encourage their parents and other teachers to do the same. They will love being superstars on the field for their big day!
You can read more about my game day testing theme by clicking HERE.
Practice reading the directions.
Remind your students that there are different types of questions on the test. This is especially true of the ELA tests.
Carefully reading the directions for each section is imperative to make sure answers are marked correctly. With more and more tests being taken digitally, there are test items that require multiple answers, highlights, and manipulation of text.
Give your students a chance to see these types of items and clarify directions on practice tests. Check your state's testing website for examples to show your students.
Teach how to eliminate obvious incorrect answers.
Talk to your students about answer choices that are most likely incorrect. Answers that give choices like always and never usually indicate incorrect answers. Any responses that are counter to what the student knows can be crossed out to help narrow down options.
Show students how you want them to eliminate these answers without getting pencil marks in the answer bubbles!
You can do a Google search for bubble test paper. Print and actually let students practice bubbling.
Review context clues and vocabulary skills.
Reading passages often feature vocabulary words in context. Practice learning how to find the meaning of words by looking at synonym, antonym, definition, example, and inference context clues in narrative and informational texts. Prefixes, suffixes and roots are also great tools.
I found that my students greatly improved on this skill after I implemented my tier 2 vocabulary program! They were so used to being word detectives.
This is not only a great test taking skill but something your students can use across the curriculum as they read and unpack different pieces of writing.
Incorporate review centers and games.
Passages are a necessary evil when preparing for an ELA exam. Students need to practice with longer text. I do my best to make these passages fun with my Work Hard, Play Hard review day. Students are rewarded for completing the passage and questions with a fun activity such as art or a game. My students were sad when our time was up. They literally begged for more!
I love to use THESE reading centers. The cards make them a little more fun than straight up passages. Plus, they cover so many skills that my kiddos needed to review.
My students love to be the teachers. I will split them into groups and give each group a topic (main idea, character traits, context clues, etc). The group will make posters/anchor charts and then give the class a short lesson. You remember more of what you teach!
I add some serious test prep fun with
THESE
free vocabulary games! Make sure to include words that students are likely to see on their test such as: examine, compare, contrast, support, etc.
I hope that these tips give you some ideas for making ELA test prep meaningful and fun.
Most importantly, don't stress yourself or your kids out before game day. 
In fact, if you have been practicing since the fall, they'll be ready to go and so will you! Believe in them!