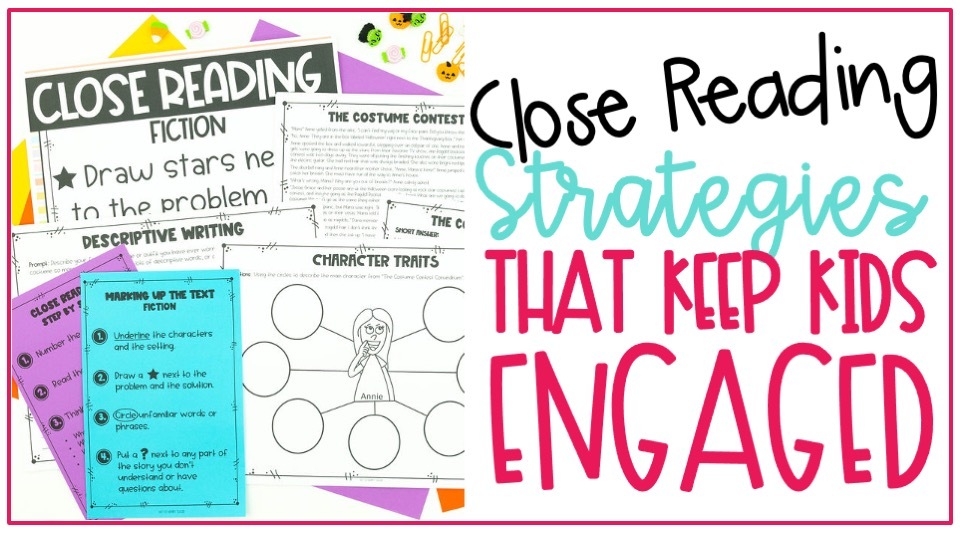 Close reading is an important skill for students to learn. Not only is it required by the Common Core standards, but it helps deepen comprehension.
But close reading can be hard for students. And boring. It requires repeated reading and discussion of the same text. And each time students read, they are pushed to dig deeper into the text for its true meaning.
In fact, we made a video all about the benefits of close reading and how to get started:
As teachers, we know implementing close reading is necessary. For some of us, it might even be fun. But for kids, reading the same thing over and over again is a drag. They have short attention spans and don't appreciate the nuances in understanding that come after repeated exposure.
It's important to teach close reading in a way that kids enjoy and can understand.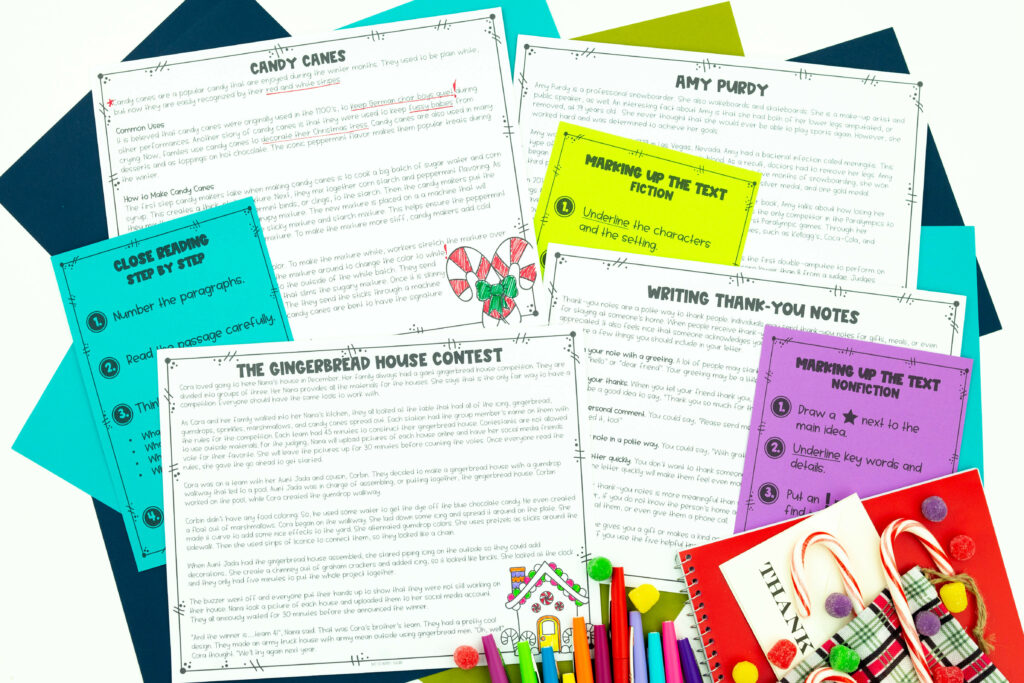 What is close reading?
Close reading uses repeated readings, reading strategies, challenging comprehension questions, and evidence-based analysis of a text to increase understanding. It's a multi-step process, where each step leads to deeper comprehension.
Students start by looking at the most basic parts of the text, like words and phrases. What do these words mean? Then, they consider bigger ideas like structure and organization of ideas. Why is the text divided into certain paragraphs, sections, or chapters? How do they fit together? 
Finally, students identify the meaning and purpose of a passage by connecting it to external information, like other texts, personal experiences, or the world. All of this requires students to draw inferences from the text and support their conclusions with evidence.
Close reading helps students become better readers.
How to teach close reading 
Practice reading strategies
If that seems like a tall order for 8-year-olds, it is. But the process of close reading helps students become better readers. When they develop close reading strategies, they can independently read and comprehend more difficult texts.
The key to helping students stay engaged as they do this hard work is to break down the process into manageable steps. You should provide students with a variety of strategies they can use to make sense of challenging readings.
Some strategies you will want to teach students include:
story elements
character traits
compare and contrast
cause and effect
point of view
main idea
vocabulary
summarizing
These strategies can lead to a deeper understanding of a text. It's important to give students many opportunities to develop and practice these skills.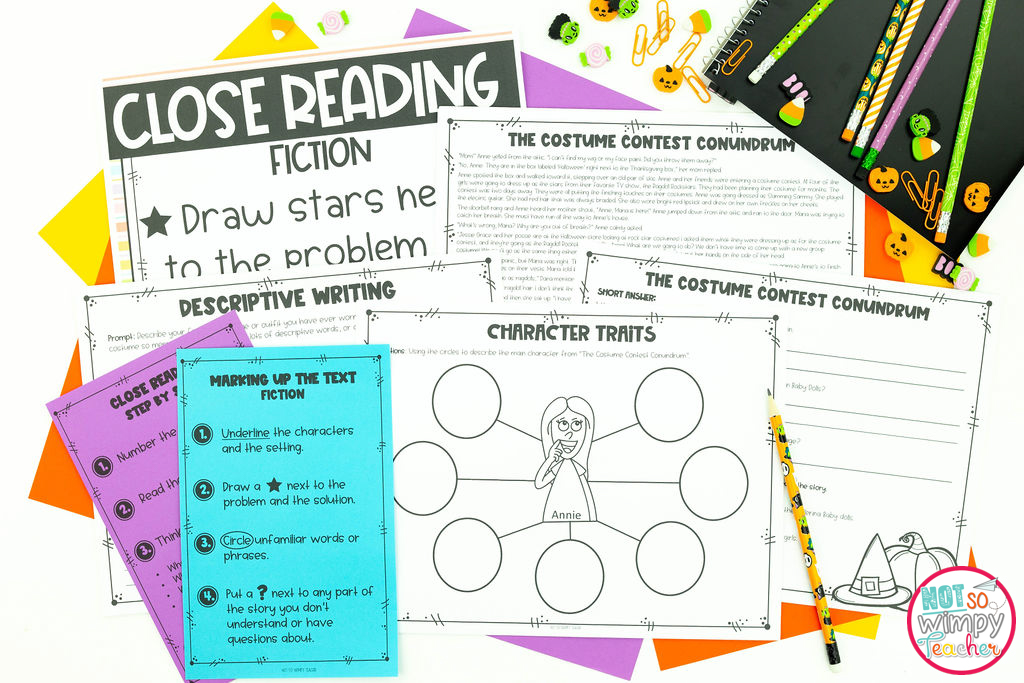 Mark up the text
Close reading is active reading. One of the best ways to help students interact with a reading passage is to mark up the text or read with a pencil. This should come after the initial reading.
When you give students specific tasks to complete while reading, they must focus more closely on the text. Simple things like numbering paragraphs, underlining characters and setting, and circling unfamiliar words are some ways to keep kids actively engaged with a text.
You should model how to mark up a text when you read. Be sure to think aloud and use different marks for different elements of the text. Then give students multiple opportunities to practice marking up a text on their own. Post anchor charts as reminders in the classroom.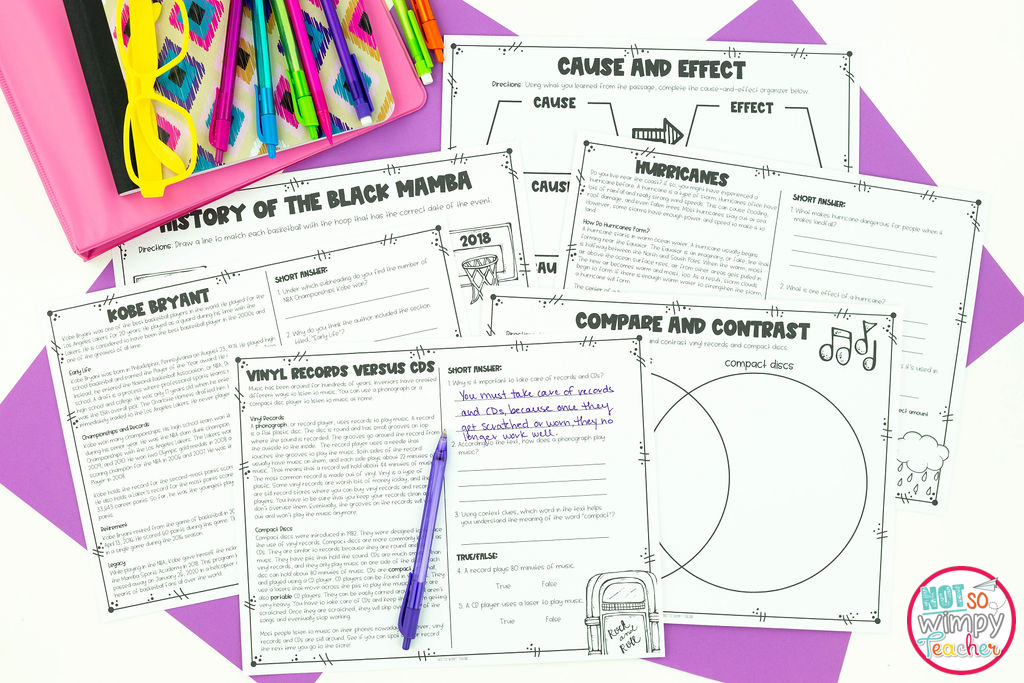 Comprehension questions
Once you've marked up a text, you can dive into comprehension questions. These questions may start easy with answers that can be found explicitly in the text. But they should become more difficult and require students to make logical inferences based on the text.
These extension questions require students to think deeply about the reading. It may take a while for your students to develop this skill. You will need to model how to use the text to make reasonable inferences. And you will need to guide them into a more complex analysis. Simply asking "why" each time they give an answer will help them think more deeply about a text.
Reading response
Once students can make inferences and draw conclusions based on a reading passage, they need to be able to explain their answer and justify it with text evidence. Reading response writing activities help prepare them to do this.
As students practice putting their ideas into words and using text evidence to support their conclusions, they will develop higher-level thinking skills. There are a variety of reading response writing activities, including narrative, informational, explanatory, and persuasive writing that can develop these skills.
Take your time
Take your time with each passage. You should not be trying to move through all these steps in one day. Don't be afraid to spend four or five days on one reading passage. Kids need repeated exposure.
Selecting close reading passages
It is important to pick topics students care about. While every class will be different, kids are often interested in animals (especially pets), video games, snacks and candy, friends, family, school, or scary things. Holidays and seasonal topics are also interesting to kids.
You also want to choose reading passages at the appropriate level for your students. Close reading is designed to help kids better understand challenging texts, but you don't want the readings to be too difficult. This will discourage kids.
Make sure to select a variety of texts, including fiction, nonfiction, and poetry to ensure that they can use close reading strategies for any type of passage. Mixing up the readings will also keep things more interesting and appeal to readers who enjoy different types of texts.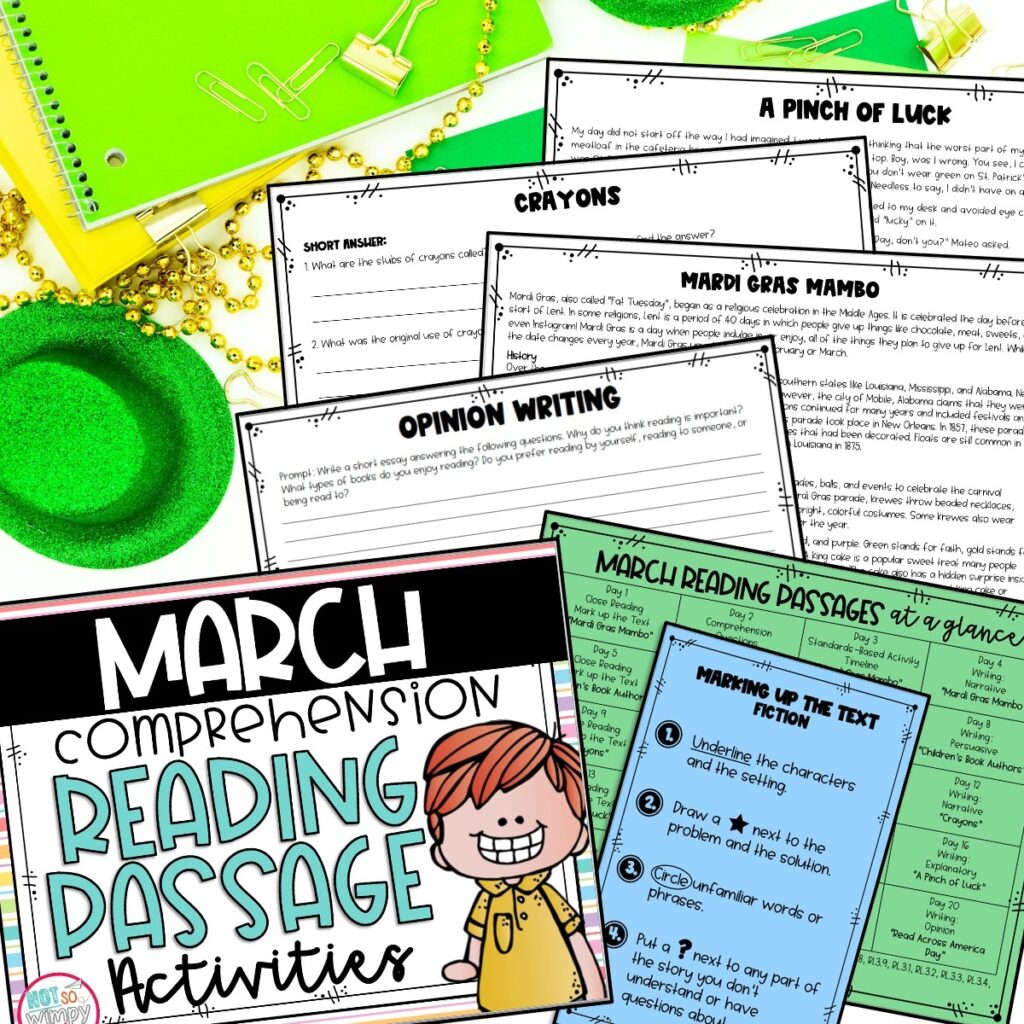 Seasonal Close Reading Passages
Would you like some no-prep close reading passages that are fun, engaging, and easy to use?
II thought so! You'll love my seasonal reading comprehension close read passages bundle for grades 3 and 4.
These ready-to-use passages provide rigorous, standards-based practice of close reading skills. The bundle includes 60 short, student-friendly reading passages that are a mix of fiction and nonfiction. I even throw in poetry once in a while.
The seasonal reading passages bundle includes:
60 seasonally-based reading passages for students to practice close reading skills like underlining, circling, and adding symbols and notes
Comprehension questions for each passage that require students to think deeply about the reading and find text evidence to support their answers
Standards-based reading activities (1 for each passage) for additional practice that keeps kids engaged
Reading response writing activities (1 for each passage) that help kids develop higher-order thinking skills and use text-evidence
12 teacher anchor charts – simply project onto a whiteboard or print and display in the classroom
Printable student anchor charts (2 versions) for students to reference during close reading
An "At a Glance" calendar that lays out your lessons for the entire month
And more!
Student-Friendly Topics
And the best part is students love these passages! Some of the fun, engaging topics include: Halloween
football
Macy's Thanksgiving Day parade
candy canes
penguins
Mardi Gras
April Fool's Day
National Pet Day
scavenger hunts
The Fun Fiasco
fireworks
And so much more!
These are the types of things kids get excited to learn about. They'll happily dive into these seasonal reading passages to learn more about things that matter to them. And because they are invested in the topics, they're willing to work hard.
With over 60 passages to choose from, you'll definitely find topics your students are interested in. And when you incorporate close reading into your regular routine, students will become stronger readers.
FREE Reading Comprehension Passages
Want to check them out for yourself? These FREE reading comprehension passages will help your students practice standards-based reading skills with fun and engaging topics and activities. Best for grades 3-4.
Two weeks of rigorous close read activities
High-interest reading passages that kids love
Fiction and nonfiction texts
Complex reading comprehension questions
Standards based reading activities
Reading response writing tasks
Answer keys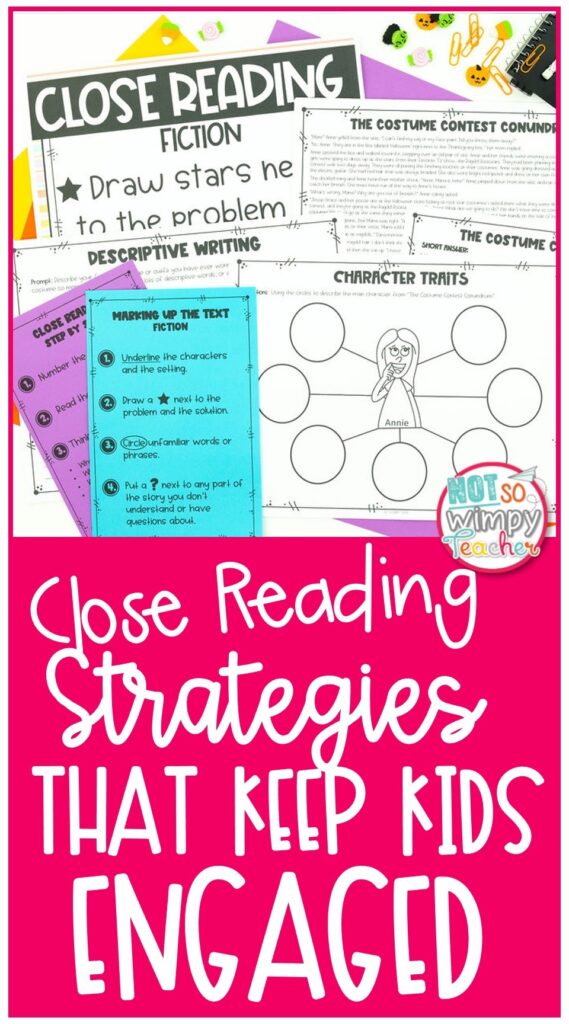 I hope these passages make teaching close reading a little bit easier for you and a whole lot more fun for your students!
Have a Not So Wimpy Day,