Testing is no fun, but test prep can be loads of fun! These math test prep activities are easy to prep and will have your students begging for more review time.
Math Test Prep Centers
Center rotations are a great way to review multiple skills and keep students engaged.
When testing season rolls around, I replace my usual centers with these test prep centers. The centers include ten different skills that students are almost guaranteed to see on the big test.
These activities are more fun than a worksheet. Students are using task cards, matching activities, color coding and sorting.
I love that the one recording book houses the recording sheets for all ten activities! Plus, the centers include student friendly direction cards. Students can work on these activities while I meet with guided math groups or intervention groups.
Trashketball
If your students love to throw stuff, they are going to go wild for this math test prep review activity!
Grab a stack of task cards or even worksheets from your math curriculum. You are also going to need a small trash can and a small ball.
Split your class into two teams and have the teams line up next to each other.
Read or display a math question for the first students in line for each team. The first person to get it right will receive 1 point for their team. Then they get to throw the ball. If they make it into the trash can, they get an additional 2 points for their team.
These two students go to the back of the line.
Keeping asking questions until every student has had a turn or time is up.
To keep the whole class engaged, have all students work on their white boards, even if it is not their turn.
Stinky Feet Review Activity
This math test prep activity is super simple to prep!
You will need a stack of task cards and a worksheet. Draw a huge foot on your white board. Grab some sticky notes. Write point values ON THE BACK of each sticky note. You will want some notes that are plus points and some that are negative points. (For example, you can have a note that says +5 and you can have a note that says -3.) Put the notes on top of the foot.
Split your class into two teams. Give each group a task card to work on. Every student should be doing the work. When they finish, they must check the answer with you. If it is correct, they get to grab a sticky note from the foot. The note tells them if their team will get points or if points will be subtracted from their team.
Once students complete one question, you can give them another if time permits. They will be very focused because answering more questions gives them the opportunity to earn more points for their team.
Why is it called Stinky Feet?
It stinks when they lose points!
Fraction Madness Test Prep
Testing season and March Madness tend to fall right about the same time of the year. Capitalize on the fun with some basketball themed fraction review activities!
This unit includes six fun activities that will get students practicing identifying fractions and comparing fractions. We know that fractions are going to show up on the big test!
Students will be doing things like shooting baskets, going on a scavenger hunt and sorting fractions. Every activity has that basketball theme!
Kahoot!
Have you ever done a Kahoot with your students? It's so fun and crazy simple to prep.
You will need some technology for this one. Students can work individually or in a group. They will need a computer or iPad to submit their answers.
You can use premade quizzes or custom create your own. I love the idea of creating a quiz using questions from your state's practice test!
You will display the Kahoot question and students will use their device to submit their answer.
You can have prizes for the winning team or just compete for fun. Kids love competitions and electronics, so this is a winner!
Escape Rooms
Third Grade Baseball Escape Room
A great way to keep your students engaged during test prep is to use an escape room. Our Baseball Escape Room 3rd Grade Math Test Prep reviews many essential math skills, using problems and puzzles to make the process so much fun students will feel like review is a day at the ballpark.
This no-prep resource is easy to use. It is fully digital and printable and includes everything you need for a fun and engaging review.
Your students have to race against time to track down star player Lucas Ramirez's lucky bat before the game ends. They will fly through the lessons, solving baseball problems about time, money, geometry, fractions, and more.
Fourth Grade Museum of Natural History Escape Room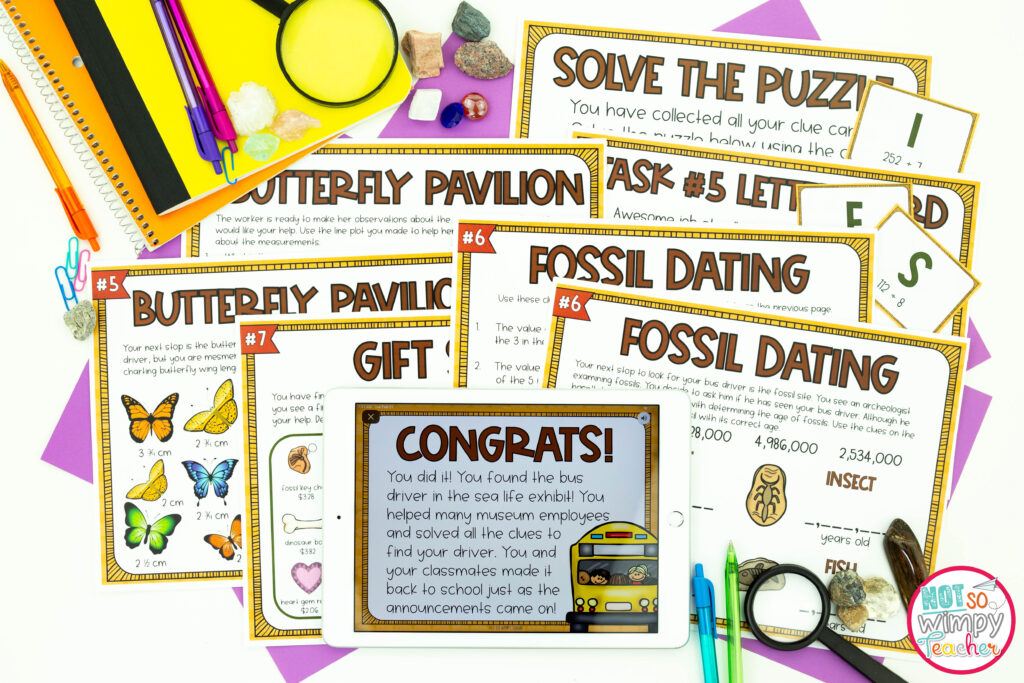 Our fourth grade escape room is just as easy to use. Simply print or teach, or opt for the digital version.
The fourth grade version sends your students on an exciting excursion through the Museum of Natural History. After a fun field trip your class is ready to go back to school, but bus driver is missing! Students must solve puzzles and complete math activities using standards-based math skills to uncover the clues leading to their location.
Students will work their way through 7 problems and puzzles practicing geometry, money, measurement, geometry, angles, interpreting data, line plots, place value, and more. They will also practice problem-solving strategies, teamwork, and communication skills as they try to decipher the clues to find the driver, hopefully in time for dismissal.
Learn more about the escape rooms here.
No one gets excited about taking standardized tests, but your students are going to cheer for all of these fun math test prep activities!
Have a Not So Wimpy day,
PS: I've also got fun ideas for reading test prep.