It's that time of the year. You're up to your eyeballs in test prep and your students' enthusiasm is waning.
Enough already, they're thinking. Please, no more workbooks or practice tests, they beg with tired little eyes. When you look out at those empty stares and bobbing heads you know you need to introduce a little excitement to the test prep routine.
Imagine their delight when you introduce one of these fun reading test prep activities that are so much more engaging than another bubble form.
Reading Test Prep Baseball Escape Room (3rd Grade)
This test prep activity is sure to win over your third graders. Instead of another boring passage or evidence-based essay, they get to enjoy a day at the ballpark.
The story starts with Nina and Ravi in the car on the way to Bisons Stadium before the championship game. Their dad, the general manager of the team, needs to get there early to make sure everything is set for the big game. But when they arrive at the stadium, they find they are locked out. And that's just the first problem in a series of mishaps that jeopardizes the team's chance of success.
You students will work their way through a series of six reading passages, answering questions and deciphering clues to help solve each problem and bring the team one step closer to victory. They'll be practicing essential reading skills that will have them swinging for the fences on test day, but they'll be having so much fun they won't even realize they are practicing.
Digital & Printable:
This escape room is fully digital and printable. It's the perfect, no-prep solution whether you are teaching online, in-person, or in a hybrid model. The resource comes with downloadable Google slides for use on Google Classroom with movable and fillable parts for students to complete right on the screen. A Google Form allows students to submit and self-check their work.
Don't have Google Classroom? No problem. I've also included a PowerPoint version that you can download and use with other learning management systems like Canvas, Schoology, or Teams.
If you are teaching in person and would rather use printed versions of the task cards, simply download and print the PDF. I like to laminate each page (or slip it in a sheet protector), so I can use them year after year. Simply give your students a dry-erase marker to complete the tasks. Then label each task and puzzle by number and slip it in a corresponding numbered envelope to keep everything organized. For tips on how to keep escape rooms easy, check out this post.
The Skills
This activity includes a number of the more challenging reading skills that your students are likely to see on standardized tests.
Context Clues
Character Traits
Point of View
Cause and Effect
Ask and Answer
Central Message
How to Use the Escape Room
You can use this escape room in the classroom or online.
The Google Slides and PowerPoint versions make it a breeze to assign this test prep activity to online learners. You can project the tasks on a shared screen and work through the problems together, or have students complete the tasks independently. You could even use breakout rooms to allow partners or small groups to work together.
If you are teaching in person, you can use the printable PDF to download clues and place them throughout your classroom. Students can complete the tasks individually or in small groups. You could even use this activity in small groups to help guide students who struggle with some of these skills.
If you have 1:1 devices in your classroom, the digital version is great for in-person use too. And each slide has an optional audio feature. This is a great feature for kids who need some reading support or have testing accommodations that allow tests to be read to them. Of course, if you want to better simulate the testing environment, you can also disable this feature.
We've also provided a video with detailed teacher instructions to make this resource even easier to use.
We know your kids love it when you shake up your regular review routine with this easy, effective, and fun baseball escape room. And you'll feel like an All-Star teacher.
Let us know if you have any questions! And go Bisons!
Reading Test Prep Centers
One way to make any lesson more fun is to use centers. And that's doubly true for review. Kids love working together in small groups. They benefit from moving throughout the room.
Centers are great for reading review because it's easier for students to focus on just one skill at a time. Since each center only takes twenty to thirty minutes, students stay motivated and work the entire time.
These test prep centers cover all the literature and informational text-based reading skills your students will see on state tests, including:
Main Idea (informational text)
Central Message (literature)
Point of View (informational text)
Cause and Effect (informational text)
Context Clues/Drawing Conclusions (literature and informational text)
Character Traits (literature)
These centers come with short passages and question sheets that requires short response and the dreaded text-dependent answers.
There are lots of ways to use centers in the classroom. My favorite way is to place the centers around the room and have students work in small groups to complete each center. You can also use them during your regular guided reading time, subbing these activities for your normal reading centers. And you can use these centers with your guided reading groups too, for students who need a little bit of extra support.
Stand-Up
This is simple game that can be used with all content areas. It works especially well for reading review.
Divide the class into four groups and label each group A, B, C, D. Show the class a multiple-choice question and have each team work together to figure out the correct answer. You can use a timer to make the game more fast-paced and exciting.
When time is up, ask the correct group to stand up. If the answer is A, everyone in group A should stand up. If everyone stands, the team gets a point. But if someone stays seated, the team does not get a point. If anyone in a different group stands up, their team loses a point.
You might think it would be easy to get everyone in the group on the same page, but kids are easily distracted. And stubborn. If they don't think the team's answer is correct, they often refuse to go along with the answer. This game is always good for a few laughs.
If you need to maintain social distance, or just want to make the review more challenging, assign students to a team but have them work independently to solve the answers. The whole team still has to answer correctly to earn a point. This definitely makes the game more difficult.
For more fun ways to make reading review fun, check out this post.
Happy reviewing!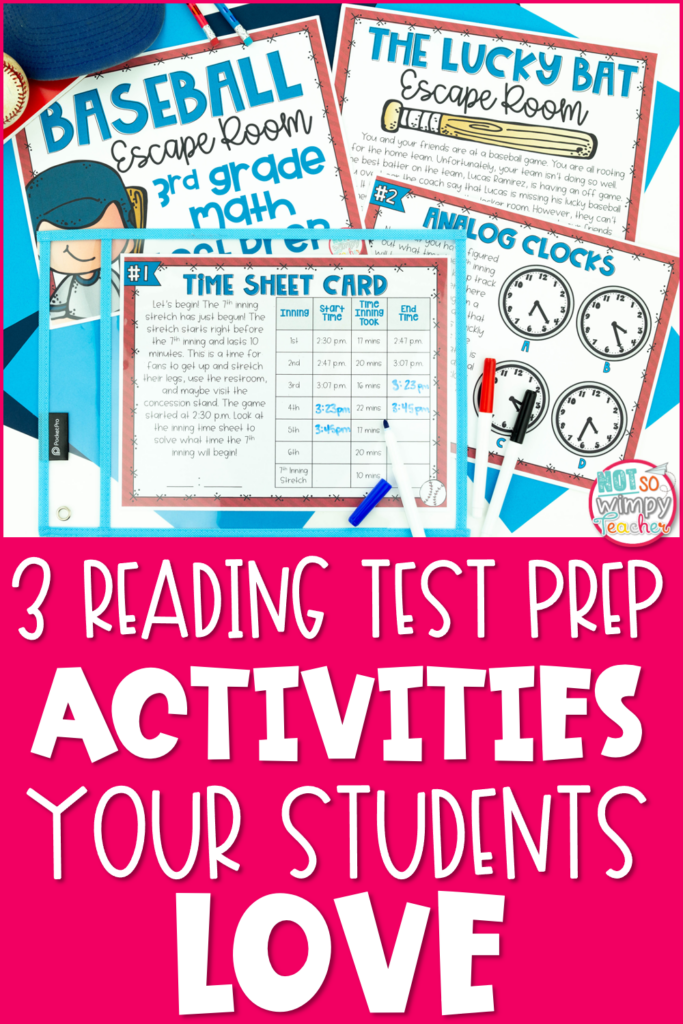 Have a Not So Wimpy Day!