Earth Day is on April 22. Over 1 billion people celebrate Earth Day each year. This holiday was designed to raise awareness about the importance of protecting our planet and keeping it a safe and healthy place to live.
It's fun to celebrate Earth Day in the classroom too. Students love learning about our amazing planet (and taking a break from test prep and end-of-the-year review). If you are looking for a last-minute activity to share with your students this Earth Day, you are in luck.
I've got five easy and [mostly] FREE ideas to make Earth Day special in your classroom, including a brand new FREE Earth Day resource that we created just for you!
FREE Earth Day Resource
We have created a new Earth Day resource! This resource has 5 different activities your students will love.
Reading Response Passage
The Earth Day resource starts with a nonfiction passage about the history of Earth Day. Read it together as a whole class or let students read it individually or with a partner. There's lots of new vocabulary to review, so be sure to leave some time for class discussion.
After students read the passage, they can complete the response questions. These questions even sneak in a little test prep by requiring text-dependent responses.
Earth Day Vocabulary
After you've defined new terms together, a word search is a great way to practice Earth Day vocabulary words. It's also a fun break for your students.
Opinion Response Essay
In the Opinion Response Essay activity, students read an informational passage called "Reduce, Reuse, Recycle," about different ways to reduce waste and keep our planet clean. After they learn about these three options, they are asked to state an opinion about which is the most important and why. Students are also asked to consider which is the easiest and hardest to do.
Trash to Treasure
The next activity is an extension of reusing items. Trash to Treasure challenges students to select a piece of trash that can be turned into something new. As a class, you can brainstorm ideas of how common trash objects, like water bottles, cereal boxes, cardboard, cans, and paper towel tubes, can be repurposed into a craft project. Students select one piece of trash to repurpose and draw and write about their new creation.
If you have more time, you can turn this activity into a complete STEM project. Instead of just imagining how to reuse trash, why not have everyone bring in some trash and allow your students to create something new? Kids can work individually or in teams. You could even set up categories and give out awards: most creative, most useful, most unusual, prettiest, largest, etc.
Earth Day Riddles
The final activity utilizes math skills to solve two Earth Day riddles. Students have the opportunity to practice addition, subtraction, multiplication, and division to crack the code and solve the riddles
How to Use This Resource
There are many ways to use this fully digital and printable resource in the classroom. You can spend a whole day celebrating Mother Earth and work through all the activities. Or make the celebration last longer and use one each day of the week.
You can complete the activities as a whole class, or assign students to work with partners or in small groups. If your classroom has 1:1 devices you can even have students use the digital version in class. Still teaching online? No problem. Just assign the digital version to your students at home.
We've even included an audio option, which makes it super easy to differentiate.
Earth Day Scavenger Hunt
Kids love to go outside and hunt for things. Why not create an Earth Day scavenger with a bunch of items you might find in nature. You can include things like pinecones, leaves, sticks, robins, rocks, moss, squirrels, etc. You can also ask kids to think of other things they might see on a nature walk that don't belong. Things like water bottles, broken toys, fast food wrappers, and more.
After you make your list, give students a clipboard and a scavenger hunt sheet and set out on a nature walk. You don't have to go hiking in the woods. Simply walking around your campus is fine.
Kids can check off each item as they find it. Or you can leave room for them to draw a quick picture of the item they find. Be sure to tell them not to touch or pick up items, especially living things. Explain that one way to take care of the Earth is to not disrupt nature.
Write About the Earth
Why not celebrate Earth Day and National Poetry Month at the same time? Your students can write poems about the Earth. Try a haiku about nature or an acrostic poem using the words Earth Day.
You can also use our writing prompts to get students thinking about a time they helped the Earth. You can grab a copy of our FREE writing prompts here.
Make Natural Earth Day Art
Another great way to get students to connect with the Earth is to make natural art projects. The options are endless…
Collect rocks, and paint them with messages about Earth Day or kindness
Collect fallen leaves and sticks on the ground and create collages
Place leaves on construction paper and set them in a sunny window. Let the sun fade the paper and make leaf collages
Visit National Parks Virtually
You may not be able to take your students on a field trip to the Grand Canyon or Glacier Bay, but you can still share the majesty of the national parks with them. One benefit to come out of a year of social distancing is that many national parks now offer virtual visits. And both teachers and students have discovered how much we can learn about the world from the comfort of our homes or classrooms. Why not give your students an inside look at Hawaii's volcanoes or let them witness Old Faithful Geyser's eruption in Yellowstone? Click here to learn more.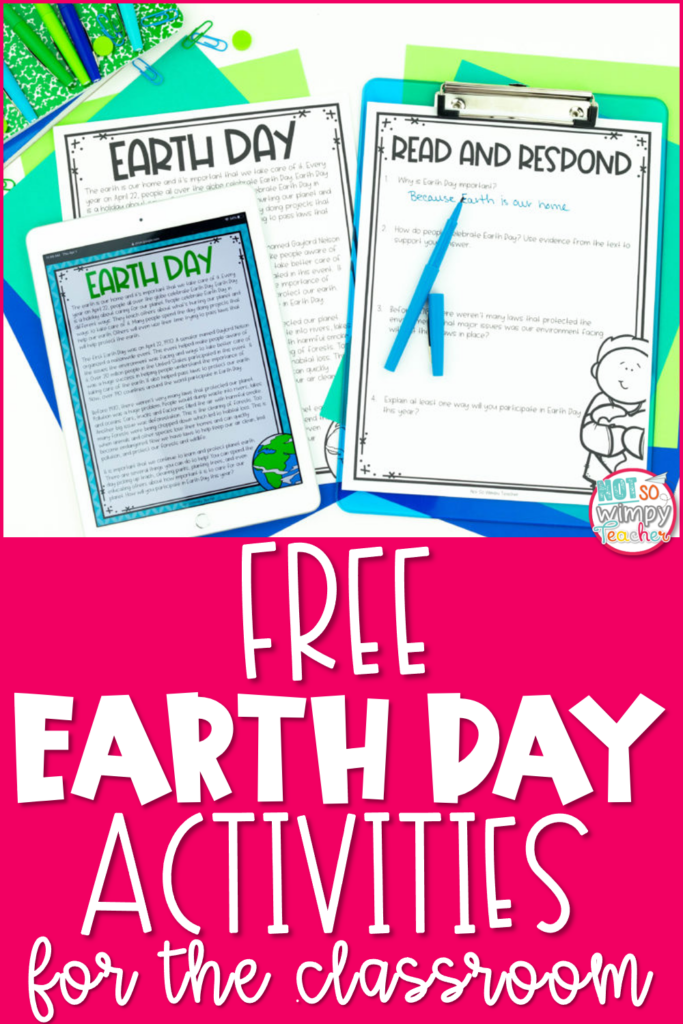 Have a Not So Wimpy Day,