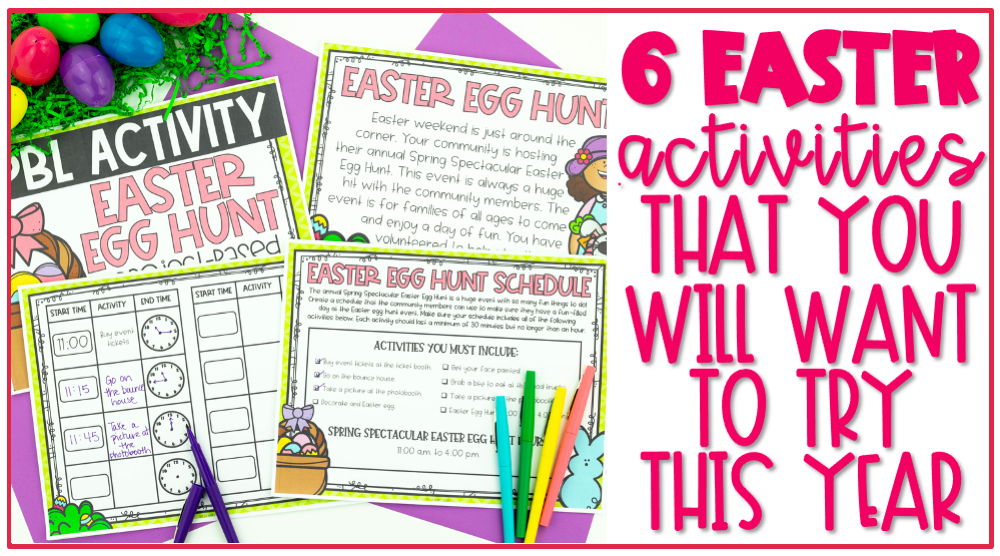 Here comes Peter Cottontail, hoppin' down the bunny trail. And your students are probably feeling dizzy with spring fever. They are likely consumed with thoughts of candy and Easter baskets, or at the very least a few days off to play outside. These fun Easter activities will keep them busy and learning.
I've rounded up six easy Easter activities that are perfect for spring.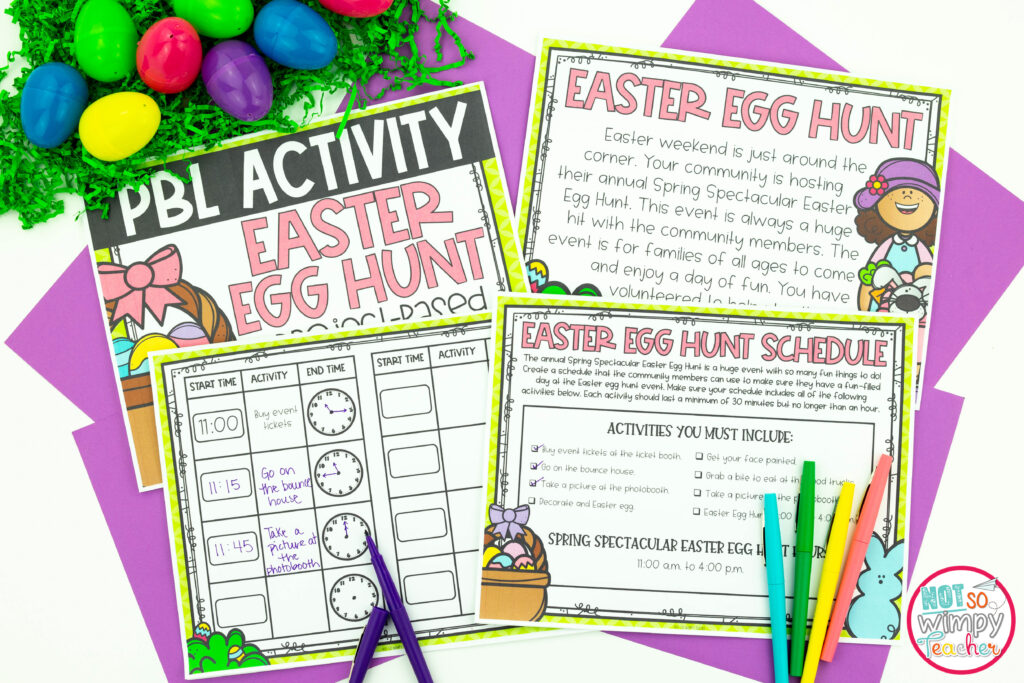 Easter Egg Hunt PBL
This fun project-based learning activity will make spring time eggs-tra special in your classroom as students hop into the fun and help organize a community Easter Egg hunt. Students will use essential standards-based math skills to solve real-world based problems.
The project
Students will help plan and prepare the annual spring-spectacular Easter Egg hunt. They'll be planning event schedules, mapping out the egg hunt, selling tickets, and filling eggs to help get ready for this eggs-cellent Easter extravaganza.
This activity includes six different easter activities.
The math skills
Students will use a variety of standards-based math skills, including:
elapsed time
geometry
adding
subtracting
money
area
graphing and data
problem solving
They also practice communication skills as they work cooperatively with a team to make the event a success.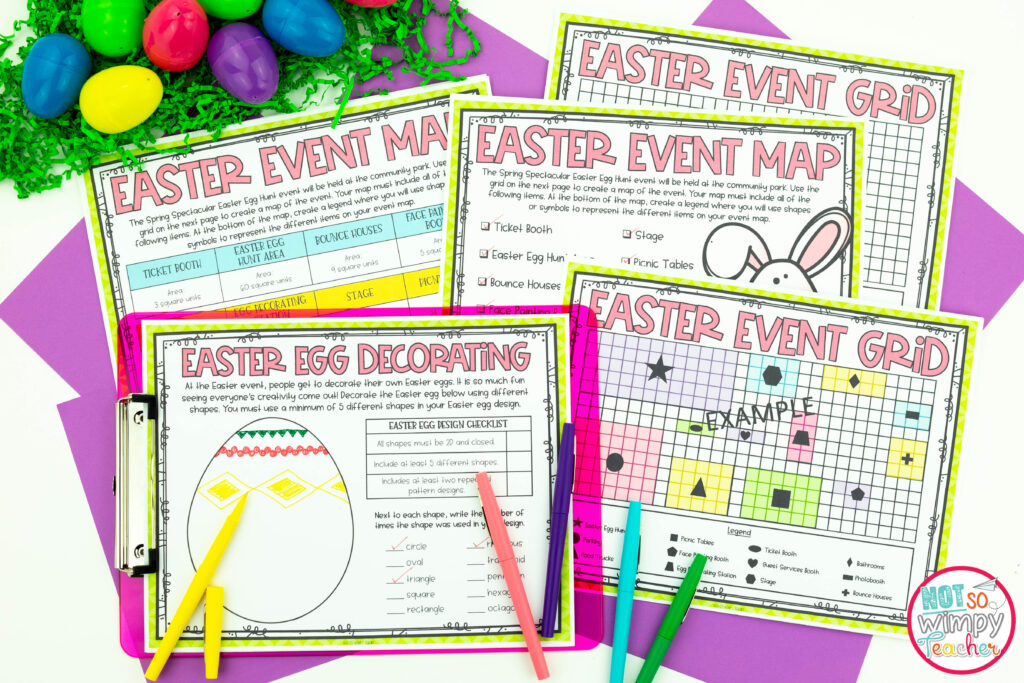 Differentiation
This activity is designed for grades 2-5. It includes two different versions – one for grades 2 and 3 and one for grades 4 and 5. Simply pick the activities that are best for your students.
You can also complete these Easter activities in small groups to provide additional support to students.
How to use it in the classroom:
This no-prep Easter-egg themed PBL is simple to use. All you have to do is print and teach.
This PBL activity can be used all week leading up to Easter. Or, it makes a great addition to your class Easter party. And you won't have to worry about a melted chocolate bunny mess or post-jelly bean sugar crash to worry about.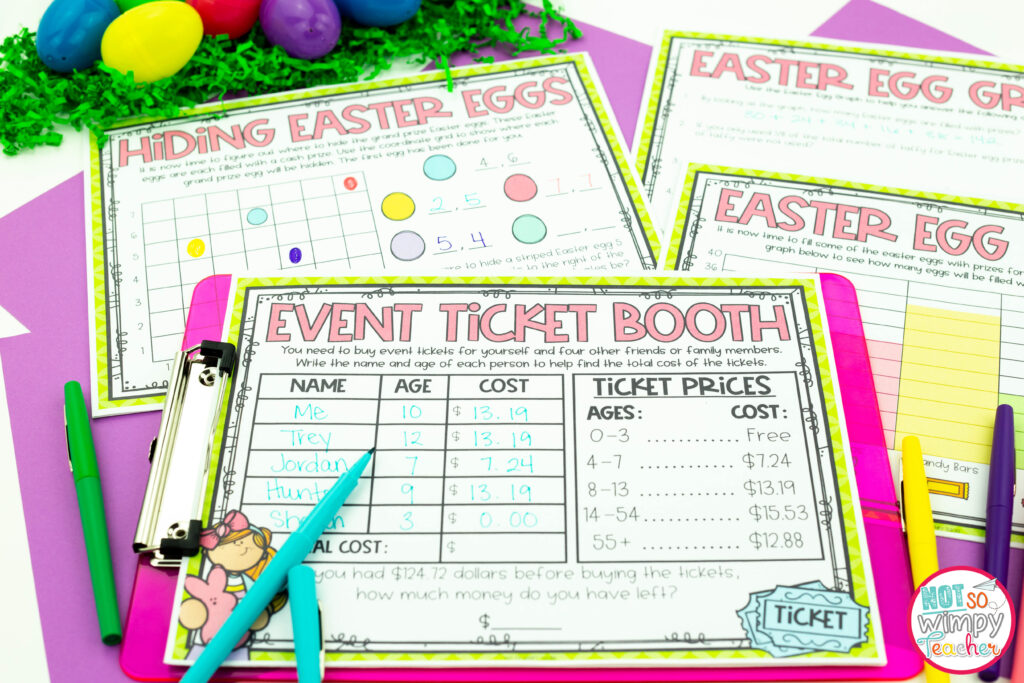 This Easter PBL is also great for test prep and review. Want more test prep ideas? Click HERE.
Jelly Bean Math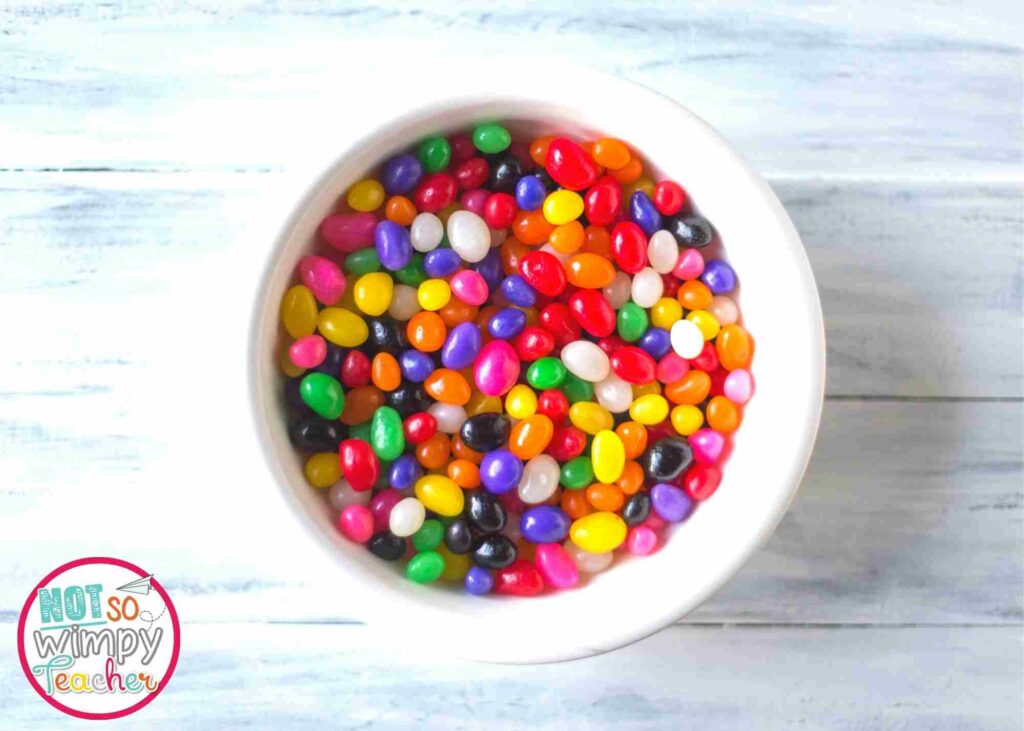 These multicolored candies are perfect for a variety of math activities for grades 2-5. All you need is a baggie filled with jelly beans for each student and some simple directions. Students can:
Sort jelly beans into colors
Graph jelly beans on a bar graph
Do greater than/less than activities
Make line plots
Find the total number of jelly beans
Calculate the mean, median, and mode
Make up word problems
Calculate fractions
The possibilities are infinite!
Grow Carrots
Did you know that carrots are easy to grow?
Your students will love getting their hands dirty with this fun science activity.
Read the book The Carrot Seed or watch the read aloud.
Older grades might want to watch the YouTube video How to Grow Carrots, instead. Or read the books Harlem Grown, by Tony Hillery, or The Curious Garden, by Peter Brown. Or better yet, read both and do a compare and contrast activity.
After you talk about how plants grow, let your students experience it for themselves. Kids love watching things grow!
Materials:
Carrot seeds
Soil
Small containers
Water
Sow the carrot seeds in the container and place them in a sunny window.
You can predict how long it will take the seeds to sprout. Be sure to check on them every day. And don't forget to water them.
Easter Read Alouds
Students in lower grades will love Jan' Brett's The Easter Egg. Watch it HERE. This beautifully illustrated book tells a sweet story about spring and a little bunny just trying to do his best.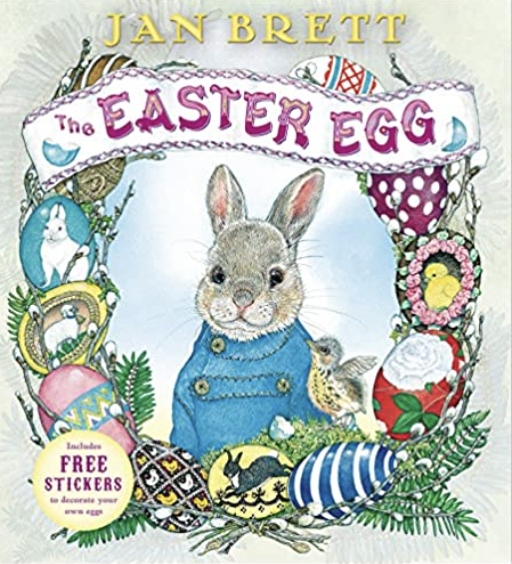 Older students will enjoy Rechenka's Eggs, by Patricia Polaccco. Watch it HERE. This sweet story about caring and friendship introduces kids to eggs painted in the beautiful Ukranian tradition.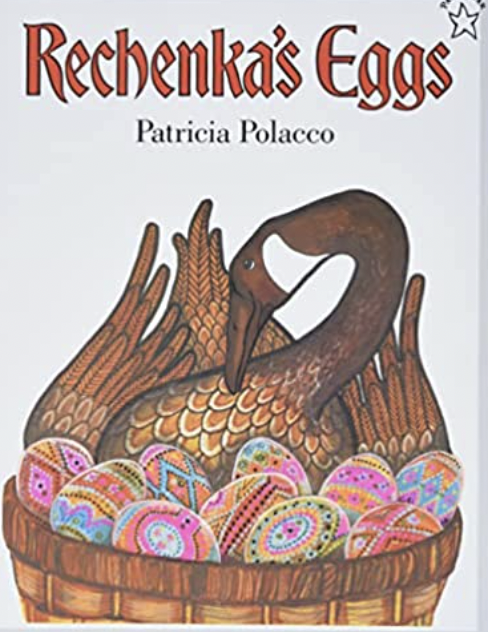 Easter Egg Activities
Easter Egg Art
If you are feeling adventurous and have some adult volunteers, you can dye Easter eggs. Not all kids get to experience this tradition at home.
Or, you could keep things simple and make construction paper Easter eggs. A fun and easy idea is to make water color resist eggs. Give your students a white egg and a white crayon. Have them use the crayon to draw a design. Of course, they'll have to focus because they won't really be able to see what they've drawn. Then get out the watercolors. Students will paint over their crayon marks and the designs will come to life. I love watching kids' faces when they see their creation appear.
Easter Egg Math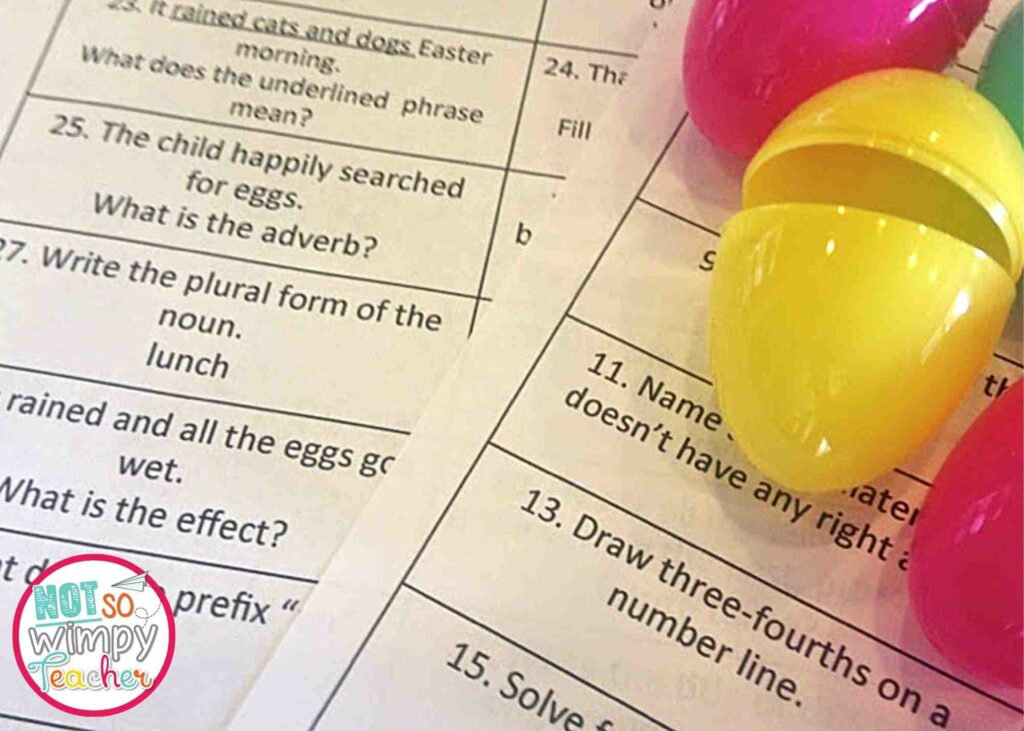 Plastic Easter eggs offer a basket full of learning opportunities. Kids will love these hands-on math activities:
Put different amounts of money in plastic eggs and have students count it
Fill a giant tub with plastic eggs and practice estimation
Write math facts on eggs – addends or factors on the big part and sum or product on the small part – and have kids match them up
Place fractions on each half of the egg and have students find equivalent fractions
Have an Easter egg hunt, but fill the eggs with mini task cards. Students must complete the task before finding the next egg.
Build STEM egg towers – It's a simple activity. Or is it? See who can build the tallest tower out of plastic egg pieces.
Easter Egg Science
Your students would also love some egg science. Ask your students what they think will happen to a raw egg when it is submerged in vinegar for three days.
Record their predictions. Then make time to observe the eggs each day and have students document any changes they see.
Here's what you'll need:
Raw egg
Glass or jar (with enough room to submerge an egg)
White vinegar
Plate (for the third day)
Procedure:
Place the raw egg in a glass or jar and completely submerge the egg in white vinegar.
Leave the egg in the container for three days. After the third day, the egg will become translucent.
On the third day, carefully remove the egg from the container and rinse it under water. While rinsing, gently rub the outside of the egg to remove the white film and reveal a rubbery, translucent egg.
Hold the egg a couple of inches over a plate. Drop the egg, and watch it bounce!
Ask your students: What will happen if we lift the egg even higher in the air and let it drop? (The egg will go splat!)
Check out this video demonstration. You could even have older students research the science behind this egg-cellent experiment.
FREE Writing Prompts for Spring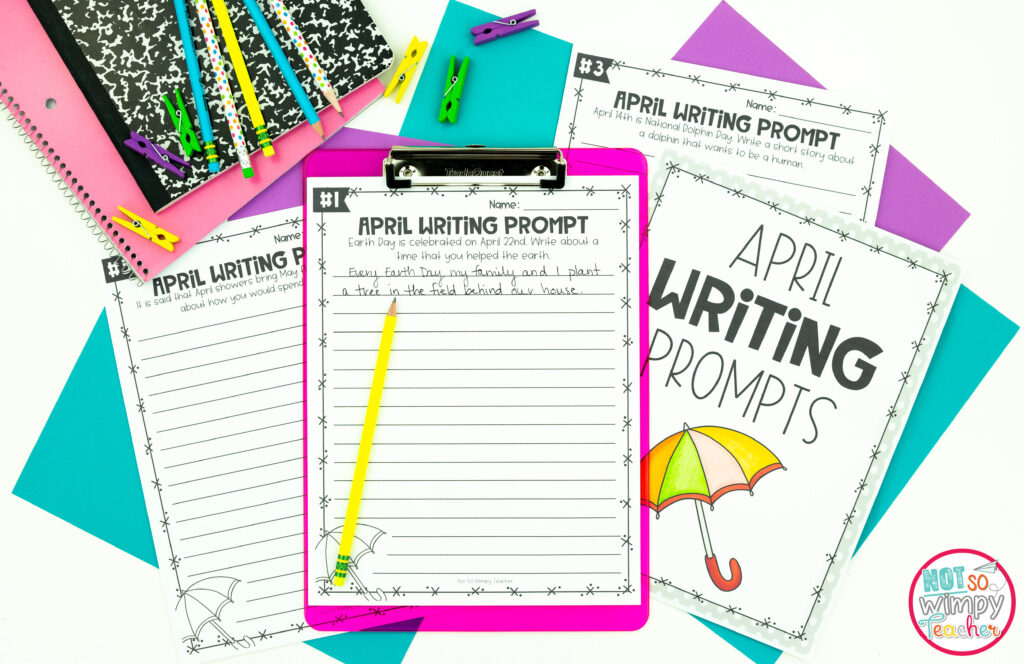 Finally, our seasonal writing prompts are a great way to celebrate spring. This FREE resource comes with five writing prompts for each month of the year. And the April prompts will put a spring in your step. April Fool's Day, National Dolphin Day, and April showers are just some of the writing topics.
I've also included blank, editable pages so you can add your own prompts for each month. Maybe have your students write about their favorite candy, a springtime tradition, or "The craziest Easter basket . . ."
There are lots of ways to use these prompts in the classroom. Use them for morning work or fast finishers. Place them in centers. Complete one during your class Easter event. Or set aside time to work on them during the month and let students share their writing at your Easter party.
I hope that gives you some ideas for Easter activities that are sure to put a spring in your students' step.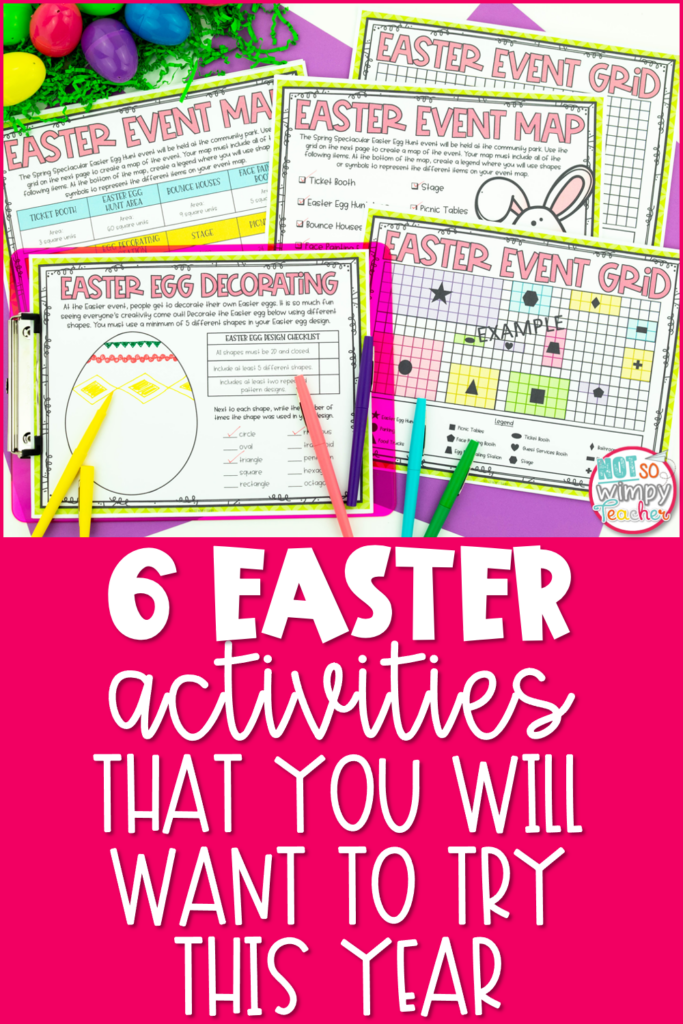 Have a Not So Wimpy Day,