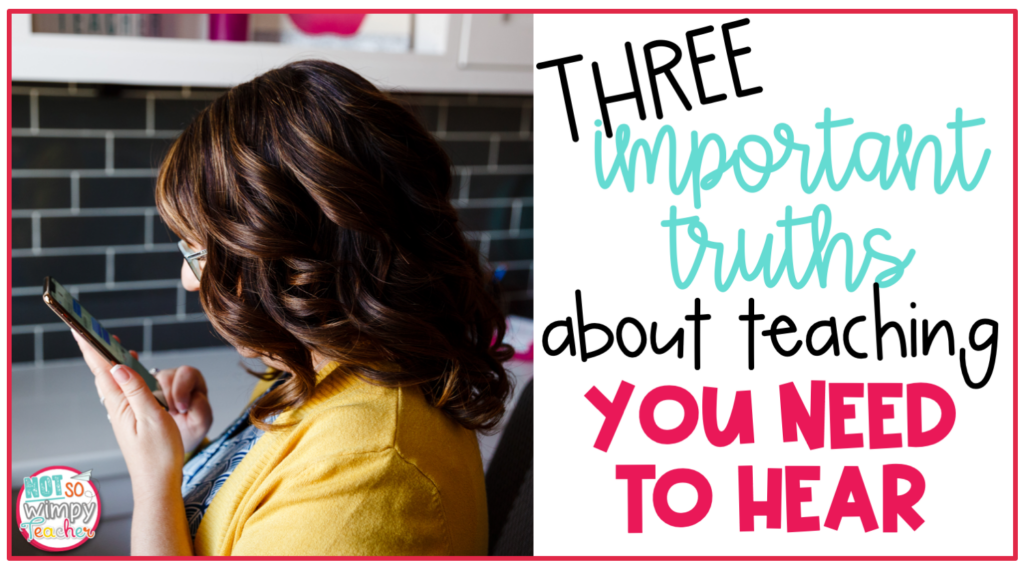 Happy Labor Day! I know Labor Day wasn't designed exclusively for teachers, but it sure feels like it could have been. Teaching is definitely a labor of love. #amiright? Teaching has always required a little "extra" something, and in recent years, it's required a heck of a lot more than that. You teachers are one amazing group! So, whether you are already back in the classroom or heading back tomorrow, I wanted to take a minute to remind you of 3 important truths about teaching.
Hopefully, these little reminders will help get your new school year off on the right foot.
The good, the bad, and the ugly
Chances are you got into teaching because of the kids. Because you love seeing those aha moments and watching their little faces light up when something finally makes sense. Because you want to make a difference in the world and help shape future generations. Or maybe because you prefer spending your day with eight year olds rather than adults.
Or maybe you chose teaching because you enjoy summers off. Ba, ha, ha, ha. ha!
JK! I know you don't have summers off. You spent every day with me in July at the Not So Wimpy Teacher Experience learning new strategies for teaching writing and math, getting tips on how to differentiate spelling, setting up a grammar routine, batching lesson plans, and so much more. (Missed one of the free workshops? No worries. You can find them all on YouTube.
You can find a playlist of all the trainings here.
But teaching as a profession requires a lot more than actually teaching students. You've got lesson planning and grading, IEP meetings and reports, data walls and assessments, benchmarks and standards, committee meetings and parent communication . . . I certainly don't have to tell you all the things that teaching requires.
I know that it can be overwhelming. Exhausting even. At times, you might doubt yourself and worry about whether you are a good teacher. Whether you're even cut out for teaching.
But, I don't doubt you. I know you're a good teacher. I know the profession is better because you are in it. I know your students are lucky to have you. So the next time you are feeling defeated, keep these 3 important truths about teaching in mind.
Truth #1: Relationships are at the heart of teaching.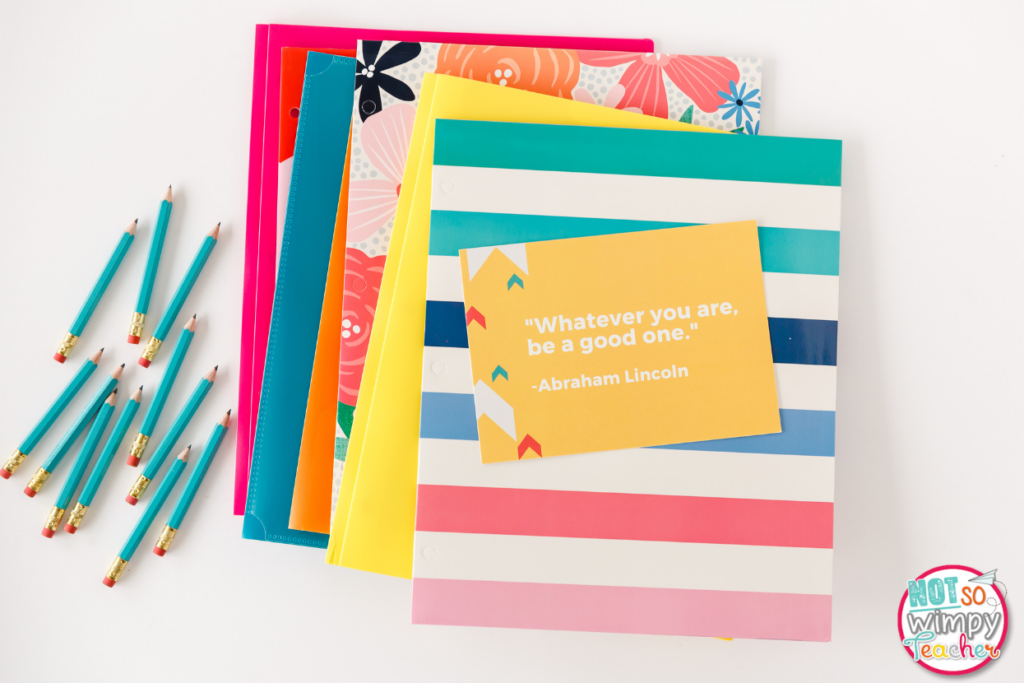 Have you seen this quote?
Relationships before rigor

Grace before grades

Patience before programs

Love before lessons

– Brad Johnson
It's all over my social media feed during back-to-school season. But there's a reason this quote resonates with so many teachers. Because it's true.
That's why my first important truth is always put relationships first.
Before kids can learn from you, they must know, like, and trust you. Before they will listen, they must respect you. And, respect, is a two way street. When you treat students with respect, you are much more likely to be rewarded with respect in return.
Let your kids get to know the real you.
It's important to spend time on relationship building with your students. Laugh, have fun, be silly. Be yourself. Let kids get to know you. What are your favorite hobbies? What is your favorite soft drink? Are you an early bird or a night owl?
Students love knowing these little details about their teacher.
Get to know your students.
Conversely, get to know your students. Not just their favorite subjects or whether they need extra help in math. But make it a point to learn their favorite songs, cereals, and sports teams. Show kids that you are interested in their families, friends, and hobbies.
Have a student really into anime? Let her teach you all about it. Does someone love fencing? It's a great opportunity to learn more about a sport you probably don't know much about.
Explicitly teach expectations.
Make time to explicitly teach kids your expectations. And give them lots of time to practice procedures. Try having a class discussion about why these routines are so important in a community of learners. When kids know what's expected of them and why, they strive to meet those expectations.
Clear policies, procedures, and consequences make your classroom a safe space for all.
I promise you, the time you take to build relationships is time well-spent. When your kids know and like you, they want to learn from you.
Truth #2: Pursue progress, not perfection.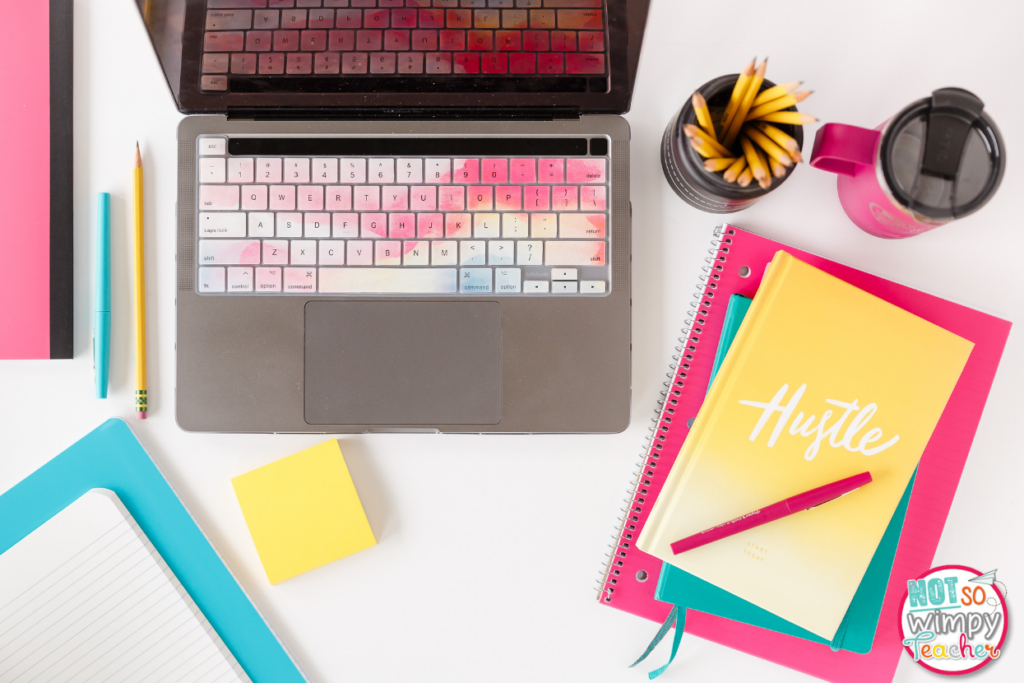 This next important truth is a hard one for lots of teachers to accept.
Raise your hand if you were a perfectionist in school. It's no surprise that many (but definitely not all) teachers were good students. You probably turned in every assignment on time and got straight As. Maybe you eve liked homework (gasp!).
But the truth is, not all kids are like that. You can't expect all your students to master everything you teach. Some students might do great in reading but struggle in math. Some might love numbers, but hate spelling. And some might struggle across the board.
That's okay. It's normal. It's not your fault.
The goal of any school year should be progress. You want your students to learn. But learning doesn't equal mastery.
Education is a long journey.
Remember, the educational journey is long. What you teach in third grade will be repeated in fourth grade and fifth grade and all the way through high school. Your students will get lots of opportunities to practice text-dependent analysis, fractions, and deciphering the central message. None of these topics are one and done.
Try to keep this in mind, especially when you are introducing a new skill. For instance, when you first introduce division or decimals, you will have students who just don't get it right away. But focus on the the parts they do understand and celebrate those. There will be plenty of time for them to master these skills in the future.
Celebrate baby steps.
When you focus on progress and make it a point to celebrate how much students have learned (instead of worrying about all the things they haven't learned yet), students will develop a love of learning. They will begin to develop confidence in their ability to learn and cultivate a growth mindset. They will be willing to work hard, because they know their efforts will be recognized and rewarded.
Perfection is not the goal. What you are looking for is progress. And I promise you, every child in your classroom will grow this year. Celebrate that growth!
Truth #3: Your students' achievement does not define your success.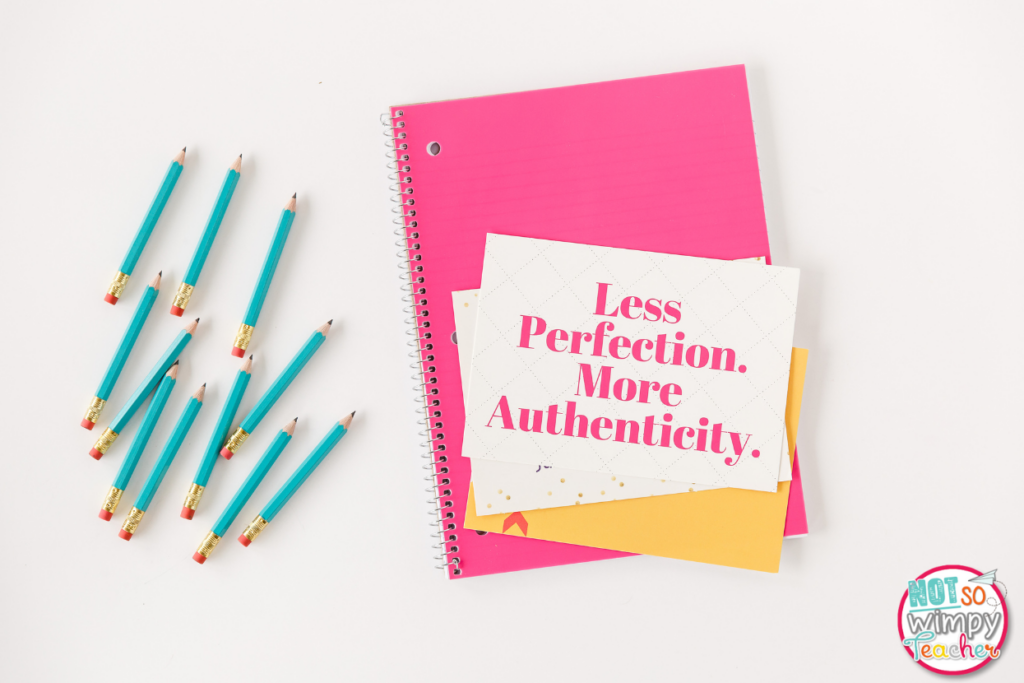 Okay, here's the last important truth about teaching. Your success as a teacher has nothing to do with your students' test scores.
Now, I know many of you are hearing another message from administrators, lawmakers and parents (and other people who have no idea what actually happens in an elementary school classroom). But the truth is, you can't control student achievement.
Even if you craft the most perfectly engaging, student-friendly lessons based on the standards and provide effective mini lessons, authentic practice opportunities, and meaningful feedback, some kids are going to bomb the test. That's just the way it is.
You can't control students outcomes.
There are many reasons for this. It could be because they weren't developmentally ready to master the skill yet. Or because they are bad test takers. Or because they weren't feeling well that one day–maybe they didn't sleep well, had an upset tummy, or had a fight with their best friend on the school bus.
Or maybe they were hungry because their mom doesn't get paid for three more days and all they have to eat is cereal. Or maybe they just didn't try their best. Or they just don't care about high stakes testing.
There are a million reasons, despite your best efforts (and I know you are giving your best efforts), that kids might not meet the benchmarks. It also is worth mentioning that these benchmarks are arbitrarily established. And often by people who've never worked with kids.
Success is personal.
But that does not mean that you are not a successful teacher. Success, my friend, is personal. You get to define success in your profession however you choose.
Your principal doesn't control your success. Test scores don't control your success. The teacher down the hall doesn't control your success. (And no, you don't have to do room transformations every Friday or make paper mache solar systems to be a good teacher, even if other teachers in your building are doing such things).
You, and only you, get to define what success as a teacher means for you. Want some help crafting a personal definition of success? Check out this post for more information.
The Most Important Truth
If you keep these 3 important truths about teaching in mind, I can almost guarantee you will have an easier and more enjoyable school year. I know it's not possible to eliminate all the stress that goes along with teaching. And there are bound to be "oh-no" moments when you doubt yourself.
But the most important truth about teaching is one I know beyond a shadow of a doubt. YOU ARE A GOOD TEACHER. Right now. Exactly as you are. And you are going to have a great year!
Thanks for sharing your talents with our children!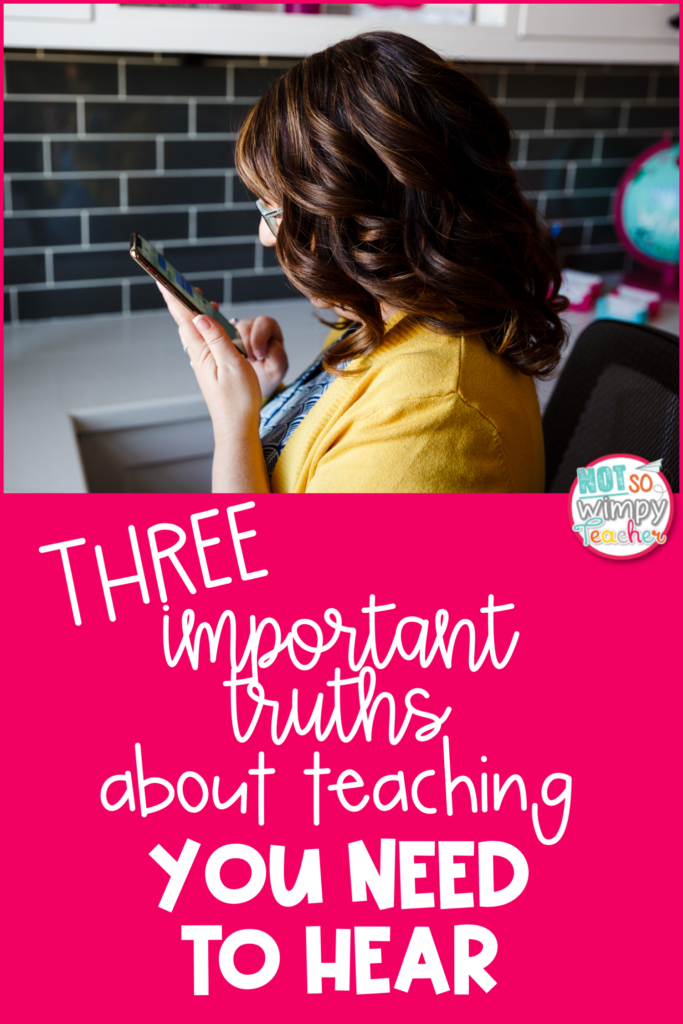 Have a Not So Wimpy Day,