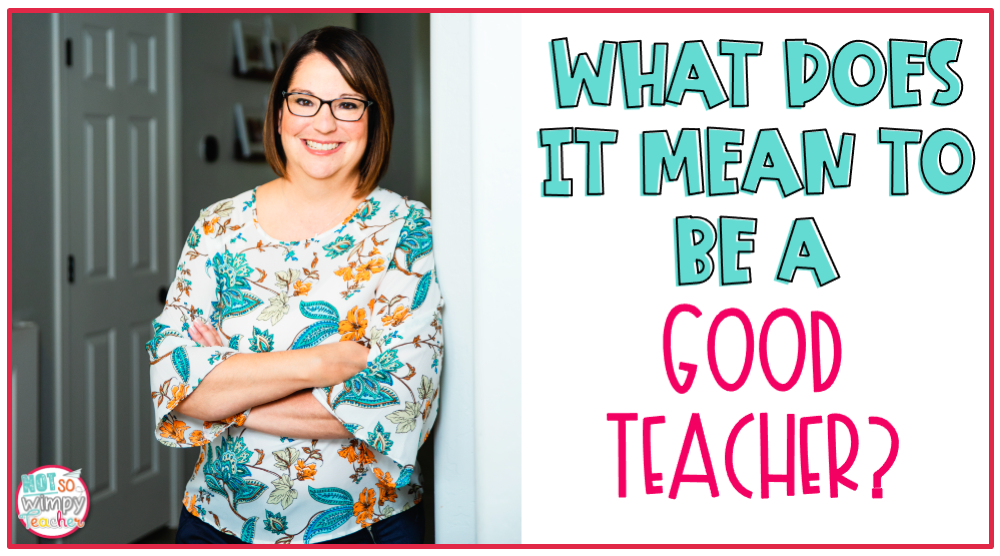 For the longest time, I believed three myths about being a good teacher. I started to believe these myths from watching other teachers in my school and reading Pinterest-worthy posts on social media. Maybe you've also accepted at least one of these myths at some point.
Myth 1: Good teachers work long hours.
They come in early, and they stay late. They bring home a huge bag of papers every weekend.
Myth 2: Good teachers are always doing all of the things.
They are doing massive room transformations, elaborate escape rooms, and volunteering for every committee on campus.
Myth 3: Good teachers have students with high test scores.
Every student passes every test, regardless of where they started at the beginning of the year.
My definition of success was based on these three myths. And after working with hundreds of thousands of teachers, I've learned that many teachers determine their value based on these myths.
These myths don't define a "good teacher"
The definition of success that many of us aspire to doesn't work and is just plain wrong. Being a successful teacher is not based on how many hours you work, Pinterest-worthy classroom decor, or standardized test scores. After all, if working all the time, being a near-professional crafter, and having my entire class ace every test is what it means to be a good teacher, I am destined to fail. I can't juggle all these things and still be a sane person, a good mom, an attentive wife, and a go-to friend. And neither can you.
Success is personal. And that means the definition of success must also be personal. Every teacher has to decide on their own definition of success. 
The reality is that we have been defining "good teacher" wrong all of this time. Over the years, I tried and tried to come up with a more accurate definition, but I kept hitting a roadblock. There wasn't one definition that seemed to hold true for every teacher out there. Here's why: Success is personal. And that means the definition of success must also be personal. Every teacher has to decide on their own definition of success.
Isn't that great news? You get to decide what it means to be a good teacher!
Writing your own definition of a "good teacher"
So let's start by creating the most meaningful non-foo foo definition that we possibly can.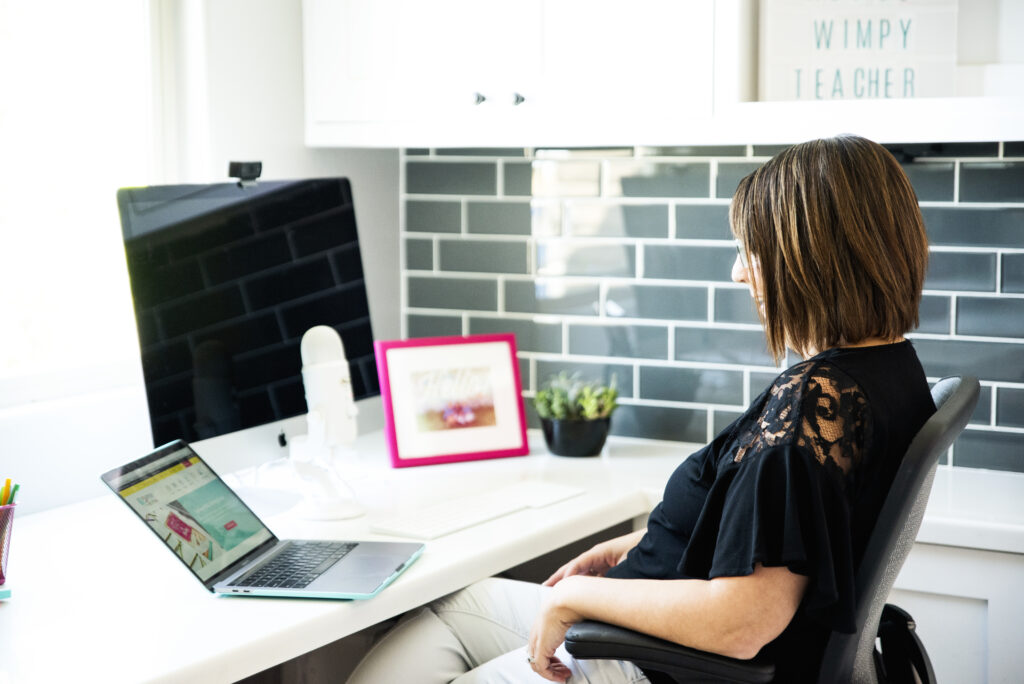 Step One: Write one word or phrase to describe the kind of teacher you want to be.
When you were in college and dreaming about the teacher you would one day be, what did that look like?
Or, when you are excitedly planning to go back to school (hopefully after having a restful summer), what kind of a teacher do you dream about being?
The good news is that this does not have to be the kind of teacher you are at this moment. And, you don't have to know right now how to be this teacher. So dream big! The catch is that you can only choose one word or phrase. We don't want our definition of success to be any more complex than it needs to be.
I've included a list of possibilities just in case you have trouble getting started. This is NOT a comprehensive list. Every teacher will have a very different definition of success, and it's so important that you pick the words that light YOU up. Don't choose the phrase you think your principal would want you to select. This is all about you.
Patient
Innovative
Creative
Inclusive
Engaging
Organized
Positive
Happy
Life-changing
Inspiring
Relational
Relaxed
Effective
Efficient
Intentional
I could go on and on because there are so many incredible words that might describe the kind of teacher you want to be. Don't overthink it. Go with the word that stands out to you at this very moment. You are not marrying this word. I give you permission to change it later if you need to.
Step Two: Write one word or phrase to describe the results you want to achieve in the classroom.
This one is a little harder, right? Later, when you look back on this school year, what is one thing you want to be able to say you achieved in the classroom?
What about when you retire, and you are looking back on your career?
What is one thing that you want to confidently say that you accomplished?
You will do a million things as a teacher. It would be so easy to create a laundry list of things you want to achieve. But you only get to pick one. This means that you have to ask yourself what achievement on the list is most important.
Here are some ideas in case you are stuck. Do not feel like you have to pick something from my list. My feelings won't be hurt if you go rogue and create a phrase of your own.
Instilling a love for learning
Developing a student's growth mindset
Fostering student independence
Inspiring students to be risk-takers
Generating student confidence
Creating a student-led classroom
Providing a safe and inclusive environment to learn
Encouraging student curiosity
Step Three: How many hours do you want to work per week?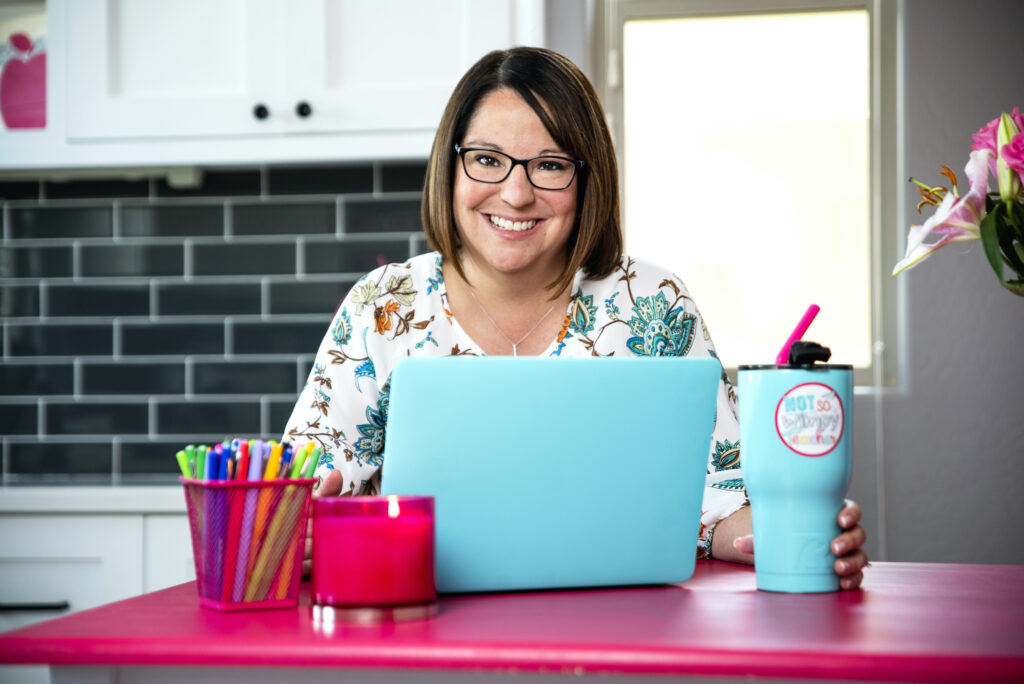 This is where it gets really fun! So few people ask themselves this question. We tell ourselves that it isn't up to us. We have to work as many hours as it takes to do the job. Wrong! You will fill as many hours as you give yourself to work, and it will never seem like enough. There will always be something else on the list that you will feel guilty about not completing.
If you have ten hours to work in a day, you will fill all ten hours. If you only have eight hours to work in a day, you will likely find that you can complete the same amount of work.
I want to come back to the question: How many hours do you WANT to work? You don't have to have a plan for how you will fit everything into these hours yet. Heck, you don't even have to believe that it is possible. For now, I will believe enough in the possibility for both of us. You just have to want it.
Here is a good way to come up with this number:
How many hours are you contracted to work? (Make sure to look this up because you have been working such long hours that it's likely you have forgotten the actual requirement.)
How many additional hours do you want to work each day in the classroom or at home? (The keyword here is "want.")
Step Four: What is one thing you would do with the time you are not working?
When you have achieved success and are working the number of hours you want to be working, what will you do with that extra time?
Start dreaming! Dump all of your ideas on a piece of paper or directly in your notebook. I would try to be specific. Instead of "spend time with my family," you might write, "go on more family bike rides." By choosing what you want to spend your extra time doing, you are more likely to look for these opportunities all week. Over time, the things you do outside of school will motivate you to make the most of your time at school. Knowing exactly what you want to do will make it easier to know when you have achieved success.
When you have a good solid list, circle the one activity you want the most. That's what we will start with.
You might quickly fill the page with things you would like to do with your new free time. But you might be like me. I couldn't think of anything! I realized that I had gone so long without time that I no longer had hobbies or things that I looked forward to doing in my personal time. It was a scary revelation. Don't fret if you are in the same predicament. It took me longer than I expected to complete this step. I spent a few days thinking up my list. I asked my mom, best friend, and husband for some ideas. They remember who I was before I became a teacher, which helped. I was reminded of my old love for reading, stamping, and scrapbooking. I also realized that I have new loves for lunch with friends and hair blowouts. Soon I had a decent list!
These activities become your why. Why you are making changes. Why you work to be more productive during your work hours. And why you want to fall back in love with teaching.
Step Five: Put your answers together to create your definition of success.
You have done all of the work!
Give your brain a kiss because it helped you brainstorm what is really important to you. All you need to do now is take your answers from steps 1-4 and place them in order in this sentence.
Success for me is being a ________ teacher who ________ while only working ________ hours per week so that I can ________.
Here is my definition of success (which does NOT need to be similar to your definition):
"Success for me is being an innovative teacher who helps students to fall in love with learning while working only 40 hours per week so that I can spend my weekends playing make-believe with Adalynn."
Read your definition at least three more times.
Does it make you giddy?
Is your brain saying things like, "Sounds great, but it's wishful thinking"?
If so, you are on the right track! This is success for you. But, if the definition does not light you up like a package of brand new Crayola crayons, you might have some editing to do. Don't fret. This can just be a draft version of your definition. You can keep coming back to it during the next few days. Go back to the four prompts and play with different words and phrases until you hit the nail on the head and feel super excited about your definition of success.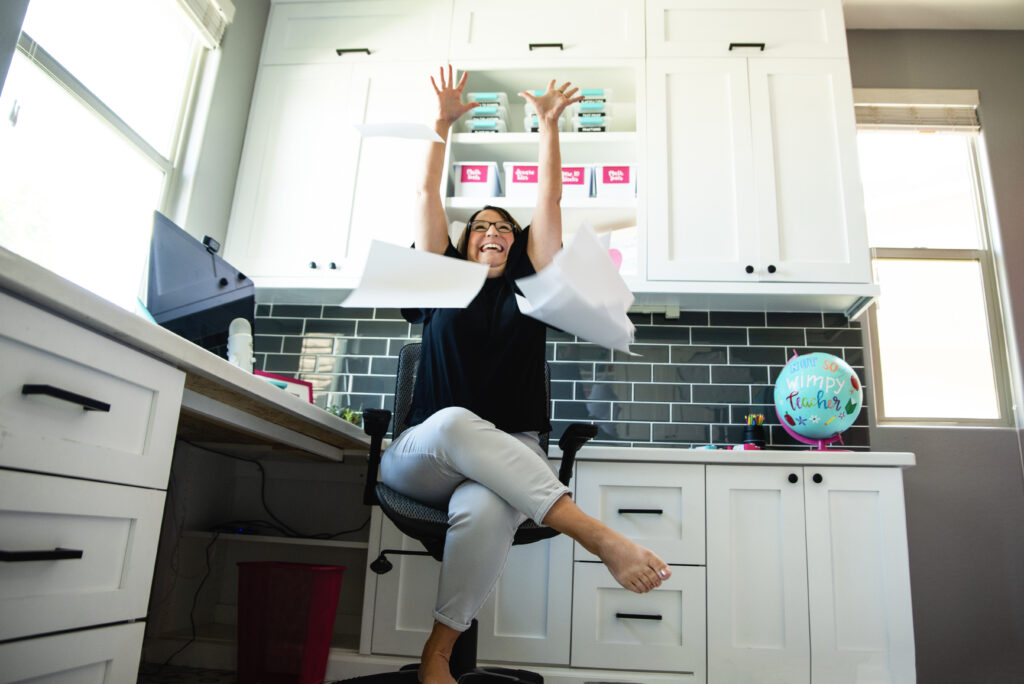 An evolving definition
It's important to note that your definition of success will change. You may switch schools or grade levels and decide on new priorities. You will grow as an educator and have new ideas about the results you want in the classroom. Your family and friends may change and grow and cause you to change what you want to do with your personal time.
You are not married to this definition or any definition you create for yourself. Feel free to make edits when you feel that it no longer speaks to you. The important thing is that the definition is yours. You are no longer measuring your success based on what society, your admin, or parents think it should be. Success is personal. You're the only person who can write your definition
Have a Not So Wimpy Day,

P.S. You can do this! I know you can. I believe in you! You are an amazing teacher. If you ever doubt that, check out this list of things we love about teachers.