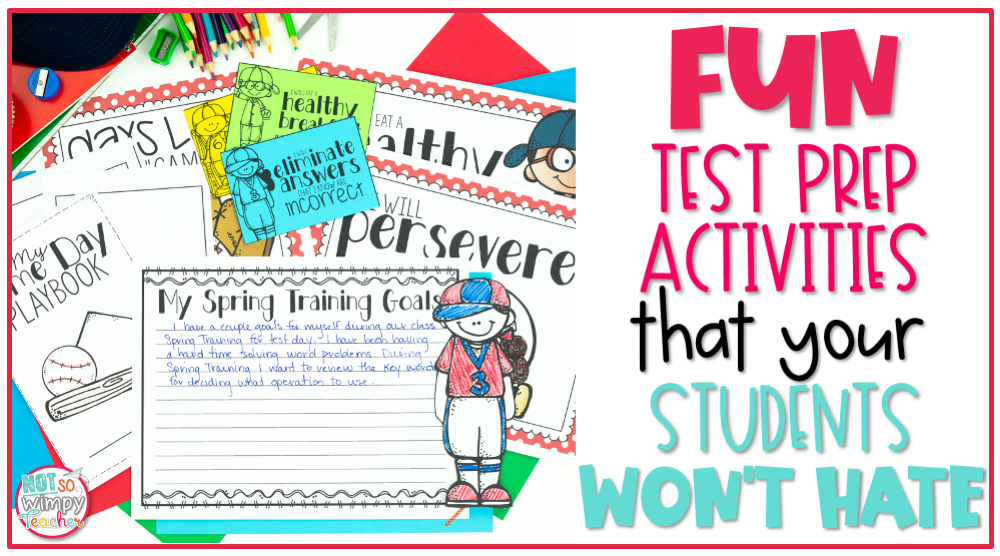 "Hooray! It's test prep season!" Said no teacher ever. But test prep activities don't have to be boring.
So skip the workbook and try these fun test prep activities instead.
Test prep activities that are fun will actually help better prepare students for tests. These activities will keep kids interested and engaged. And when students are engaged, they focus longer and learn more.
Escape Rooms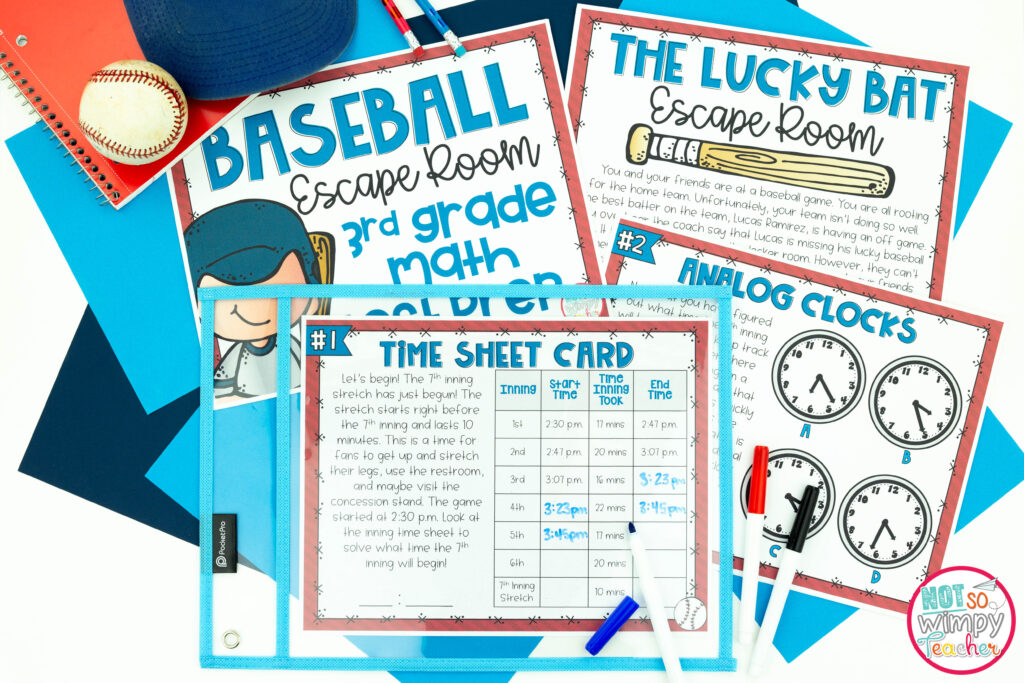 If you teach third grade, you're going to want to check out our baseball-themed test prep escape rooms. These no-prep escape rooms provide an exciting review of essential third grade skills in math and reading. And they are super simple to use in the classroom. All you have to do is print and teach.
Students work through a series of passages and problems, answering standards-based questions, solving puzzles, and unlocking clues to help the Bisons baseball team bring home a championship trophy. They'll be having so much fun they won't even realize they are practicing for tests, which will make you feel like an MVP. Or should I say MVT (most valuable teacher)?
Third Grade Reading Escape Room
The Baseball Escape Room 3rd Grade Reading Test Prep activity starts with siblings Nina and Ravi in the car on the way to Bisons Stadium before the championship game. Their dad, the general manager of the team, needs to get there early to make sure everything is set for the big game. But a series of mishaps ensues, jeopardizing the team's chance of success.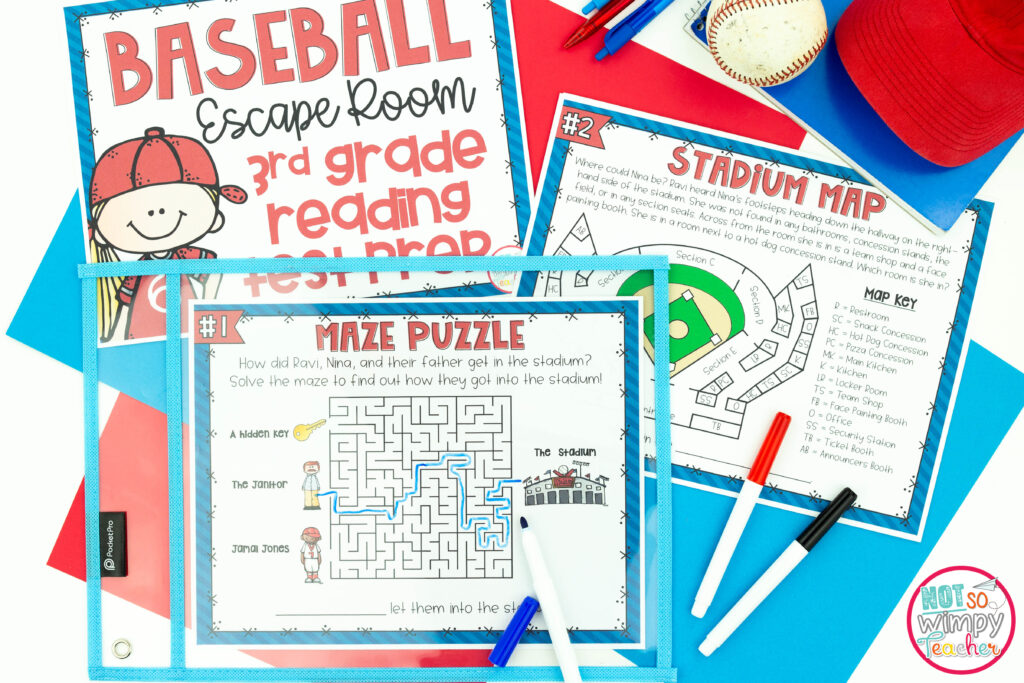 Your students will jump into the action to try and save the day. They will work their way through six different reading tasks, practicing essential reading skills like:
context clues
character traits
point of view
cause and effect
ask and answer
central message
Each task is followed by a puzzle that leads to the next task. And ultimately to a final challenge where students will unlock whether or not they find Jamal Jones' lucky glove in time for the big game.
Students get extra practice in these reading skills that are sure to appear on tests. They also have to work on communication skills and teamwork.
Third Grade Math Escape Room
Our Baseball Escape Room 3rd Grade Math Test Prep reviews many essential math skills, using problems and puzzles to make the process so much, fun students will feel like review is a day at the ballpark.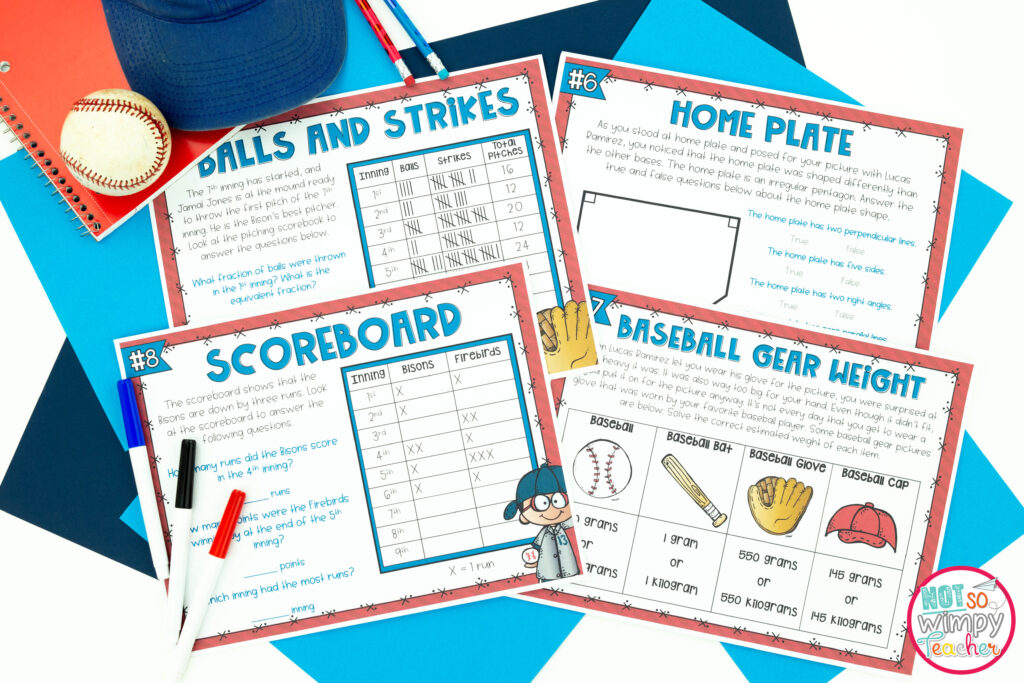 In this fun and engaging activity, students race against the clock to track down star player Lucas Ramirez's lucky bat before the game ends. They'll work their way through 10 different problems and puzzles, practicing essential math skills like:
addition
subtraction
multiplication
division
time
place value
money
geometry
estimation
graphing
fractions
When students solve a task, they receive a letter card that leads them to the next task. Once they have gotten all nine letter cards, they can decipher the final clue and figure out the combination to the safe. Hopefully in time to save the game.
Test Prep Games
Everyone likes games. And there are so many easy ways to gamify your test prep.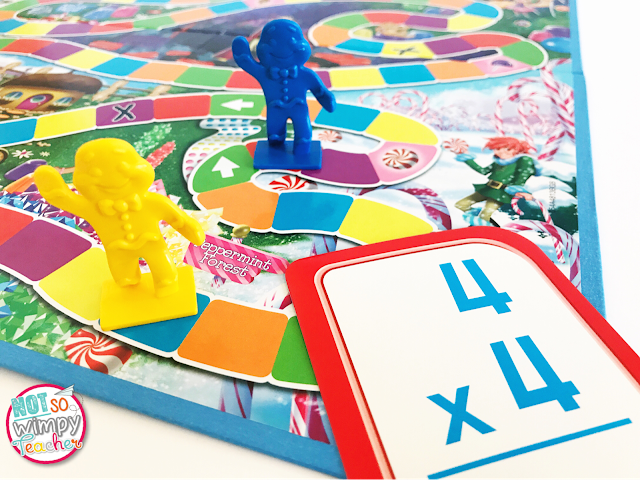 Use traditional board games
One simple way to make test prep a fun activity is to grab your favorite game: Candyland, Jenga, Connect Four . . . and some task cards. Divide your class into groups and assign each group a game. Students draw a task card and answer the question. If everyone agrees that the answer is correct, students take a turn at the game. Easy peasy.
Four Corners
My students loved playing this game during indoor recess, so why not repurpose it as a test prep activity. All you have to do is label the corners of your room A, B, C, and D. Students sit at their seats until you ask a question. Project it on the white board so they can see all the choices. Then they move to the correct corner of the room. If you want to make the game more challenging, ask a student in one of the corners to defend their answer choice. You can also give students the opportunity to move corners after hearing a classmate's explanation. This test prep game is a great way to review multiple choice questions and strategies for dealing with this common testing format.
Beanbag Toss
Divide your class into teams of four and give each team a whiteboard. Ask a review question and give each group a few minutes to discuss the answer. Then each group records their answer on the whiteboard. Each group reveals their answer at the same time. Any group who gets the answer gets a point (you can determine the point values and even increase as the game goes on to keep it interesting). The twist is that any group who gets the answer correct also has the opportunity to get more points by tossing a beanbag into a bucket. I like to arrange three buckets in a row, one behind each other, with increasing point values. Students must stand behind the line and toss the beanbag. If they make it into a bucket, they add that number of points to their total. Students love this game!
Read about more fun test prep game ideas.
Test Prep Centers
Another fun test prep activity is centers. I love using centers because they are an easy way to review a variety of different skills.
Centers use hands-on activities to keep kids engaged in learning. They also allow kids to get up and move around the classroom.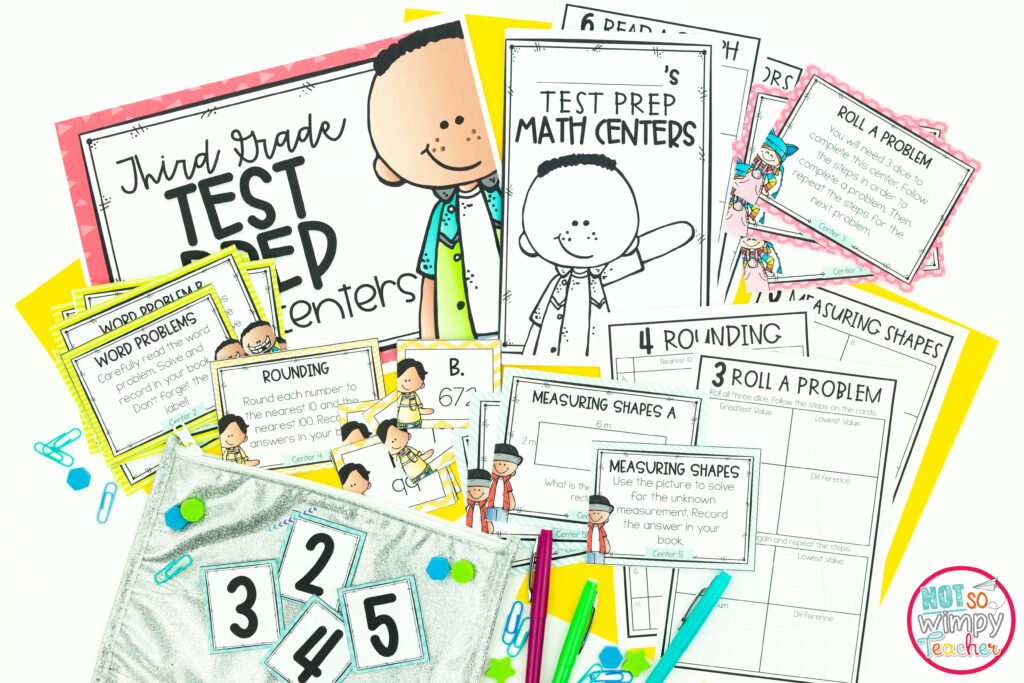 Math Test Prep Centers
My Math Test Prep Centers make it super easy to switch out your regular center materials for extra test prep practice. These centers feature 10 different skills that students are likely to see on the test.
There are a number of fun activities like sorting, task cards, matching, and more that make test prep a heck of a lot more fun than a worksheet.
Reading Test Prep Centers
Centers are an important part of reading instruction too. And for testing season, I have reading test prep centers that include everything you need to review the standards for literature and informational texts.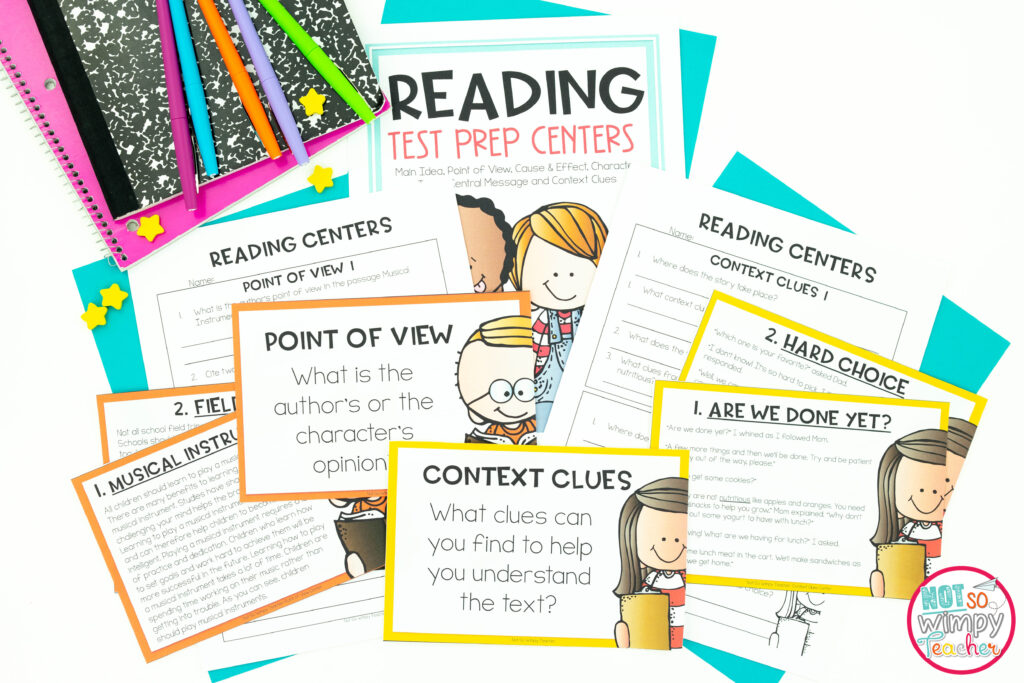 Using these centers is easy. You won't need to purchase any books because all of the mentor texts are included. They cover six critical skills that your students will definitely be tested on:
Main Idea (Informational Text)
Central Message (Literature)
Point of View (Informational Text)
Cause and Effect (Informational Text)
Context Clues / Drawing Conclusions (Informational Text and Literature)
Character Traits (Literature)
When you incorporate centers into your test prep activities, you can ensure that your students will be engaged in learning. And they might even go home and tell their families that test prep was fun! These reading test prep centers are best for grades 3 and 4.
FREE Editing and Revising Centers
My brand new Editing and Revising Centers are perfect for your language arts block. Writing is another skill that students always need to demonstrate on standardized testing. And this new activity will provide essential practice with editing and revising skills.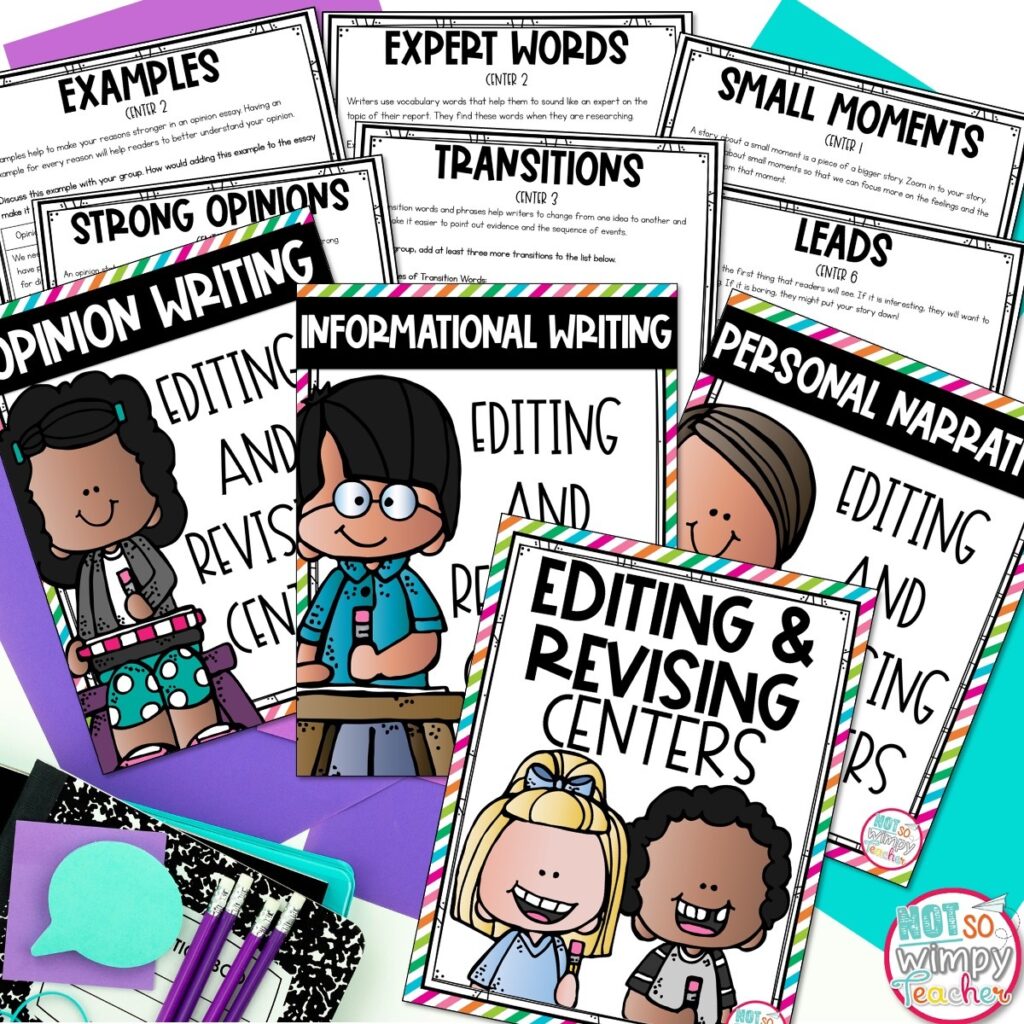 These skills will not only help students recognize and correct errors in multiple choice and short answer problems, but will also help them compose stronger responses to essay questions.
These activities are designed for grades 2-5. Students work together in groups to complete 18 different centers. Each center focuses on one specific editing or revising skill and includes tips, concrete examples, and practice writing. Students will get practice with editing and revising personal narrative, opinion, and informational texts.
I've also included detailed teacher directions, center labels, and editing and revising checklists for the students.
Text-dependent Test Prep Writing
Text-dependent writing is another skill your students will definitely need to demonstrate on standardized tests. But it can be such a challenge to teach. So many students are resistant to writing! Especially when they need to cite text evidence. It just feels hard.
But the only way to get better at this skill is to practice, practice, and practice some more.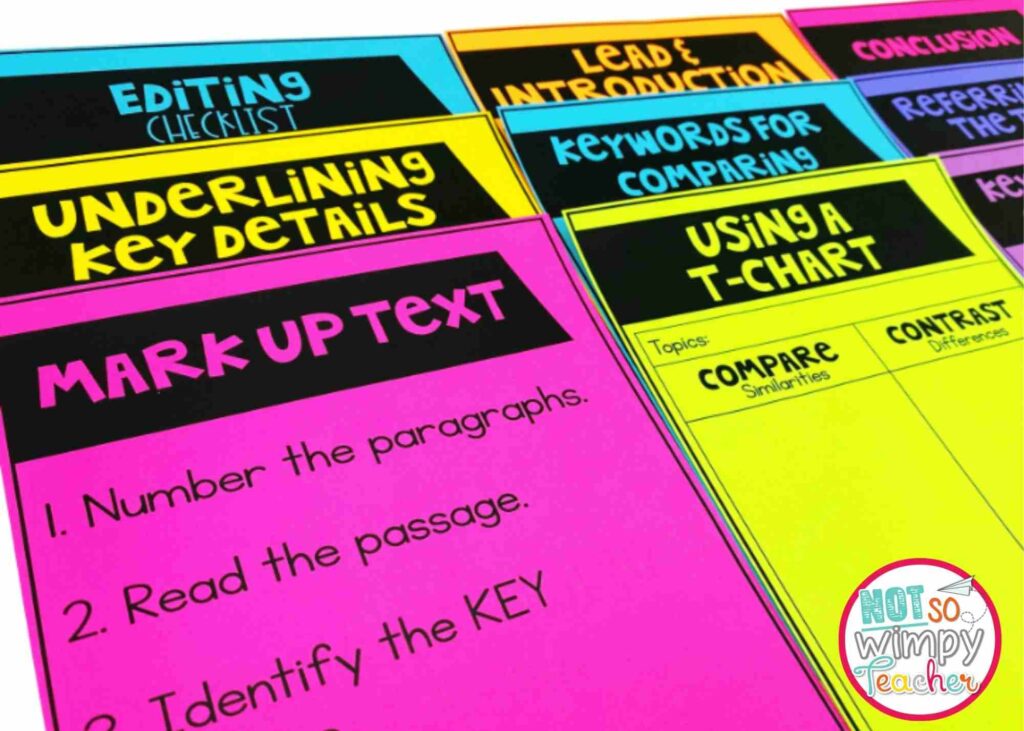 Luckily, I have the perfect resource that makes it easy and even fun to practice text-dependent writing. These lessons are designed to help students learn how to construct six types of text-dependent responses:
And they come with everything you need to teach text-dependent writing. Each unit includes mini lessons, mentor texts, and anchor charts, student work time (where students practice the new skill in their own writing), and share time.
The key to keeping kids engaged in text-dependent writing is starting with passages that are fun to read. And then breaking down the process into easy, manageable steps.
I hope that gives you some ideas for fun test prep activities that students will enjoy!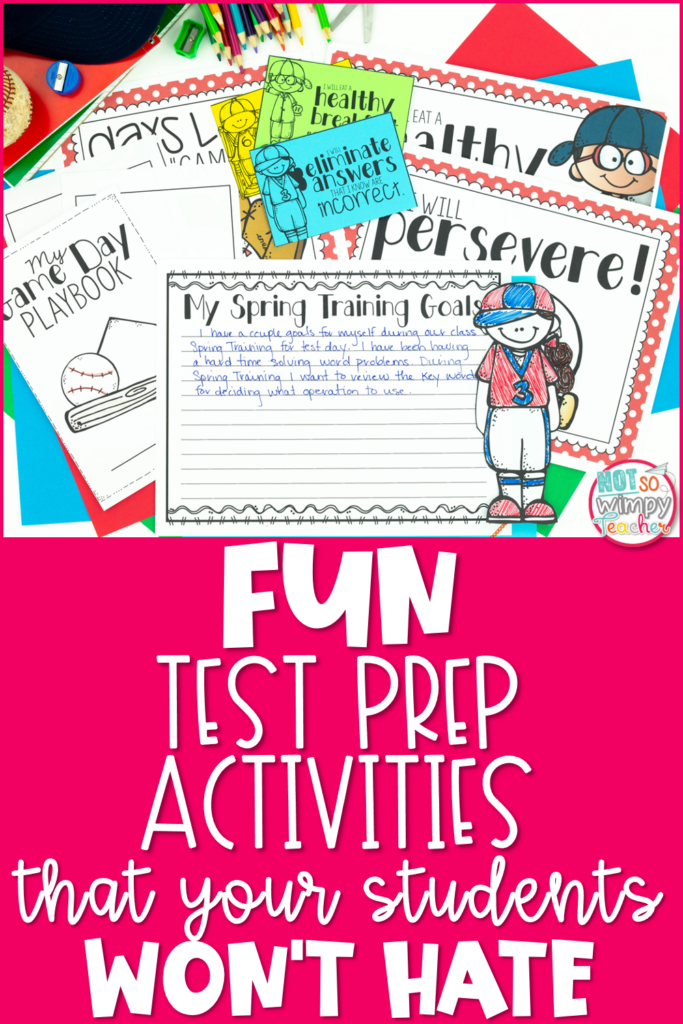 Have a Not So Wimpy Day,