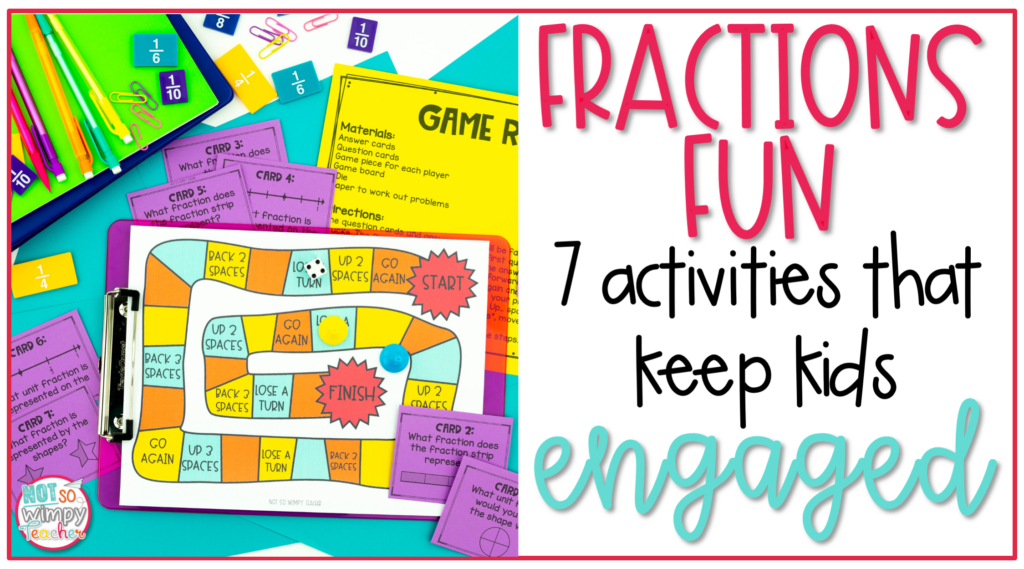 Fractions can be one of the trickier math units to teach. Many students have been counting, adding and subtracting since well before kindergarten, But learning about fractions is a whole new skill for many kids.
Understanding the relationship between parts and whole is a difficult abstract concept. Some kids are not developmentally ready to understand fractions until late in elementary school.
It takes lots of practice for students to master this skill. Here are seven fun ways to practice that will keep kids engaged in learning.
Manipulatives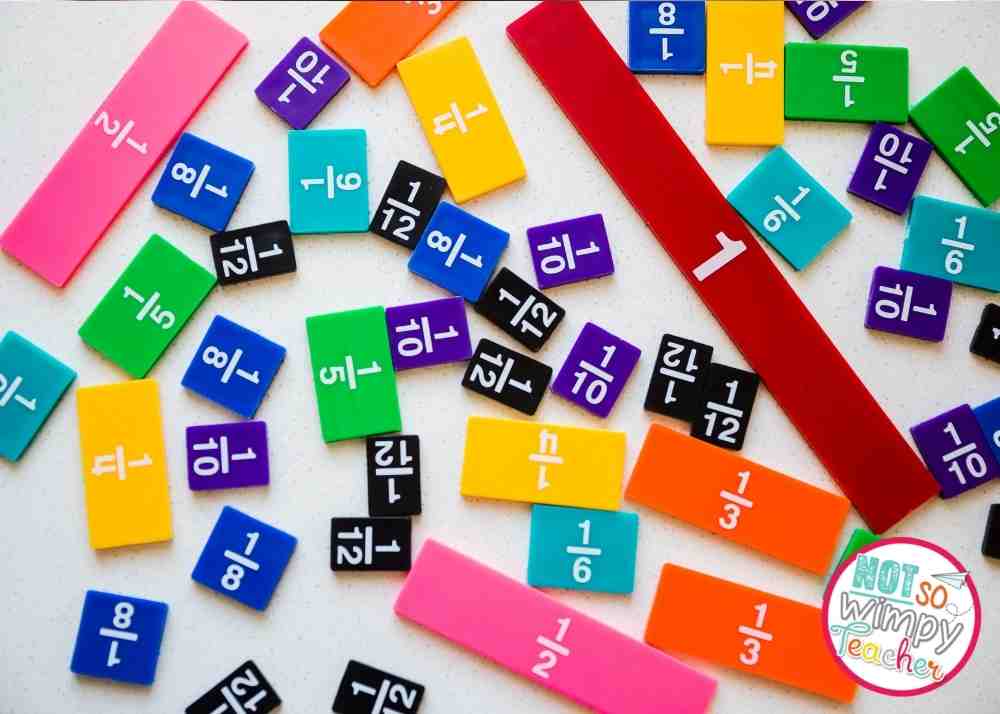 Visualizing fractions is a complex skill. It's important to introduce fractions slowly and to make them as concrete as possible. Manipulatives help make the relationship between part and whole easier for kids to see. I always recommend starting with concrete objects.
Try using a set of fraction tiles or circles to help kids visualize the part-to-whole relationship.
Fraction tiles are a set of various colored equal strips. Each strip is a different color and is divided into different parts. For instance, you will have one whole bar, and others divided into halves, quarters, thirds, fourths, fifths, sixths, eighths, twelfths, etc… Fraction circles are similar, but instead of one long strip, the whole is a circle, and the fractions are different-sized pieces of pie.
You can use wooden or plastic sets if you have them. Or, help your students make their own fraction sets out of cardstock (laminate them for prolonged use). This is a great hands-on activity.
You can also use fraction sets to compare and order fractions, identify equivalent fractions, explore common denominators, and experiment with basic operations.
You can even invite students to try an online version.
Centers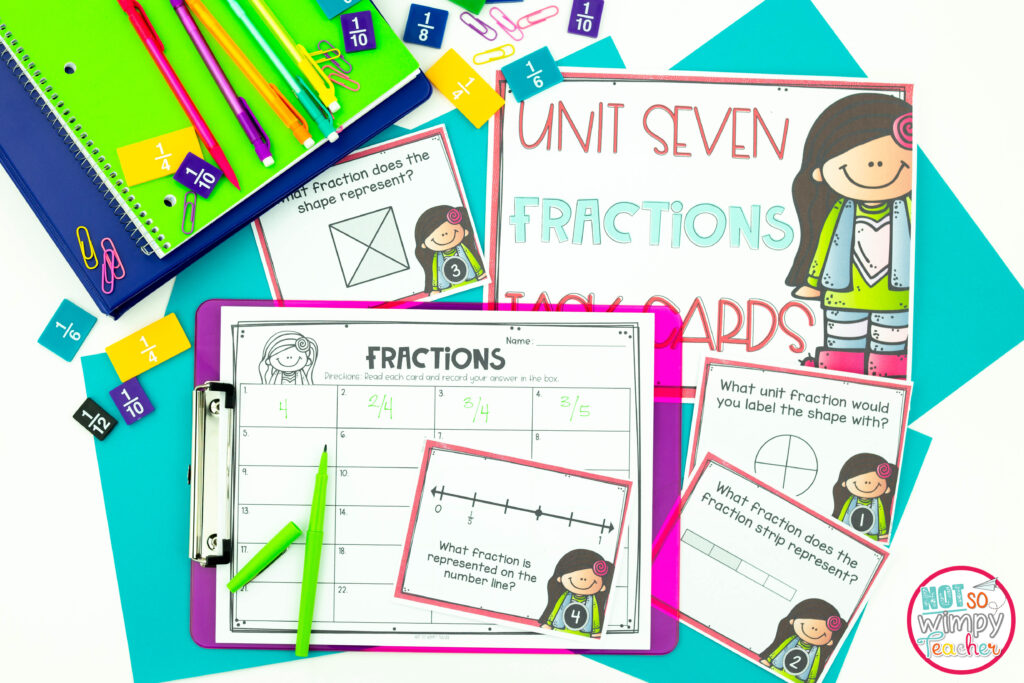 It's no secret that I love using centers to teach math. Centers are great because they get kids up out of their seats and give them the opportunity to participate in hands-on learning activities.
Center activities include games, sorts, task cards, journaling, and more. I also have a technology center where students can practice fraction skills through a program like Moby Max or XtraMath
If you'd like some ready-to-use centers to use with your fraction unit, you are in luck. I have created centers for grades 3, 4, and 5. I also have geometry and fraction centers for second grade to begin introducing students to the part-versus-whole relationship.
Each grade level includes 10 different center activities.
Third Grade Math Curriculum Unit 7: Fractions
Looking for more ready-to-use fraction activities? Unit 7 of my third grade math curriculum has everything you need! Each unit comes with done-for-you PowerPoint mini lessons, simple one-page lesson plans, small-group activities including ideas for intervention and extension, anchor charts, vocabulary cards, task cards, assessments, games, and so much more.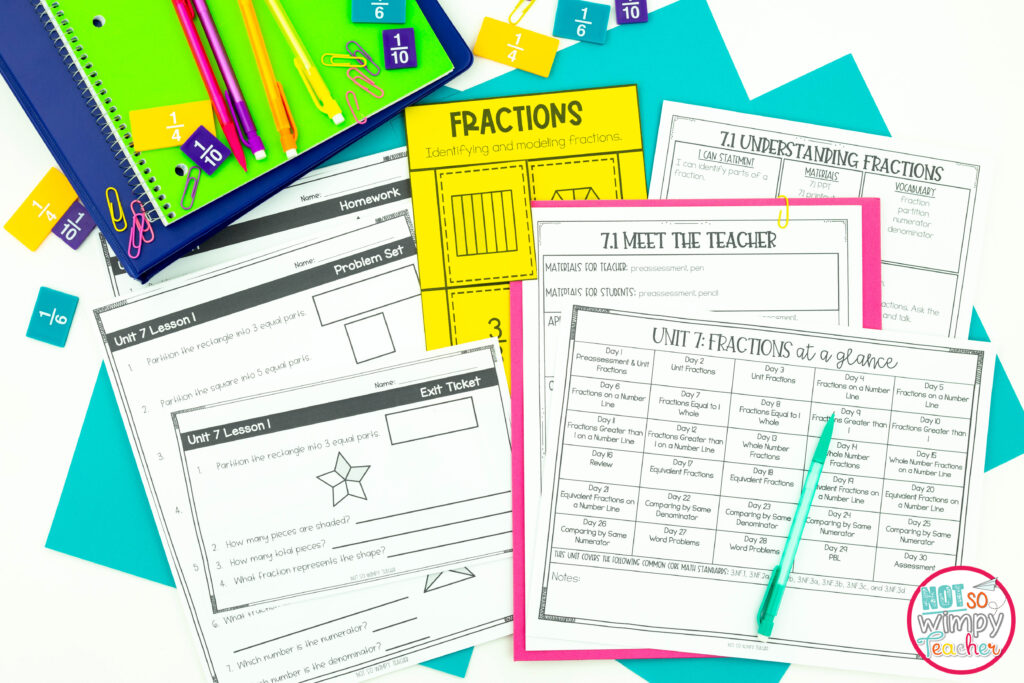 Students and teachers love these fun and effective lessons. They are easy to plan and implement in the classroom, and they are designed to keep kids engaged in learning. Fraction topics include unit fractions, using a number line, greater than one, whole numbers, equivalent fractions, comparing fractions, and more. Read more about the third grade math curriculum.
This unit also includes a super-sweet project-based learning activity. Check out the details below.
Fractions Cafe PBL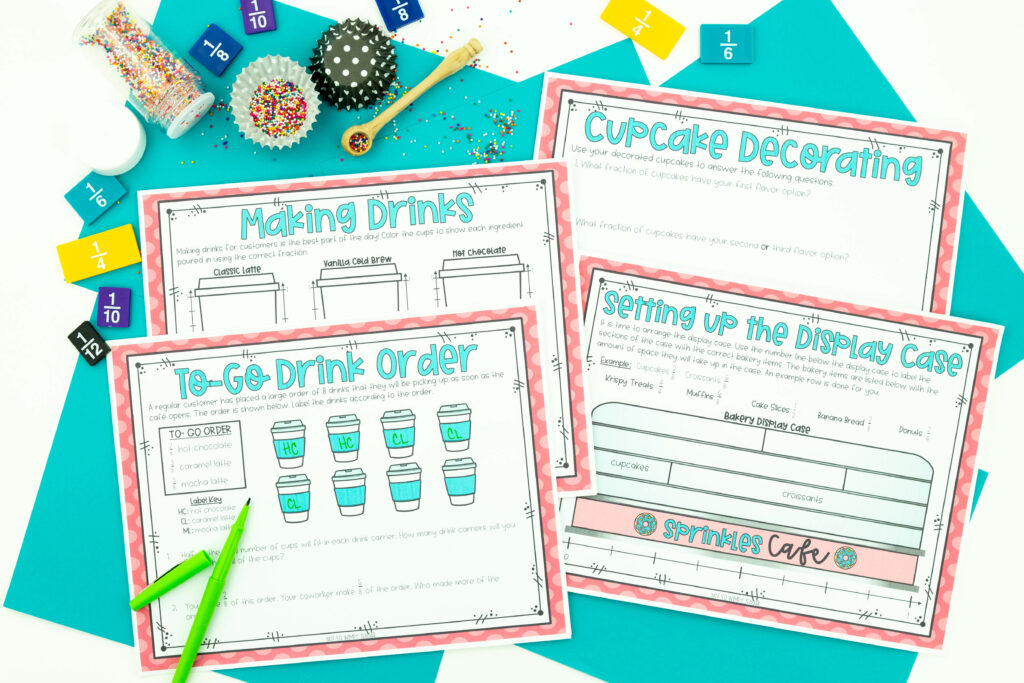 Even if you already have a math curriculum, you and your students will love this fun project-based learning activity. In the Fractions Cafe PBL, students have an opportunity to help run Sprinkles cafe. They will be baking, decorating, and displaying pastries, and brewing up some sweet beverages, all while practicing essential math skills like partitioning shapes, naming fractions, using number lines, and identifying equivalent fractions.
Students will be having so much fun playing barista they won't even realize they are learning. And you will love how simple this low-prep activity is (no actual cooking required). All you have to do is print and teach.
This activity is designed for third grade.
Interactive Notebooks
Interactive notebooks include fun hands-on activities that make it easy to assess student learning. These notebooks combine student notes and fraction activities into one notebook. The activities require students to cut, fold, glue, and manipulate fractions to solve the problems. They are truly an interactive experience that promotes higher-level thinking and deeper understanding.
Interactive notebooks are also a great reference tool for students. They can refer to their interactive notebooks throughout the unit when working independently or at centers. They are also a great tool to use for differentiation. And interactive notebooks make a great resource for test prep and review.
All of my interactive notebooks feature straight, simple cuts and no unnecessary coloring so the focus stays on math. I have interactive notebooks for third and fourth grade (fourth grade is divided into two parts).
Fraction Madness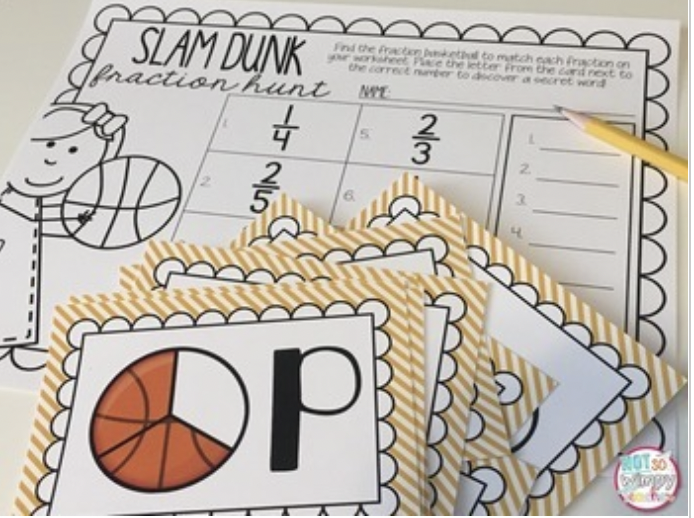 This standards-based fraction activity will score you points with all of your students!!! These games are fun for kids all year long, and especially fun during March Madness. They also make a great review during test prep.
There are 6 basketball-themed hands-on activities that students will love. And they'll get lots of practice recognizing, making, and comparing fractions.
Students will be having so much lighting up the scoreboard they won't even realize they are working.
Games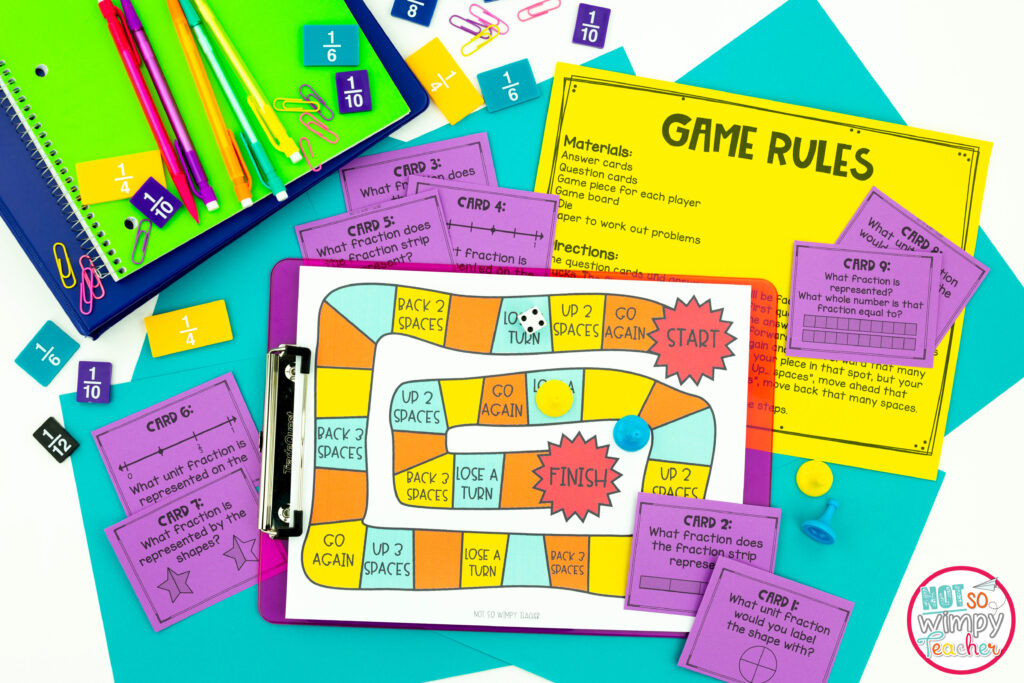 There's no better way to keep kids engaged in learning than with fun math games. My third grade math curriculum comes complete with games for review.
Tic Tac Toe
One easy game is tic tac toe. My Tic Tac Toe Bundles includes two simple games to practice comparing equivalent fractions. Both give students extra practice with tricky skills.
Fraction War
Or try a game of Fraction War. All you need is a deck of cards. Each student grabs two cards from the deck instead of the traditional one. They use those cards to make a fraction. You can use a pencil for the fraction bar. Whoever has the bigger fraction keeps all four cards. You can decide whether to allow improper fractions.
Or use dominoes instead. They are already set up like a fraction. Students can play war, which requires them to compare fractions. If they are more advanced, they can work on adding or multiplying fractions.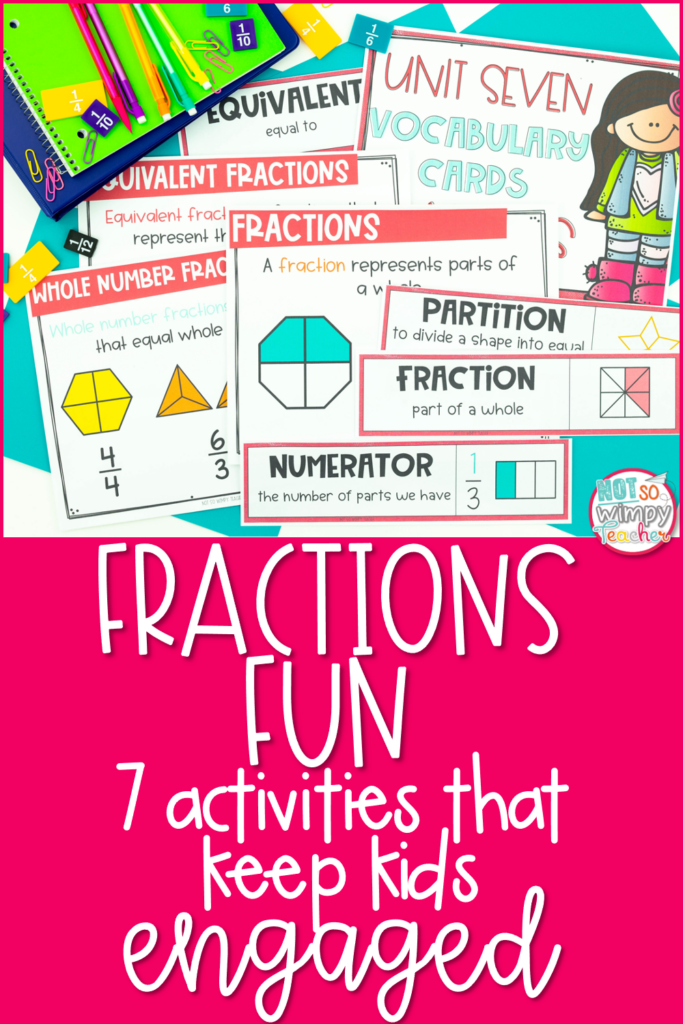 I hope that gives you some ideas to keep your fractions fun for your students.
Have a Not So Wimpy Day,