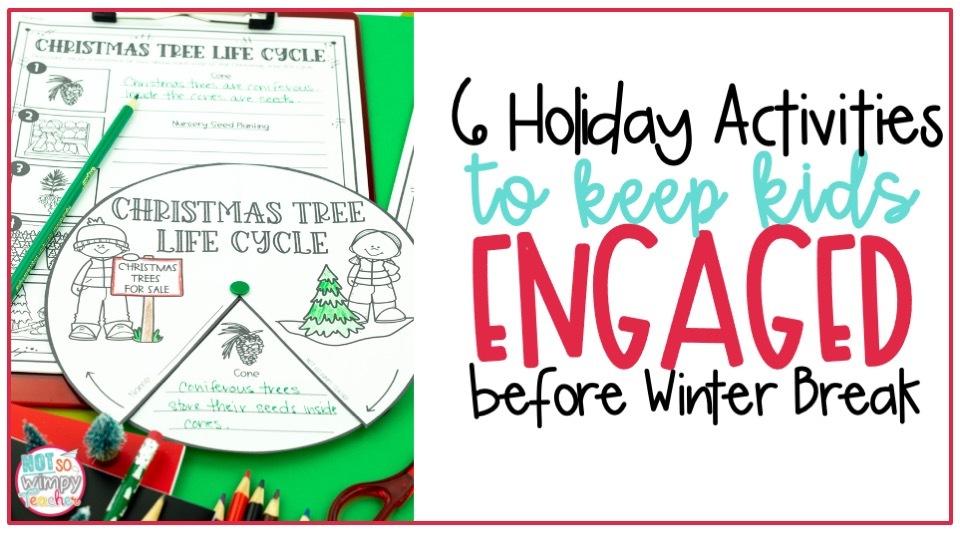 It's the most wonderful time of the year. And one of the craziest. Your students are preoccupied with visions of sugarplums, or more likely Playstations, and trying to keep their attention in December is often more challenging than untangling the Christmas lights. But don't despair, because today I am sharing 6 holiday activities to keep kids engaged before winter break.
These holiday activities are low-prep and easy to implement. They introduce fun holiday themes while keeping the focus on learning all month long. And we all know that busy kids are better behaved.
Christmas Activities for Math, Reading, Writing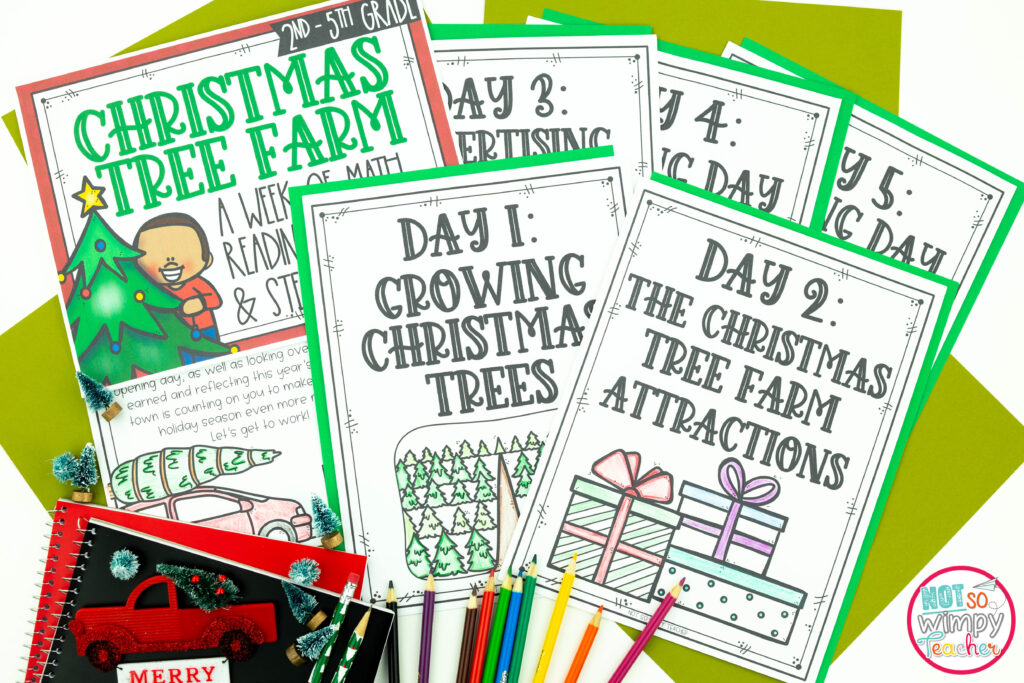 I am so excited about this first activity. If you are looking for one amazing resource to keep your students busy the last week of school, you are going to LOVE these Christmas Activities for Math, Reading, Writing. I have put together over 75 pages, including more than 35 different holiday activities, for an entire week-long holiday celebration.
Students will be practicing math, reading, writing, problem-solving, critical thinking, communication, and so much more as they learn what it takes to run a Christmas tree farm. They'll learn about growing Christmas trees, planning attractions, advertising the farm, daily operations, calculating profits, and making tweaks to their business plan to make it even better. This is truly a one-of-a-kind activity that immerses students in a fun holiday theme and gives them practice of real world skills.
This resource, designed for grades 2-5 includes five days of festive hands-on interdisciplinary activities, including a STEM project There's tons of room for creativity and fun. Two different versions of some activities make differentiation easy. Simply choose the one that's best for your learners. There are more than enough jolly good activities to pick and choose the ones you like best.
And these holiday activities are easy to use. All you have to do is print, copy, and teach. Seriously, it's that simple. Even the STEM project uses common classroom supplies to keep things easy.
Holidays Around the World Escape Room
This low-prep resource is a fun and easy activity to enjoy on a Friday afternoon. The Holidays Around the World Escape Room includes both printable and digital options, which is great for 1:1 classrooms. But even the printable option is a piece of [fruit]cake to use.
This Christmas Escape Room includes tons of fun holiday activities that will have your students reading informational text, learning about different countries and their holiday traditions, and solving a series of clues and codes to determine what to bring to the holiday celebration. BUT they will be having so much fun solving the puzzles that they won't even notice that they are learning.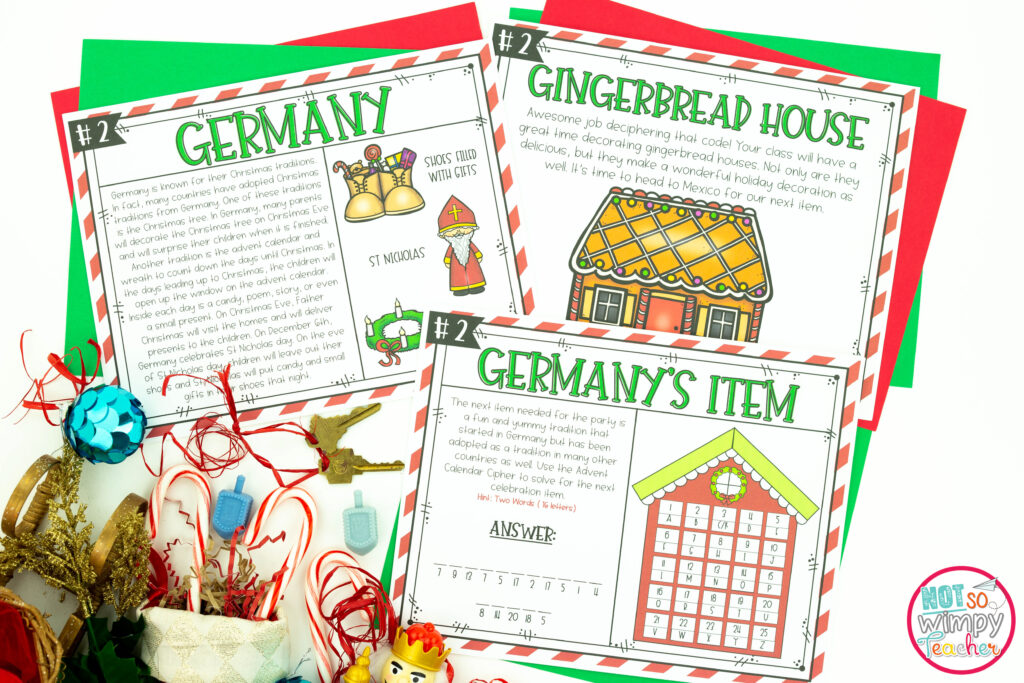 Students are tasked with collecting six different holiday items, including decorations, food, and toys, from six different countries for the school's holiday celebration. As they learn about different countries and cultures, they will be exposed to different vocabulary and traditions. And they will have to put their new knowledge to the test to decipher the puzzles. The countries they will visit in this activity are Russia, Germany, Mexico, France, England, and Israel.
If you are using the printable version, simply print off all the task cards, laminate them (or put them in sheet protectors), and place them in an envelope. Students will need a dry erase marker to write on some of the task cards. Then label the envelope with the correct task number. Read more tips for managing escape rooms in the classrooms.
This activity, designed for grades 2-5, will take around 45 minutes to an hour depending on the grade level of your students and if they are using the audio feature or reading the text independently. It's the perfect way to wrap up the week in December. (But be sure to do it early in the month because you'll want to devote the last week to the Christmas tree farm activity.)
December Close Read Passages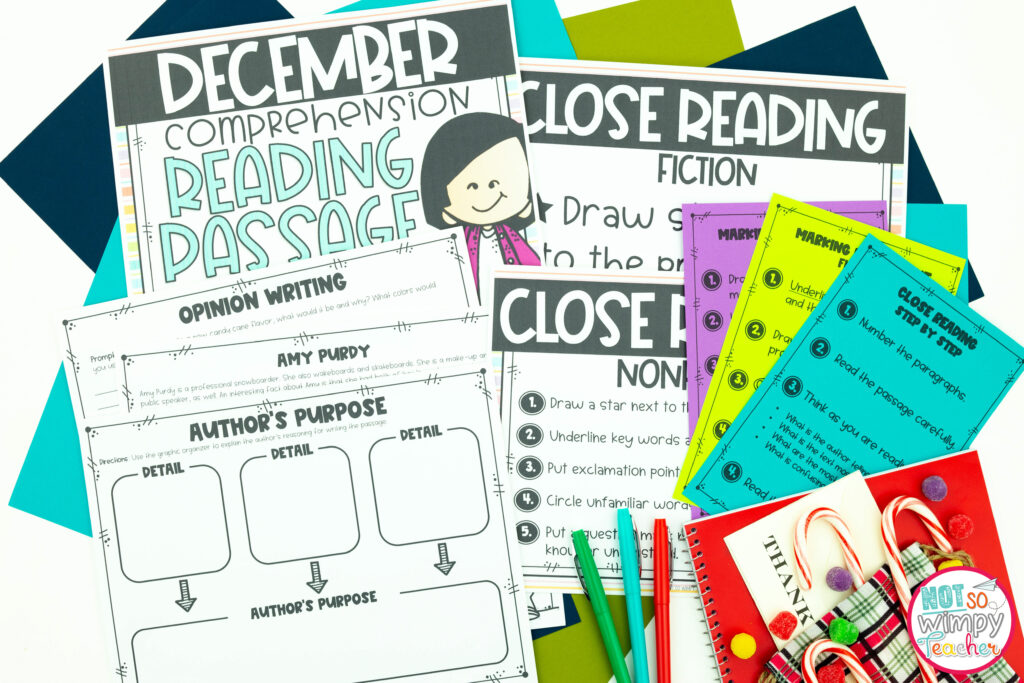 My seasonal reading passages are an easy and engaging way to celebrate the holidays. The topics are kid-friendly and fun to learn about. The December passages come with five different readings on fun holiday topics like candy canes, gingerbread houses, hot chocolate, and snowstorms. There's also a passage about snowboarder Amy Purdy.
These passages ensure that kids keep learning all month long. They teach important reading comprehension skills like sequencing, identifying details, author's purpose, story elements, and figurative language. Kids also practice text-dependent analysis and writing opinions, narratives, and thank you notes.
And they are super easy to use, making them excellent holiday activities. Each passage is designed to be used over four days. An "at-a-glance" planner lets you know what to teach in each one. These passages come with the readings, anchor charts, student printables, activities, and answer keys. All you have to do is print and teach, which means there's more time for last minute shopping.
FREE Holiday Writing Unit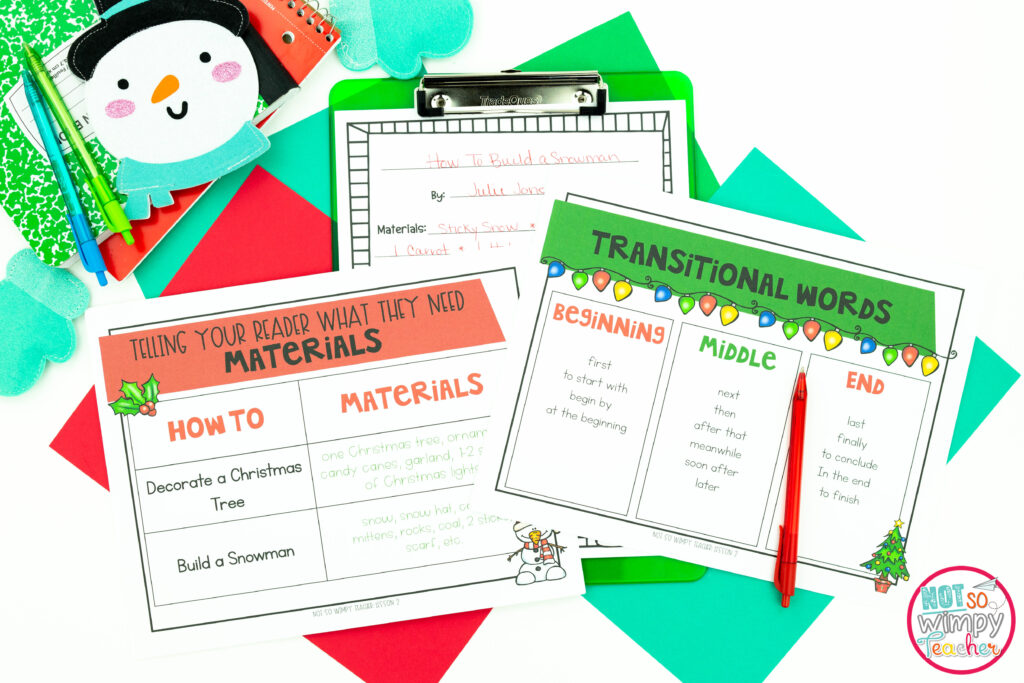 This Free Holiday mini writing unit will bring a little holiday magic to your writing workshop. These lessons are designed to help students write a simple how-to essay about building a snowman. They will be providing a list of materials and step-by-step instructions for how to build a snowman.
The Holiday Writing Unit Includes:
A week of lesson plans that include mini lessons, independent writing activities, and share time.
A super-fun mentor text passage about How to Decorate a Christmas Tree
Anchor charts
Student printables
Rubrics
Publishing paper
It has everything you need for a holiday-themed week of writing.
The mini lesson topics are writing for a purpose, listing materials, putting steps in order, using transition words, and editing. This fun winter writing assignment is a great way to practice essential writing skills. Read more about the Holiday Writing Unit.
FREE Holiday Math Activity
This FREE Holiday math activity is a simple but fun activity that keeps the focus on learning. All you need are scraps of wrapping paper cut into squares and rectangles. I bet you even have some gift wrap at home. You'll want to keep the pieces pretty small unless your students are ready to calculate big numbers.
Students will use the gift wrap to practice measuring area and perimeter and record their answers on the recording sheets.
This activity is:
Easy and cheap to prep
Holiday-themed practice of essential math skills
Easy to differentiate. Use small pieces of paper to keep the activity simple. Included some larger pieces for more of a challenge. Pick paper with the squares on the back to scaffold learners. Or cut the paper into irregular shapes. There are so many options!
Learn more about the FREE Holiday Math Activity.
FREE Writing Prompts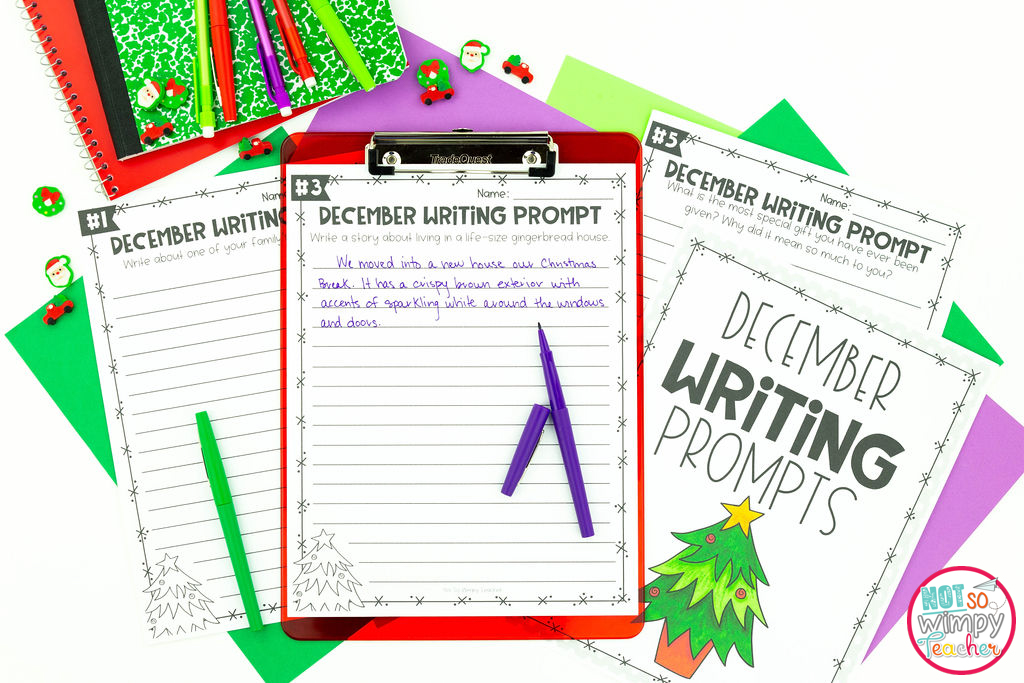 Looking for more writing activities? This FREE resource is a must-have! It includes 60 FREE writing prompts, 5 for every month of the year. These seasonal prompts are so much fun for kids. The December prompts give students the opportunity to write about giving and receiving gifts, holiday traditions, and living in a gingerbread house.
There are tons of ways to use these prompts in the classroom. Use them as morning work or for fast finishers. Put them in a center at the beginning of the month to help kids get in the holiday spirit. Mix up your writing lesson by working on a Christmas prompt together (I know, I don't usually recommend prompts, but once in a while is okay).
Pick one prompt to use early in the month and make a Class Book as a holiday gift. Or set aside time at your class holiday party to write or share holiday stories. These prompts are sure to make everyone feel a little more merry.
The Ultimate Holiday Guide for Grades 2-5
Did you just love the ideas in this post? Well, I've got great news. I've put together a FREE Ultimate Holiday Guide for Grades 2-5 that is chock full of amazing ideas to use in your classroom.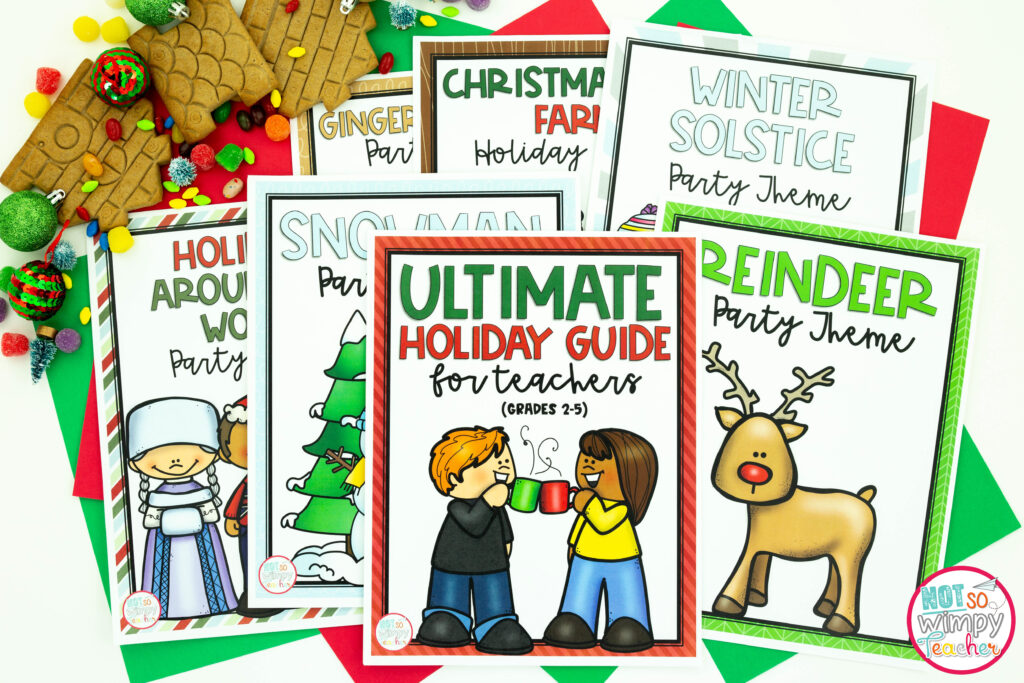 This 142-page guide is your comprehensive guide to the holidays in the classroom. My team and I have scoured the Internet to find the best holiday treats, crafts, activities, games, books, and more so you don't have to.
Inside, you'll find:
Helpful holiday tips to make planning and celebrating easy
Easy holiday resources that will keep kids learning
6 classroom party themes with ideas for treats, crafts, and activities
Family & student gift ideas
Simple classroom decor ideas
Our favorite holiday books and movies
Reading, writing, and math activities
Student printables, a family holiday survey, holiday & thank you cards, and gift tags
And so much more!
And the best part is it's FREE!
This Guide is our small way of saying thank you for everything you do for your students all year long. It's filled with images, links, recipes, and more for the easiest, most fun holiday season ever! Download yours today!
That should give you a variety of ideas for festive, fun activities that keep the focus on learning.
Happy December!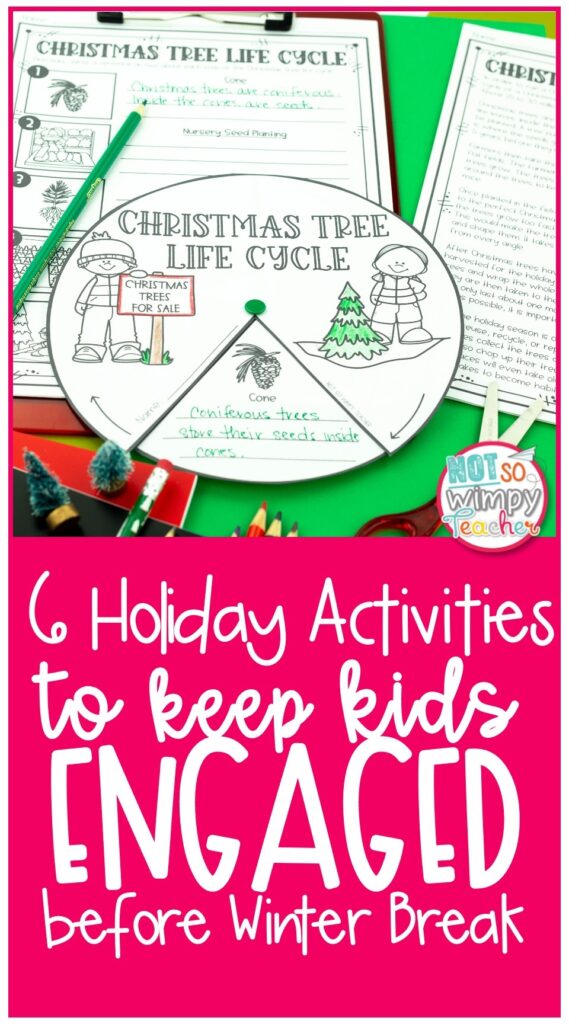 Have a Not So Wimpy Day,