The month of December is a blur in the classroom! I want to help you to save time and capitalize on your students' excitement with this free holiday writing unit. Students will be learning how to write a how-to essay.
Grab the free unit now by clicking on the button below.
Holiday How-To Essays
This free holiday mini writing unit will help students to write a simple how-to essay. They will be including a list of materials and step-by-step instructions for how to build a snowman.
I have included a mentor text passage to help students understand what a good how-to essay should sound like. The topic of the mentor passage is super fun- How to Decorate a Christmas Tree!
The Holiday Writing Unit Includes:
a week of lesson plans
a mentor text passage (How to Decorate a Christmas Tree)
anchor charts
student printables
rubrics
publishing paper
In other words, you will have everything that you need for a simple and fun week of writing right before the holidays!
How to use this Holiday Writing Unit
The unit can be used in any way that best fits your classroom needs, however, I have written the lesson plans to be used in writing workshop.
Holiday Writing Mini Lesson
The mini lesson is designed to take approximately 10-15 minutes. I have provided the lesson plans to make the mini lessons a piece of cake! You will be using the mentor text passage and anchor charts to teach lessons about writing for a purpose, listing materials, putting steps in order, using transition words, and editing.
Independent Writing Time
After the mini lesson, students will spend 15-20 minutes independently writing. The lesson plans have specific tasks that you will assign to your writers each day. Students will know exactly what they should be working on!
Holiday Writing Share Time
At the end of your writing time, students will love spending 2-5 minutes sharing their writing with a shoulder partner. It's easy to keep this share time short and sweet by using the share time suggestions in the lesson plans!
The Ultimate Holiday Guide for Grades 2-5
Did you just love the ideas in this post? Well, I've got great news. I've put together a FREE Ultimate Holiday Guide for Grades 2-5 that is just chock full of amazing ideas for celebrating the holidays with your students.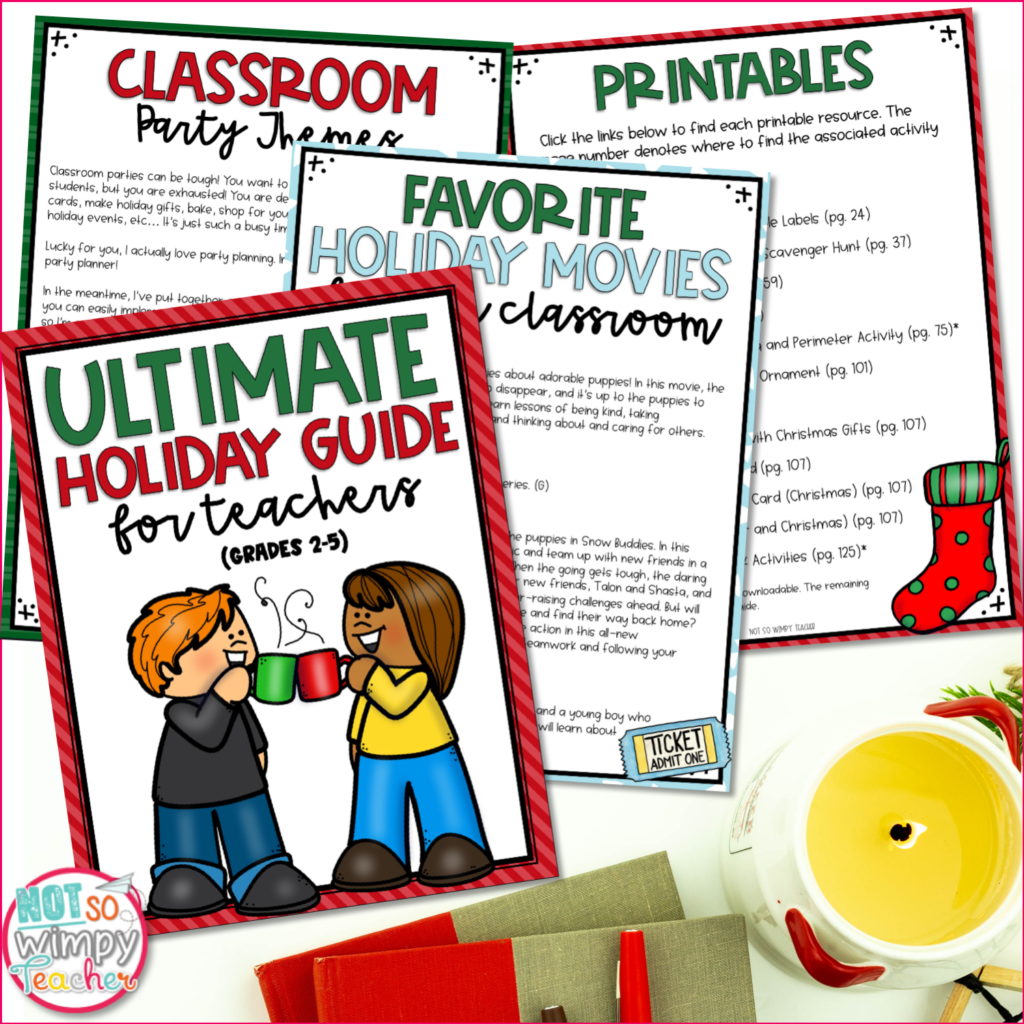 This 142-page guide is your comprehensive guide to the holidays in the classroom. My team and I have scoured the Internet to find the best holiday treats, crafts, activities, games, books, and more so you don't have to.
Inside, you'll find:
Helpful holiday tips to make planning and celebrating easy
Easy holiday resources that will keep kids learning
6 classroom party themes with ideas for treats, crafts, and activities
Family & student gift ideas
Simple classroom decor ideas
Our favorite holiday books and movies
Reading, writing, and math activities
Student printables, a family holiday survey, holiday & thank you cards, and gift tags
And so much more!
And the best part is it's FREE!
This Guide is our small way of saying thank you for everything you do for your students all year long. It's filled with images, links, recipes, and more for the easiest, most fun holiday season ever! Download yours today!
I hope you enjoy these fun holiday ideas!
Have a Not So Wimpy day,