Are you looking for a simple, but fun Christmas math activity for your class?
I have you covered!
Just click on the button below and I will send this area and perimeter activity to you for free!
How this Christmas math activity works:
You will cut 12 squares or rectangles out of scraps of holiday wrapping paper. Keep the pieces small unless your students are ready to work with the larger numbers.
Label the squares with letters A-L. I just label them with a black Sharpie marker.
Spread the wrapping paper pieces around the class or put them in a center.
Give students a recording sheet and they will solve for the area and/or perimeter of each sheet of wrapping paper. I have included several versions of the recording sheet, so you can choose the one that best meets your needs.
Simple and fun!
There are a couple of things that I absolutely love about this activity:
It's holiday-themed, but students are still practicing important math skills. That's a huge win!
This activity is easy and cheap to prep. You just need some wrapping paper scraps and I bet you already have some at home!
This activity is easy to differentiate. You can use small pieces of paper to keep the activity simple or larger pieces for a challenge. You can use paper with the square grid on the back or even cut the paper into irregular shapes. So many options!
It's a huge win when you can infuse some holiday fun into a tough math skill!
However, if you are not quite ready for this activity, you could always do it later in the school year and use some Valentine's Day or baseball-themed wrapping paper!
Looking for more holiday activities?
Are you looking for more ways to celebrate the holiday season in your classroom? Well, I've got great news. I've put together a FREE Ultimate Holiday Guide for Grades 2-5 that is just chock full of amazing ideas to use in your classroom.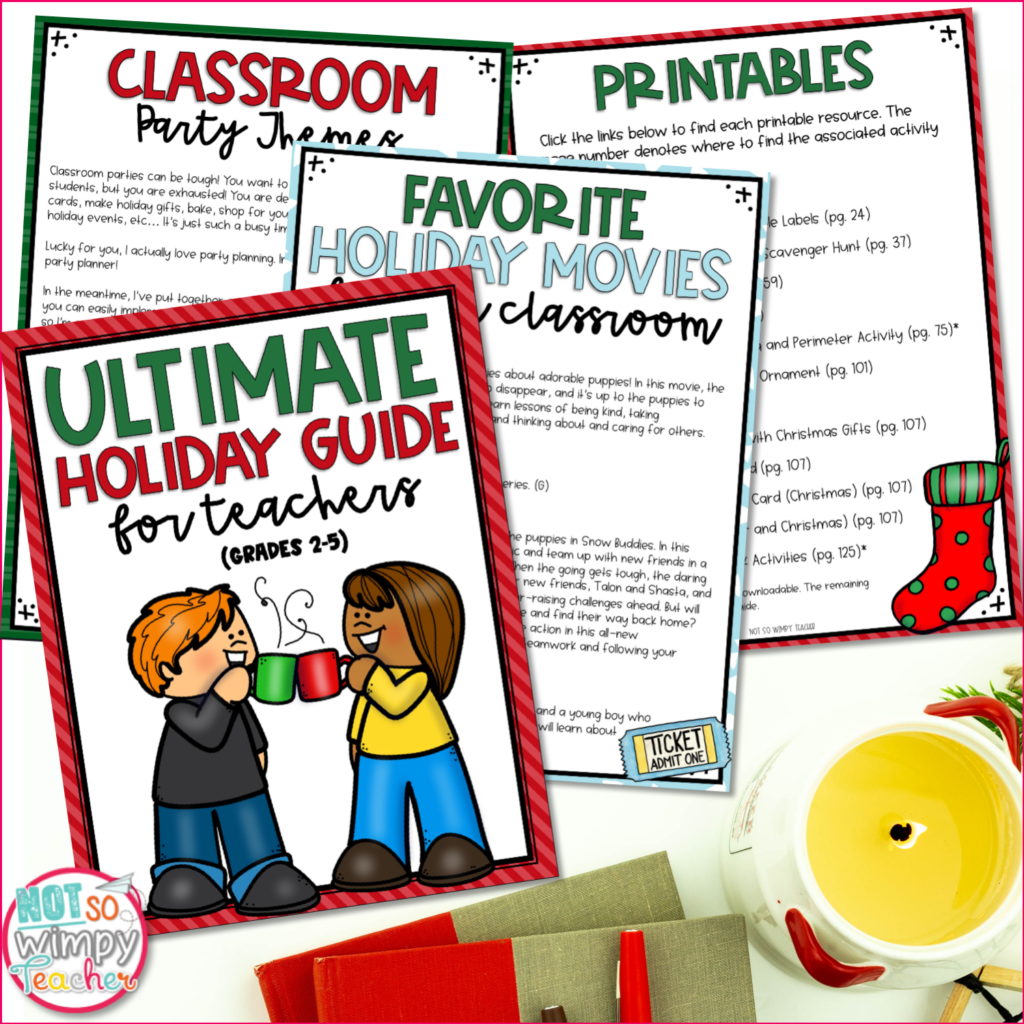 This 142-page guide is your comprehensive guide to the holidays in the classroom. My team and I have scoured the Internet to find the best holiday treats, crafts, activities, games, books, and more so you don't have to.
Inside, you'll find:
Helpful holiday tips to make planning and celebrating easy
Easy holiday resources that will keep kids learning
6 classroom party themes with ideas for treats, crafts, and activities
Family & student gift ideas
Simple classroom decor ideas
Our favorite holiday books and movies
Reading, writing, and math activities
Student printables, a family holiday survey, holiday & thank you cards, and gift tags
And so much more!
And the best part is it's FREE!
This Guide is our small way of saying thank you for everything you do for your students all year long. It's filled with images, links, recipes, and more for the easiest, most fun holiday season ever! Download yours today!
Enjoy this fun Christmas math activity and have a Not So Wimpy day!