Many teachers are now using platforms such as Zoom and Google Meet to reach their students. While many teachers use this platform to teach or review standards with their students, many are also using it for socialization during these times and there are lots of great distance learning activities you can use to engage your students.
I searched our teacher Facebook groups for some creative distance learning activities to engage your students during these times.
Games
Have you tried playing games with your students on Zoom or Google Meet? You might be surprised how easy it can be!
Charades– Private message one student with the word card. This student then pantomimes this clue while the other students guess the answer. You can mute students and have them raise their hand when they have a guess.
Pictionary– You can use the whiteboard feature to play this game. Private message a student the word, and then allow that student to draw the clues on the whiteboard feature.
4 Corners– Have students use a personal dry-erase board or a piece of paper and a marker for this game. Students choose a number (1-4 or 1-6), write it on their board, and hold it up for everyone to see. The teacher then rolls a dice and the number she rolls is the number that is out. If the teacher rolls a 4, every student holding up a number 4 will be considered out of that game. Continue until you only have one player left.
Simon Says– Play this just like the original game! The teacher will give the action directions, while the students participate. If students miss the action cue "Simon says," then they are out. Keep going until you have a winner!
Bingo– Students can draw a 4×5 grid on a piece of paper. Direct your students to fill each square in with words that fit your category. You can make it an academic game and have them fill numbers from 1-50 (or any number of your choice), then the teacher can call out the multiplication facts as you play. Another idea is to have your students list items that might be found in a kitchen, classroom, or playground. Students randomly put in the words in their squares (don't forget the middle free square!), and then the teacher calls out the words to play.
I Spy– Use your students' backgrounds for this game to play. Pick an item that can easily be seen by all students and share a clue. Students can raise their hand when they have a guess.
Conversation Activities
You may likely have some students who are shy on camera, and may not speak up as quickly in your meetings. You can use these distance learning activities to encourage conversation from them.
Show & Tell– Have students take turns sharing something special to them.
Two Truths & a Lie– Students can take turns sharing 2 truths about themselves and one lie. Students then guess what the lie is.
Would You Rather…– You can grab some "Would You Rather" questions online and ask these in your group call. Have students take turns sharing their responses.
Pet Parade– Students can bring their pet (real or stuffed) to your meeting and share some interesting facts about their pet when it is their turn.
Mad Libs– Grab some student Mad Libs online and have your students grab personal dry-erase boards or scratch paper. Call out the part of speech, have students write their choice on their board, and pick a student to share their answer. Read the Mad Lib story to your class when it's filled in! You are sneaking in some grammar review with this activity, and students love the silly stories!
LEGO Challenge– Instruct your students to build something overnight and bring it to your meeting the next day. Students can take turns showing their models and sharing what they like best about it. Some LEGO challenges I've seen include building a boat that floats, build a model of your room, build a marble run, build a pyramid, etc.
Art Show– Students can create their own piece of artwork (or two) and share with their classmates!
Snack & Chat– If your students just want to chat and socialize, encourage them to join you for a virtual lunch or snack time. Use some of the ideas in this category to keep the conversations going, or just let your students share what they have been up to!
Movement Activities
Students need brain breaks throughout their day still! Try some distance learning activities that incorporate movement while on your Zoom or Google Meet call.
Go Noodle– Pull up your students' favorite Go Noodle songs and share your screen. Students can get up and dance away!
Dance and Freeze– Play some music, encourage students to get up and dance, then students must freeze when the music stops. Your students will love the silly motions they are frozen in!
Scavenger Hunts– Our Facebook groups are full of fun scavenger hunt ideas! You can play this game live, or send your students off to do this overnight. You can gather a list easily online, but some ideas I have seen include looking for particular shapes, colors, items that are a certain length, or items that start with a particular sound.
Fun Fridays
It is always fun to end the week with a special activity. You could use these distance learning activities on Fridays, or any day if you need to mix-it up!
Funny Friday– Have students come to your meeting with some jokes to share!
Spirit Day– Pick a theme and have students come dressed to participate. Some fun themes include hat day, crazy hair day, mismatch day, sports-theme day, or school spirit day.
Field Trip Friday– Teachers all over the country are taking their students on virtual field trips. Use the share-screen feature to share a virtual location with your students. You can visit a zoos, aquariums, museums, national parks, or even theme parks. Check out THIS list for some ideas to get started.
Flashlight Friday– Have your students build a fort and grab a flashlight! They can get comfy and listen to you read a story during Flashlight Friday.
Friday Drawings– Directed drawings are a fun brain break! Pull up your favorite directed drawing YouTube video and share your screen with your students. You can also get creative and walk your students through the drawings yourself. Art Hub for Kids is a great place to start.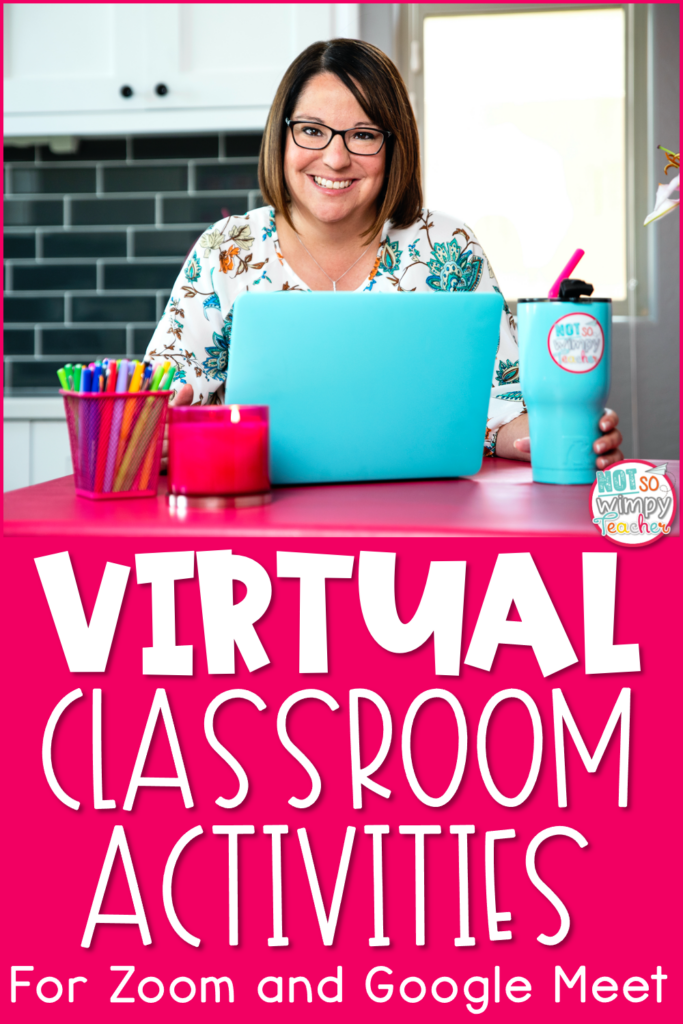 Zoom and Google Meet have made it easy to see our students during school closures. Your meetings can also be a healthy brain break for your students by using the ideas above! Thank you for bringing your students together during these times and taking the time to engage them in distance learning activities. Your students are lucky to have you!
Read about more ways to make virtual learning more fun.
Have a Not So Wimpy day,