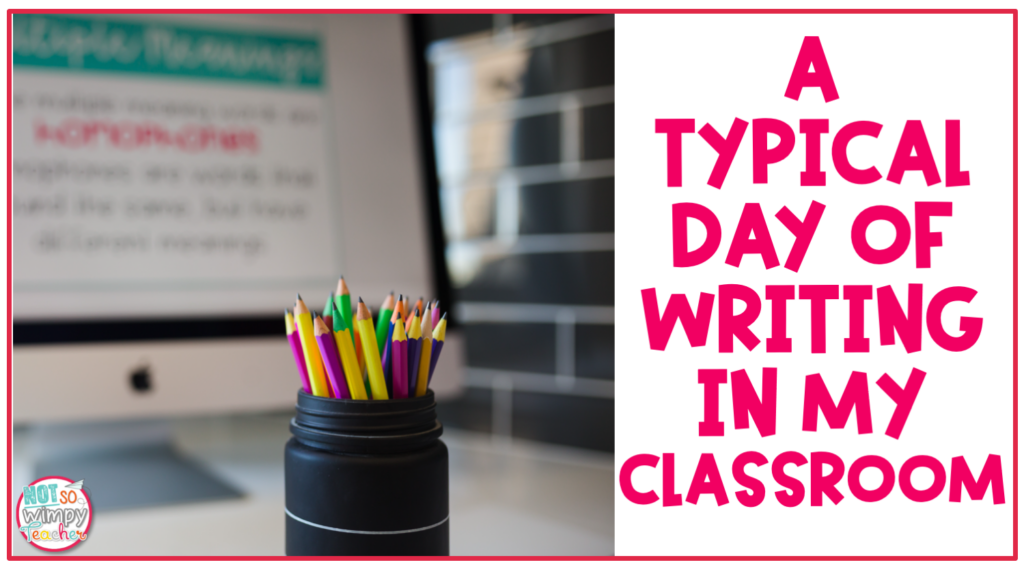 Writing happens all day in my classroom. Students respond to text during reading. They write about their math strategies using math journals. Students write informational paragraphs in social studies and science. Even though our pencils are dulled from all of this writing – we still have a dedicated time for writing instruction. If you really want students to be better writers, you have to teach them explicit writing skills. I use writer's workshop to teach writing in my classroom. 
Here is a look at what writing looks like in my classroom:
Mini Lesson: 10-15 minutes
Writer's workshop starts with a mini lesson. It is a MINI lesson – not a MAXI lesson! This is the time when we are teaching our students a skill that we want them to use in their writing. If we spend too much time talking, then they never get to the writing! 
During my mini lesson, I love to share mentor texts. I think that reading great writing is the best way to grow great writers. There are wonderful picture book mentor texts for nearly every writing skill. However, I can't always find the books at the library and it gets pricey to buy them all. I started using mentor text passages instead. I like them because they can be used as a close read during reading and students can highlight and underline interesting words, dialogue and other great writing skills. Plus, students can glue the passages into their notebooks for future reference.
Most of my mini lessons also include anchor charts. The charts are a great way to practice a skill. I don't have a ton of wall space, so I prefer to display a digital version of an anchor chart and fill it in with student input. Students can create the same anchor chart and put it in their notebook as a reminder when they write.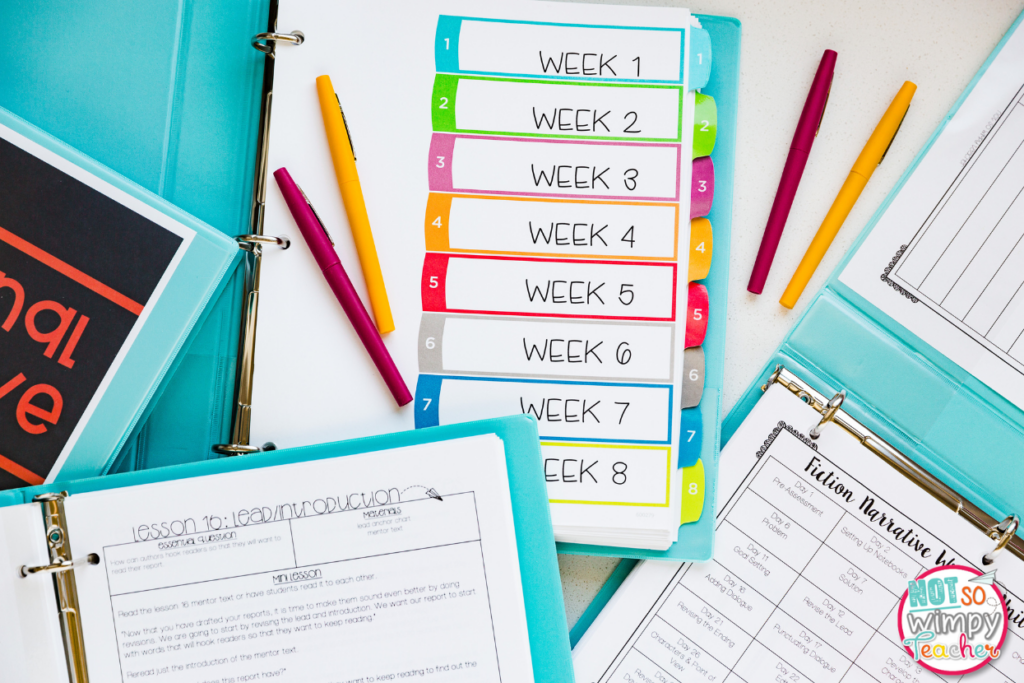 Work Time: 25-35 minutes
The majority of writer's workshop is spent writing! Students are given a specific task to work on in their masterpiece story.
If the mini lesson was about using transition words, their task will be to go back through their piece and add transition words. If the mini lesson was about using dialogue, students will be asked to add dialogue to their piece. Giving students a very specific task, and resources for reference, helps students to write for the entire time. When a student completes the task for the day, they are able to work on extra stories in the back of their notebook. They will come back to their masterpiece the next day when we learn a new skill during the mini lesson.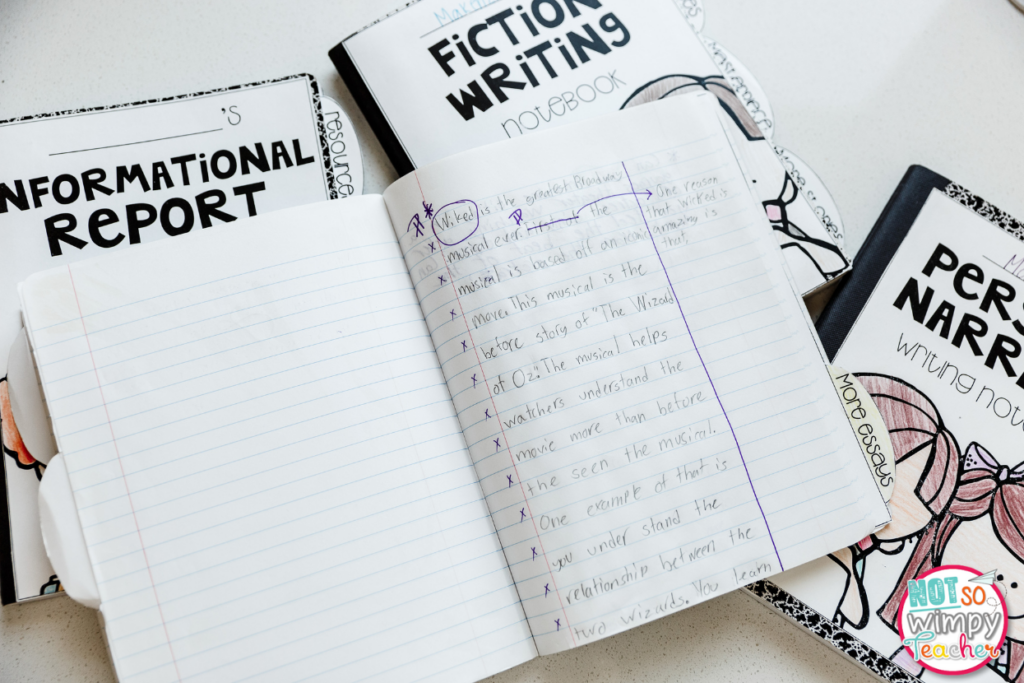 Writing Conferences:
While students are writing, the teacher is conferencing with students. I used to conference one-on-one with writers, but I never seemed to be able to get to every student in a week. I also found that I was giving the same feedback to many of the students. I decided that it made more sense to meet with a small group of writers each day. Students were grouped based on their writing goals. Students with similar needs are grouped together and this drastically cut down on the amount of time I spent giving the same feedback. It also helps students to learn from one another.
When students meet with me during conference, I will have them read their writing out loud. This is much faster than me trying to read all of the pieces. I don't have them read the entire story though. If we have just learned about writing leads that hook readers (or if that is a common goal for the group), I will have each student share their lead. This keeps the conferences short and focused.
During conferences, I will take notes about strengths and areas for growth for each student. This helps me to remember things I want to follow up on.
Share Time: 5 minutes
I think that it is important for authors to have opportunities to share their writing. I think that is the main reason that writers write! I used to have an author's chair and chose one student to come up each day to read their story. This took so long and meant that students were only able to share less than once per month. I want students to get to share everyday! Sharing doesn't always have to be in front of the whole class. Most days I just have my students share with their shoulder partner.
I always give my students a very specific task during share time. It just takes too long to read an entire story. Instead, I might ask them to share a place where they used the "show, don't tell" writing strategy. I might ask them to share a place where they used dialogue. Giving a specific task helps to keep things moving and his a great way to close our lesson.
Helpful Product!
Would you like to have an effective writing workshop without having to write the lesson plans, find the mentor texts or create the anchor charts? I have you covered! I did all of the hard. work, so you can start teaching writing in your class tomorrow! Click on the pictures below to read more about these units!
Work with Me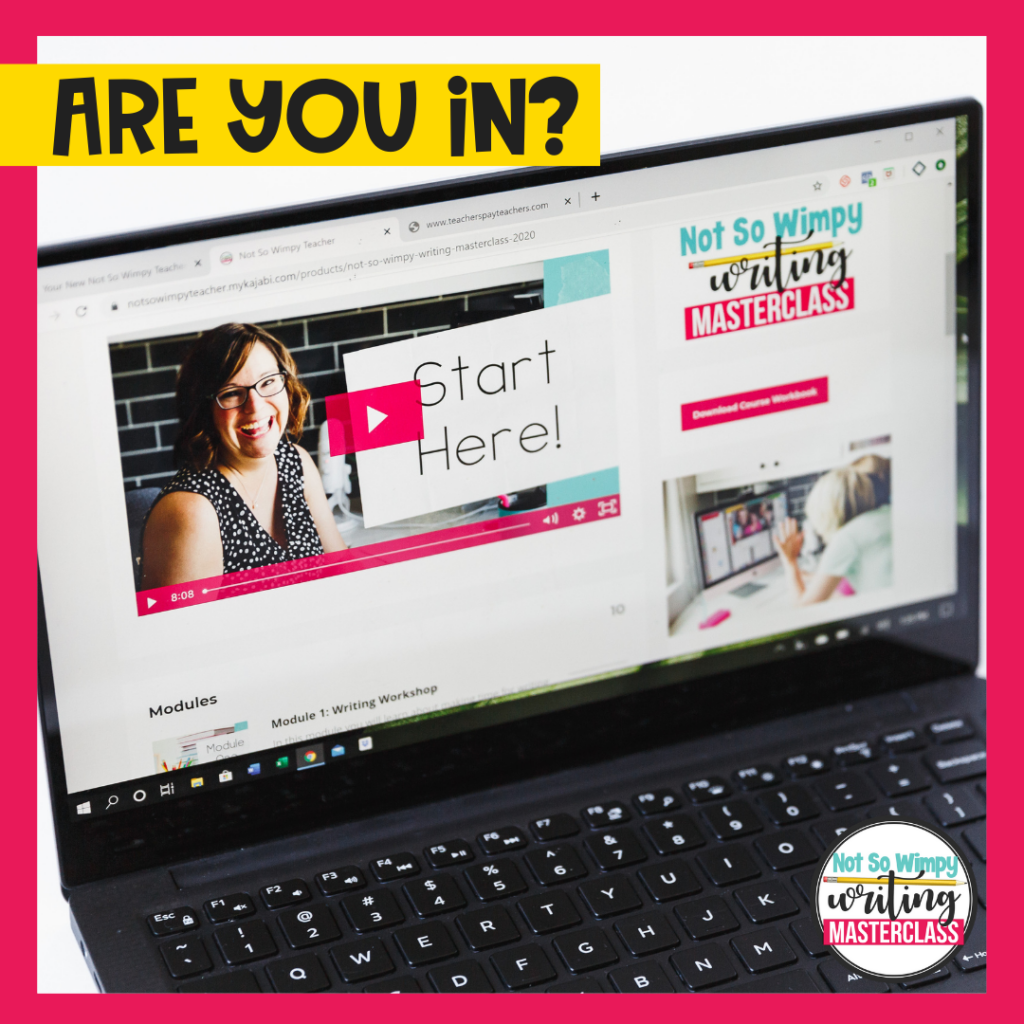 I created an online professional development course specifically for teachers in grades 2-5. I designed this course to help make writing workshop easier. I'll show you the tips, tools, and strategies you need to be a more confident writing teacher.
You'll learn the Not So Wimpy Writing Process–my tried and true process for how to teach writing, including how to:
Teach writing in units.
Create manageable mini lessons.
Keep students on task during independent writing time.
Implement a successful writing workshop without chaos and confusion.
Transform ALL your students into eager and excited writers who have the skills needed to perform well on standardized tests.
The course will help you simplify your writing instruction and dramatically increase the success of your students. I'll even help you find the time in your schedule to teach writing and have writing conferences every day.
Together we can make next year your best writing year ever. Sign up below and get started today!