I hear from teachers every day who are flustered because their students do not edit their writing. "They tell me they don't have any mistakes to correct, even though they didn't capitalize the first word of each sentence and they forgot most of the punctuation. Don't get me started on their spelling!" Sound familiar? Teaching young writers to edit their own writing can't be done in a day, but I have some tips that will make it much easier!
1. Mistakes Happen
I am the Queen of Typos. As I sit here writing this article about editing, I am nervous about the mistakes that I might make. The reality is that all writers- regardless of their age or experience- make errors. (Sometimes I have a professional editor look over my writing and then an 8-year-old in your classroom still finds an error! It happens.)
Having a classroom that celebrates a growth mindset, recognizes that errors are normal, and provides opportunities to learn and grow is so important. Mistakes are opportunities!
Don't be embarrassed to make mistakes in front of your students. Talk about mistakes. Read about characters who make mistakes. Make your classroom a safe place to be imperfect.
2. Leave Room for Editing
Prepare your students to succeed from the start. Before they put a single word on the page, have them set up their paper so that there will be plenty of room for revisions and edits when it comes time.
I have my students do three different things to save space for the future edits:
Draw a line 2/3 of the way across the page. Do not write past that line. This leaves a third of the page for changes later.
Skip every other line. I have my students put an X on every other line before they start writing to remind them not to write on those lines.
Don't write on the back of the paper. This space can be used later for lengthy additions to a student's writing during the revision stage. Those revisions will need to be edited and so we want to be sure they have plenty of space.
Many teachers think that I am a little crazy when they see how much of the paper I ask students to leave blank when they are drafting. I am a little crazy, but I promise that this is a game changer for students.
Students are much more likely to see where edits are needed and make the edits when there is space to do so. We are also telling them from the beginning that editing will be necessary. Everyone will need the space because everyone makes errors.
3. Don't Edit Too Soon
Has this happened in your classroom?
You give students a writing assignment and send them off to work. Two minutes later a student raises their hand and says, "How do you spell…..?"
Students want us to help them edit on day one. (This is often because they are afraid to make the mistakes.)
When we start editing and worrying about spelling during the drafting phase, we are curbing the creativity. It is so important that students are given the freedom to simply get all of their thoughts on paper. There should be no talk or concern about grammar, spelling, or handwriting.
After the drafting is complete, then students will need to work through the revising stage. This is the phase in the writing process where students are working to make their writing sound better by using a lead that hooks, more interesting words, dialogue, details, etc. Again, there should be no talk of spelling and mechanics.
Only after the drafting and revising are complete, do writers move on to the editing phase. Now, they are going to make their writing look better by focusing on things like capitalization, punctuation, and spelling.
Don't rush it or you risk losing the quality of the writing that is on the page and needing to be edited!
4. Editing Day
Editing should happen on its own separate day (or two).
Students are much more likely to see, and willing to correct, errors on a day that is separate from the day that they wrote the piece.
When we edit right after we write, our head makes us see what we think should be there. It's easy to miss glaring errors. When we give students a break and then have them come back to do the editing, they will be more successful with editing.
5. Give Resources
When it come to editing, there are SO many things to look for and SO many rules too remember. I struggle with it. If it's hard for me, someone who has been writing for 35ish years, of course it will be hard for a child who just learned to write their letters three years ago.
We can help our writers to be more successful with editing by giving them resources and modeling how to use these resources.
Some resource ideas:
grammar interactive notebook
chart with commonly used words
books or articles that they used for research (to check the spelling of names and domain specific vocabulary)
anchor charts with basic grammar rules and editing marks
word wall
Don't just give a resource! Use it every single time you edit in front of your students. This will teach them to do the same.
6. One Type of Edit at a Time
I used to tell my students, "Ok. It's time to edit. I should see lots of pen marks on your paper today."
Then I was disappointed when students turned in clean papers a few minutes later. "Done!"
But, I was making a huge mistake. I wasn't giving any guidance about HOW to edit. I wasn't showing them how to break down this big task into smaller and more manageable tasks.
If you really want your students to be more independent with editing, teach them to read through their writing multiple times. Each time they are focused on just one type of edit.
It's a scavenger hunt where the goal is to find errors!
For example…
Read through your writing and check to be certain that the first word of every sentence is capitalized.
Read through your writing again, and this time, make sure that every sentence ends with proper punctuation.
Now, read through your writing again and make sure that you have correctly spelled words that you know how to spell. Circle ones that look wrong, but you aren't sure about.
Giving students one specific thing to look for will help them to stay focused. When we look for every mistake in one read, we are bound to miss some very obvious errors.
7. Read Writing Out Loud
The best way to discover errors in our reading is to take a break from the words and then come back and read it out loud.
You can do this a few different ways in the classroom. Students can read their writing out loud to a partner or they can read it out loud to themselves. Another option is to have a few stuffed animals that students can read writing to on editing day.
I recommend having students read with a pen in their hands. They are ready to circle or correct any errors that they might see.
8. Don't Edit for Them
Teachers, we have a bad habit.
We are known for taking our pretty Flair pen and marking up student writing. We are guilty of correcting every last spelling, capitalization, punctuation, and grammatical error.
Then we hand the marked up paper back to the writer and we wonder why they don't love writing more.
Here is the deal- no one likes having their masterpiece torn apart. You would never draw all over an artist's painting. It's so discouraging and causes students to see themselves as poor writers.
Editing a student's paper for them does not teach the student to be a better writer. It just makes that one piece of writing better. The writer is unchanged.
When the paper is full of markings, the student is not going to learn how to spell words they didn't know before. The student is not going to understand grammar rules that weren't clear before. They are not growing as a writer.
If you want to help a student with their editing, choose 2-3 words that the writer has used multiple times and misspells regularly. This gives them just a couple of words to focus on and improve. It's much more manageable.
Perfection Isn't the Goal
"But what if they turn in a completed report and there are lots of errors?"
I get asked this on a regular basis.
You students WILL turn in papers with errors. That's ok. They are children and they are still beginner writers. They are not supposed to be perfect by the third grade.
If we make perfection the goal, we will always be disappointed.
Instead, the goal is growth. Is this student writing better than they did last month? Better than they were at the beginning of the year? Is the student making progress?
If it is a yes, then celebrate the writing- spelling mistakes and all.
FREE Editing and Revising Centers
Make teaching editing and revising easy and fun with my FREE Editing and Revising Centers.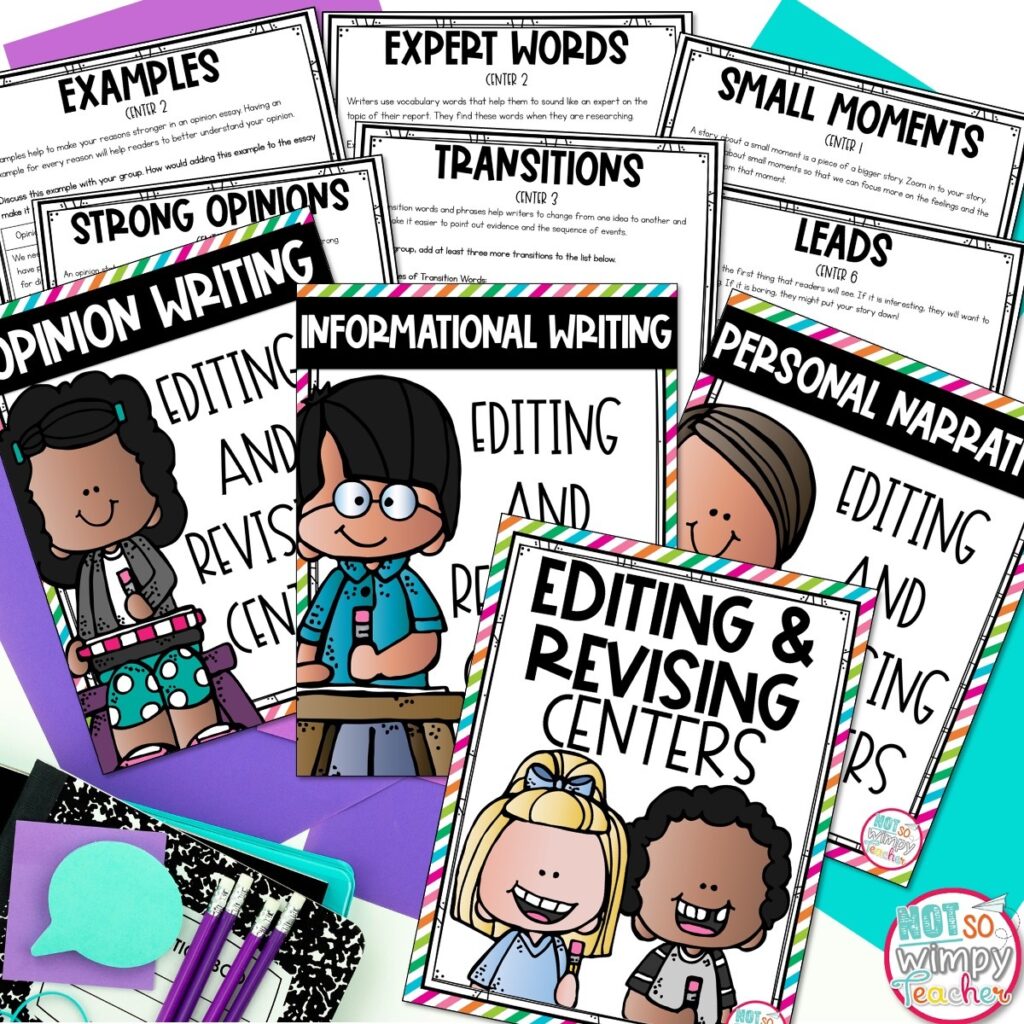 This FREE resources includes centers to help your students master tricky editing and revising skills.
Inside you'll find:
18 hands-on centers, each focused on one specific skill
Differentiated activities for grades 2-5
Narrative, opinion, and informational writing tips, examples, and practice activities
Editing and revising checklists
Detailed teacher directions and center signs
These centers make a great review activity! Divide your class into groups and let them work together to read the tips, review the examples, practice the skill, and discuss their ideas.
I know you and your students are going to love them!
Students don't learn how to read overnight.
Students don't learn to multiply and divide overnight.
And they won't learn to write overnight either.
Keep cheering them on and giving them time to practice all of these new strategies. The growth will come next!
Get more tips on teaching editing and revising skills here.
Have a Not So Wimpy Day,