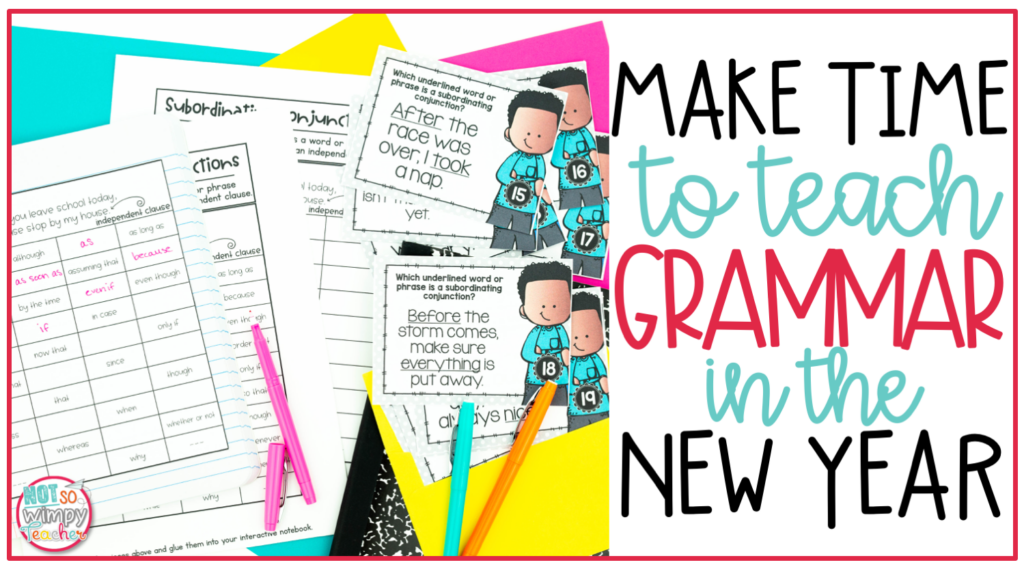 Finding time to teach all the subjects you need to teach can be tough. You've got math, science, social studies, and ELA. And within ELA you've got to teach reading, writing, spelling, vocabulary, and grammar. With all that on your plate, it can be easy to let your least favorite subject slide. And for many teachers, that means grammar lessons get the short shift. But I'm going to show you how to make time to teach grammar in the new year.
Why you need to teach grammar
Some teachers think that they don't need to explicitly teach grammar. They believe that students will learn grammar rules from reading, writing, and listening. And while it's true that a lot of language acquisition occurs naturally, this does not include understanding grammar rules.
Students need direct instruction in grammar. They need mini lessons on individual grammar rules and lots of opportunities to practice those skills.
Let's face it. Grammar can be confusing. There are so many rules and so many exceptions and so many terms that start with the letter P (pronouns, proper nouns, prepositions, punctuation, possessive, participles). Keeping track of all those things can be tough for kids and teachers.
But good grammar skills are essential. The most important reason to teach grammar is that knowing and applying grammar rules correctly results in clear written and spoken communication. When kids make grammar errors, their message gets muddied. 
Good grammar skills help kids confidently express themselves and lead to college and career readiness. And a good grasp of grammar rules makes it easier to learn foreign languages in the future.
Teach grammar separately from writing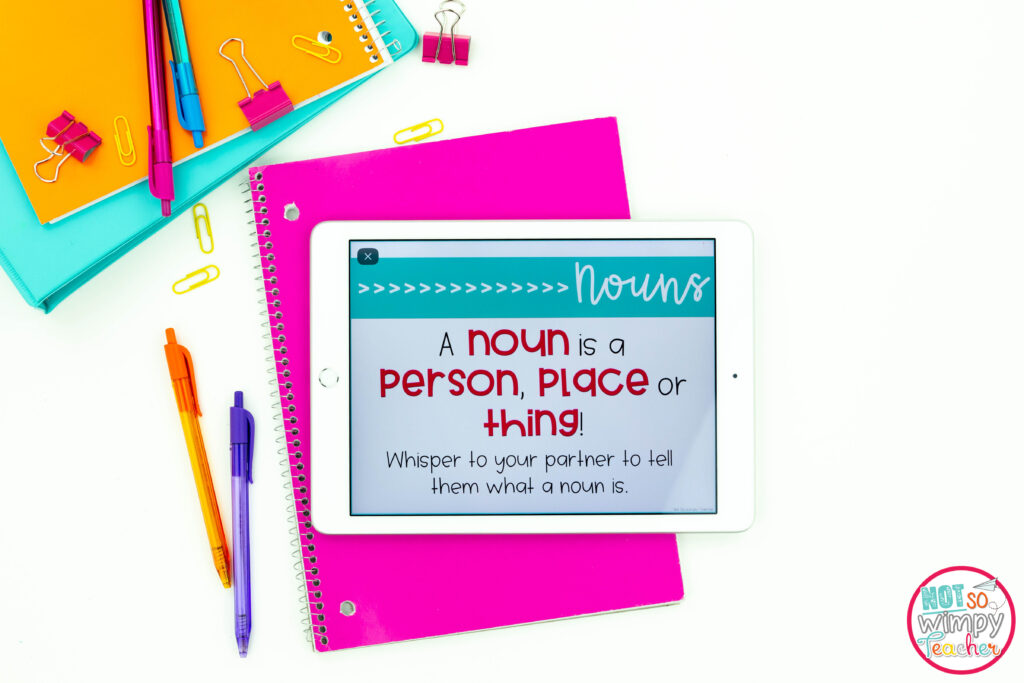 Grammar is hard. There is a lot to learn. Have you looked at the grammar standards? At first glance, they might not seem overwhelming. But just think of how many different kinds of nouns and verbs there are.
The only way students can master this long list of grammar skills is through dedicated grammar lessons. You need to break each standard into small pieces and give each one its own mini lesson.
For instance, you will want to spend several weeks teaching about nouns. In week one, you will introduce what a noun is. The following week you can teach regular plural nouns. Then you can focus on irregular plural nouns. And so on.
Only after students have been taught these skills can we expect them to properly use the rules in their writing.
When you try to squeeze essential grammar instruction into writing workshop, you reduce the amount of time you can spend on both important skills. There is a lot more to teaching writing than grammar skills. And most of your writing instruction should focus on those important skills.
The purpose of writing workshop is to develop ideas that are interesting to read. Focusing on grammar instead of content will be not only confusing but also demoralizing. 
In addition, it is unreasonable to expect kids to instinctively know how to use grammar properly. Instead, we need to give them the building blocks for composing coherent sentences through our grammar lessons.
When to teach grammar lessons
Once you pull grammar out of writing workshop you will have more time to focus exclusively on grammar time. I recommend teaching grammar right before writing.
This helps kids see the connection between grammar and writing and keeps the new grammar rules in their minds as they start writing.
But the truth is, you can teach grammar at any point during the day. You can squeeze it in after specials, before lunch, or even after recess. It doesn't matter when you teach grammar. It just matters that you teach it.
You only need 10 minutes to teach grammar
The good news is you don't need much time to teach grammar. All you need is ten minutes a day.
A solid grammar routine that you follow week after week makes prep easy. It also allows you to maximize your teaching time because students know what to expect each day.
My grammar routine looks like this:
Monday: Interactive mini lesson
Tuesday: Interactive notebook activity
Wednesday: Writing activity
Thursday: Task cards
Friday: Assessment
And each of these activities only takes about 10 minutes each day. When you break each concept down into very small pieces, you don't need much time to teach it.
This is good because grammar just isn't that exciting to most kids. Students get bored easily, so it's important to keep the lesson moving.
You can read more about my grammar routine here.
Done-for-you grammar lessons
If grammar in 10 minutes a day sounds good to you, but you aren't sure how to break the standards down into small chunks or the thought of creating all those mini lessons and activities is overwhelming, I've got just the thing for you. My new and improved year-long grammar bundles for grades 2-5 contain a year's worth of 10-minute grammar lessons.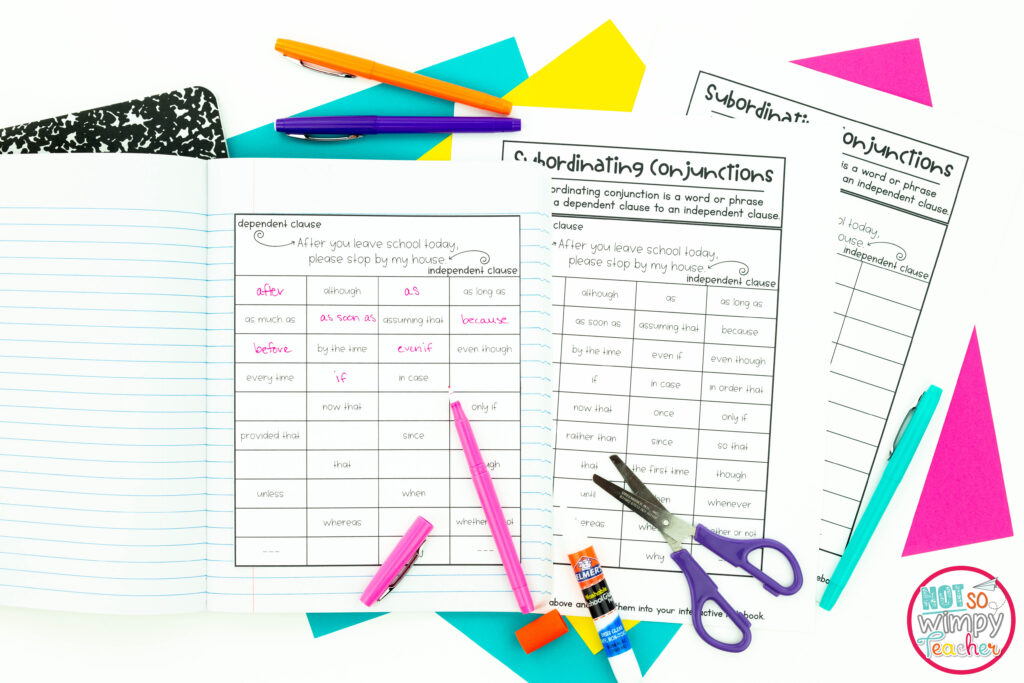 Each unit follows the same routine and includes:
a ready-to-use PowerPoint mini lesson
an interactive notebook activity with simple kits
a grammar writing prompt to put those new skills to the test
task cards
an assessment – both printable and self-checking digital options
It's easy to make time to teach grammar with these done-for-you grammar lessons.
This resource has changed my grammar block!! It is so easy to use and is very low in prep time. My students have really connected with the things we have been learning with this and I've already seen growth from it. I recommend that everyone buy it, it's worth the buy!! – Alisha M.
I have always struggled to fit grammar into my teaching day. I had a hard time keeping it short and sweet. This resource has really kept me organized and has helped me manage my time. Thank you! – Kelly B. 
Oh, and did I mention kids actually enjoy these lessons? Grammar lessons that kids like? I'll take two!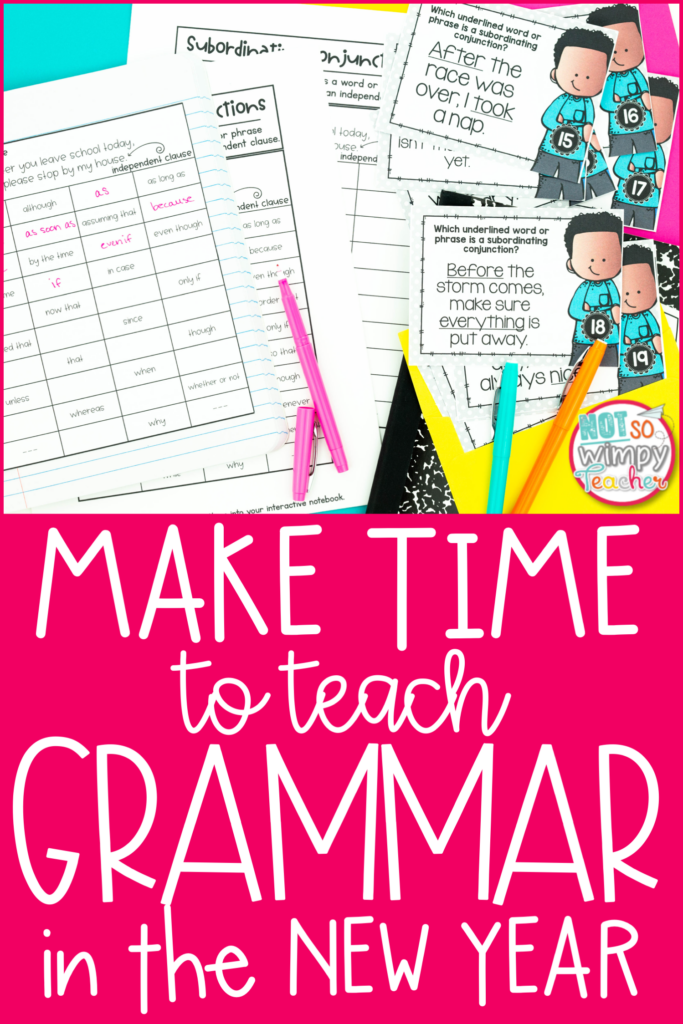 Have a Not So Wimpy Day,