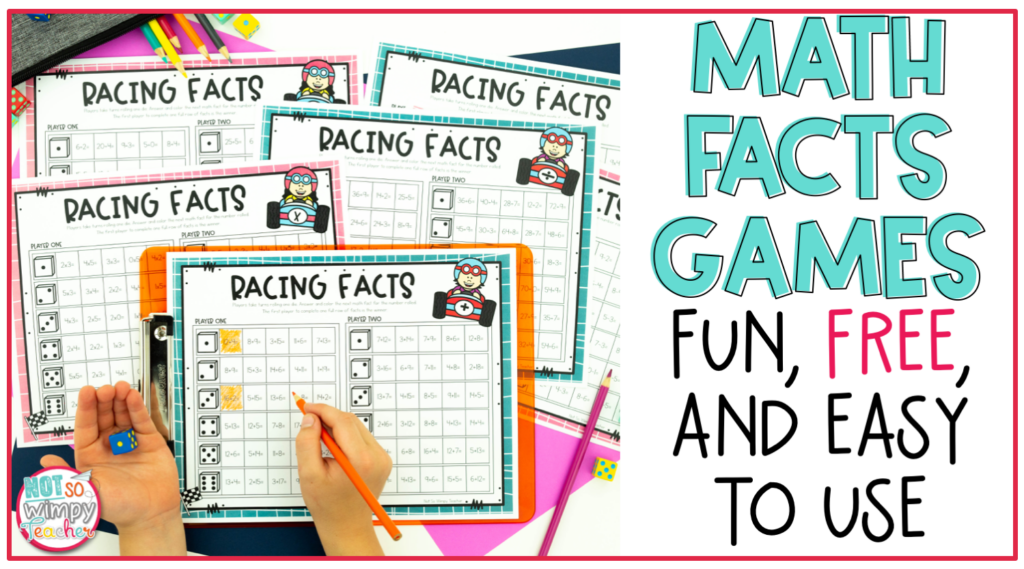 Today we are chatting about math facts. Math fact games to be more specific.
You know that getting students to practice math facts is essential. But so many math fact strategies are tedious, boring, and ineffective. So today, I'm sharing two brand new math fact games with you to help students master fact fluency.
What is Fact Fluency?
Facts fluency is the ability to recall basic math facts in all four operations accurately, quickly, and effortlessly. When students become fluent in these facts, they know the answer automatically. They are able to retrieve solutions from their long-term memory without conscious effort or attention.
Why Are Math Facts Important?
You may be wondering if math fact fluency is still an important skill for students to master. With computers and smartphones always available, people now have the ability to quickly compute any mathematical equation. (Take that Mr. Tilly. I do always have a calculator in my pocket.)
But fact fluency is still important. Here's why.
Fact fluency leads to success in higher order mathematics. Students who know their basic facts free up their working memory. They have more brain power to devote and can devote it to problem solving and learning new concepts and skills.
Math Fact mastery leads to fewer mistakes. Math facts form the building blocks for higher-level math concepts. When a child masters their math facts, complex concepts will be significantly easier. Students will be able to give them their full attention and solve them faster. If the child does not know their basic facts, they have to devote time and energy to solving those basic components of the problem. This introduces more room for error and diverts their attention from the real question.
Math facts are important for other subjects. As students move through school, complicated computations will pop up in science, geography, economics, social studies. If a student does not have their math facts memorized, they may not be able to complete these tasks.
Fact fluency decreases math anxiety. Many students believe they are not good at math and lack the confidence to complete higher level math problems with ease. Math anxiety often starts when children fall behind and can't keep up. Fact fluency equips students with the skills they need to succeed in math and can reduce math anxiety.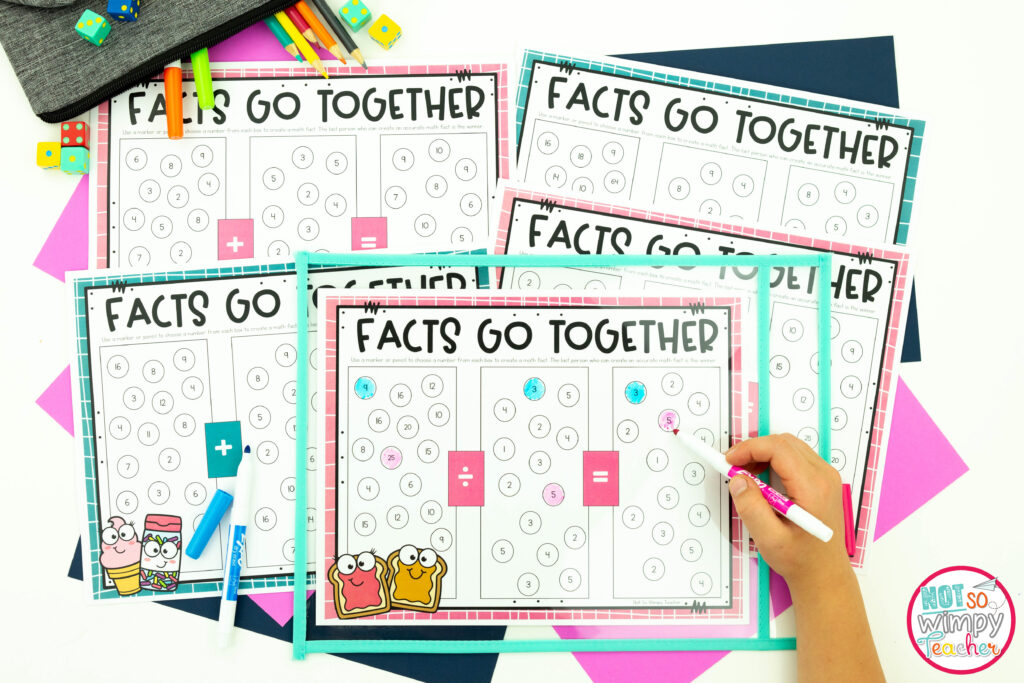 Make Math Fact Practice Fun
But just because something is important does not mean it is easy to teach or learn. In fact, the opposite is usually true.
Learning math facts takes lots of repetition. And it can be hard to motivate kids to keep practicing their math facts. Introducing an element of fun or competition makes practicing math facts more engaging for kids.
But some games are so darn complicated.
That's why I created these two FREE math fact games for you!
Not only are these math fact games FREE, but they are easy to implement, and, perhaps best of all, effective. And your students will love that they are fun!
Both games include two levels of play for all four operations. There are 16 math games in all!
Prep the Math Fact Games:
I designed these math fact games to be easy to prep and use.
For each game you need to print one game board for each pair of students.
I recommend printing on cardstock and laminating the game boards, so you can reuse them. Students can use dry-erase markers or counters to cover the spaces.
Of course, you can just print the games on regular paper too, and students can color in the circles. You might want to make a whole stack of game boards to keep in your Fact Fluency center, so you don't have to rush to the copier every week.
Or, you can also slip paper copies in a plastic page protector to help them last longer. Students can mark their facts with dry erase markers or a counter.
The only other items you need to play are:
Dry erase marker, counters or markers/crayons
Dice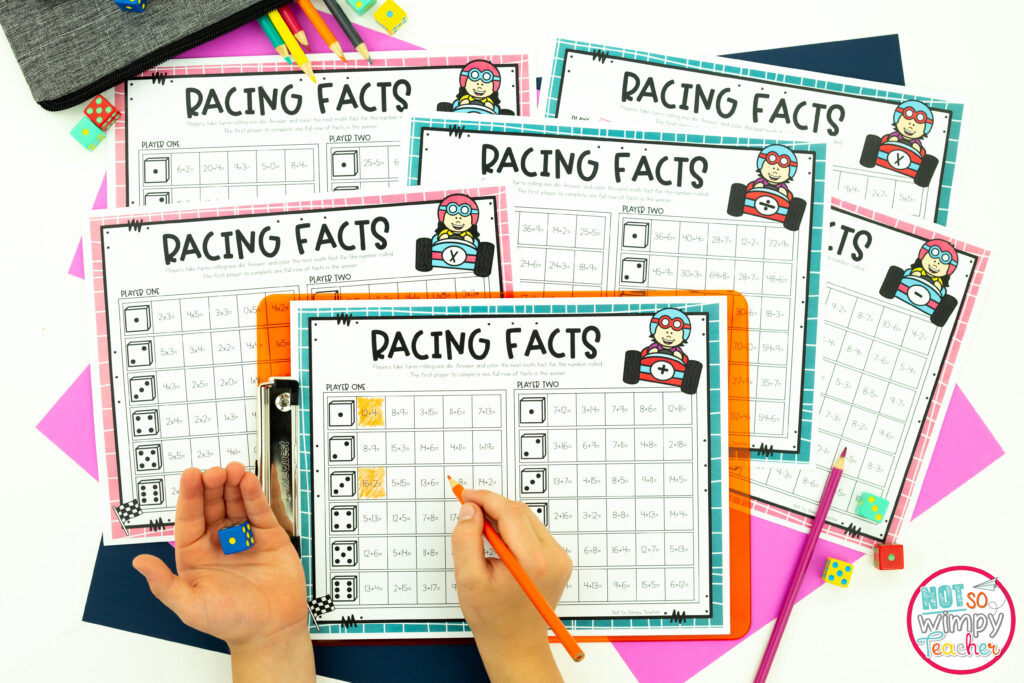 Facts Go Together
Facts Go Together is a math game for practicing addition, subtraction, multiplication, and division.
Students will cover or color one number in each column to make a math fact. For instance, in the multiplication game a student might cover 8, 5, and 40 to make the multiplication fact 8 X 5 = 40.
Students take turns finding math facts until there are no facts left to make.
The last person to find an accurate math fact is the winner.
Students can continue playing for as long as time allows. The great thing about this game is there are multiple combinations that will result in accurate math facts. So the game is different every time it's played.
Racing Facts
This fun game is best played with a partner, but can be played in teams if necessary. Students will have a ball racing each other to the finish line.
Each student rolls a die. Whoever rolls a higher number goes first.
The student then rolls the die again and solves the first problem in the corresponding row. If they answer correctly, they can color or cover up that problem.
The two players continue taking turns until someone completes an entire row of facts. That person is the winner.
Students can continue playing as long as time allows. The element of chance keeps the game interesting and ensures that it is different every time.
How to Use Math Fact Games in the Classroom
There are lots of ways to use math fact games in the classroom:
Place them in your math fact center
Friday Fun Days – take a break from your regular lesson and play math fact games
Use them for ten minutes at the end of math class
It's also easy to differentiate these math fact games. I've included two levels for each operation, so students can choose the level that's just right for them. You will want to make sure partners are on the same level so both students get valuable practice during the game.
Have students who need some extra support? Work with them in small groups. Or you can be their partner!
Download Your Math Fact Games: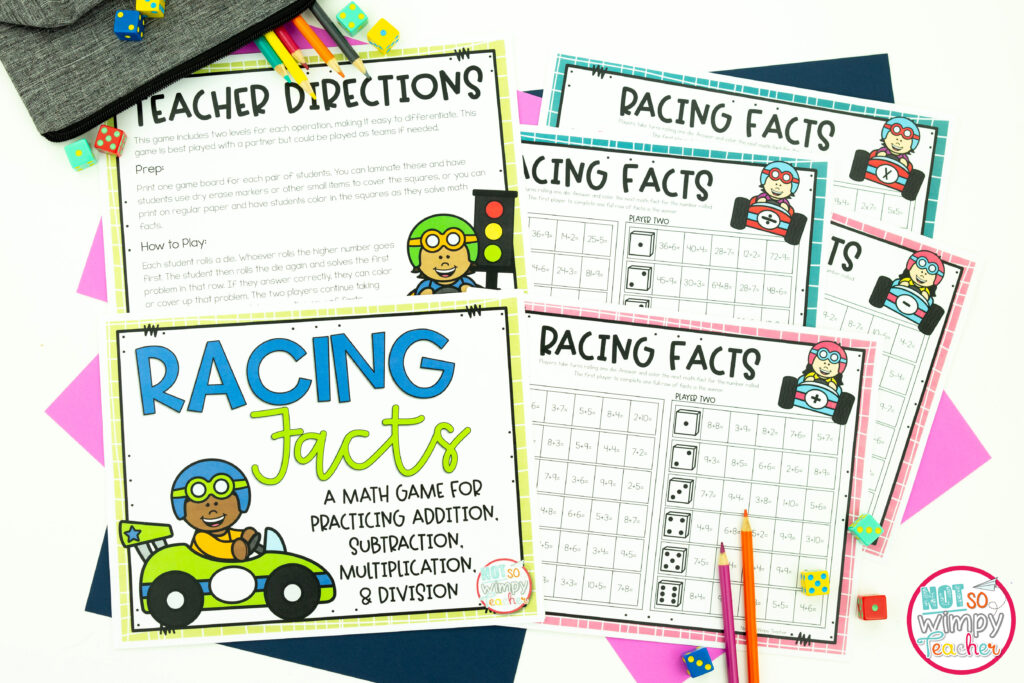 These super simple games are perfect for grades 2-5.
What's included:
16 easy to implement math fact games
Addition, subtraction, multiplication, and division
Differentiated options – 2 versions for each operation
Color and black and white versions
Teacher directions
Fact Fluency Bundle
Of course, you need more than just games to help your students learn their math facts.
If you're ready to make this the year that students truly master their math facts, my Math Fact Fluency programs can help. I've got programs for Addition and Subtraction and Multiplication and Division. Or you can grab a bundle of all 4 operations.
The thing that sets this program apart from most other programs is that I introduce kids to mixed facts right from the very beginning. This helps ensure that kids aren;t just memorizing patterns, but actually learning facts.
Each program includes 6 sets of mixed facts with multiple assessments and over practice pages. You'll love that my Math Fact Fluency programs:
Are designed for flexibility
Are easy to differentiate
Can be printed back-to-back to save time and paper
Include labels for easy organization
Include more games you can add to your math centers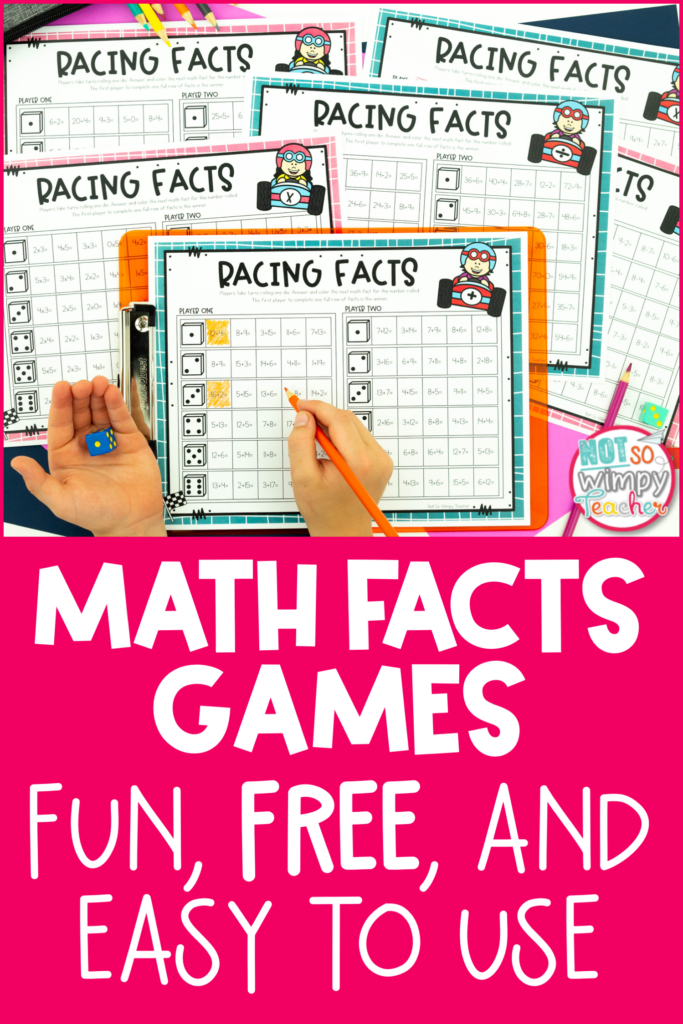 I hope you love these new games and that you students are well on their way to math fact fluency!
Have a Not So Wimpy Day,