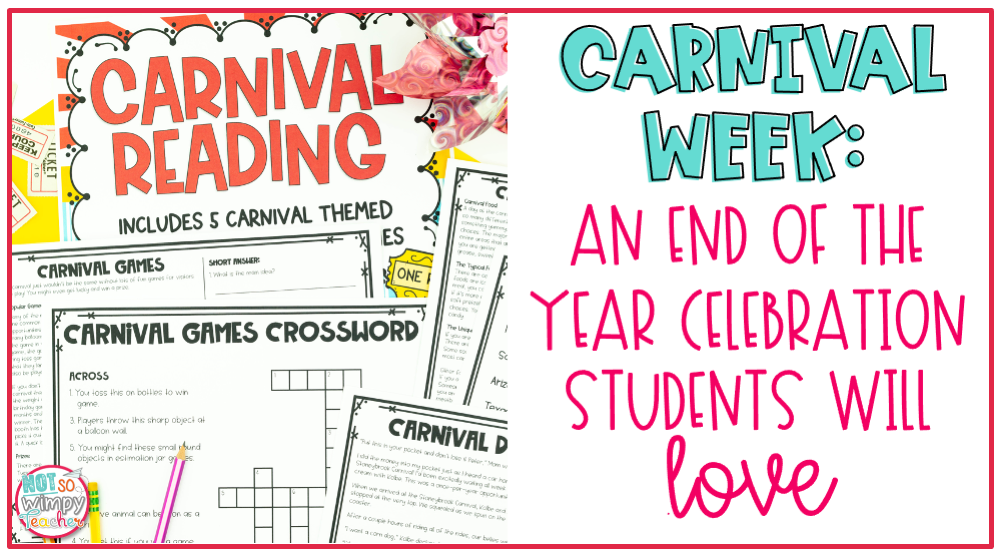 The end of the school year is a fantastic time to have a little fun with your students. But that doesn't mean you have to watch movies or play 7-Up all day long. In fact, the days go faster (and kids behave better) when they are actively engaged in learning. So why not have a Classroom Carnival?
I can already hear the questions, but I assure you I have not lost my mind. My End of the Year Carnival Week Activities make it a cinch to enjoy an academically rigorous carnival right in your very own classroom without spending hours prepping or trying to supervise rowdy kids.
What's Included:
This amazing resources include 5 full days of carnival-themed math, reading, writing and STEM activities.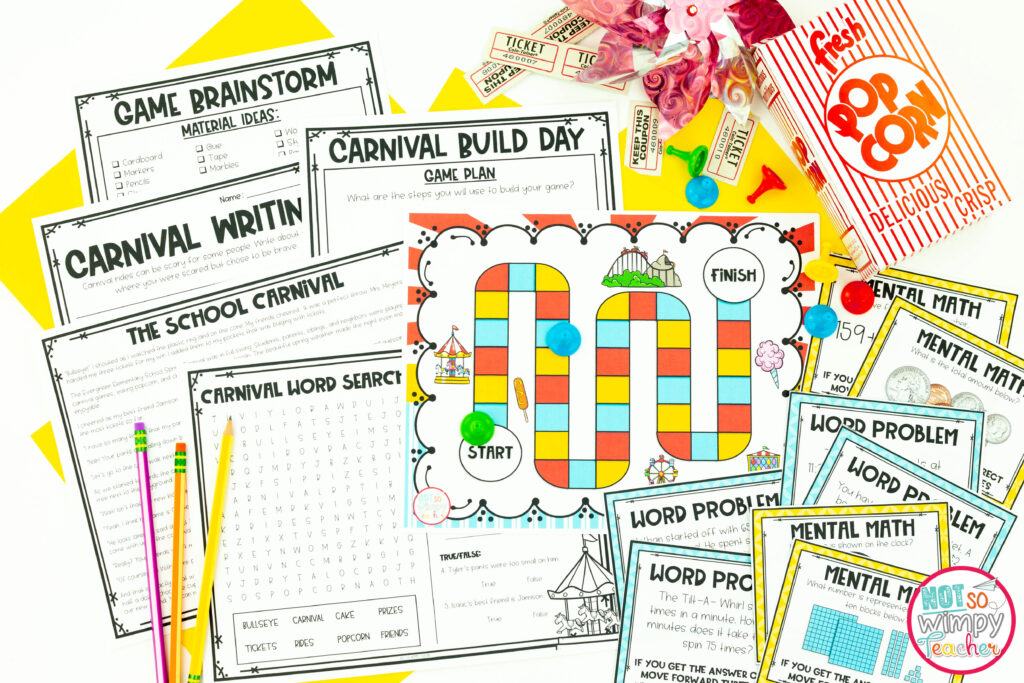 Inside you will find:
Reading passages and activities
Writing prompts
Math activities with differentiation
A ready-to-use PowerPoint science lesson on force and motion
Week-long hands-on STEM activity with student printable
Differentiated math board game
Detailed teacher directions, including a hack to turn Google Slides into a PowerPoint
Editable parent letter to request donations for the STEM project
There's even an At-a-Glance calendar to tell you just what to do each day.
The Carnival Week activities come in both printable and digital formats (so if you've already used up your copy budget, no worries).
Reading: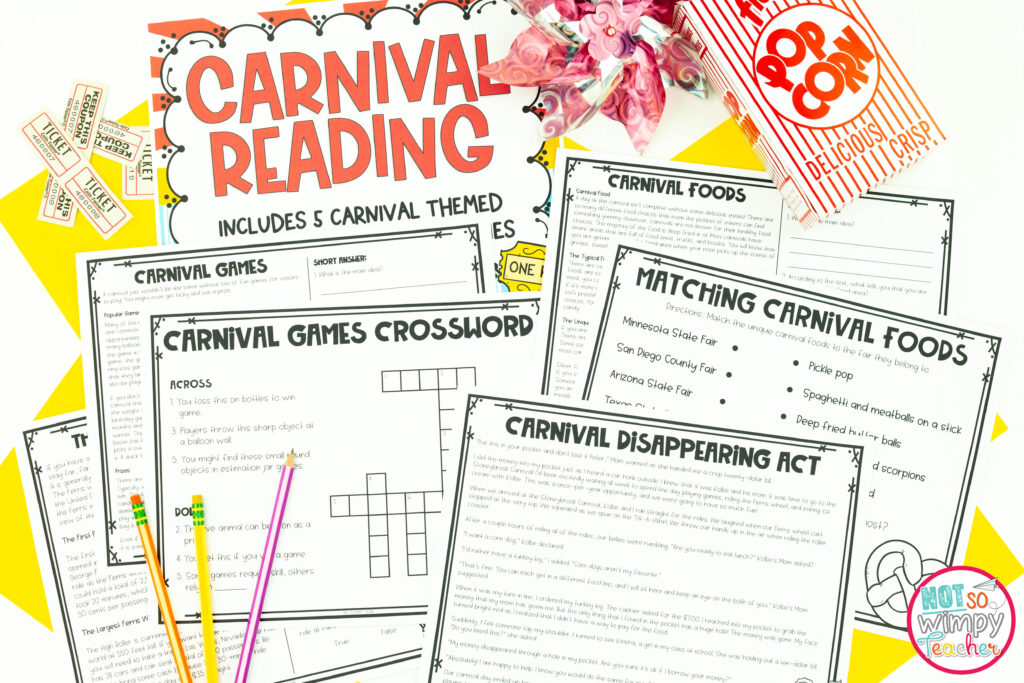 Just because it's the end of the year doesn't mean you have to stop teaching reading. Our Carnival Week resource includes 5 fun, carnival-themed reading passages and questions that will engage students. Challenge your kids to apply their close read strategies to mark up the text and answer the comprehension questions.
With interesting topics like Carnival Games, The Ferris Wheel, Carnival Foods, Carnival Disappearing Act, and The School Carnival, these student-friendly passages will hold kids' attention. But these passages aren't just a bunch of carnival games. They review essential reading skills like:
Main idea
Context Clues
Text-Evidence
Compare and Contrast
Character Traits
Point-of-View
Opinion
Extension activities include both fun puzzles like crosswords and word searches and rigorous skills-based tasks like compare and contrast and character traits.
By the end of the week, kids will have a whole new carnival themed vocabulary.
Writing: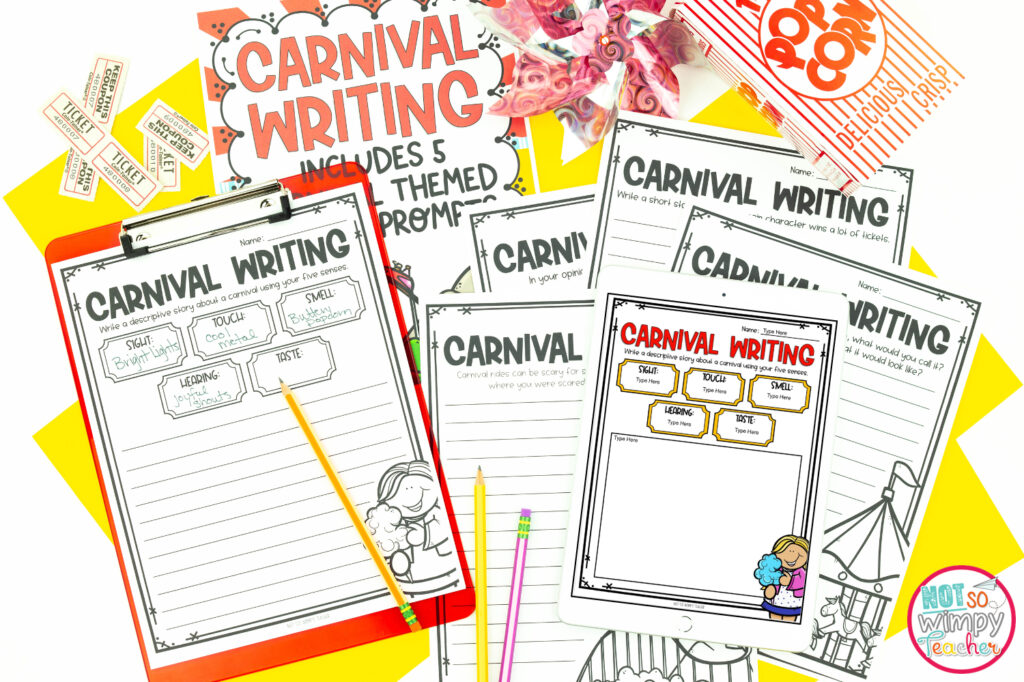 Five fun writing prompts give students the opportunity to practice all those writing skills you've been teaching all year. There are prompts for personal narrative, opinion, and fiction. And, if you want to give your kids some some research to do, there could even be an informational report about designing their own carnival ride.
Topics include:
Carnival rides
The five senses
Carnival food
Being brave
Carnival games and prizes
You can use these writing prompts as morning work, for fast finishers, place them in centers, or use during your writing workshop time. I know your students will dive right into these fun writing assignments.
Math:
The Math activities also review several standards-based skills including: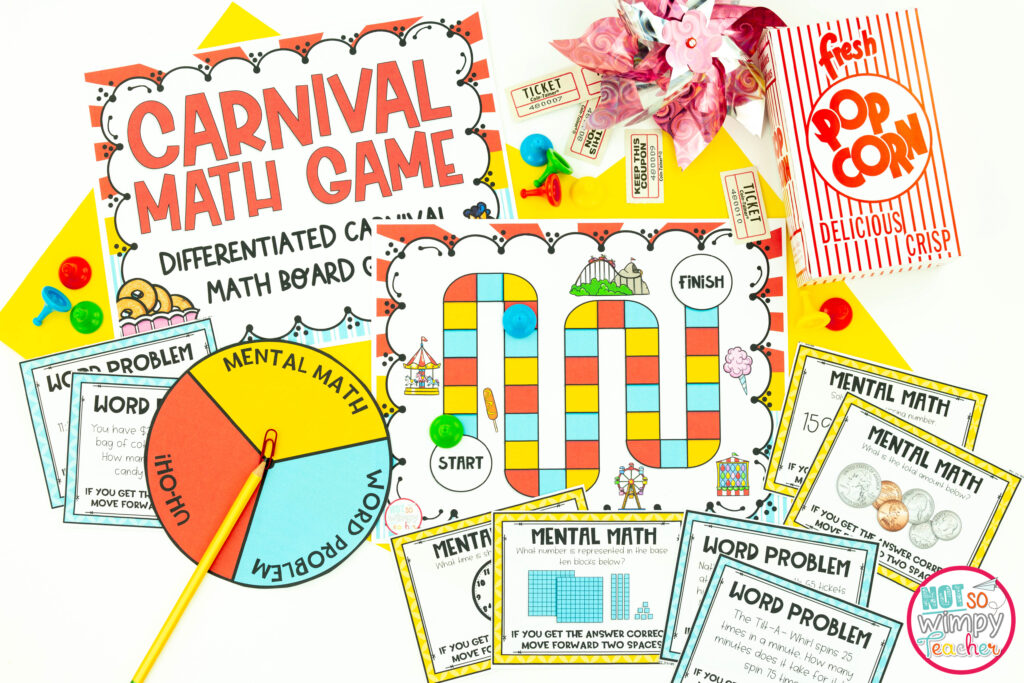 Addition
Subtraction
Money
Time
Graphing
Multiplication
Division
These five fun activities ask kids to purchase tickets to the carnival, plan the perfect schedule to maximize their time at the carnival, calculate how many tickets they won at various carnival games, compare the statistics of various carnival rides, and even play a game of balloon pop to solve a riddle.
There's also a complete math board game included. This differentiated game includes a game board, spinner, and three categories of question cards. Students must solve word problems, do mental math, or deal with uh-oh setbacks as they move around the board.
Two complete versions of the game cards make differentiation easy. There is an easier version for grades 2 and 3 and a more challenging version for grades 4 and 5. The more challenging version has more difficult math concepts and calculations.
STEM: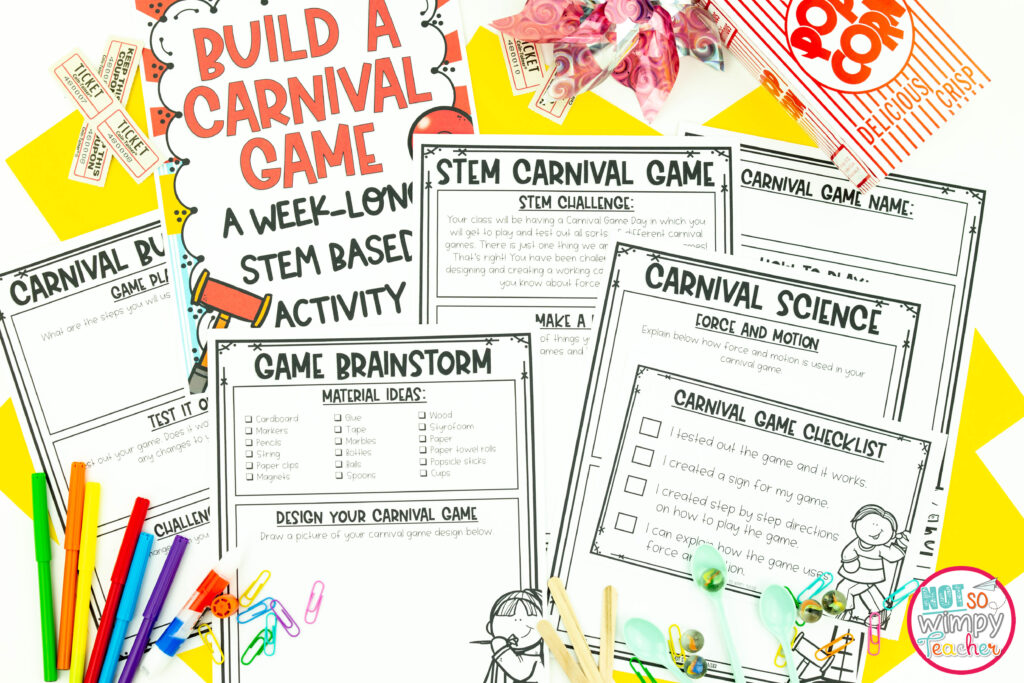 This engaging hands-on activity challenges students to build their very own carnival games. Students will use what they know about force and motion to create a working carnival game.
I've included detailed teacher directions and a day-by-day schedule to walk you through exactly how to help your students with this STEM project. It all starts with a done-for-you PowerPoint lesson on force and motion. This lesson includes everything you and your students need to know to successfully complete the challenge.
The project includes brainstorming and planning pages, a place for them to write directions for the game, and a page for self-reflection. There is even a checklist to keep them on track. You can use the included parent letter to request supplies. But don't worry, most of the materials on the list are standard household or classroom items.
Of course, the most fun part of the STEM activity is testing out the games. So be sure to set aside time at the end of the week
Differentiation: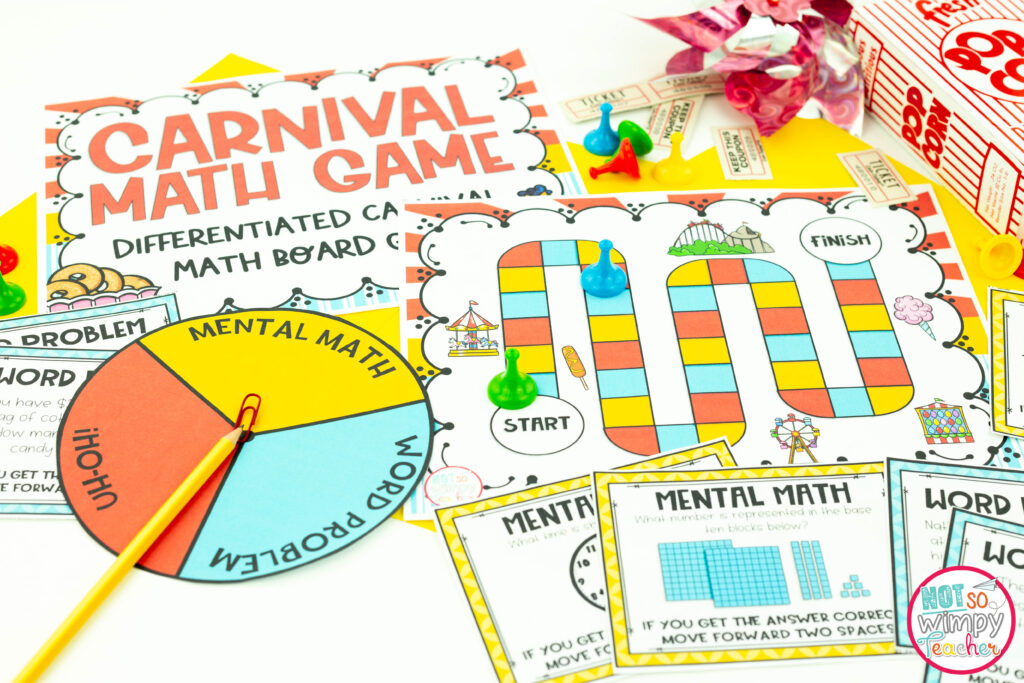 Carnival Week is perfect for students in grades 2-5. Multiple options make it super easy to differentiate these activities for your learners. Pick the activities that are just right for your class or individual students.
The game board has two complete versions for upper and lower grades.
The activities can be completed independently, with a partner, or as a whole group. You can also work with small groups to provide additional support to students.
How to Use This Resource:
There are lots of ways to use Carnival Week in the classroom. We've included a proposed lesson layout with a detailed schedule of which activities to use each day. But we know the end of the year can be crazy, so each reading passage, writing prompt, and math activity can stand alone. You can pick and choose activities to make them fit your classroom schedule.
Only the STEM activity requires a block of time to complete. You can spread it over five days, or devote an entire day to the project.
Extend the Fun
For an even more memorable Carnival Week, why not finish off the activity with a true classroom carnival? You don't have to go overboard to really up the fun factor.
Your students have already done the hard work – they've created all the games.
All you need is a little music (don't plan on playing it all day or you will drive yourself crazy), some balloons or streamers, and some simple snacks. Popcorn, snowcones, and lemonade will definitely be a hit with your students.
A photo booth would also be a fun addition to the day. Pick up or make some easy props and snap some photos of your kiddos having fun. Don't forget to take pictures of the students with their games.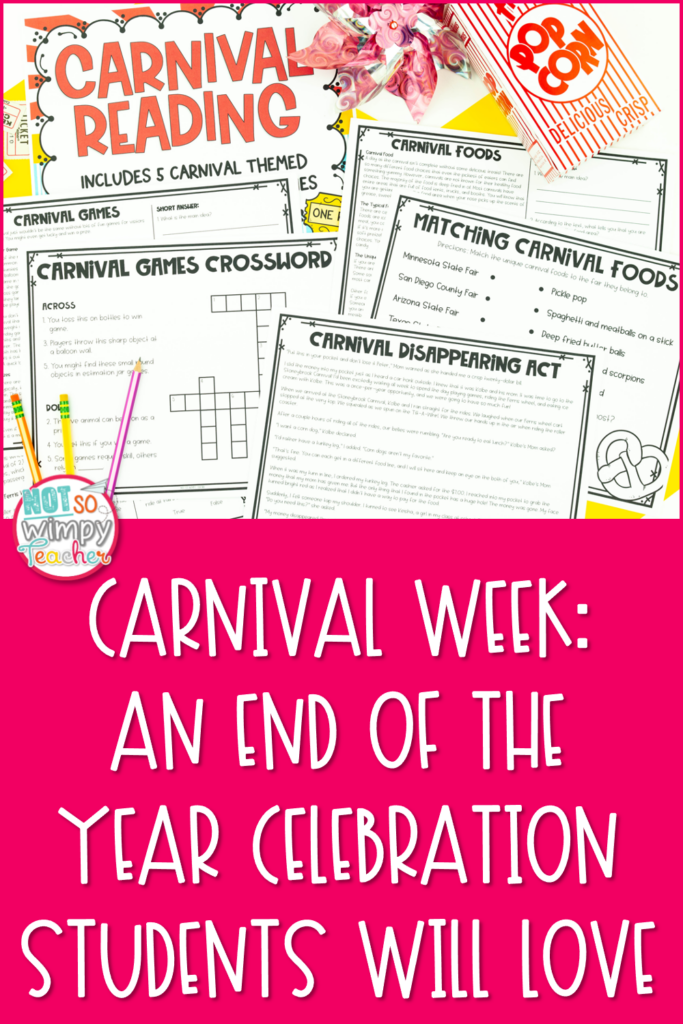 Let me know if you decide to give Carnival Week a try!
Have a Not So Wimpy Day,