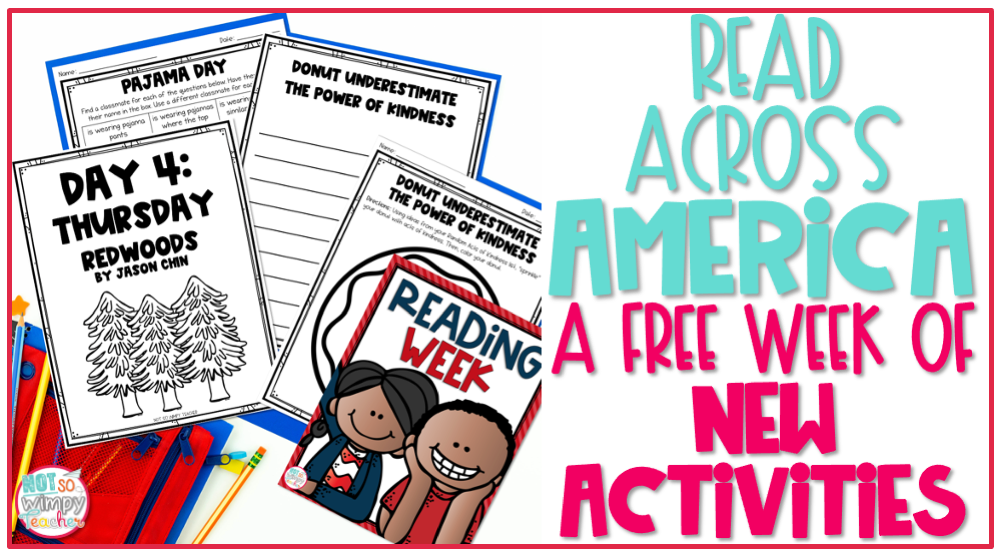 Read Across America, the annual week-long celebration of reading is almost here. Is there anything better than an entire week devoted to books and reading? Yeah, I didn't think so.
As teachers, one of our number one priorities is to help students learn to love reading. Because when they love reading, they read more. And I don't have to tell you about all the benefits that come from reading more.
Today I'm sharing a simple, week-long plan to help make reading fun. I've planned five days of easy and engaging activities to help your students fall in love with reading.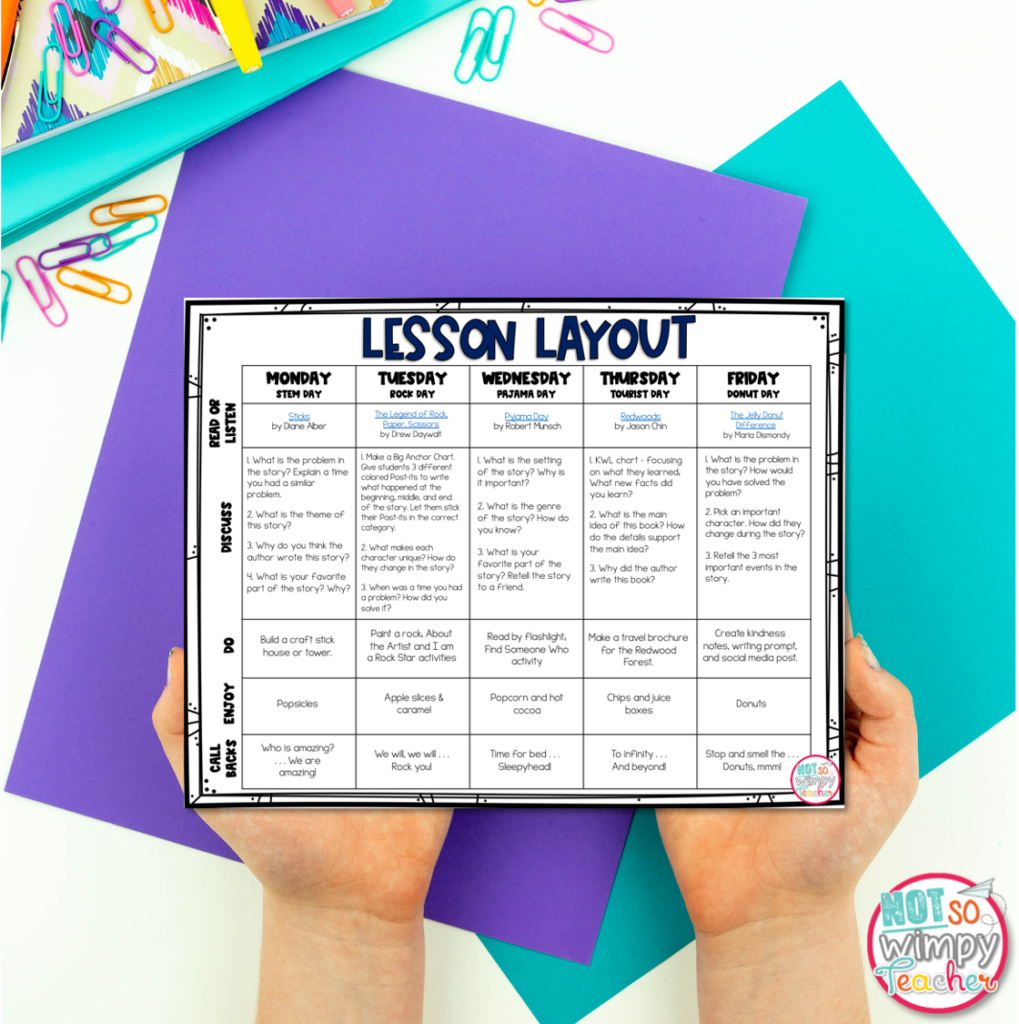 Each day of the week has its own fun theme. There is a read aloud for each day. These are popular books found in most libraries. I've also included a YouTube link so you can listen to the read aloud if you prefer. There are also suggested discussion questions to practice reading skills and strategies, an extension activity, and even a yummy treat. But don't worry if your school doesn't permit snacks, just skip the treat. Your students will be none-the-wiser and they'll still have a blast with these activities.
You can even download a PDF of all the Read Across America lessons and activities.
Monday: STEM Day
We're kicking off Read Across America week with a book about STEM.
But Jamie, I thought you said this week was all about reading? It is! We are going to read about STEM!
Look, I know that Mondays are rough. So we are starting off the week easy. No one wants to remember complicated costumes or elaborate accessories on Monday morning. So this STEM activity and the snack are super simple. Your kids will love this story. And the chance to be engineers.
Read:
Sticks, by Diane Alber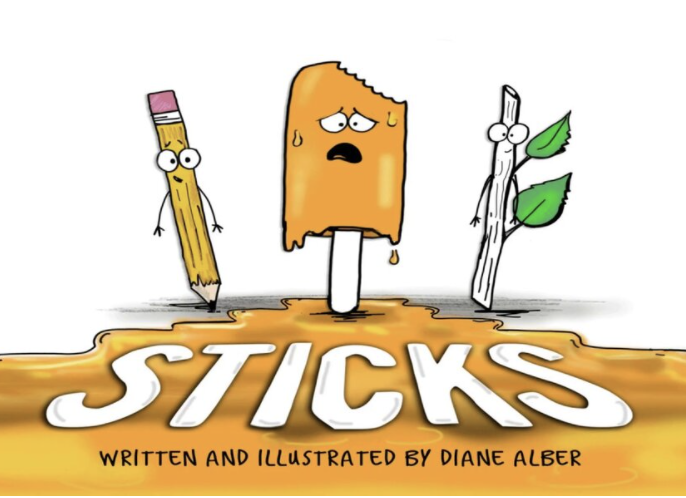 I love this book! An orange popsicle goes outside and melts too fast. He sees himself as just a useless stained stick and feels worthless. A bunch of friends stop by to show him he can be so much more than a stick, if he just believes.
This is a story about many things: believing in yourself, recycling, creativity, imagination, engineering. The book even includes ideas for extension projects. But I've got you covered. See the Do section below.
Or watch the read aloud on YouTube HERE.
Discuss:
Select three questions from the Teacher Reading Menu Sheet to discuss with your students. Read one question at a time to the whole group and have them Think, Pair, Share with a partner.
Theme and Author's Purpose are great story elements to discuss with Sticks.
Students can record their answers on the Student Response Sheets.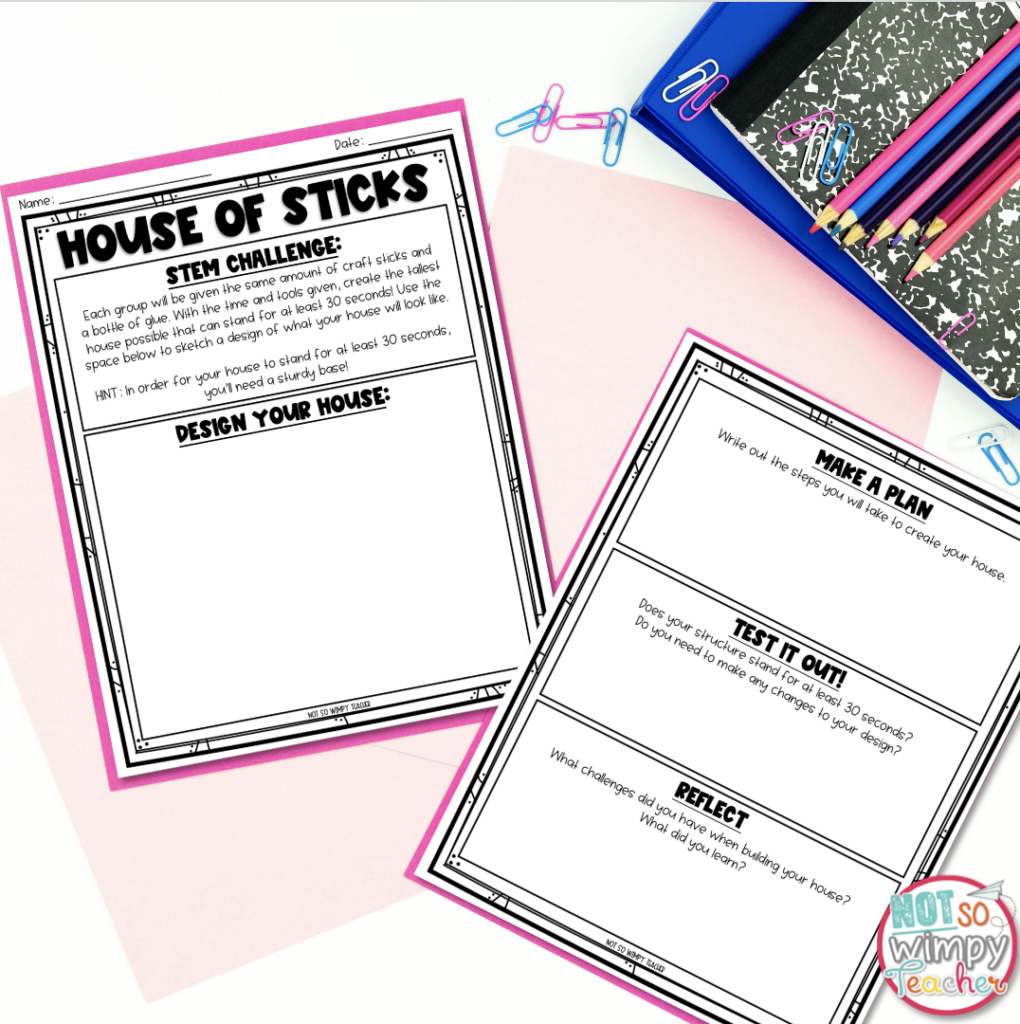 Do:
Build something out of craft sticks: Have them draw up their construction plan on the Student Planning Sheet and then get to work.
Give your students a box of craft sticks, some glue, and a time limit, and challenge them to build a house. Or for older grades, let them use their creativity to build something amazing! This activity works best in pairs or groups of three.
Write a Book Review.
Enjoy:
Popsicles
Other Books About STEM:
The World is Not a Rectangle: A Portrait of Architect Zaha Hadid, by Jeanette Winter
Rosie Revere, Engineer, by Andrea Beaty
Mae Among the Stars, by Roda Ahmed
What to Do With a Box, by Jane Yolen
If I Built a Car, by Chris Van Dusen
The Most Magnificent Thing, by Ashley Spires
Attention Getter: Who is amazing . . . we are amazing!
Tuesday: Rock Day

On Tuesday, you will celebrate everyone's rock star status with Rock Day. Invite students to dress up like rock stars. Band tees, jewelry, mismatched clothes, sunglasses – let them be creative. The lesson plans include opportunities to listen to fun rock music, and in the More Books section, you will find titles about music and rock stars.
You'll read about some rock star "Warriors" who are used to winning all their challenges and looking for a little worthy competition. After discussing what makes these characters "rock stars," students will complete a fun, creative activity that celebrates their own special qualities.
Invite students to think about what makes them a "rock star." This can include special hobbies (art, music, video games), talents (soccer, skateboarding, baking), favorites (colors, songs, seasons, shows), and traits (kind, funny). Have them list their ideas on the brainstorming sheet. They will use that information to paint a rock that represents them. You can display these rocks in an "Our Class is a Bunch of Rock Stars" garden. Finally, they can complete the About the Artist sheet introducing themselves and their rock star qualities.
Read:
The Legend of Rock Paper Scissors, by Drew Daywalt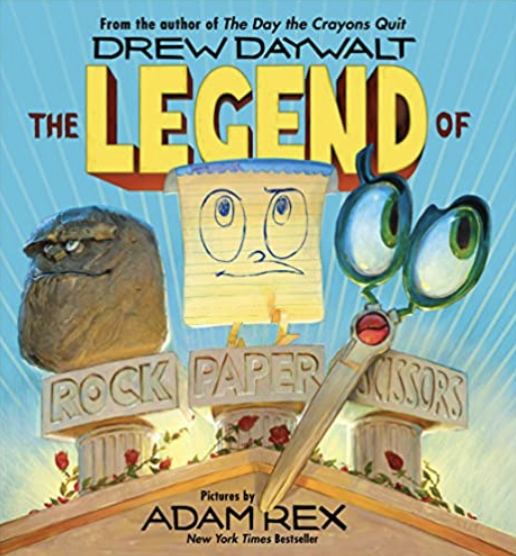 This hilarious story will have your students laughing out loud. Three "warriors" who are used to conquering everyone in their kingdoms are frustrated they can't find worthy opponents. They each set off on a journey to find an equal match. When they finally meet and put on their battle pants, who will be victorious – rock, paper, or scissors? This story is full of some great vocabulary too.
Watch the read aloud on YouTube HERE.
Discuss:
Discuss beginning, middle, and end. Make a Big Anchor Chart and give students three different colored Post-its to write what happened at the beginning, the middle, and the end of the story. Let them stick their Post-its in the correct category. Discuss.
Pick a favorite character. What makes them unique? How do they change during the story?
Make connections: When was a time you had a problem? How did you solve it? Usually winning feels good, but sometimes it doesn't. Have you ever experienced a win that didn't make you feel very good?
Do:
Put on some classic rock music. Teach kids some old-fashioned dance moves or play some Just Dance videos: Rockin' Around the Clock, Surfin' USA, Barbara Ann, or Crocodile Rock. Or try a kid-friendly rock playlist.
Play a team game of rock, paper, scissors.

Divide the class in half.
Show them full body motions. For rock, crouch down into a ball. For paper, separate feet on the floor and extend hands up over head in a V. And for scissors, extend their arms out straight in front of them and open and close like an alligator mouth,
Give them five seconds to huddle and decided what the team will be.
When you say go, each team says, "Rock, Paper, Scissors" while jumping in place three times and then shows their symbol.
Paper beats rock, rock smashes scissors, and scissors cut paper.

Complete the "I Am a Rock Star" activity and "About the Artist" sheet.
Paint a rock for the "Our Class is a Bunch of Rock Stars" garden.
Write a book review.
Enjoy:
Apple slices and caramel dip
Other Books About Rocks:
Stick and Stone, by Beth Ferry
Charlotte and the Rock, by Stephen W. Martin
A Rock Can Be . . ., by Laura Purdie Sales
Ricky the Rock that Couldn't Roll, by Mr. Jay
Bring Me a Rock, by Daniel Miyares
Violet's Music, by Angela Johnson
When the Beat Was Born, by Loban Carrick Hill
Jimi, Sounds Like a Rainbow, by Gary Golio
Punk Farm and Punk Farm on Tour, by Jarrett J. Krosoczka
Attention Getter: We will, we will . . . rock you, rock you!
Wednesday: Pajama Day
What better way to celebrate the middle of Read Across America week than in your pj's? Kids always love coming to school in their pajamas and slippers. You could even let them bring in a favorite stuffed animal or a blanket and pillow to make it more fun. Read about pajamas and bedtime. And enjoy a fun bedtime snack.
Read:
Pyjama Day, by Robert Munsch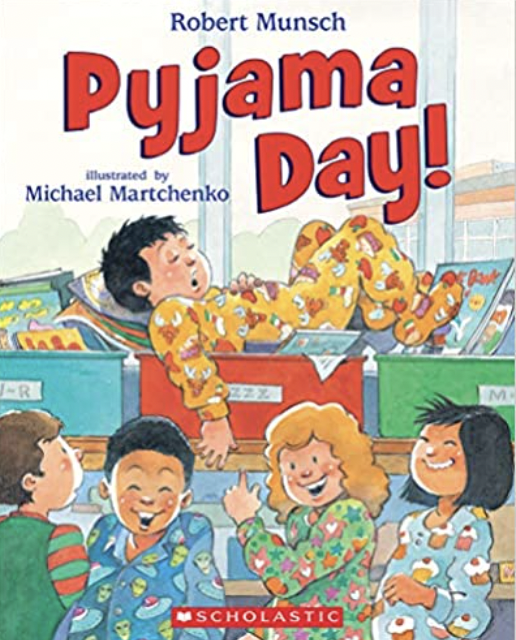 It's Pyjama Day at school, so Andrew brings his wonderful new "perfect pyjamas" to school. But these pyjamas might be a little TOO perfect Students love this silly story, and of course Mom has the "perfect" pyjama solution.
Or watch the read aloud HERE.
Discuss:
Use the Reading Menu to discuss the story. Have students jot down responses on the reading response pages.
Questions to focus on include the genre and setting of the story, favorite parts of the story, and retelling.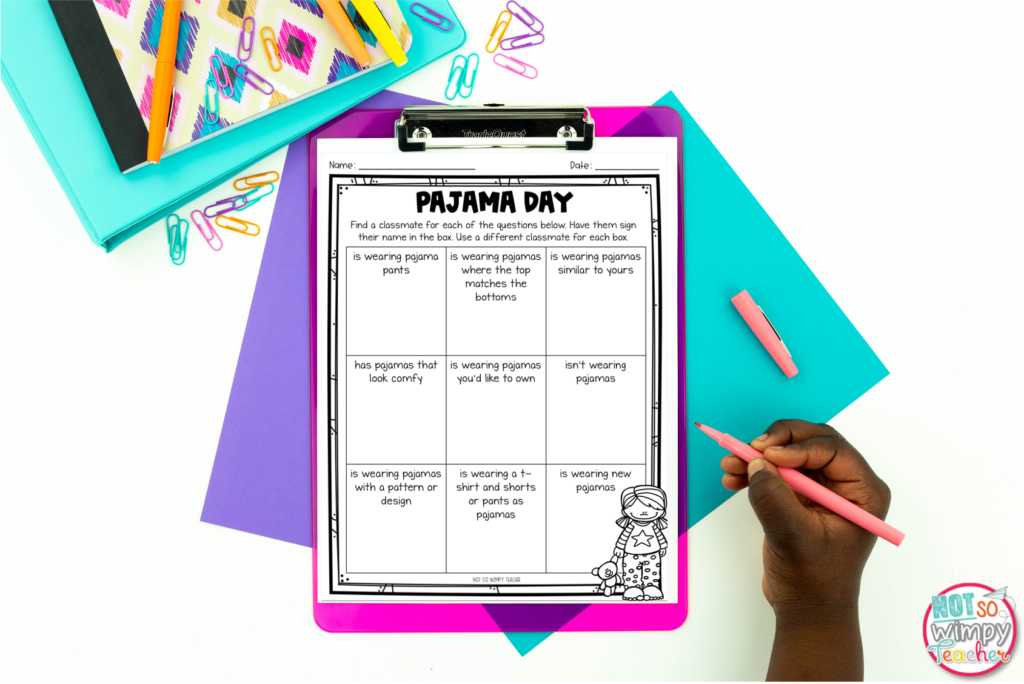 Do:
Read by flashlight: Let students snuggle up on a blanket with their stuffed friend and read their favorite book by flashlight. Maybe play some lullabye music in the background. 
Do the "Find Someone Who" activity
Write about it: The perfect pajamas are . . . Brainstorm adjectives to describe the perfect pajamas.
Write a Book Review.
Enjoy:
Popcorn and hot cocoa are a perfect Read Across America snack.
More Books About Pajamas:
LLama, Llama, Red Pajama, by Anna Dewdney
Don't Let the Pigeon Stay Up Late, by Mo Willems
Goodnight Gorilla, by Peggy Rathmann
Little Owl's Night, by Divya Srinivasan
Attention Getter: It's time for bed . . . sleepyheads!
Thursday: Tourist Day
This is a fun way to take a little escape from the everyday. Explore new places during Read Across America and take your students on a trip to California, where they will learn all about the majestic redwoods. Invite your kids to dress like tourists. Think Hawaiian shirts, floppy hats, sunglasses. And prepare them to be amazed by their trip to a new habitat.
Read:
Redwoods, by Jason Chin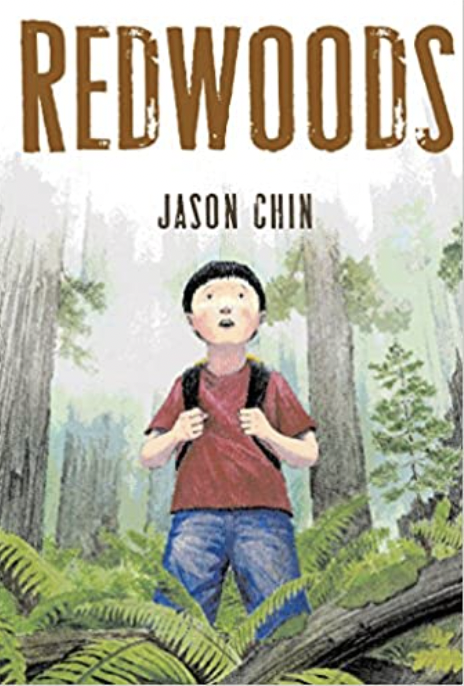 This is another book I love. It has incredible, eye-catching illustrations that will draw your students in. And it's full of absolutely incredible facts!
A young boy finds a book on the subway about the coastal redwoods in Northern California. He reads about these massive trees and is drawn into their magical world. Jason Chin's masterful prose and pictures transport you to the redwood forests and show you and your students how these giant trees thrive and grow. The book artfully combines nonfiction and fiction to take readers on an adventure they'll never forget.
Listen to the read aloud HERE.
Discuss:
Make a KWL chart for redwoods/trees.

Kids might not know much about redwoods, so for the KNOW portion of this chart, feel free to let them supply what they know about trees or forests
Have them focus on the cover illustration and ask them what they wonder about this book.
After reading, focus on what they learned – record lots of facts so they can create a travel brochure.

Other questions to focus on: What are three questions a reader can answer after reading this book? What is the main idea of this text?
Do:
Design a travel brochure for Redwood Forest, or let students pick a place they'd like to visit.
Write a diary entry about their trip to the redwoods.
Play "I'm going on a trip to Redwood Forest" (like I'm going on a picnic). Go around the circle, and everyone has to name something they will bring and try to remember everything that came before them. You can also substitute the adventure. It could be a hike, a safari, or an ocean cruise. To keep it simple, pick a trip related to your read aloud.
Write a Book Review.
Enjoy:
Snack-size bags of pretzels or chips
More Tourist Day Books:
Coral Reefs, by Jason Chin
Grand Canyon, by Jason Chin
Islands: A Story for the Galapagos, by Jason Chin
A Walk in . . . London, Paris, New York, by Salvatore Rubbino
Girl on a Motorcycle, by Amy Novesky
From My Window, by Otávio Júnior
Attention Getter: To infinity . . . and beyond!
Friday: Donut Day
And finally, we'll end Read Across America week with a little sweet treat. Friday is Donut Day! Hooray for donuts. Students don't need to bring anything but their appetites. But they can dress in their most colorful clothes, if they want to, like a fabulous frosted donut.
Celebrate making it through Read Across America with one of my favorite stories about kindness. And top off the sweet story with a delicious treat.
Read:
The Jelly Donut Difference, by Maria Dismondy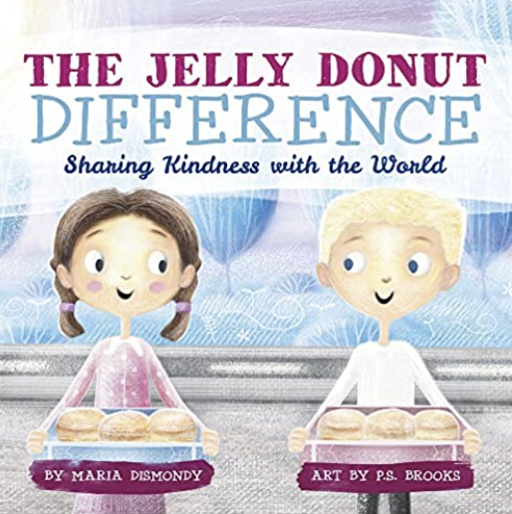 This is a super cute story about friendship and kindness. After their new neighbor tells them about growing up in Poland, siblings Leah and Dexter, who are often at odds, make a truce and work together with their dad to make paczkis, a special jelly-filled treat from Poland for their new friend.
The Jelly Donut Difference features mouth-watering illustrations that will make your whole class want donuts. It carries a lovely message of kindness, the power of community, and inclusion.
Discuss:
Use the responding to Reading Response Menu to discuss the story. Write out three or four questions on chart paper and let students walk around the classroom and answer the questions. Select questions from the Teacher Reading Response Menu.
Great elements to focus on include author's purpose and summarizing/retelling.
Do:
Brainstorm random acts of kindness and complete the Donut Underestimate the Power of Being Kind activity. You can choose from three options:

Students can color in the large donut and decorate it with sprinkles of kindness from the list you created together.
Or, students can write Donut Thank You Notes for classmates, teachers, and staff members.
Students can respond to the writing prompt: One way that I can show kindness . . .

Write a Book Review.
We also have a donut-themed Fraction PBL activity perfect for third grade.
Enjoy:
Donuts of course! Try jelly doughnuts. Or just buy plain cake doughnuts, icing, and sprinkles, and let kids decorate their own. This is sure to be a hit!
More Donut Books:
The Hole Story, by David W. Miles
If You Give a Dog a Doughnut, by Laura Numeroff
The Donut Chef, by Bob Staake
Doughnuts for a Dragon, by Charlotte Guillaine
The Hole Story of the Doughnut, by Pat Miller
Attention Grabber: Stop and smell the . . . donuts, mmmm!
Read Across America Freebie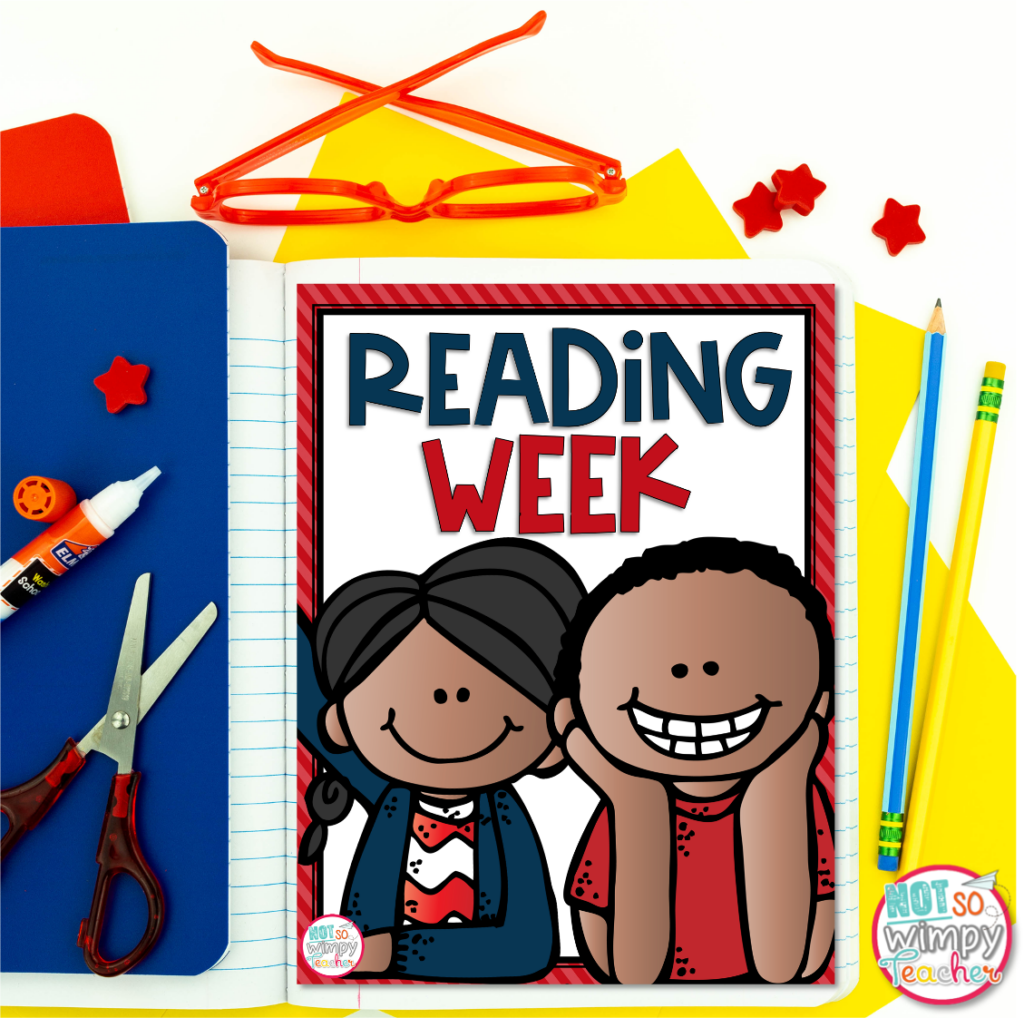 And I've got terrific news . . . If this sounds like something your students would love, I've made it super easy for you to use these ideas in the classroom.
I've created a downloadble PDF that includes all the daily lesson plans and student activities. This 35 page resource includes:
Five full days of books and activities
Editable family letter explaining Read Across America week
Reminder slips
Simple daily lesson plans
Materials needed
Teacher Reading Menu with discussion questions
Student printables (book review sheets, daily activities, reading response pages)
Themed "Attention Grabber" for each day
"At a Glance" schedule
Detailed teacher directions
And it's completely FREE! Just use the button below to get your Read Across America resource today!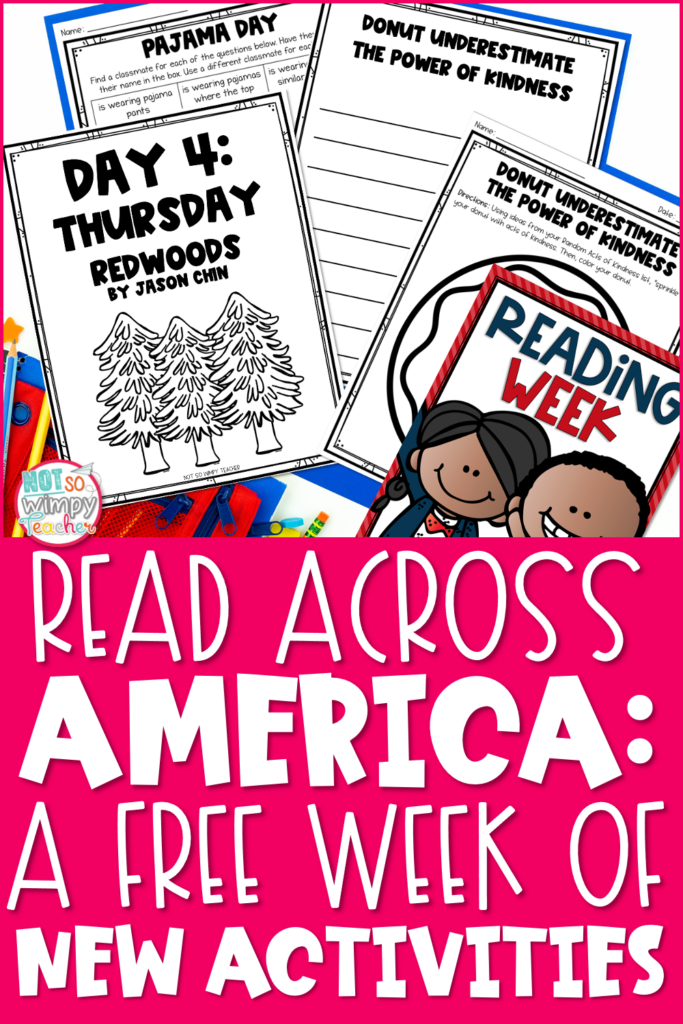 I hope you have an amazing Read Across America week with your students!
Have a Not So Wimpy Day,