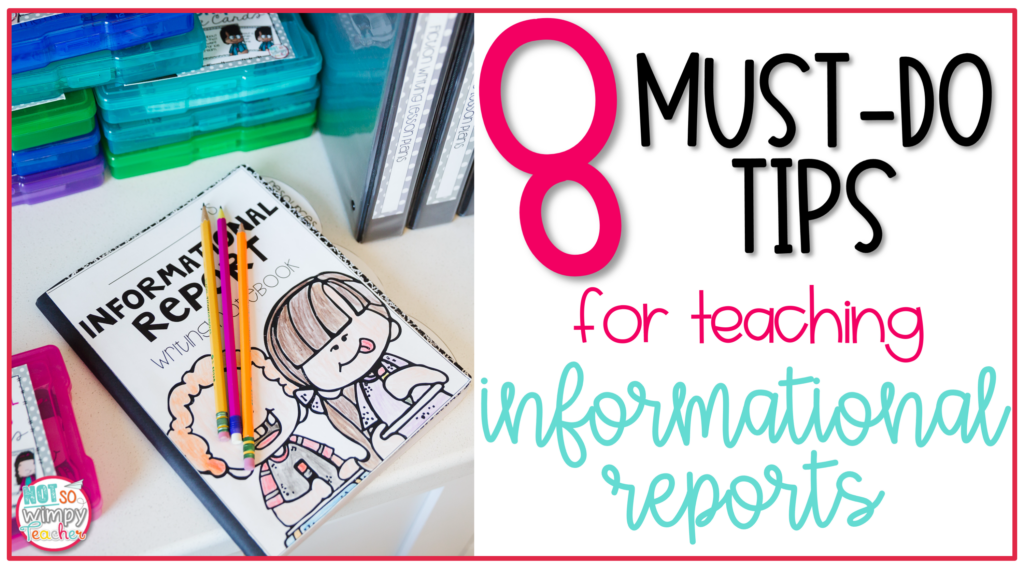 One of the most important types of writing your students will learn is informational report writing. This writing genre will be used throughout their academic careers in a variety of different subjects like social studies and science.
But because informational report writing relies on research, it can be challenging for some kids. Today I'm breaking down the process with 8 must-do tips to help your kids learn how to write an engaging report.
1. Start with a pre-assessment.
I always recommend starting with a pre-assessment. Give students a prompt and one writing period to respond to it the best they can. Use a simple rubric to score the sample, but don't add the grade to the grade book.
Make sure you have realistic expectations for this assignment. Don't get discouraged if your students don't do very well. Remember the point of the pre-assessment is to see what they know before you teach the genre. You can use this writing sample to plan your lessons, formulate conference groups, and serve as a baseline of where each student started. This allows you to measure their growth at the end of the unit.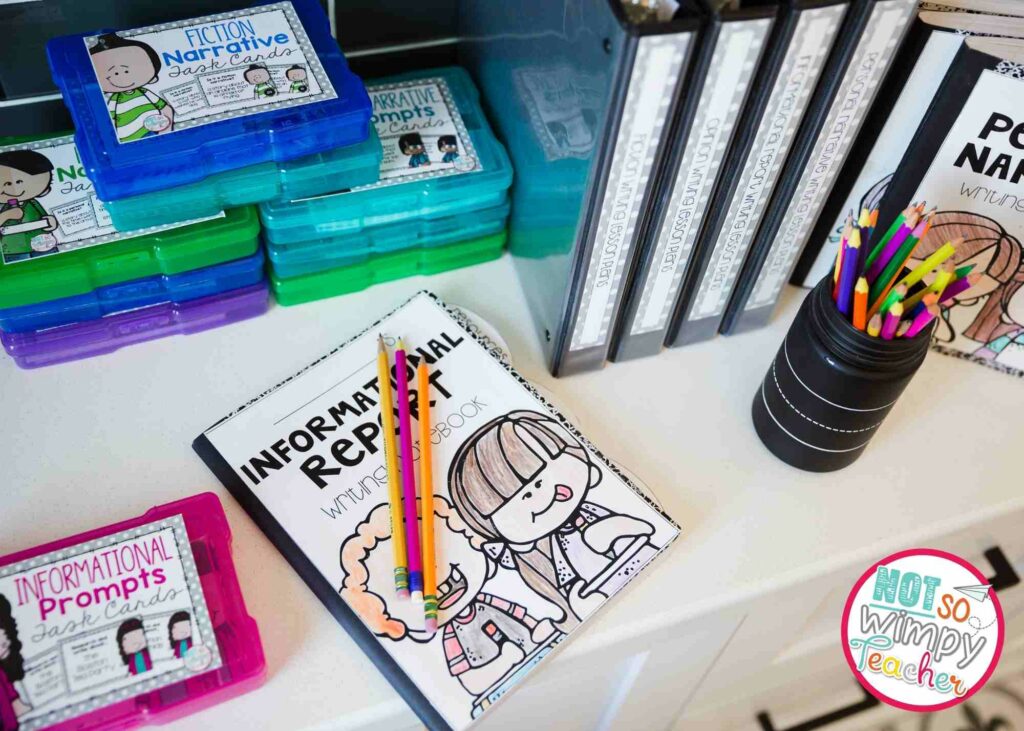 2. Read a mentor text
I always read a mentor text to make it clear to students what informational report writing is. If you just tell 8-year-olds to write an informational report, they will stare at you like you have three heads. They don't know what an informational report is.
Before you can expect students to write informational reports, you must provide examples of informational reports. You can show them two or three mentor text examples to help familiarize them with the genre.
I also use mentor texts in the next step of the informational report writing process when I teach them how to generate topics. I read a mentor text for each specific strategy I teach.
3. Teach students how to generate report topics
It can be very tempting to give students an assignment that relates to something you are learning in science or social studies. But don't do it! At least not during writing. You want students to pick something that is interesting to them to write about. This will dramatically improve their writing motivation, enjoyment, and effort.
Most students don't know what they want to write about. So you need to teach them strategies to help them generate topics that they are super excited to research and write about.
I like to teach two strategies to my students. The first one is to think of something you already know a lot about. Your students might play baseball or do gymnastics or raise chickens. Or they might pick something they've already learned about like dinosaurs or Fortnight. They will have tons of information to share on this topic that they are passionate about.
The second strategy is to think of something that they are curious about. Maybe they've always wanted to learn more about Antarctica or Lady Gaga or volcanoes. Because this is a topic that is interesting to them, they will enjoy doing the research and writing about it.
Have students record all these ideas in the research section of their notebooks. Once they have a bunch of ideas written down, tell them to choose the topic that is most interesting to them.
I also like to have a gameplan for students who don't have a topic after these lessons. Try a deskside conference and encourage them with some questions, or simply select an idea that they recorded on their sheet and express your interest in learning more about it. If neither of those ideas work, you can give them a list of prompts and give them five minutes to choose. It's not the most ideal, but it's better than letting them sit there for a week without choosing a topic.
4. Teach informational paraphrasing
An important lesson when teaching informational report writing is about paraphrasing and plagiarism. This is a tricky skill to learn, even for a lot of adults. So don't worry if this seems tough for your students. They will practice it for years.
This is a serious lesson to teach, so you should approach it that way. Start by teaching students the word plagiarism: when someone steals someone else's words. And be sure to emphasize that this is wrong.
When you write an informational report, you need to include facts and figures that you found during your research. But you can't just write them down word for word. The key to doing this correctly is paraphrasing. Explain that paraphrasing is taking ideas and rewriting them in your own words.
Then provide lots of examples of how to paraphrase facts and give students lots of opportunities to practice doing it together. I use an anchor chart to model how to paraphrase. One question I ask myself out loud is "What does this sentence actually mean?" Then I try to restate it in my own words. I also model closing the book and writing my own sentence without looking at the fact.
Finally, I have students practice paraphrasing with a task card scoot. Remember, this is something you will have to practice a lot.
5. Show students how to research for informational reports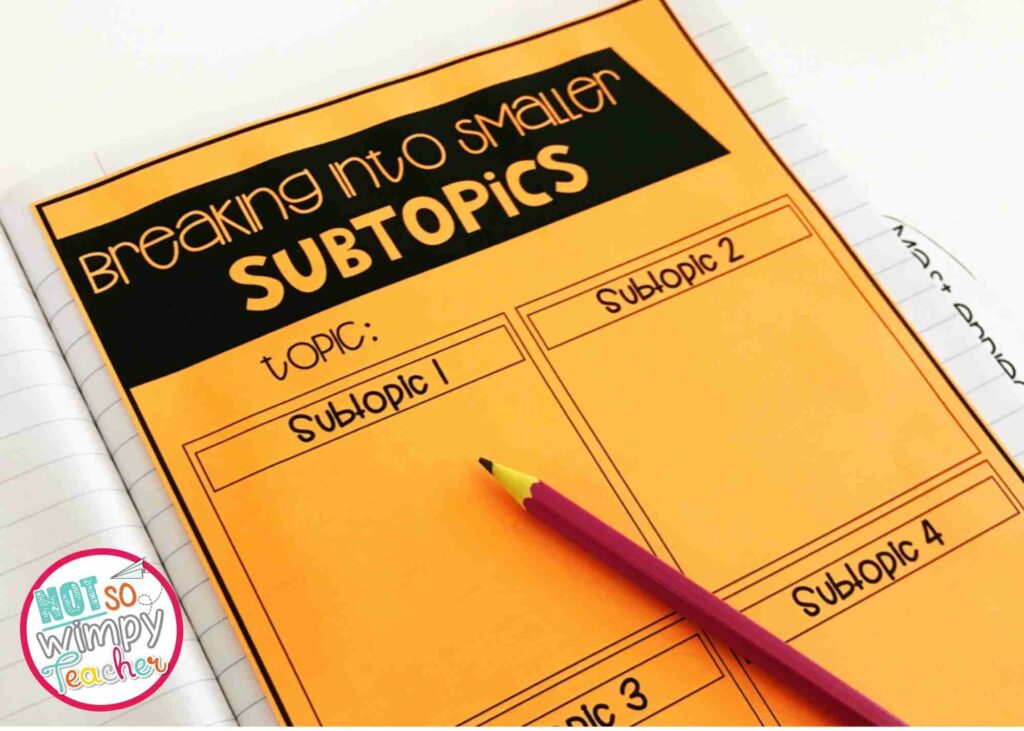 This is my favorite part of teaching informational report writing. Students get to look for books and articles about the topic they have chosen, and they love learning more.
I recommend taking your students to the school library if at all possible. You might even want to send a list of research topics to the school librarian ahead of time so he or she can point them in the right direction.
Sometimes it's necessary to teach students how to search for articles on a child safe search engine. Or you can always find appropriately leveled articles for your students. You don't want them struggling with college-level material.
Use the first day of your research to just let them enjoy learning about their topic. No notebooks or pencils needed. This will help them choose which subtopics to focus on.
When it comes time to start note-taking, I have students use a printable to keep their research organized. This printable includes their topic and subtopics. As they read and find facts, they paraphrase them on Post-it notes and then add those notes to the correct section of their organizer. I encourage students to find 4-6 facts about each topic.
This method helps students when it's time to start writing because they can easily shuffle the post it notes around on their desk in an order that makes sense.
Note-taking can be tough for struggling readers and writers. You might want to help guide students to the correct parts of their reference materials to find the information they need for each subtopic.
6. Practice writing and revising leads
Once students finish drafting, it's time to start revising. One of the first revision lessons in teaching informational report writing is writing and revising leads.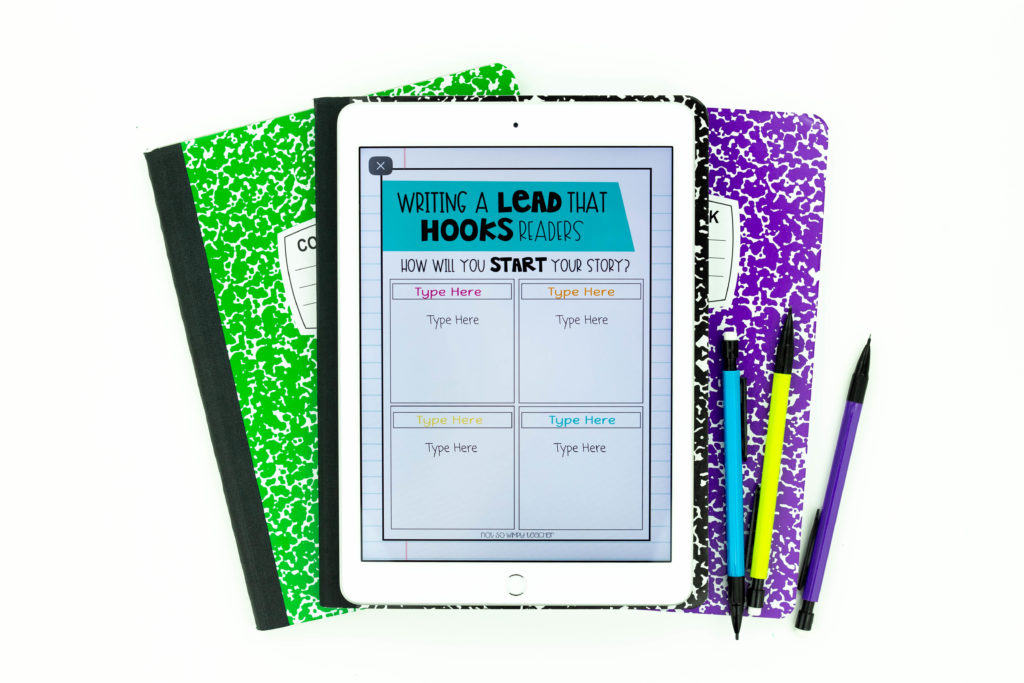 I like to teach three different strategies for writing leads. The first one is to start with an interesting fact that makes people want to learn more about your topic. Sometimes this can be a really cool fact that students love but that doesn't fit in with the subtopics they choose. This is one of the easier strategies for writing leads.
The second strategy is the question lead. It builds upon the fact strategy. But instead of just stating a fact, you ask a question that engages readers and makes them want to find out the answer.
The third strategy is the descriptive lead. It is a little more challenging because it uses a story to captivate readers and sets up the topic you are going to write about. You can always teach this strategy in a group conference with your more advanced writers if you prefer. Or save this strategy for your second masterpiece.
Be sure to show students an example of each strategy, read mentor texts, and model how to write them. Then have students practice writing leads in their notebooks. They can choose their favorite for their report.
7. Practice writing and revising conclusions
One of the last lessons in teaching informational report writing is how to revise the conclusion. Most students won't even include a conclusion in their draft. That's okay.
We can easily add in a conclusion during the revision process. I ask students to include three things in their conclusion:
a transitional word or phrase like "in conclusion" or "in summary," to tell readers that they have come to the end
a recap of the main idea from each subtopic paragraph
a question, a fact, or a quote that they know their readers will love
8. Celebrate student writing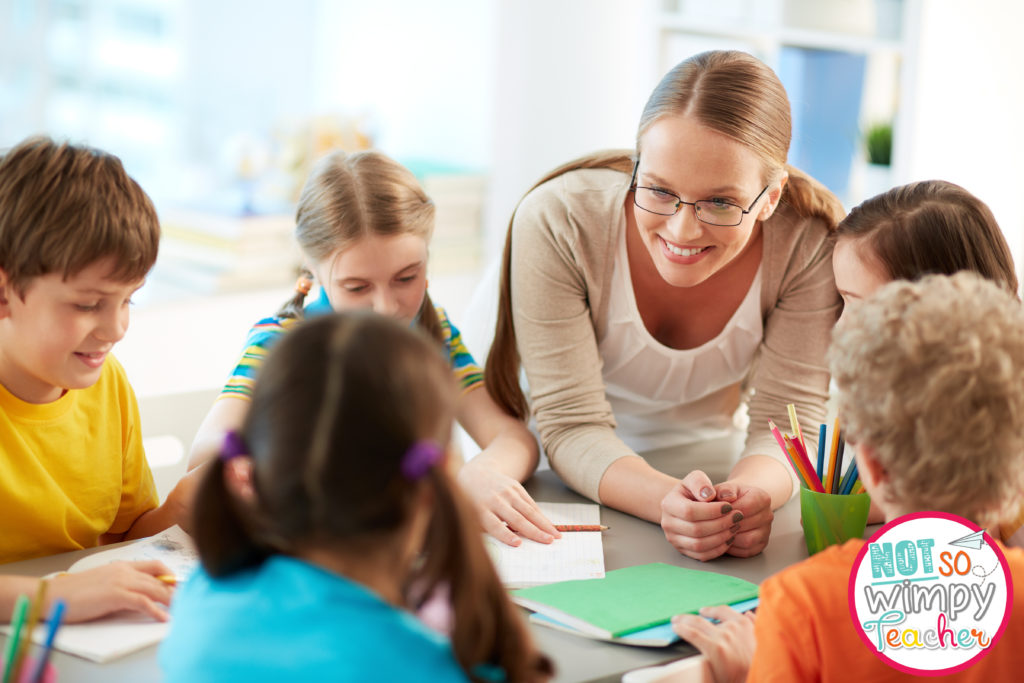 The final step in teaching informational report writing is to celebrate. After all the revisions are complete, students will publish their reports. Once the reports are published, students love to share their work with others.
There are tons of ways to celebrate writing. One idea is to combine all their reports into a class book and make a copy for each student. Then students can read their reports to buddies in a different class.
Or maybe you have a Research Party. Before the party, record an interview of each "researcher" presenting a piece of their research. They could read their favorite paragraph or summarize their subtopics. Then on the day of the celebration, you could put up some balloons and invite your students to dress up. Play the video on your whiteboard while students enjoy some sparkling punch and Cheez-its or string cheese and crackers. You could even come up with silly awards to present to each researcher.
Students really look forward to these fun celebrations at the end of each writing unit.
Informational Report Writing Units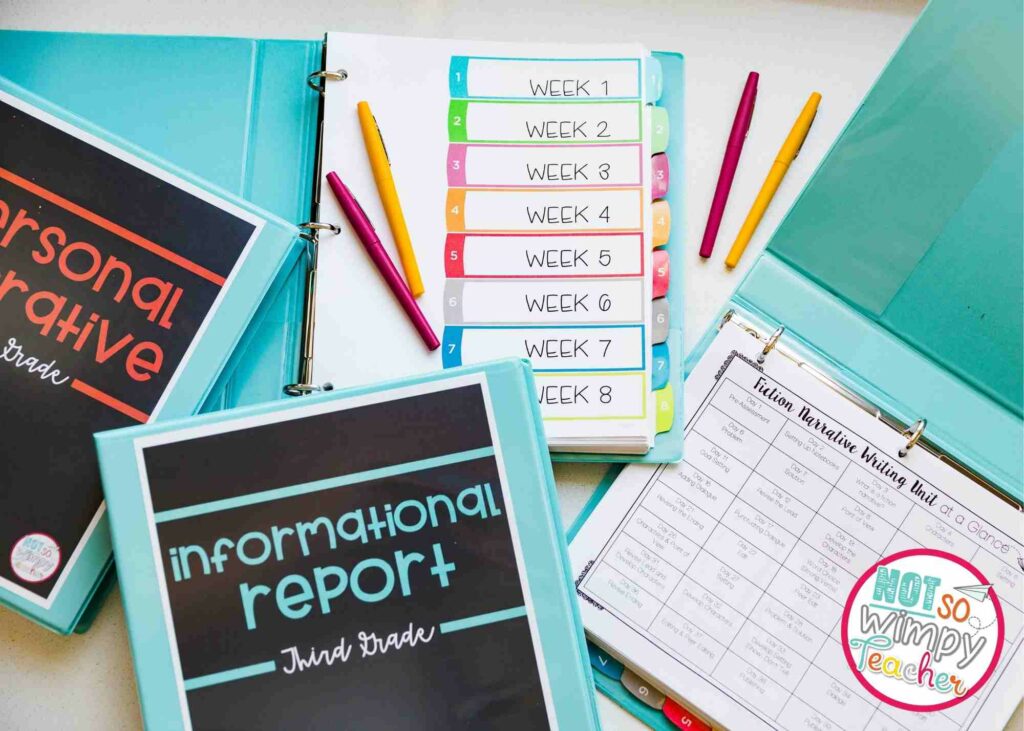 If you'd like even more help teaching informational report writing, my writing units may be just what you are looking for.
These units are available for grades 2-5 and come with EVERYTHING you need to teach informational report writing for 8 weeks. I've even included all the mentor texts you need. You don't have to purchase any additional books or spend hours hunting in the library!
The lesson plans are simple. All you have to do is print and teach.
Students will learn all of the skills necessary to write a report with research: how to craft a strong lead, choose interesting details, write topic and concluding sentences, how to structure paragraphs…and so much more. There are digital anchor charts you can just project onto your whiteboard to save time.
Finally, these units make writing fun for your students. You may even find that your students beg for more writing time. And when students enjoy writing and get lots of practice, they perform better on standardized tests.
You can also buy the informational report writing unit as a part of a writing bundle that also includes personal narrative, opinion, and fiction writing units.
More tips for teaching writing
If you liked those tips, you're going to love my FREE online training:
🤩3 Little-Known Secrets to EASILY Transform Your Students into Thriving & Excited Writers!🤩
You'll learn
The Godiva chocolate bar approach to teaching your students writing skills (in a way that's manageable for students)
How to keep all your students perfectly synchronized in the writing process (your reluctant writers and fast finishers will all be on the same page—finally!)
My #1 way to instantly improve your writing lessons—that's actually less work for you
You will walk away with practical, actionable tips to make writing easier to teach. It doesn't matter what writing curriculum your school uses. All my tips and strategies are designed to work with any curriculum. And to help ALL your students. Even the struggling ones.
You'll also get 2 incredible freebies if you stay until the end of the training.
A FREE 1-hour professional development certificate
A FREE Starting Writing Workshop Kit – 2 weeks of lesson plans, anchor charts, and student printables all geared towards teaching writing workshop procedures & building your students' writing stamina. This resource is NOT available in my TPT store!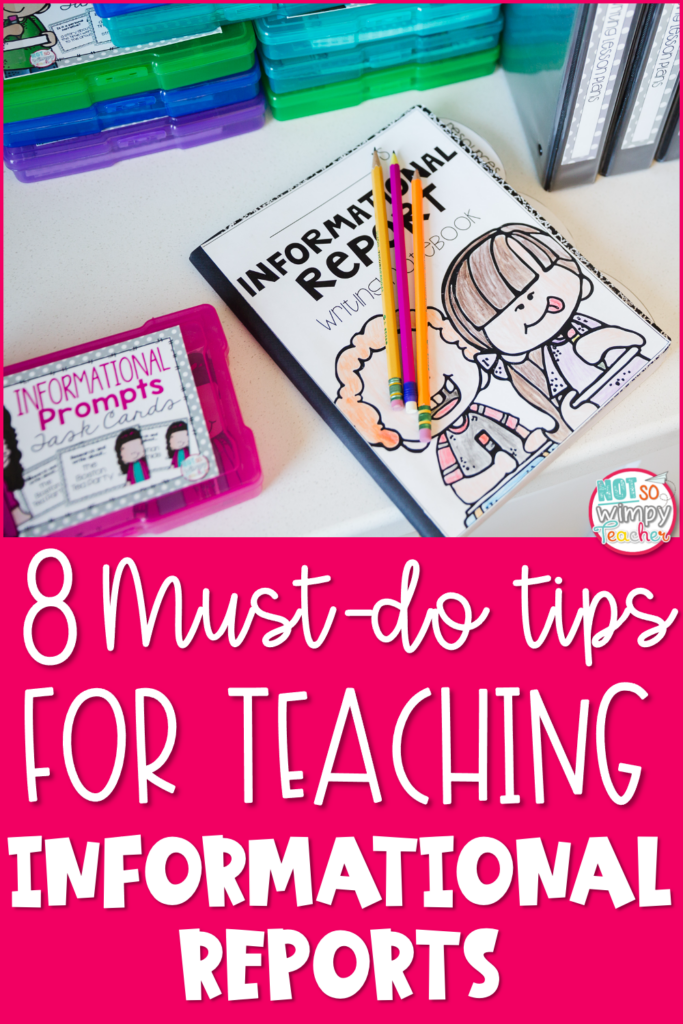 Want tips for other types of writing? Read my tips for teaching personal narrative.
Have a Not So Wimpy Day,