One of the most common concerns I hear from teachers in my Facebook groups is that they don't know how to help their struggling writers. I know it can be disheartening when you feel like you have some students who just aren't at grade level, no matter what you do. So today I am going to share five simple tips to help you reach all your writers. Even the struggling ones.
Give yourself and your students grace
Often as a teacher, we set really high goals. We want all our students to be successful. We want them to not only meet but surpass expectations. And when they don't meet that level, we feel like a failure.
But here's the thing . . . we're not even halfway through the year. So, if you are measuring your students by the standards they are expected to meet at the end of the year, you are going to be disappointed. They should not know how to do all the things we expect of them at the end of the year.
It's normal to have struggling writers. Every teacher has writers below level. That's just the way it goes. You will have some students who write at grade level, some who write above level, and some who write below level. That's completely normal. All kids learn on their own timeline. Your writers will all progress at their own pace.
Assume this is the first year your students are receiving quality instruction. School has not been normal for the last three years. Your kiddos who are only in third or fourth grade haven't had a normal year since they were in kindergarten or first grade. And younger students never have. You can't expect them to come to you with all the lower grade-level standards mastered.
Even without a pandemic, you should always assume that this is the first year your students are getting quality writing instruction. Most teachers were not trained in how to teach writing. So don't be discouraged if you feel like you are starting from scratch.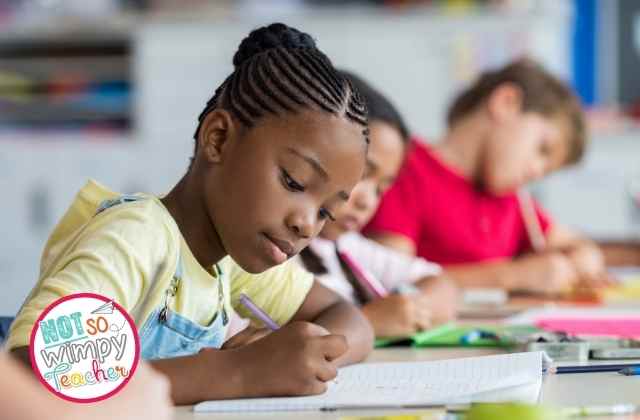 Focus on developing their love for writing above mechanics
It's easy to focus on mechanics and grammar because they are the most obvious parts of students' writing. Those mistakes just jump off the page at you.
But they are not the most important part of students' writing. Content is way more important.
Look at your rubric for proof. Typically, mechanics make up about 20% of a rubric. Content, things like strong leads, transitions, and descriptive language, make up the other 80% of the grade. If you only focus on the mechanics, you are really limiting your students' growth.
Resist the urge to do sentence- and paragraph-writing units. These kinds of lessons are boring and don't inspire a love for writing. Also, there isn't just one type of sentence kids need. If we spend weeks teaching kids how to write a sentence, then they will only learn that one way to write a sentence. And they will all write the same kind of sentence. This makes their writing boring. And it isn't how real writers write. Writers use a variety of different types of sentences to engage readers. So instead of focusing on how to write the perfect sentence, focus on getting them excited about writing.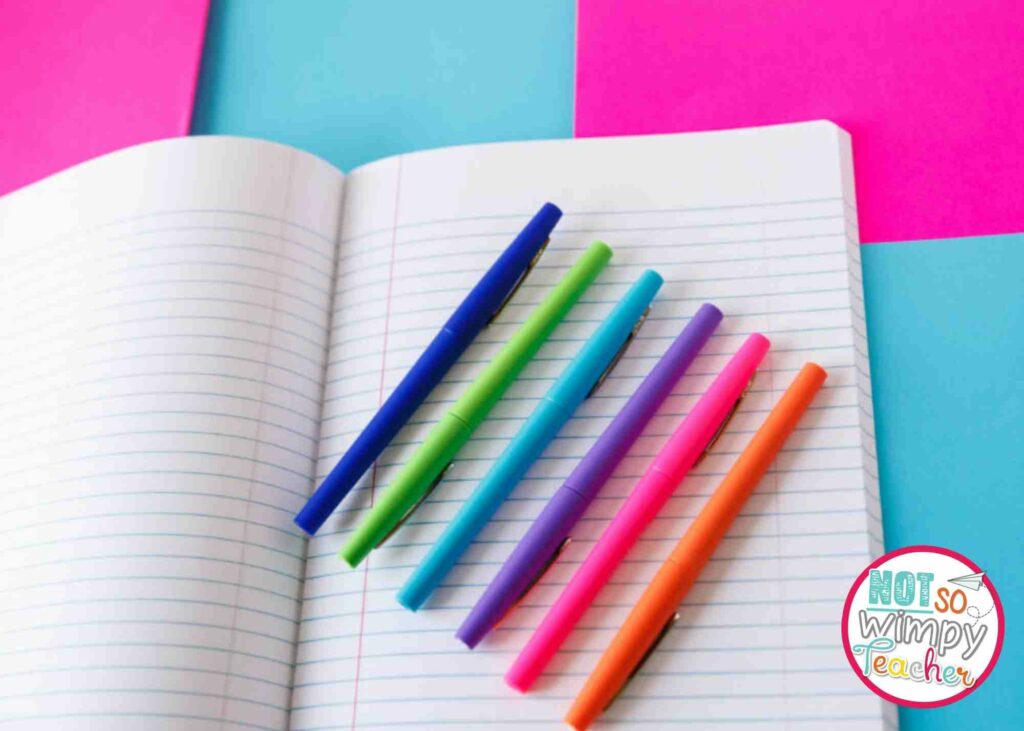 Some ways to help your students love writing are to give them choice. Let them choose:
a writing implement – they don't have to use yellow number two pencils
their writing place – they don't have to sit in desks
a writing topic – don't give them prompts, let them choose what they write about
But when you focus on creating a love of writing, students will write more. And the students who write more become better writers.
Break your mini lessons into small pieces
This is one of the most important tips to help struggling writers. Keep your lessons short. Focus on only one small, specific task. Break your lessons down into manageable chunks. This will increase your writers' confidence.
Instead of doing a lesson on three different types of leads for a personal narrative, try to break it down into at least two days. On Day One you could teach how to use onomatopoeias and questions as leads. Their independent writing task could be to try using one of those options to write a lead. On Day Two you could show them how to use action as a lead and then have them write a new lead for their story using action. Then you could let them pick the lead they like the best.
Look at each of your lessons and break it down into the smallest possible parts.
If you'd like some ready-to-use mini lessons, plus mentor texts, anchor charts, and daily writing assignments, you should check out my writing bundles. These bundles, available for grades 2-5, come with 32 weeks of lesson plans including four different genres: personal narrative, informational, opinion, and fiction.
Don't expect every student to master every skill
But remember, even when you break a lesson down into small pieces, some of your students won't master the skill. That's okay.
The truth is that not every student will master every skill you teach. When you teach writing, you are teaching tons of different skills. Some kids will master some skills, some will master others. If you're lucky, one or two students might master most. But not all your students will master every skill.
Each skill they do learn will help them grow as a writer, and each skill will help them get more points on the rubric. They don't have to master every skill or get 100 on the rubric to show growth. All that matters is that every student is learning some skills.
Every one of your students will grow this year. But they will not grow at the same pace.
When you are feeling down and out, pull out the very first writing your students did this year. I bet they have already shown growth. This is the goal you are after.
And remember, you are only one stop on their educational journey. You don't have to ensure they master it all. They will get another opportunity to learn these skills again next year.
Focus on growth over perfection.
Make accommodations to make writing easier for struggling writers
If you have students who are really struggling, don't be afraid to make accommodations to make writing easier. Remember, your goal is to get all your students excited about writing, especially your struggling writers.
Allow a student to write in pictures
If you have a student who is really low, like kindergarten-level low, allow them to write with pictures. This accommodation meets them where they are and helps them to develop a love of writing.
If a student cannot write because they don't have the skills to write, they will likely get frustrated and discouraged during writing time. Allowing them to write with pictures is a way for them to participate in the lesson and develop a love of writing. And remember, the earliest stories were told with pictures, so there is no shame in doing this.
This accommodation should be used sparingly, and not with students who are just slightly below level, but it is a helpful tool. Start by having them draw their story in pictures and then write one word for each picture. Over time, help them write a very simple sentence for each picture. The goal is to get them writing more as they progress.
Use talk to text feature on devices
You may have a student or two who needs assistance getting their thoughts on paper in a legible way. This accommodation is especially helpful for students with dyslexia and dysgraphia.
It allows them to focus on content and not get bogged down by mechanics and handwriting. What we want is for our students to tell a story. This is an easy way to remove some of the barriers to telling their story. In fact, a lot of professional writers use this option to get their words on paper.
And remember, the key is to focus on growth, not perfection.
Work with Me
If you love concrete tips and strategies that you can implement in your classroom to make teaching writer easier to ALL your students, you'll love my Not So Wimpy Writing Masterclass. I specifically developed this online professional development course for teachers in grades 2-5 to help simplify writing workshop and provide the tools and strategies you need to be a more confident writing teacher.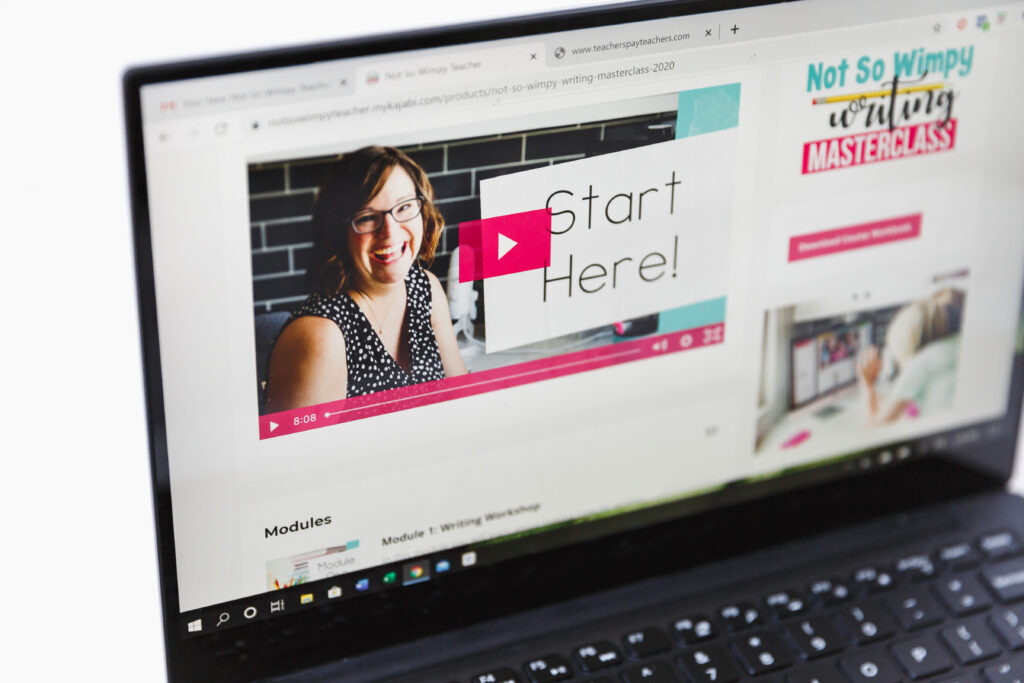 You'll learn tried and true strategies for how to teach writing, including how to:
Teach writing in units.
Create manageable mini-lessons
Keep students on task during independent writing time.
Implement a successful writing workshop without chaos and confusion.
Transform ALL your students into eager and excited writers who have the skills needed to perform well on standardized tests.
In short, this course is designed to help you become a more confident writing teacher, regardless of what writing curriculum you have (or don't have).
And the Masterclass is so easy to take. It's entirely online! You can watch whenever and wherever works best for you. And you get lifetime access to the course, which means you can return to the videos over and over again.
Have a Not So Wimpy Day,