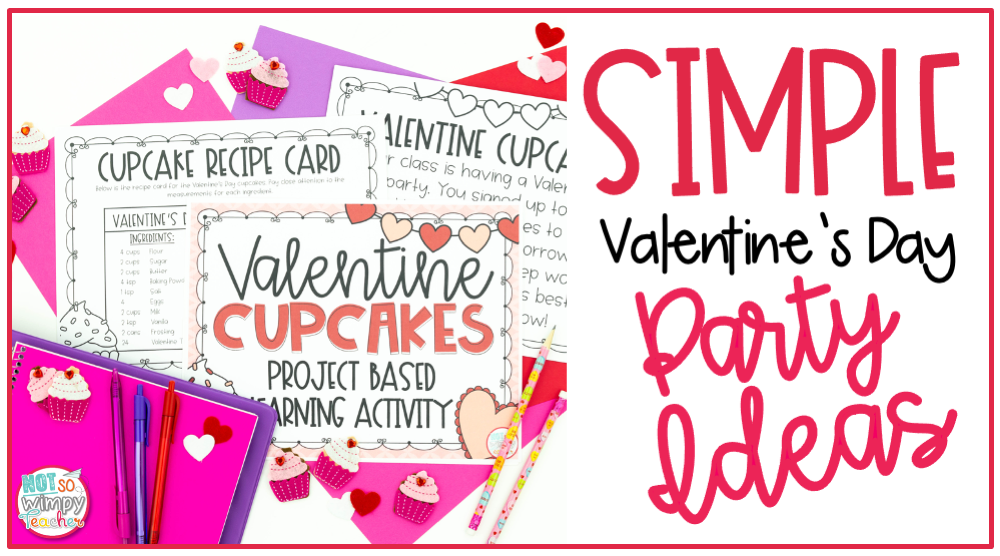 Are you planning to celebrate Valentine's Day in the classroom? Do you need some new ideas that are fun for kids, easy for you, and provide the opportunity to practice important skills? Well, look no further! Today I am sharing four simple Valentine's Day party ideas that will make your students swoon.
Cupcake Cafe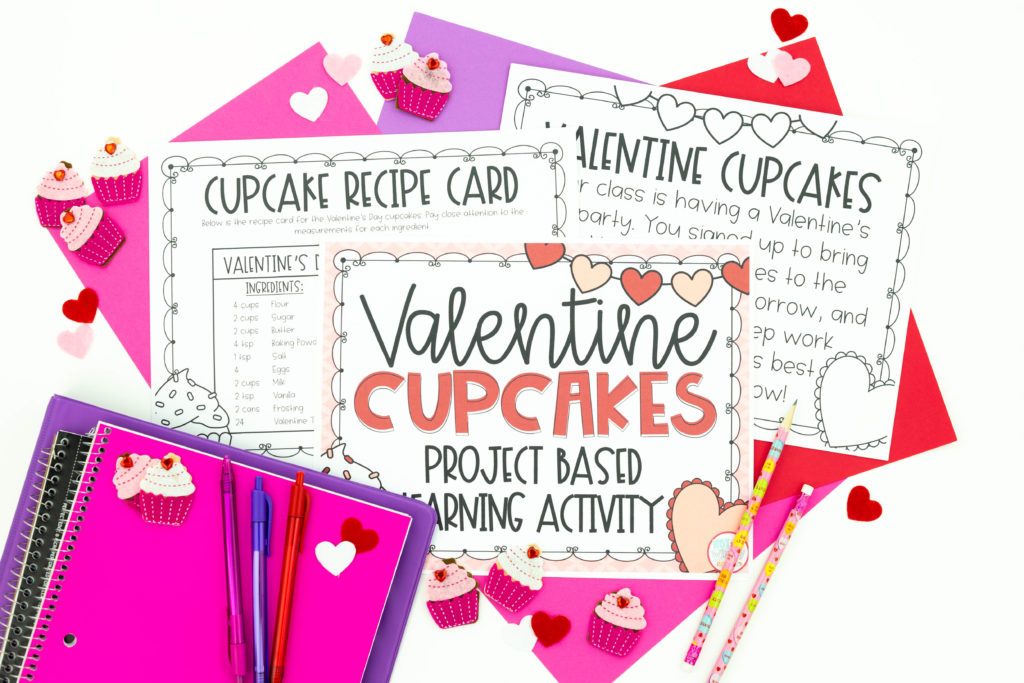 Is it even Valentine's Day without a sweet celebration?
I didn't think so.
Our Valentine Cupcakes project based activity is the perfect choice for a simple Valentines's Day party. The theme is cupcakes decked out in pink frosting, but the focus is on learning. Students will be using real-world math skills as they relate to baking cupcakes. Graphing, adding, multiplying, elapsed time, and fractions are all reviewed in this engaging activity.
This resource comes with everything you need for a sweet and simple Valentine's Day party. It is designed for grades 2-5 and comes with multiple ways to differentiate so you can ensure that every student gets a challenge that's just right for them. It's printable and digital, so even if you are still virtual or hybrid teaching this is one activity that ALL your students can enjoy.
Detailed teacher directions explain how to use the activities. This activity can be assigned to students individually, in partners or teams, or even used in small groups. Read more about Valentine Cupcakes.
For a little added fun, and to make it a true Valentine's Day party, let kids apply what they learned and decorate some mini cupcakes. (Small cupcakes means no sugar rush). All you need are some undecorated cupcakes, a couple of tubs of white and pink icing, and some heart shaped sprinkles or Valentine's candy. The students will love this opportunity to design their own treat.
Another nice touch to the cupcake cafe would be some hot chocolate (I make it in the Crockpot) with some heart-shaped marshmallows.
Kindness Counts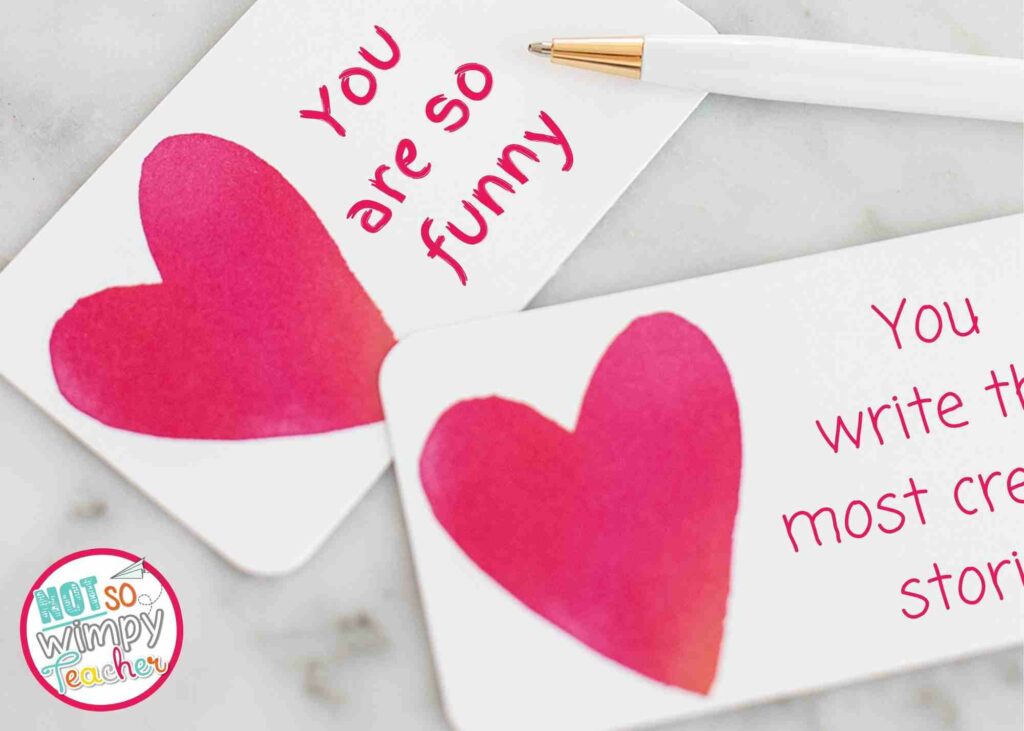 I love to use Valentine's Day to emphasize kindness in the classroom and the community. Most elementary school students aren't crushing too hard yet (at least if you're lucky), but they all benefit from kindness.
Another simple Valentine's Day party idea is built around the idea of sharing kindness.
Start by reading Kindness is my Superpower, by Alicia Ortego. This sweet book focuses on kindness, empathy, and compassion in a variety of different settings. It teaches positive behavior and good choices and even comes with conversation starters that are great for class discussion.
Then take that conversation and put it into action. Brainstorm random acts of kindness that students could perform in the school. Or cut out construction paper hearts and have them write positive messages that they love for others to find. Another simple Valentine's Day activity with a lot of impact is to have students write letters to nursing home residents, health care workers, or first responders. This provides great practice in writing a friendly letter and demonstrates compassion.
Of course, it wouldn't be a party without a fun snack. You could bake up a batch of Kindness Krispy Treats. Or, my personal favorite, create a Kindness Mix. Bring in some rice or corn cereal, candy hearts, M&Ms, marshmallows, pretzels, chocolate or white chips, and help every child make a snack mix that's just right for them. This activity shows that everyone is unique. It celebrates and respects differences, which is an important lesson in empathy.
Hearts on Fire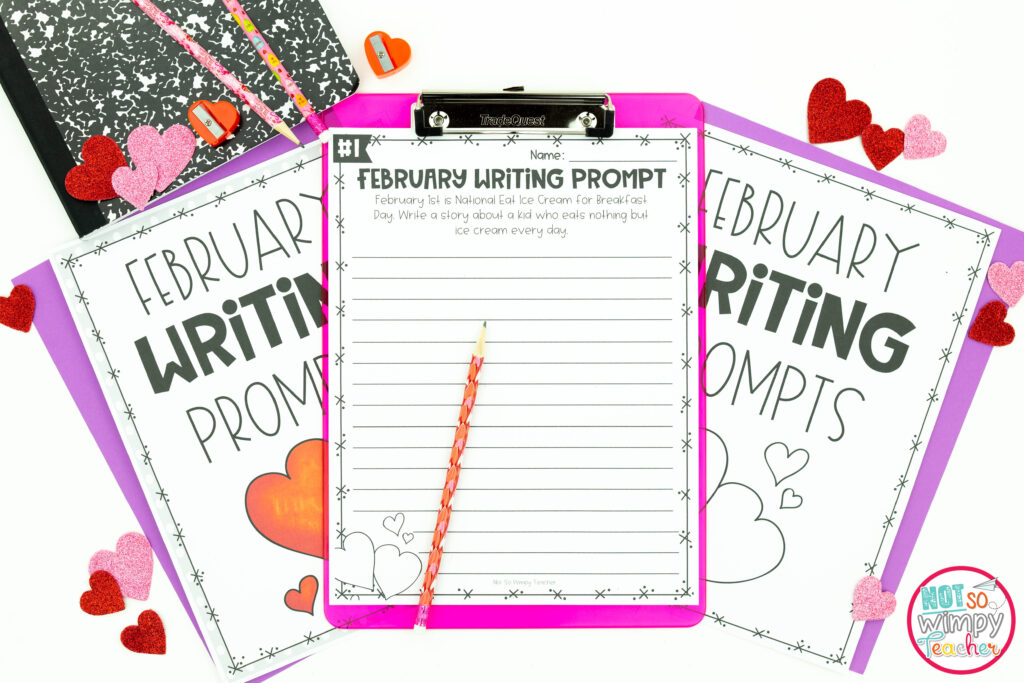 No list of simple Valentine's Day party ideas would be complete without a heart-themed one. But don't worry, I'm not getting all lovey-dovey on you.
You can use the holiday to teach a science lesson about the heart. There are lots of ideas for grades 2-5 here. My FREE monthly writing prompts even include a prompt about heart health that makes a great introductory or wrap-up activity.
Download your FREE Writing Prompts.
I like to explore the relationship between physical activity and heartbeat. Teach kids how to find their pulse. I recommend using the carotid artery in the neck. Once all the kids have found their pulse, then use a stop watch and have them count the beats for twenty seconds. Then have them predict what will happen to their heartbeat if they do jumping jacks for a minute. After the predictions are in, give it a try and repeat the exercise.
You could also predict how long it will take their heartbeat to return to normal or what effect other types of exercise would have on heartbeat. Be sure to follow it up with a discussion of why this happens and why it's important to be active.
Since there's no shortage of heart-shaped candies, you could also incorporate hearts into your math lessons. Try a STEM challenge and have students see who can build the tallest tower using heart-shaped marshmallows or gumdrops and toothpicks. Try a candy heart graphing activity. Or squeeze in a little multiplication practice for the tricky 6, 7, 8 and 9 facts with my FREE game For the Love of Multiplication.
Heart cutout cookies make a simple Valentine's Day treat. Or for a healthier option, try heart-shaped fruit kebabs.
My Funny Valentine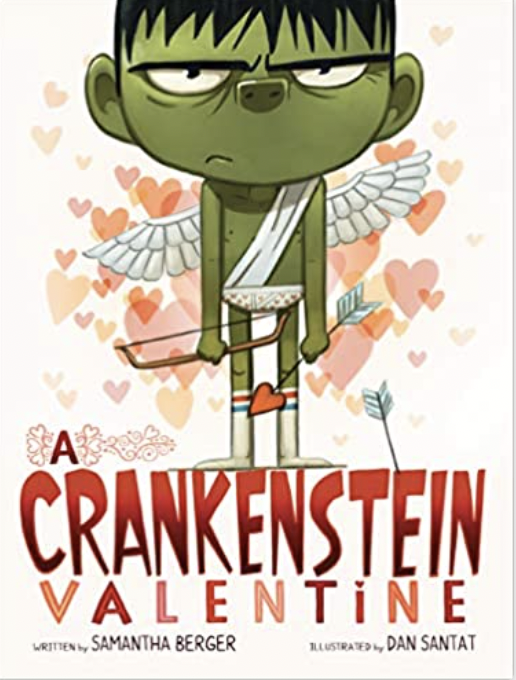 If there's one thing kids love, it's silly jokes. So my last idea for a simple Valentine's Day party is My Funny Valentine, which capitalizes on all things funny. You could set up a Valentine's Day photo booth and let kids take silly pictures.
Read silly books like A Crankenstein Valentine or Roses are Pink, Your Feet Really Stink that even the boys in your class will love. Or just share some silly Valentine's jokes. Bring in some creativity and writing. Try an acrostic poem with the word LOVE or VALENTINE and encourage them to be as silly as possible. Have your students work in groups to create a disgusting candy, and then write an ad promoting it. This is a great way to practice persuasive writing. You could even let them perform the ad or video a commercial to incorporate public speaking skills.
Kids also love Would You Rather games. Here's a list of Valentine would you rather questions. Another game students love is Five Second Rule. You draw a card and have five seconds to name three things in the category on the card. The timer is a silly stick that makes a crazy noise when the five seconds are up. I borrowed the stick from the actual game, but you could just use a timer on your phone.
I also wrote my own cards for each holiday, and I always tried to sneak in a little bit of learning too. For example, one card said, "3 nouns you might find at a Valentine's Day party." Another said, "3 math facts that equal 24 candy hearts." But you can also have fun ones too, like "3 colors you associate with Valentine's Day" or "3 types of candy." As the kids get flustered, their answers get hilarious and everyone can enjoy a good laugh.
And don't forget the silly foods to make this simple Valentine's Day party one to remember. Serve some cupid poop or make some Love Bug Valentine fruit cups.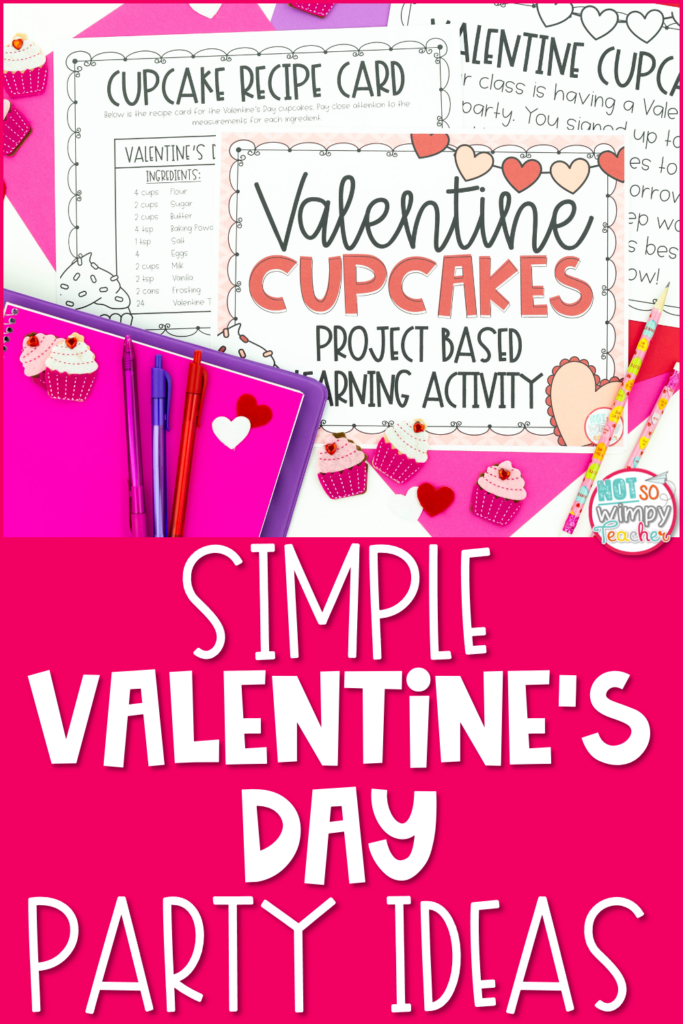 Read about more Valentine's Day party ideas here and here.
Have a Not So Wimpy Day,