April is National Poetry Month. It's a special time to celebrate the importance of poets and poetry in our culture. And a great opportunity to teach poetry to your class.
I know this month is already pretty busy. Between spring break and test prep, you don't have a lot of free time. And standardized tests are right around the corner.
But many states include poetry on their assessments. So it is definitely worth your time to teach poetry.
Luckily, it's easy to squeeze poetry lessons into your day. Poetry can be a fun break for students. Kids often enjoy the rhymes and rhythms of poems. And reading or writing poems doesn't have to take a lot of time. Many poems are short and easily read in a minute or two. And giving students some time to imagine poems and write poems of their own is a nice way to flex their creative muscles.
Here are some simple ways to teach poetry and celebrate National Poetry Month in the Classroom.
Read and Listen to Poems
There are so many fun collections of poetry for children. You can read a short poem at the beginning of the day or while you are waiting for dismissal. You can place poetry books in your classroom library for students to read during free time or independent reading. Or you can read a longer poem to the class during your read-aloud time.
Some of my favorite poetry collections include:
Where the Sidewalk Ends, by Shel Silverstein
This classic book has been delighting kids and adults for almost fifty years. Shel Silverstein's silly poems and simple pen-and-ink drawing draw kids in and make poetry fun and accessible. But his poems are often deeper than they first appear, and his hilarious drawings provide lots of discussion points. This is a great collection to share with your students.
Click HERE to find this book on Amazon.
Dogku, by Andrew Clements
This clever picture book written by the author of student favorites, like Frindle and The Last Holiday Concert, tells the story of a stray dog's adoption experience. But, as the title suggests, it is written entirely in haiku. Your students will be amazed when they realize the entire story is told through haikus. And don't be surprised if they insist on going back and verifying that each verse is a proper haiku.
Click HERE to find this book on Amazon.
Hip Hop Speaks to Children: 50 Inspiring Poems with a Beat, by Nikki Giovanni
This collection of poems is written by some of the greatest poets ever. From Queen Latifah to Langston Hughes to Maya Angelou, this collection of poetry celebrates the rhyme and rhythm of poetry. It includes lyrical poems, beautiful illustrations, and a CD of the poems read aloud.
Click HERE to find this book on Amazon.
Teach Poetry with Music
A great way to engage kids in poetry is with music. Find out what some of their favorite songs are, and then use those songs to get them hooked on poetry.
Once you've selected a song, be sure to play it during class. You can play the song during arrival or dismissal, right before lunch, or during transitions. This will help set the stage for your poetry lesson.
Play the song again at the beginning of the lesson and then start a class discussion about what the students think the song is about. Provide each student with a copy of the lyrics. Use the lyrics to discuss different elements of poetry. You can focus on things like lines, stanzas, rhyme, rhythm, repetition, metaphors, similes, and more.
Some songs to consider are Happy by Pharrell Williams, Roar by Katy Perry, What Makes You Beautiful by One Direction, Cool Kids by Echosmith, Hall of Fame by The Script featuring. will.i.am, Dance Monkey by Tones & I, Can't Stop the Feeling from Trolls, and Thunder by Imagine Dragons.
These pop songs are classroom-friendly and popular with elementary school students.
Teach Poetry with Art
Integrating art is another great way to teach poetry. Read a poem aloud and have kids draw what they imagine. This is a fun way to get your students to focus on the figurative language in poetry. Encourage students to listen for personification, imagery, similes, metaphors, symbolism, or other types of figurative language and include those in their artwork.
This helps kids engage their senses and inspires visual learners to connect with the poem. It also provides a much-needed creative expression for kids. (Especially during testing season). And you don't actually have to paint. Pencil drawings and crayons are fine.
You could also have each student select their own poem—either from the school library, your classroom library, or pre-screened websites that house collections of poetry, like Poems Every Child Should Know and Poems for Kids on Poets.org. After students have had time to read and illustrate their poems, they could share both the poem and their drawing with the class.
Teach Kids How to Write Poetry
One of my favorite ways to teach poetry is to teach kids how to be poets.
My Poetry Writing Unit has everything you need to teach a poetry unit your students will love. And it is now fully digital and printable.
I've included 14 poems to get your students thinking and talking about poetry. There are also anchor charts for students and teachers, printables, publishing paper, and ten days of lesson plans that you can use to teach your students the skills necessary to write poems.
Students will be introduced to six different poems, including:
Bio-poems
Cinquains
Haikus
Concrete Poetry
Diamante
Free-Form poems
After reading and learning about different types of poetry, students can write their own poems and create personal collections of poetry.
Each daily lesson includes a mini-lesson, work time for students to apply what they learned to write their own poems, and time to share so students can celebrate one another's work. You can use these lessons during your whole-group reading or writing instruction or with small groups.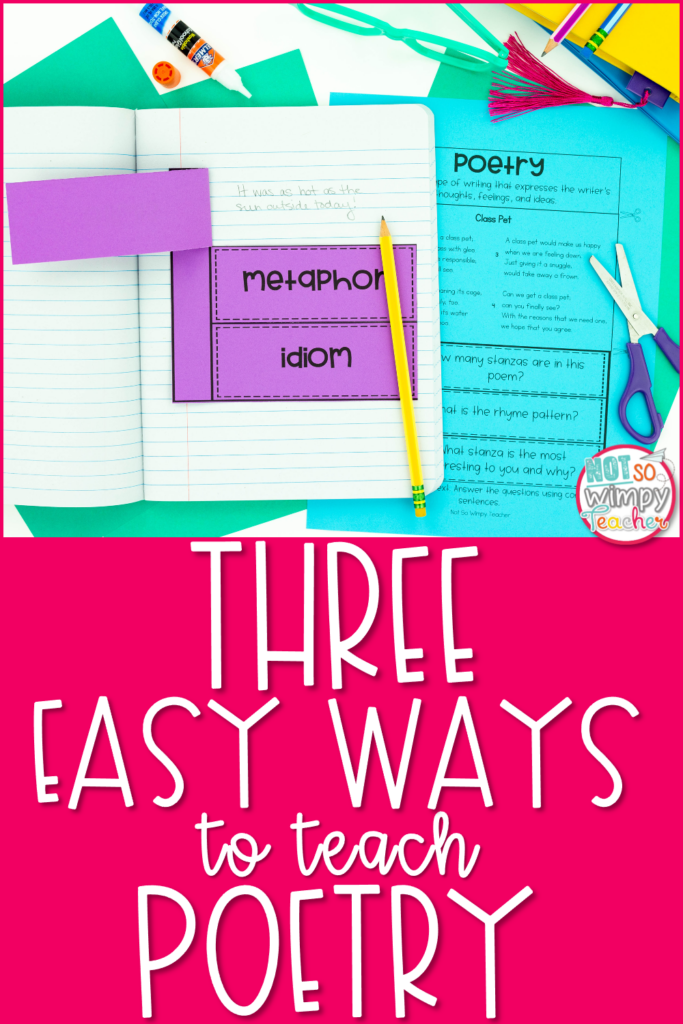 How will you celebrate National Poetry Month?
Have a Not So Wimpy Day,