Can you relate?
There is a line of students who want me to look at their writing. One student is drawing on his desk. Another student is asleep. I have another group students giggling while they present to peer edit.
I have some students drafting. A few students are editing and revising. Some students are publishing on the class computers. Many students are doing absolutely nothing.
I keep thinking, "My writing workshop is a hot mess!"
I gradually stop making time to teach writing because it gives me such anxiety.
Ever feel that way?
Well, guess what…it's not your fault! The traditional writing workshop model can definitely feel like a hot mess!
The Problem with the Traditional Writing Workshop
Here is a rundown of how the traditional writing workshop works…
The teacher chooses a topic and teaches a mini lesson on that topic.
Students spend the majority of the time doing independent writing. They are working through the writing process at their own pace. Some students will be drafting during their independent time. Other students will be revising to editing and some students might be publishing.
The teacher conferences with students one at time to help them with the exact step in the writing process they are currently working through. She might help one student with edits and help another student with planning their next story.
So what's the problem with this?
First, since everyone is doing something different, there can be a certain amount of chaos, confusion or stress in the classroom. Students might find it hard to draft while a group of students are peer editing.
Second, the lesson that is taught each day is not relevant for every student. Since everyone is at a different place in the writing process, they really need different lessons. If you taught about writing strong ending, the students who are not revising will not use the strategies today. And what happens when they don't use the strategies right away? They forget them!
Finally, it is harder for the teacher to meet all of the student's needs during conferences when each student is at a different place in the process. It's hard to prep for one conference about filling in graphic organizers, another about breaking content into paragraphs, and another about punctuating dialogue. Doing all of these conferences in one day is a lot of work for the teacher.
All of these. challenges were causing me to hate teaching writing, so I came up with a solution…
The Not So Wimpy Writing Process
I started by making a list of the things that I loved and wanted to preserve from the traditional writing workshop:
Mini Lessons
Lots of time for independent student writing
Student choice
Conferencing with students
Share time
I realized that all I really needed to change was having students work through the writing process at their own pace!
The Not So Wimpy Writing Process was born! Here is how it works…
Mini lesson
The teacher delivers a mini lesson. She starts at the beginning of the writing process and teaches lessons about generating topics and planning. Then she will move on and teach lessons about drafting and revising strategies. Finally, she will teach mini lessons about editing and publishing.
I actually made a free guide to show you the order and list of lessons that you might teach.
Independent writing
After the mini lesson, students will do independent writing. They will use the strategy taught during the mini lesson. All students will work through the writing process in the same order and at the same pace as the teacher. They may finish planning during independent writing time, but they won't move on to drafting until the teacher guides them through that lesson. The story is referred to as their masterpiece.
So what do students do who finish the writing task of the day early? They write! In the back of their notebooks, students can work on additional stories. These stories can be worked through at their own pace. These other stories give them more practice time and keep them writing.
But it is the masterpiece that we conference about and eventually publish!
Conferences
Conferences are conducted in groups. This way the teacher can review a skill or strategy with 3-5 students all at once. Many students need the same. conference anyway because they are all at the same place in the process with their masterpiece.
Writing instruction completely changed in my classroom!
It was easier for me to teach the exact lesson that my entire class needed. each day. Students were all at the same place in the writing process which led to less chaos. Conferences were easier to plan and manage.
Student writing improved!
The Not So Wimpy Writing Process is the perfect balance of guiding writers and still encouraging independence and choice.
Work With Me
If you're looking for more tips on teaching writing you might like How to Plan an Entire Year of Writing Lessons, How to Teach Writing When You Don't Have Time, or 5 Things You Don't Have to Do When Teaching Writing.
And, if you want more tips on how to make teaching writing easier, you'll love my Not So Wimpy Writing Masterclass. I specifically developed this online professional development course for teachers in grades 2-5 to help simplify writing workshop and provide the tools and strategies you need to be a more confident writing teacher.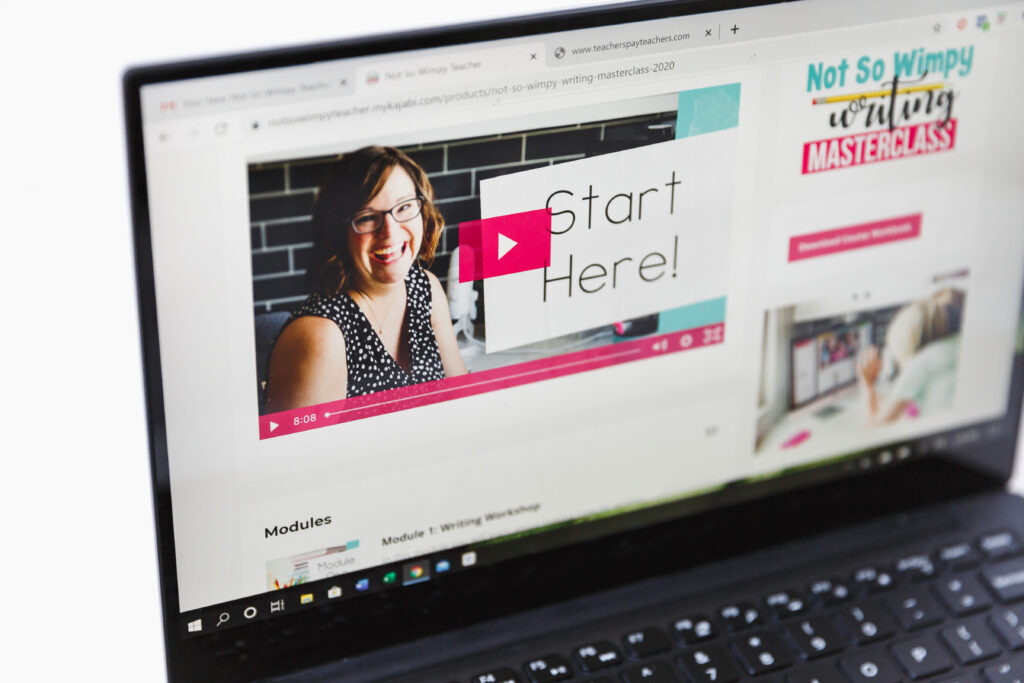 You'll learn tried and true strategies for how to teach writing, including how to:
Teach writing in units.
Create manageable mini-lessons
Keep students on task during independent writing time.
Implement a successful writing workshop without chaos and confusion.
Transform ALL your students into eager and excited writers who have the skills needed to perform well on standardized tests.
In short, this course is designed to help you become a more confident writing teacher, regardless of what writing curriculum you have (or don't have).
And the Masterclass is so easy to take. It's entirely online! You can watch whenever and wherever works best for you. And you get lifetime access to the course, which means you can return to the videos over and over again.
I hope all of these tips and ideas help you to dream and plan for how you might change up your writing instruction next year so that is more effective and fun!
Have a Not So Wimpy day,