One of my favorite days as a teacher was the time I threw a Super Bowl party in the classroom! I am not a huge football fan or anything. I usually don't even know which teams are playing! So why throw a Super Bowl party in the classroom? Simple! My students were excited about the big game and I wanted to use that excitement while reviewing difficult math and reading concepts. Sneaky, right?
Inviting Guests
I decided to invite dads to our party. I realized that we had more moms who volunteered for field trips and other holiday parties. We didn't get too many dads joining us and so this seemed like the perfect event to specifically invite them. Yes, I had some students who did not have a dad to invite. I suggested that they invite a grandfather or uncle. One of my students even brought her older sister's boyfriend!
Of course, this is your party! Invite anyone that you choose or just keep it a party for students only.
I sent an email 10-14 days before the party to invite our guests. Nothing fancy!
You could also have your students make an invitation and bring it home if you have time.
Activities at Our Super Bowl Party
Almost all of the activities at our classroom Super Bowl party were educational! That's why I loved the party so much. The best part was that students were having so much fun with our guests and the food, they barely noticed that they were working. Win for the teacher!
The activities at our party were actually just worksheets! I selected 8-10 different worksheets that covered topics I wanted my students to review. (This ended up being lots of fractions for us!) I put each worksheet in a basket.
During the party, I split my class into 6-8 small groups. I made sure that every group had at least one classroom guest. This helped me to be certain that students were on task and doing the activities correctly.
After the group finished the worksheet, the dad would check their answers with the included answer key.
So why was this fun?
Here is my trick….I grabbed some cheap football party favors. You can find pencils, erasers, necklaces, and other trinkets that are super cheap at Walmart or a party store. Each of the worksheet baskets had a pile of party favors. Once their worksheets were checked, they could choose a favor.
My students were so excited to try and get as many favors as possible and that helped to keep them on task and focused. They didn't finish every worksheet, but they finished quite a few.
It was genius!
So grab some party favors and some worksheets.
They can be football passages or magazine articles or they can be math worksheets that you never had time for. Anything goes as long as it is a skill that is a review and not something brand new.
FREE Football Passages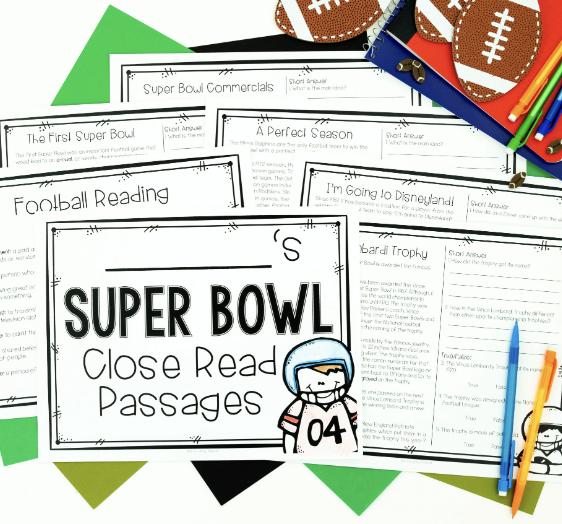 I've created six awesome football passages for you to use at your classroom party. These readings are the perfect way to engage your students in informational reading right before the Super Bowl. 
This FREE resource includes:
6 passages updated to include information about the 2023 Super Bowl game between the Philadelphia Eagles and the Kansas City Chiefs
printable, Google Slide and PowerPoint formats to make them easy to prep and use
an answer key
Food at Our Super Bowl Party
We had our party first thing in the morning and we still had the traditional football party foods! We had a nacho bar! It was so simple and the kids loved it. We also had cheese and crackers, football cupcakes and a fruit tray.
Other food ideas:
chicken wings
small sub sandwiches
pizza
football shaped donuts
popcorn
I highly recommend creating a Sign Up Genius and asking families to donate the food if possible. My families were very generous and it helped to keep the party inexpensive and simple.
I hope that this easy party idea gets your students so excited that you are able to sneak in a fun review day! Enjoy!
Have a Not So Wimpy day,