I don't love standardized testing, but it is a necessary evil. I don't agree with judging schools, teachers or students on the results of one test. I don't believe that money should be handed out or taken away based on test scores. I am certainly not a fan of schools being graded on test scores alone. That being said… testing isn't going away anytime soon. Please don't kill the messenger!
I have written lots of articles that will help you to plan test prep activities that will help to prepare your students and still be super fun!
Do we even need to bother with test prep?
Through the years, I have heard many teachers say something like, "I don't do test prep because I teach quality lessons all year." Have you ever had a teacher tell you that? It sort of ruffles my feathers, because it makes it sound like teachers who bother with test prep are doing so because they weren't good educators the rest of the year.
This may be just my humble opinion, but even quality educators SHOULD bother with prepare for testing!!!
The Dos and Dont's of Test Prep
Only quality test prep will help your students! If you are not using this time to review important skills and strategies while building your students up- you are wasting valuable time.
I have compiled some dos and don't to help guide you as you plan for your class test prep. Click HERE to check out my tips.
Pick a Theme
No matter how much we dislike the tests, we have to give them. So why not throw in some fun?!!! I have some ideas for you!
Several years ago, I decided that it would be fun to have a theme for test prep. I LOVE themes! Since it happened in the spring, right when spring training is going strong, I decided that baseball would be the best theme. Lots of my students play Little League and so they get very excited about the baseball theme.
Click HERE to see my ideas for this theme.
Ways to Use Task Cards for Test Prep
It's all about the TASK CARDS! Task cards are another way to make review a little more fun. I printed up a big stack of math and ELA task cards and then found lots of quick and fun ways to use them.
Click HERE to read about 10 of my favorite ways to use task cards for test prep.
Work Hard. Play Hard.
This was my favorite test prep activity to use! Combining some review pages and games that students are familiar with, filled up our "Work Hard- Play Hard" day. My students had so much fun with this activity, they actually groaned when I told them it was time to clean up and pack up!
Click HERE for ideas about this activity.
My Favorite Test Prep Resources
These Reading Test Prep Centers are the perfect way to review both literature and informational text standards.
These Math Test Prep Centers include 10 engaging centers that review the biggest and most challenging standards at each grade level. These are perfect for your students to complete before your end-of-the-year testing. I have math centers for grades 2-5 and I specifically have a test prep set for grades 3-5.
You can even try out our math centers for FREE. Click here for 3 math centers for grades 2-5.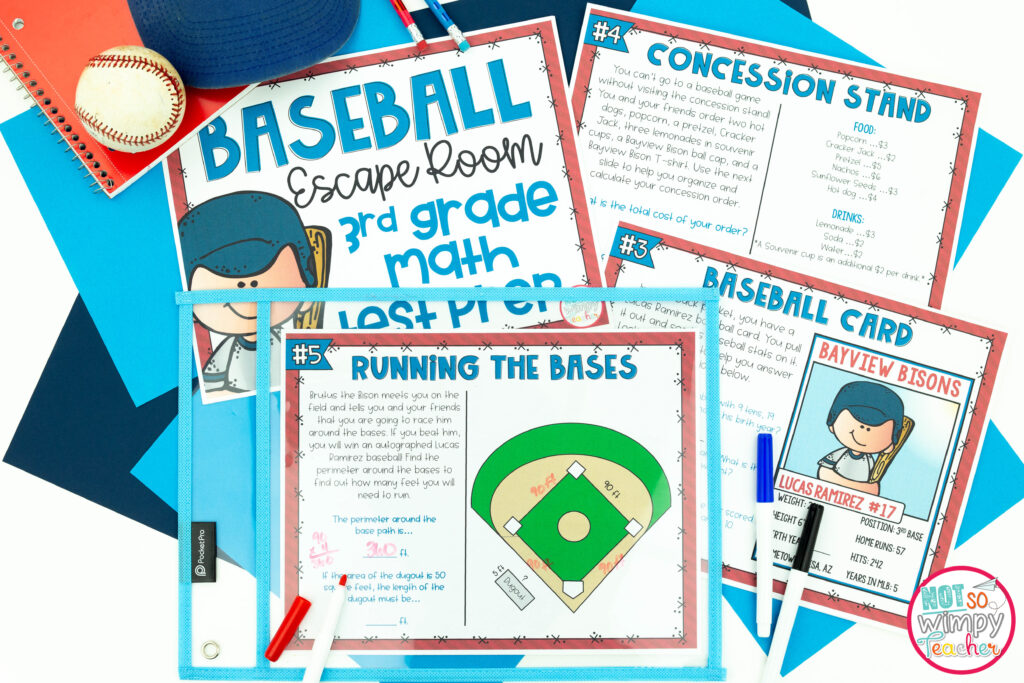 Finally, these digital and printable Baseball Escape Rooms for Reading and Math are a third grade teacher's dream. This fun resource provides an exciting review of essential third-grade skills—6 reading skills and 9 math skills. While students work their way through passages and problems, they'll be answering standards-based questions, solving puzzles, and unlocking clues to help the Bisons bring home a win. In fact, they'll have so much fun they won't even realize they are learning.
Click HERE to read more about how to use the Baseball Escape Rooms in your classroom.
I hope these tips help make preparing for standardized tests a little bit more enjoyable for you and your students.
Have a Not So Wimpy Day,