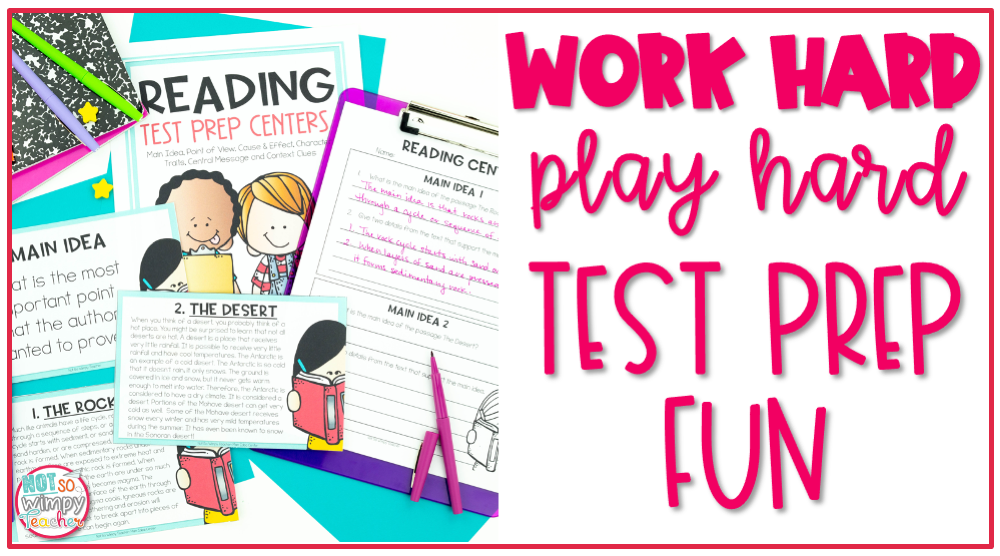 Our state testing begins tomorrow. Which means that today was our last day to review before testing. I believe that quality instruction all year is the best test prep. However, I still think some spiral review is good. Especially since our testing is just 3 days after coming back from a 2+ week break!
My kids had so much fun reviewing today that they groaned when I told them it was time to clean up and pack up! They had been working on this activity for over three hours! I had no idea they would stay so engaged for so long. Since I had such an amazing day and my teacher heart is so full, I wanted to share this activity right away with my best teacher friends- YOU!
I called our day "Work Hard. Play Hard." And that is just what we did!
I put together four reading centers and four math centers. I pulled a couple Scholastic magazines that we had not used and some other activities that we had not gotten to yet during the year. This included a stack of
task cards
, some
reading test prep centers
and some
math test prep centers
. It was easy to prep because it was activities that I had wanted to do, but had run out of time to finish.
I stuck each activity in a basket. Then I added some fun games to each basket. I picked games that I knew my kiddos loved. (Their favorites are Multiplication War and Headbanz.) I added some directions to the front of the baskets so that students would know what to do without coming to me. (I have had some requests for my directions sheets, however they are very specific to the magazines, worksheets and task cards that I used. You will probably want to make your own directions so that they are more useful for your class.)
I divided students into groups of four. Groups chose a center. They needed to complete the work together. They brought the work to myself or my parent volunteer to be checked. When everything was correct, they got 15 minutes to play the game in the basket. I bought timers from Dollar Tree and students used them to time themselves for the 15 minutes. When the play time was up, they returned their basket and chose a new one.
The promise of being able to play a game kept my students working hard!
A couple of the baskets had work that was more challenging than others. In those baskets, I put even more engaging play activities! Things like Play-Doh, Legos and directed drawings, encouraged my students to choose even the toughest work!
The kid who made this creation said that it is emoji poop! I laughed so hard that I almost wet my pants!
I grouped my lower students together. I had an amazing parent who did the centers with this particular group. This made the activity more meaningful for these kiddos.
I knew that every student would not complete every center. I just wanted them to get a variety of activities that reviewed some of the toughest concepts. I was pleased that most groups completed 5 of the 8 centers!
Here are some of my tips:
Make answer keys so that you can quickly check work.
Ask students to rotate back and forth between math and reading centers.
Make more center baskets than you have groups so that there is always a choice of centers. This way students are more likely to have a center available to them that they have not yet completed.
Put games in the basket that students already know how to play.
Ask if any parents are willing to help.
You could add even more excitement by rewarding students with a piece of candy or a sticker for every completed center.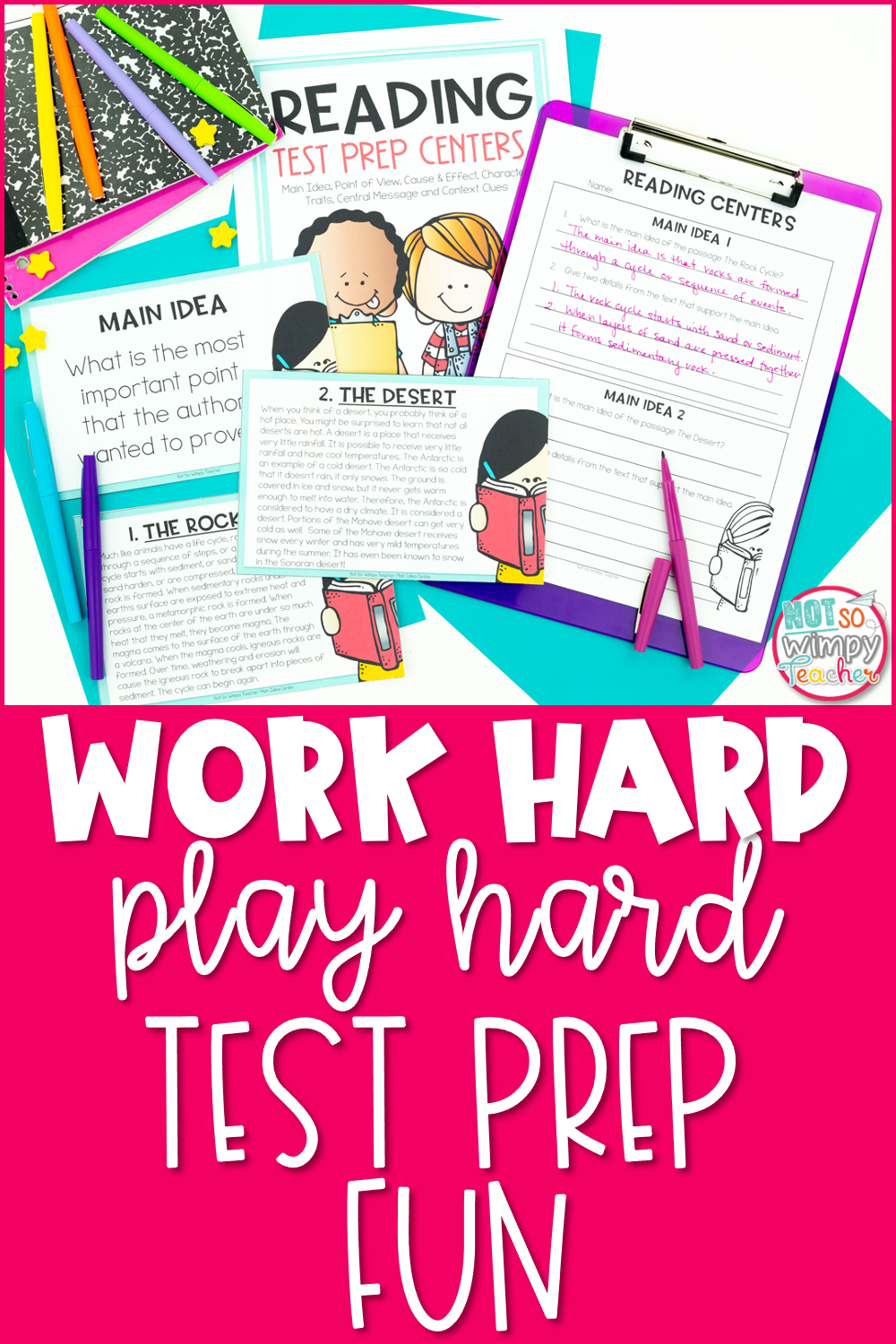 A fun day of review has me all pumped up for our first day of testing! We've got this!
Related Posts: